Craft cider isn't just for drinking! There are more and more food artisans including cider in their edible creations, a trend we examine in this column, "Made with Cider." Know of something made with cider that we should highlight? Reach out to us at cheers@ciderculture.com.
The cider-washed cheese collaborations just keep on coming! Last month, we reported on Citizen Cider and Vermont Farmstead Cheese Co.'s Unified Cheddar, and now we are stoked to tell you about another new venture between cider and cheese: Angry Orchard and Crown Finish Caves (an amazing urban cheese cave in Brooklyn — we urge you to follow them on Instagram) have teamed up to create a limited-edition rosé cider-washed cheese, Amour from Walden, made with Angry Orchard's now-famous pink cider.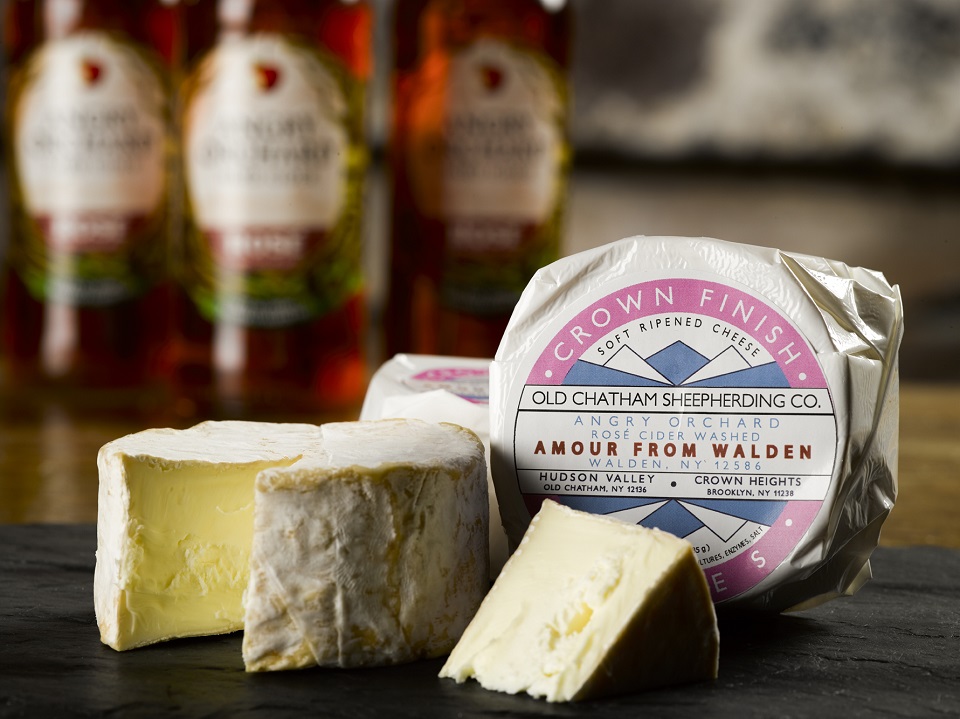 Angry Orchard's head cider maker, Ryan Burk, worked alongside the folks at Crown Finish Caves to craft this triple crème young cheese with complex flavors from a blend of cow cream and sheep's milk. The cheese was made at Old Chatham Sheepherding Company, which is nearby Angry Orchard's Cidery in the Hudson Valley. Just a few days after its creation, the cheese arrived at Crown Finish Caves, where its rind was then washed and aged with Angry Orchard Rosé cider for about two weeks. The Angry Orchard Rosé cider wash gives the cheese a subtle apple flavor, and the cheese's name references the rare red flesh apples, known as Amour Rouge or Red Love, that give Angry Orchard Rosé its bright flavor and rosy hue.
"One of the things I love most about our cider is the diversity of flavors, aromas, and characteristics we can create from a raw ingredient, the apple," said Burk. "Cheese is very similar in that there are incredibly rich flavors and textures developed all from its base ingredient, milk. We're thrilled to bring cider and cheese together with Crown Finish Caves in an unexpected way with this Rosé cider-washed cheese."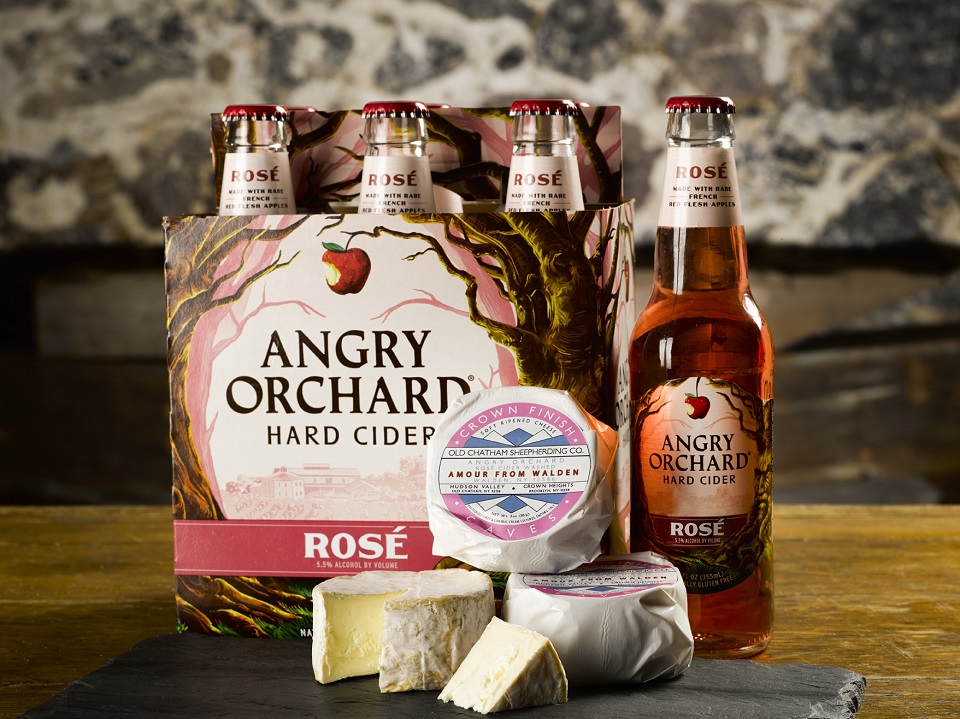 As you may have guessed, the Amour from Walden cheese was made in a small batch, and if you want to get your hands on some, it will be available for purchase starting Tuesday, November 6, at Saxelby Cheesemongers in NYC's Chelsea Market, as well as through Saxelby Cheesemongers' online shop. If you're in town for Cider Week NYC, check out the following events where samples of Amour from Walden will be available:
Tuesday, November 6, 5:30–7:30 p.m.: Amour from Walden Tasting led by head cider maker Ryan Burk and Saxelby Cheesemongers, at Saxelby Cheesemongers @ Chelsea Market, 75 9th Avenue New York, NY.

Thursday, November 8, 6:30–9 p.m.:

 Cider Week NYC Lower East Cider Fest, at Essex Street Market. 120 Essex Street, 

New York, NY.
Angry Orchard will also have limited quantities of Amour from Walden available at its cider house in Walden, New York, starting on Saturday, November 3. Please note: Quantities are limited, and as this cheese contains alcohol, only cider fans ages 21+ may enjoy.
If you get the chance to try Amour from Walden, let us know what you think!
Angry Orchard is located at 2241 Albany Post Rd., Walden, New York; (888) 845-3311.