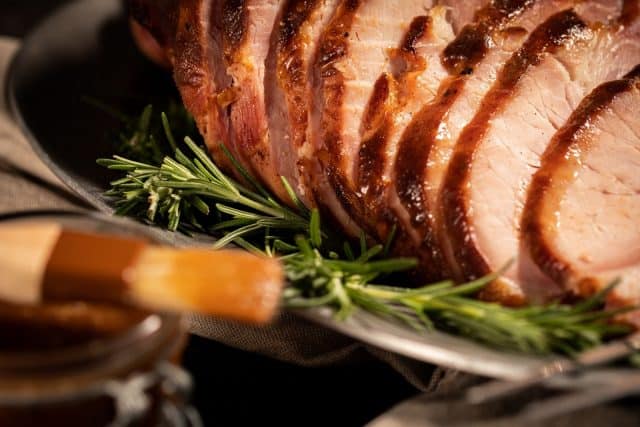 Cider Recipe: Cider Glazed Ham
Pork and cider are one of the most iconic food and beverage pairings, whether that's hot dogs and a session cider on game day, a charcuterie board and a complex, single varietal still cider or a giant ham on the family holiday table glazed with cider and served with plenty of cold bottles to share. This recipe is the only one you'll ever need to make a gorgeous, impressive centerpiece for Thanksgiving, Christmas, Easter or any other time a ham is in order. Cider is the glaze's backbone accompanied with extra layers of flavor from maple syrup, brown sugar, vinegar, mustard and a cozy blend of spices. Leave plenty of time for a long roast so you're not stressed getting the ham to the table, and remember to squirrel slices away for leftover ham and cheese sandwiches!
Cider Glazed Ham
Ready in: 2 hours, 50 minutes
Serves: 12
Ingredients
1 (8-10 pound) bone-in smoked spiral-sliced ham
12 ounces hard cider
1/2 cup pure maple syrup
1/2 cup dark brown sugar, packed
3 tablespoons apple cider vinegar
1/4 cup Dijon mustard
2 teaspoons cornstarch
1/2 teaspoon ground cinnamon
1/2 teaspoon chili powder
1/4 teaspoon dried thyme
1/4 teaspoon black pepper
2 tablespoons unsalted butter, room temperature
Method
Remove ham from refrigerator and let sit at room temperature for 2 hours prior to cooking. Preheat oven to 325°F and adjust oven rack to lowest position. Pour 3 cups water into roasting pan with roasting rack (if you do not have a rack, omit the water).
Meanwhile, whisk together hard cider, maple syrup, brown sugar, vinegar and mustard in medium saucepan over medium-high heat. Stir in cornstarch, cinnamon, chili powder, thyme and pepper and bring to a boil. Reduce heat to medium and continue to simmer, stirring occasionally, until glaze is thickened and reduced, about 15 minutes. Whisk in butter until melted. Remove from heat.
Roll out two large pieces of aluminum foil and set ham on top. Brush ham with glaze until coated and wrap completely in foil. Transfer ham to prepared roasting pan and bake until internal temperature reaches 110°F, about 2 hours, or (12 minutes per pound, if baking a larger ham).
Remove ham from oven and increase heat to 400°F. Unwrap foil to exposed ham and brush with more glaze. Return to oven uncovered for additional 20-25 minutes, until outside of ham is caramelized.
Remove ham from oven and brush with remaining glaze. Loosely cover with foil and let rest 15 minutes before serving.
Recipe and photo by Dish Works.