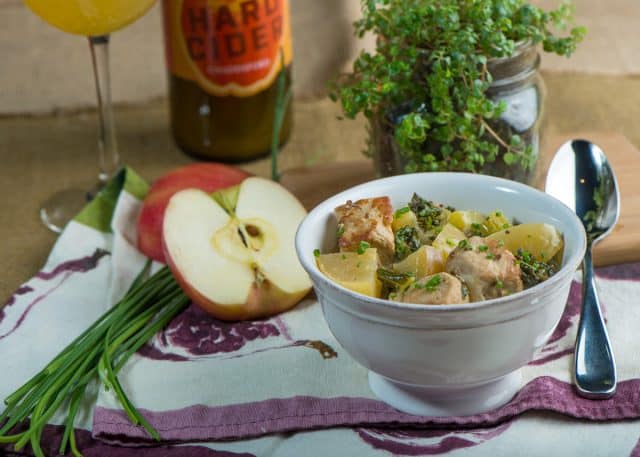 Cider Recipe: Hard Cider Pork Stew
Ingredients
2 tablespoons olive oil
2 pounds pork butt, diced into 1-inch pieces
2 gala apples, chopped
2 cups chopped leeks
1 cup chopped celery
1/4 cup whole-grain mustard
1/4 cup Dijon mustard
2 sprigs sage
1 sprig rosemary
2 bottles (12 ounces each) hard cider
1/2 cup apple cider vinegar
2 tablespoons butter
Salt and pepper, to taste
Method
Heat a large Dutch oven over medium-high heat and add olive oil. Once oil is hot, sear the pork on all sides, working in batches if necessary. Season with salt and pepper. Once pork is seared, remove from pot and hold.
Add apples, leeks and celery to the pot and sweat (lightly cook until tender) for about 5 minutes, stirring occasionally. Season with salt and pepper, and add the whole-grain mustard, Dijon mustard, sage and rosemary to the pot. Pour the hard cider and vegetable stock into the pot. Return pork to pot. Bring liquid to a simmer then cover pot. Cook the stew for about 2 hours, or until the pork is fork-tender.
Remove the sprigs of sage and rosemary. Season stew with the apple cider vinegar, butter, salt and pepper. Serve hot with grilled bread.