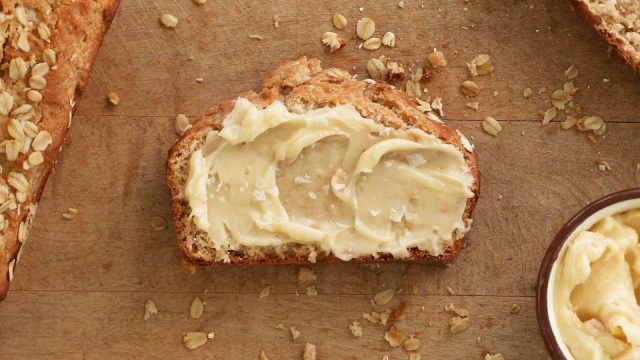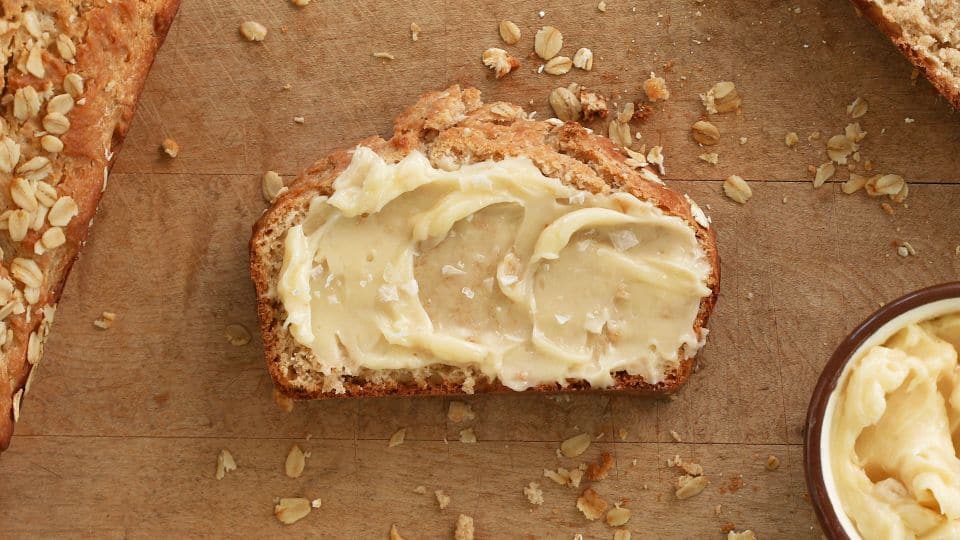 Cider Recipe: Maple Cider Bread with Salted Maple Butter
Quick breads — breads that don't require yeast — are one of our favorite baking projects. Basically, you just mix the ingredients in one bowl, pop it in a loaf pan and, within an hour, you've got something warm, carb-y and satisfying to enjoy with coffee or for a midday treat. The only problem is that, with the exception of banana bread, a lot of quick breads can be lacking in some way: flavor, texture, depth … there's often just not much of a "wow" factor.
This incredible maple cider bread totally turns that notion on its head: The combination of maple syrup and hard cider makes the bread wonderfully tender and light; in fact, adding a carbonated liquid to a quick bread is a clever and effective way of helping the batter become airier. The addition of whole wheat flour lends a nutty note, and the oats on top give a hit of texture, all against the backdrop of rich, complex sweetness from the maple and cider. Then, we take it one step further, with a salted maple butter, which we have a feeling is going to become a new staple in your fridge! Spread a thick layer across a slice of cider bread for an anything-but-boring quick bread, but don't stop there. Salted maple butter is also a perfect companion for waffles and pancakes, roasted squash or sweet potatoes, or even swiped on the bun of a bacon, egg and cheese breakfast sandwich.
Maple Cider Bread with Salted Maple Butter
Ready in: 55 minutes
Serves: 6-8
Ingredients
For Maple Cider Bread:
2 cups all-purpose flour
1 cup whole-wheat flour
1 tablespoon baking powder
1 1/2 teaspoons salt
3 tablespoons pure maple syrup
4 tablespoons unsalted butter, melted, divided
12 ounces hard cider, room temperature
1/4 cup old-fashioned rolled oats
For Salted Maple Butter:
1/2 cup unsalted butter, room temperature
3 tablespoons pure maple syrup
Kosher salt, to taste
Flake salt, for serving (optional)
Method
Preheat oven to 375°F. Coat loaf pan with nonstick cooking spray. Whisk together all-purpose flour, whole-wheat flour and baking powder in large bowl until combined. Add maple syrup, 3 tablespoons melted butter and hard cider. Stir until just combined, and no dry flour remains.
Spread batter evenly into prepared loaf pan. Sprinkle oats over batter and drizzle with remaining melted butter. Bake 45 minutes, or until top is golden brown and toothpick inserted into center comes out clean. Cool 10 minutes in pan, then remove from pan and transfer to wire rack to cool completely.
While bread cools, whisk together butter, syrup and kosher salt in medium mixing bowl until smooth. Transfer to serving bowl and serve at room temperature.
Spread butter on slices of bread and sprinkle with flake salt.
Video, photo and recipe by Dish Works.