If you missed this session of Cider School, you can find a video recording of it here.
The cider community is asking some tough questions right now — as are many food and beverage brands — about how to create real change and empowerment in their communities. Part of that work is aiming to widen the scope of what the craft cider industry is, and what the industry can and should be, including who is making it, and who the product is for. There are no easy answers on this road to creating a more racially inclusive craft cider culture. But one step along the way can be to turn to leaders in the community who have always been pushing for this type of change. One such cider brand is Ironbound Farm.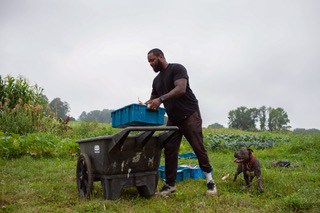 Ironbound Farm, home of Ironbound Hard Cider and New Ark Farms, was founded to help rekindle Newark, NJ's economy and do its part to confront the systemic incarceration of Black men and women. In Ironbound's own words:
We fully embrace the beauty, abundance and diversity of our state; our obligation to lift up the most underserved members of the community — especially the chronically underemployed; and, our role in environmental repair through our regenerative farming practices. By doing so, we create a unique business model that fosters resiliency and viability for our network of growers, food producers and customers.
This means working to celebrate New Jersey's agricultural history, strengthen the local food economy, and farming to heal the land. It also means building a living wage economy for chronically underemployed members of the community, including the formerly incarcerated, immigrants, veterans, and people with special needs, and providing a supportive work environment where they can flourish.


Please join us for this session of our free, weekly educational platform, Cider School, with Ironbound's founder, Charles Rosen. Learn more about Ironbound's remarkable and inspiring community empowerment efforts, and learn how your brand can create your own model to nurture and support your own community.
Cider School #12: Community Empowerment with Ironbound Cider
Time: Jun 25, 2020 6 p.m. Eastern Time (US and Canada)
Zoom Meeting URL: https://us02web.zoom.us/j/89855280624?pwd=TnVZUzJGaEdVYmlLWGZZT0ROd2tWZz09
Meeting ID: 898 5528 0624
Password: 696144
All are welcome! If you are unable to make the class, we will be recording it via Zoom and offering the link the following day on our Cider School page.