Malaika Tyson is one half of the blogging duo Cider Soms, which was started as a way to introduce wine-lovers to the world of cider. Created along with her husband Sean, the "Soms" blog seeks to uncover and explain the complexities of ciders in a fun way.
We met Katie Morgan in 2014, shortly after Right Bee Cider's launch. Sean (my husband) and I were enjoying their Semi-Dry cider at a local bar in Chicago, and Katie happened to be delivering a keg at the same time. We struck up a conversation, and a cider friendship was born.
During a tour of their urban cidery space in the Hermosa neighborhood, we met Katie's husband Charlie Davis.
Charlie started out as a brewer, but to woo Katie, he started making cider. It clearly worked, and Right Bee Cider (a play on words as now Charlie is "right beside her") launched in 2014, just six months after their wedding. Now, almost six years and two kids later, we have watched the first cidery in Chicago grow, and we are excited to share more of Right Bee Cider's story through this Cidermaker Q&A.
(The questions and answers have been edited for brevity and clarity.)
Cider Culture: What do you like the most about cider?
Katie Morgan: Well I love that it's delicious, of course! I also love the process of how it's made, and that it's an agricultural product that can vary from batch to batch. I love the chemistry involved. I also love how diverse cider is, with so many unique possible flavor profiles. I love the history of cider — it's quite fascinating.
What do you like the most about your brand?
Our brand isn't really just a brand, it is our family. It was never hard to come up with the story, because it is the story of us. It was never hard to develop the cider we make, because we are making the type of cider we like to drink: crisp, dry and refreshing. The ethos of our business is family, friends and community. The main goal of our business, and more specifically our taproom, is to bring people together, just how cider brought us together.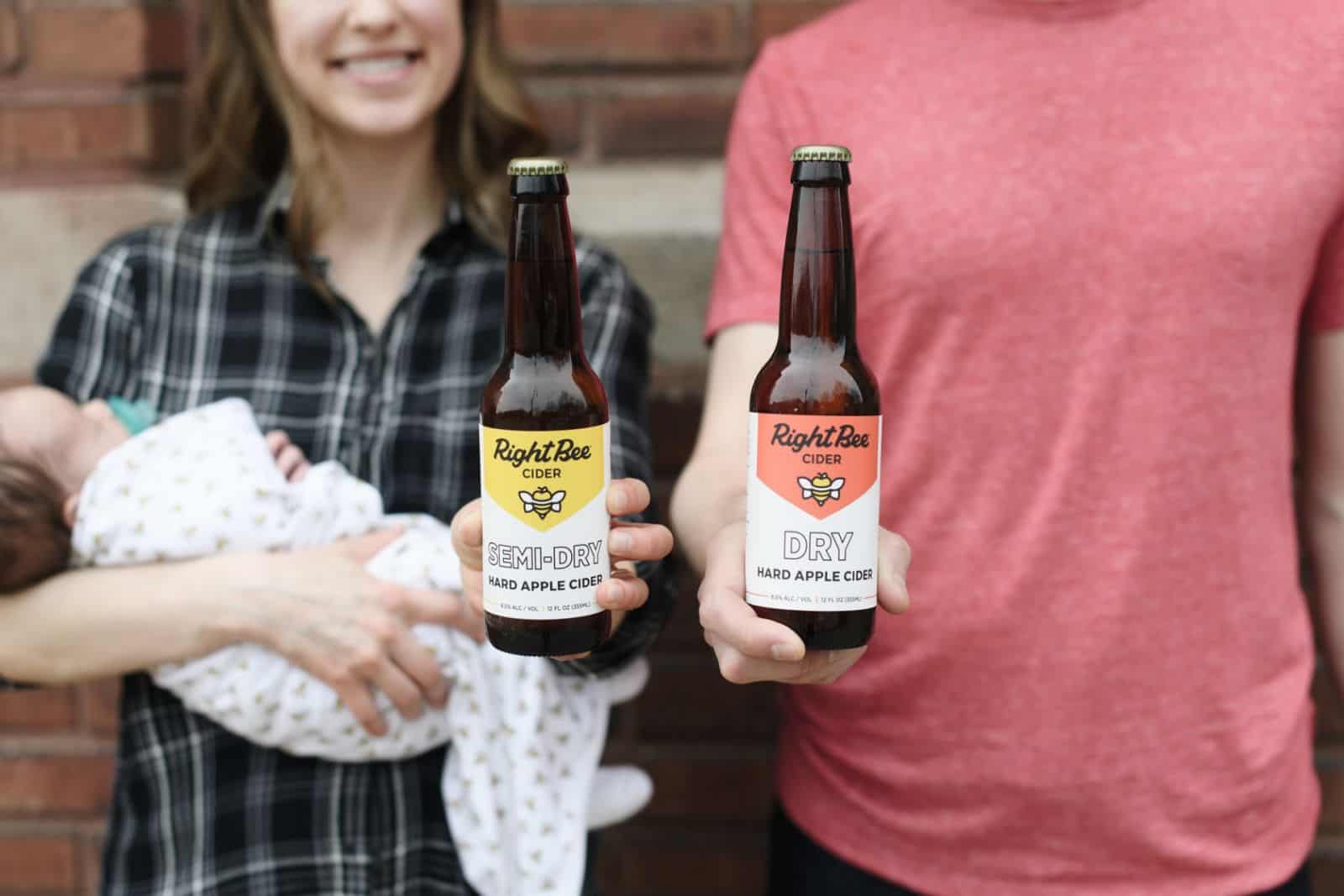 We live right around the corner from our cidery in Chicago, and many of the customers in the taproom are our neighbors. We are a small local mom-and-pop shop, and when you come into the taproom you see me or Charlie working and talking to our customers, often with our kids in tow. Many of our regulars have also become our friends, and we really love when people have a personal connection to our family and our cider
Any cidermaking pipe dreams you're dying to make a reality?
We have so many big dreams for Right Bee Cider, but one goal I'd like to focus more energy on is barrel-aging. I love the characteristics that the barrels give. Barrel-aging has an experimental nature: Even though you have an idea of how the product should taste, you don't really know for sure until you have a finished product. We've barrel-aged a few ciders, but would like to have a full barrel-aging program. We've made ciders with a Knob Creek barrel and a KOVAL barrel (the first distillery in Chicago, IL since Prohibition). With the KOVAL barrel, we made a bourbon barrel-aged gin cider — which was the best barrel-aged cider I've ever had.  
If you had one business strategy that you could implement to better the craft cider industry, what would it be?
Katie: Increasing awareness with consumers. The vast majority of people don't know a lot about cider. The average consumer knows beer, wine and spirits, and then there is a category of "other" that cider often falls into. Helping the consumer learn more about the diversity of cider could provide a great benefit to the industry and our business.
Charlie Davis: One [strategy] would be convincing bars to be open to carrying more than one cider on draft. It would not only benefit the cider industry, but also the bar industry, and customer experience. Also, more collaboration between cidermakers, putting their heads together and coming up with creative new ciders would develop better overall cidermaking knowledge and industry quality.
How has your business adjusted in the current environment?
Katie: Everyone has had to pivot and adapt. We basically had to turn our taproom into a liquor store and, in a day, set up online ordering, and signed up for delivery platforms. We also ran our own delivery service, with Charlie safely and carefully doing our contactless delivery.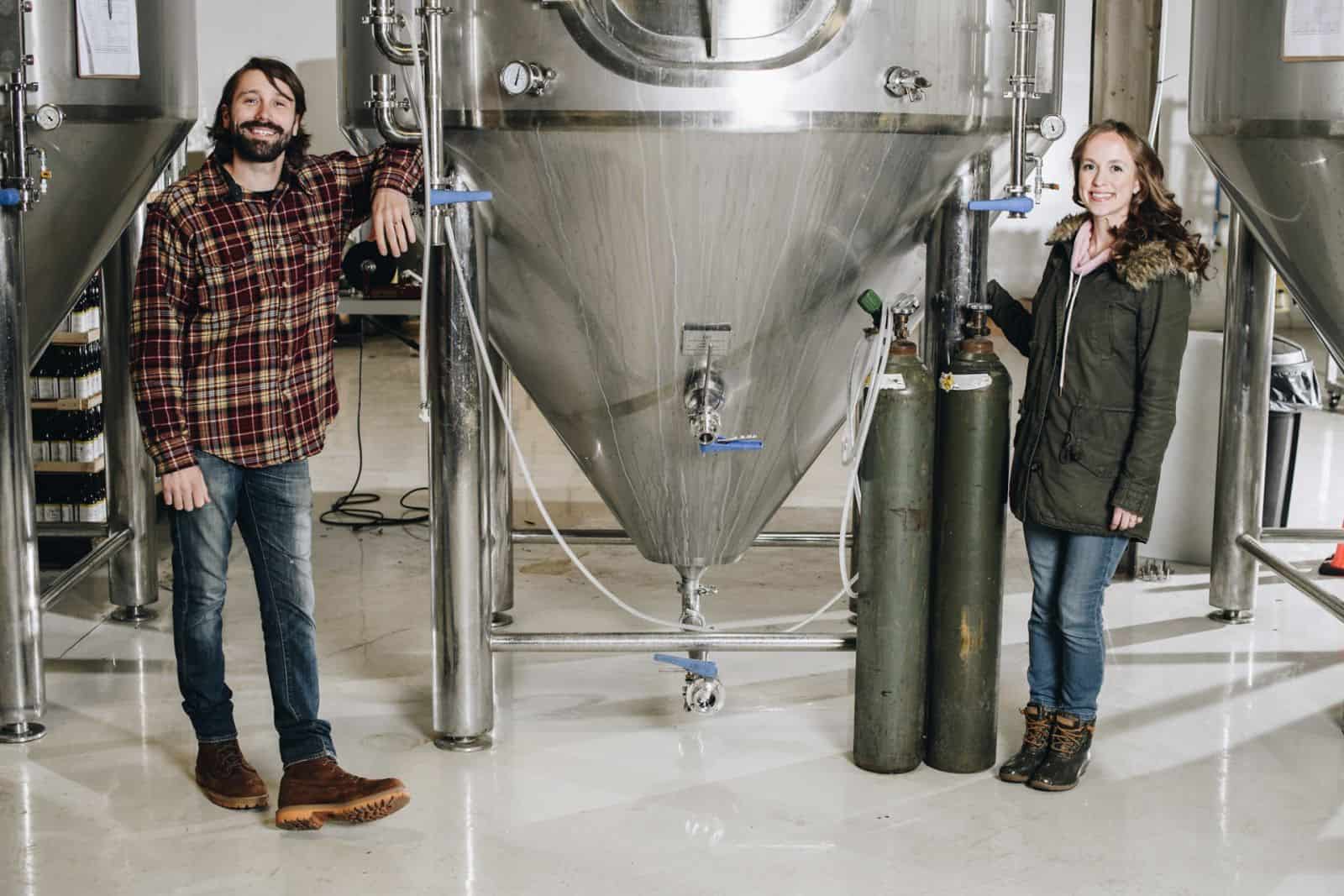 Since draft sales slowed, we also had to make sure we were more package-heavy since all the distributors wanted bottles. We're thrilled that people are still coming in and getting their cider to-go, but we are anxiously awaiting the day when we resume full service. We're currently closed for indoor service, per the current City of Chicago guidelines. 
Can you share a success story that you are proud of in your job?
Katie: My dad was an entrepreneur, and he always told us to celebrate the small wins, and we have done that since day one. So, while they may be as tiny as someone giving us a thumbs-up when they pick up their cider, the fermentation went really well, or the bottling went off without a hiccup, we make a big deal about each success. 
We launched a new product during the pandemic, one of my favorite ciders, Clementine, a semi-dry cider with clementine and cinnamon. We also had a Jeni's Splendid Ice Cream flavor, a light and refreshing Hard Cider Sorbet. 

Muzzle of Bees is one of our most interesting successes. The Chicago-based band Wilco that Charlie and I are fans of has a song titled "Muzzle of Bees." Late one night, after a long workday, Charlie decides to email the band (which we don't know personally) through their "contact us" link and ask if we can use the band's song name for a cider. I've always heard the band members are super-nice people, but I either expected no response or a polite decline. However, they emailed back instantly and said it was a great idea and offered to help design the label. For the limited-release cider, we used slightly more honey [Right Bee gets all their honey from the 10 beehives on their roof] than our other ciders and elderflowers, which resulted in a cider with more body and more complex mouthfeel. Muzzle of Bees is a really special cider to us, and it actually just won a medal at a Honey Beer/Cider competition! 
If you were stuck on a desert island and you could take three things, what would they be?
Katie: I'll be practical here: First-aid kit with a flare, a water purification system, and a knife so I can hunt and build some kind of shelter. Charlie's answers will be more fun than mine!

Charlie: Gas generator (with plenty of gas), CD player, and Huey Lewis and the News' critically acclaimed 1983 album "Sports" on compact disc.
To learn more about Right Bee Cider, check out its website, Facebook and Instagram pages. As the COVID-19 pandemic has forced closures across the country, Right Bee Cider is available for delivery and pick-up in the Chicagoland area through its online ordering portal.
Find Right Bee Cider at 1830 N. Kostner in Chicago, IL; phone: (773) 234-4654.