Welcome to Cider Culture's column about DIY cider making. Our intrepid cider reporter, Samantha (who's also an at-home cider-making experimenter), will share her tips, thoughts, frustrations, victories and insights into the DIY magic it takes to turn apples into a mind-bending beverage. Check out her first, second and third installments to catch up on the topics discussed so far.
Yes, it may be the name of the best party game, but can you actually compare apples to apples? In yet another example of the magical power of apples, when it comes to flavor, no two varieties of apples are quite alike!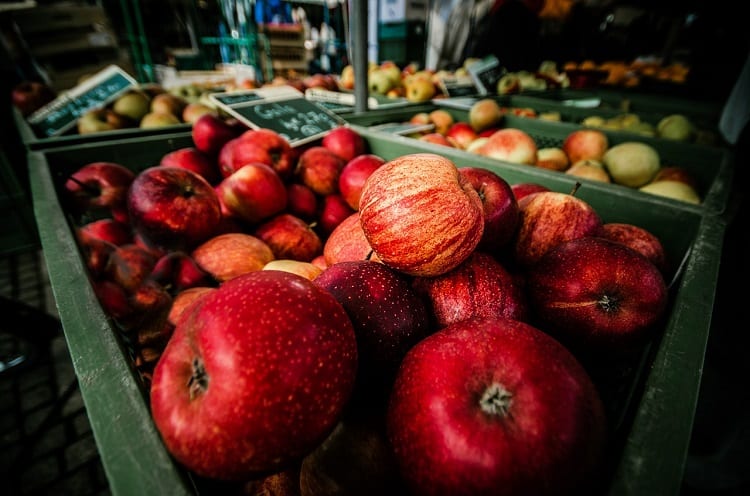 The flavor profile of each apple is broad; specific varieties are enhanced with their own unique characteristics. All apples have some kind of balance between tart and sweet, but the varying degree of each property, including the texture and flavor notes, play a part in differentiating the styles.
Some apples are best for eating raw; some have flavors that can take your apple pie to the next level. Most apples can be used in creating flavorful hard cider, but there are a few specific varieties that work best as cider apples. Galas, Gravensteins, Newtown Pippins, Rome Beauties and Winesaps are a few common varieties that can add amazing nuances and depth to hard cider. Though you won't often find more than a few standard apple types in a regular grocery store, some specialty markets carry an expanded selection. This also offers a great reason to go apple picking at a local orchard, check out your neighborhood farmers market or to get to know a local farmer who may be willing to sell you heirloom apples in bulk.
Are you trying to choose the proper apple for your cider making or holiday baking? It doesn't have to be difficult! Take a look at our apple style chart:
| Apple | Uses | Characteristics |
| --- | --- | --- |
| Braeburn | Baking, Dried, Fresh Eating, Sauces | Splendidly tart with hints of sweetness, these are very crisp and juicy. Very aromatic and tall in shape. Best for eating fresh or baking holiday pies. |
| Cortland | Apple Butter, Fresh-Eating Pies, Salads, Sauces | Deriving from the McIntosh variety, these apples are deliciously tangy, tart and juicy. Offer crisp texture with every bite and are larger in size than their McIntosh cousin. Best for eating fresh and for apple walnut salads. |
| Fuji | Fresh Eating | Developed in Japan, Fuji apples are a hybrid of two apple varieties: Red Delicious and Ralls Janet. Sweet as soon as they are plucked from the tree, they become sweeter and richer when stored. Naturally very juicy, with a firm, red skin. Best when eaten fresh. Fujis store well for longer periods of time compared to other apples. |
| Gala | Ciders, Dried, Fresh Eating | Galas are one of the most recognized varieties because they are some of the most widely produced apples. Mildly sweet, they are juicy and crisp with a yellow-orange skin and red striping. Enjoy eating fresh or using in your next batch of hard cider. |
| Granny Smith | Baking, Salads | A bit acidic and tart, Granny Smith apples are exported from Australia. Their green skin is their best identifier, and they have a crisp skin that is ideal for baking. Delicious sliced on salads with cranberries and goat cheese. |
| Golden Delicious | Baking, Apple Butter, Fresh Eating, Sauces | One of the most important varieties, since many other types of apples are derived from the Golden Delicious. Moderately sweet with a thin skin and crisp flesh. Great for baking pies or making some applesauce for your Thanksgiving dinner. |
| Gravenstein | Ciders, Baking, Fresh Eating, Sauces | Gravenstein apples have a perfectly balanced flavor of both sweet and tart, making them great for various uses. Crisp, white flesh, full of juicy honey nuances; greenish-yellow with dense red and orange striping on the exterior. Tasty both raw and prepared, Gravenstein's flavors are ideal for hard cider and perfect for apple cakes. |
| Honey Crisp | Baking, Fresh Eating, Pies | Developed specifically to be grown and survive in cooler climates, Honey Crisps are very popular. Juicy and crisp; ideal for eating right off the tree. Their sweet and tart flavor is perfect for creating your holiday apple strudel. |
| Ida Red | Baking, Fresh Eating, Sauces | Ida Red apples, like Fujis, can be stored for long periods of time. They have a firm skin, with a juicy texture and tangy flavor. Great for baking warm apple crisp. |
| Jonagold | Fresh Eating, Pies, Sauces | Developed through the blending of the Golden Delicious apple and Jonathan apple, Jonagolds are popular because of their sweet tanginess and tart flesh. With a yellow top and a red bottom, this apple is a refreshing snack and perfect for using to create hard cider. |
| Jonathan | Baking, Fresh Eating, Sauces | Another widely praised apple, the Jonathan is tart with a crisp flesh. The tart nature of the apple makes it ideal for baking, but it has enough sweetness to enjoy as a snack. |
| McIntosh | Fresh Eating, Sauces | The McIntosh apple has the distinctive red skin color and pinkish-white flesh. Crisp, juicy and sweet. With a crunchy, juicy bite, they are an ideal snack and great for making applesauce. |
| Newtown Pippin | Ciders, Pies, Sauces | The Newtown Pippin is one of the older apple varieties available in the United States. Its coloring is light green-yellow and splashed with orange and red highlights. When first picked, the taste of the Pippin has a rich, sweet-tart apple taste with nuances of spice and pine, a flavor that will pleasantly mellow in cold storage. Perfect for hard ciders and homemade applesauce. |
| Pink Lady | Baking, Fresh Eating | Pink Lady apples were developed by the blending of two varieties: Lady Williams and Golden Delicious. The skin is a bright green, and the flesh has a crunchy texture and a tart taste with a sweet finish. They also make great dessert apples. |
| Orin | Baking, Fresh Eating | Orin apples are not a well-known variety of apple. Considered a very sweet apple with a fruity aroma, the complex flavor makes for an outstanding eating apple. It is a great apple to use for baking pies because of its complex flavors. |
| Red Delicious | Fresh Eating | Red Delicious apples are one of the most common, commercially grown apples in the United States. They are a rich, red color and have a creamy white flesh that is slightly crisp and dense. It provides a mildly sweet, if not particularly interesting, flavor and a slight floral aroma. |
| Rome Beauty | Ciders, Baking | Rome Beauty apples have thick red skin and greenish-white flesh. Their crisp tartness makes them a go-to for making hard cider, or an old-fashioned apple lattice pie. |
| Winesap | Ciders, Pies, Sauces | A fan favorite, these are very juicy, with a sweet-sour flavor, beautiful aroma and a sturdy, red skin. Best uses are for hard cider and Grandma's apple pie. |
What's your favorite apple? Have you had particular success using certain apple varieties for DIY cider making? Please join in on the conversation and let us know!