The development and maturity of alcohol as it ages and changes is one of most fascinating and rewarding aspects of the beverage world. The breakdown and revelation of new flavors and textures keep glasses full of excitement and exploration.
Tracking the maturity and aging is uncharted ground for the North American cider community. The economic reality of the market dictates that producers need to get their product out the door and to customers as soon as possible. But as the cider community develops in North America, many producers are beginning to consider cider maturity and aging, and are pushing the expectation of the apple.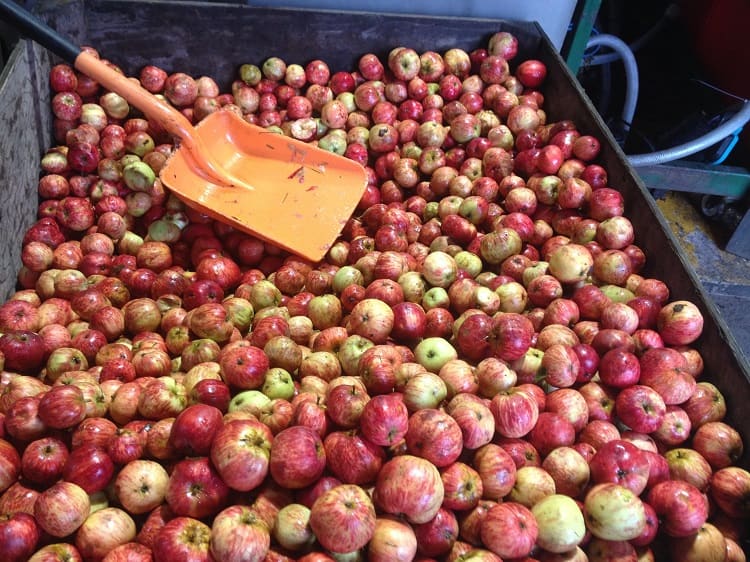 Historically, producers aged alcoholic beverages because of the infrastructure limitations of preindustrial Europe. Product shipped by boat or over land was often sold long after it was produced. Entire styles of fortified wine, like Madeira and Port, emerged as a result of the realities of shipping wine.
The rough edges of wine or distilled spirits are softened with time in a barrel. Bordeaux in the 19th century generally was less than 10% ABV, and consequently needed time to mellow, integrate and open up. German Riesling of the past was often so acidic that the wine need a decade before it was ready to drink. Besides these export-centered wines, most wine remained local and was consumed fresh, within a year of production. Today, even with a global market, most wine is meant to be drunk young, with only a small percentage of wine intended to be enjoyed in the years to come. Traditional European cider was mostly kept local and also usually consumed with haste.
Fifteen years ago, the concept of aged beer was a novelty, and aged amaro and bitters were strictly to be found in your great-aunt's house. Now both can be found at bars and restaurants around the country. Felix Nash of Fine Cider in the UK said that most mature ciders he comes across are unintentional, with a few exceptions like some Once Upon a Tree's 2011 Carpenter Croft, which is aged for 5 years on the lees before disgorging.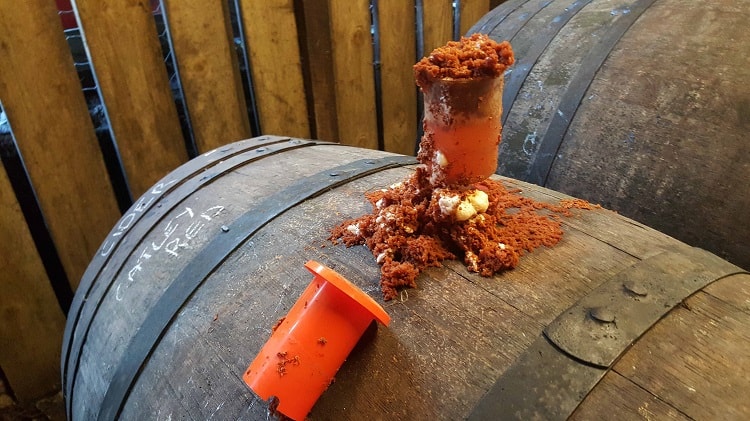 Maturation is a challenging and misunderstood process. Simply put, it is a process of gentle oxidation where the tannins and acid begin to give way to secondary flavors as the primary fruit flavors of fermentation fall away. For as long as people have been writing about wine and cider, they've been questioning and examining the role and benefits (or pitfalls) of maturation.
Wine writer Jamie Goode in a 2015 article "Eating Sugar: Why Old Sweet Wines Often Taste Drier," said that older wines lose their fruity flavors, which masks their sweetness and brings forward more tertiary flavors.
Master of wine Clive Coates developed the Cotes Laws of Maturity, which states that "when a wine ages, its key elements, which make up its character, fade. The aging applies to some flavors, textures and aromas. They do not fade uniformly and, depending on the individual who tastes the same wine for evaluation, they may perceive it differently."
Steve Selin of South Hill Cider said that this controlled oxidation can lead to complexity, citing several recently enjoyed decade-old bottles of the Maloney family's West County Cider in Colrain, Mass.
Nash noted that in a few years, ciders lose their "fresh-juice sumptuousness of the new seasons" and move toward nuance and maturity.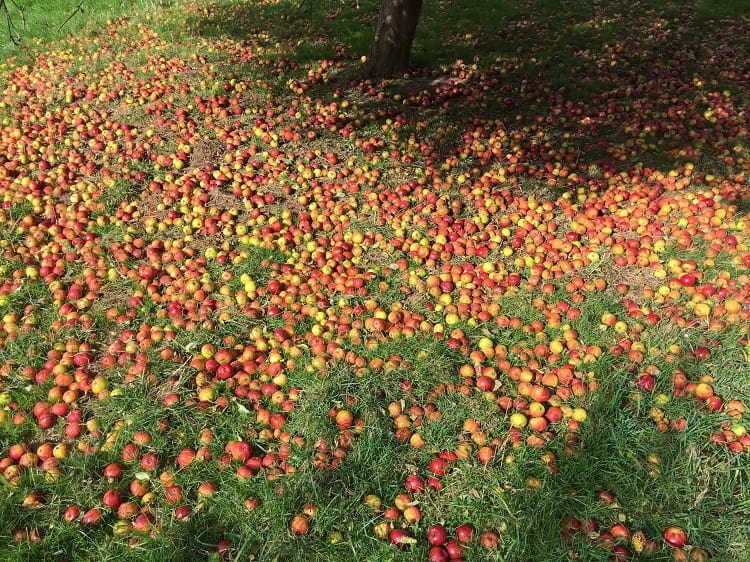 Like wine, not every cider is meant to mature. The division between what is meant to be drunk young and what can last begins in the orchard. The first distinction is the variety of apple. Culinary and eating apples generally do not have the structure or acidity to make a cider that will mature gracefully.
Eric Shatt of Redbyrd Orchard Cider, located in the Finger Lakes of New York, said, "Some cider's main component is bright, lively fruit. With age, if fruit and only fruit is the cider's main characteristic, it will fade, revealing behind the fruit a rather bland and simplistic cider." Shatt feels that cider needs to have a backbone and life beyond the fruit in order to develop. This backbone can be found in the cider apples either of European or American persuasion.
Tom Oliver of Oliver's Cider and Perry in Herefordshire is a firm believer of  "tannic varieties with good, soft tannins, as long as the acidity is appropriate and the alcohol volume decent … you need to add some sharp apples in greater quantity than normal."
He warned that tannic ciders need some balancing acidity from pressing; otherwise, outcomes can go awry (bitterness/harder to integrate at blending). Oliver blends these bittersweets with some Foxwhelp for acidity. Shatt agreed that striking that balance between phenolic texture and acid is the key to great mature cider.
European apples, however, do not have the monopoly on lifespan. Apples like Northern Spy, Golden Russet, Wickson and others are all suited to give a cider the ripeness, texture and acid needed to reach maturity. Golden Russet in particular can become honeyed, waxy and wrapped in fruit leather when given a few years to mature.
The key to all these apples—European or American—is how the fruit is grown. Ripe, well-grown apples have a texture and concentration that only comes from good farming and stewardship. Variety is not everything. The same way we would not expect a value bottle of Central California Coast Chardonnay to age like a Grand Cru Burgundy, why should we expect industrial Kingston Black to perform the same way as a carefully cultivated one from the Finger Lakes?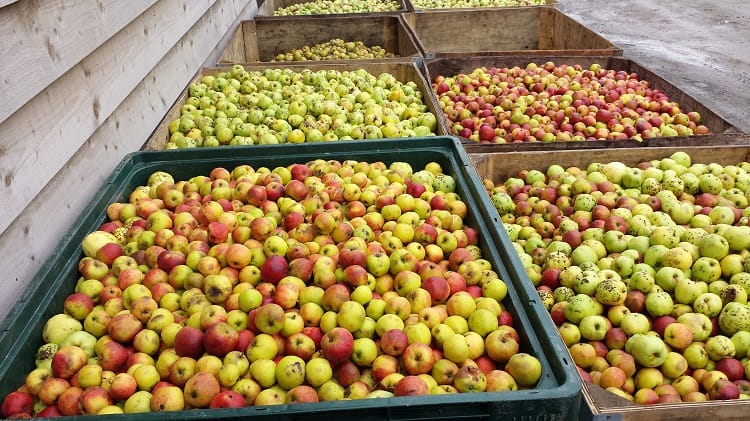 Once the apples are selected, decisions made in the cellar can lead cider toward a long maturity. Both Selin and Shatt are firm believers that extended maturation on the lees can gain the lead to more texture and complexity. Lees are yeast cells that have fallen out of solution and are no longer active in fermentation.
Shatt will keep his cider on their primary fermentation lees until he is ready to bottle. Selin's Pomme Sur Lie 2015 (French for "on the lees," a la Muscadet) was left with little sulfur for more than a year before it was time to bottle. South Hill Pomme Sur Lie is made from a blend of very high tannins and acid apples from around the Finger Lakes and bottled still. It underwent malolactic fermentation that rounded out the intense acidity and created a stable cider without the need for filtration. That cider has developed wonderfully, and Selin said the tannins, acid and flavors have married to become a more united chorus of cider. Both Selin and Shatt credit lees aging with increasing the stability of the cider and allowing them to intervene less with the cider.
Once bottled, the cider enters into the next stage of development. For traditional sparkling cider, cider makers add a tirage, which is simply more sugar and yeast that begins a secondary fermentation in the bottle. Ciders like Redbyrd's Celeste Sur Lie and Cloudsplitter spend a considerable amount of time with the lees that drop out of solution during secondary fermentation.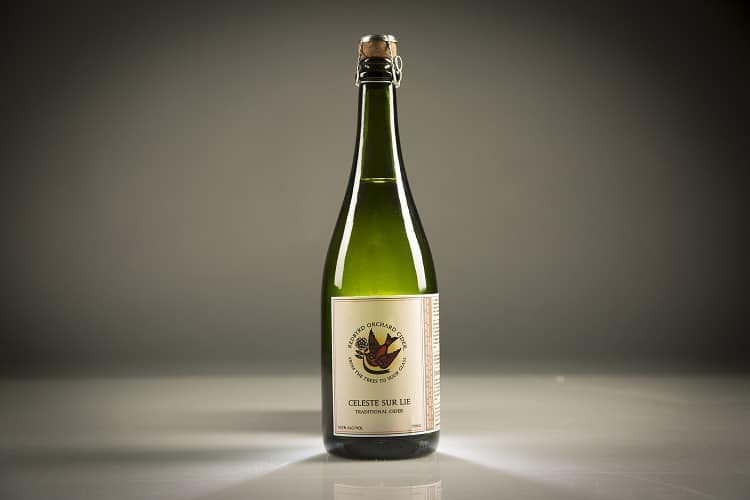 Shatt said that lees in the bottle improve the stability of the cider and slow down the process of oxidation, allowing autolysis to have a great effect on the cider. Autolysis is a process of gentle oxidation from lees contact and leads wine or cider to develop a toasty, brioche or nutty flavor. Shatt found that his ciders develop these flavors after 10 to 12 months and play a large role in dictating when he releases his ciders. He speculates that the lower ABV of cider leads autolysis to have a more profound effect sooner than compared to grapes.
Naturally sweet keeved ciders further complicate the maturation process. As Kevin Zielinski of E.Z. Orchards explained, keeved cider is never really finished fermenting, but rather slowed to a crawl because of lack of yeast nutrients. Tom Oliver explained that "a keeved cider is not stabilized at all; it will keep moving in the bottle, but I do find this usually only adds to the charm of the drink and does not detract." These living ciders will progress and develop in the bottle in a special way. A recently opened 2009 Dupont Brut showed tons of earthy, shiitake character while keeping the inherent sweet core of the fruit.
Mature cider does not mean old cider. Steve Wood of Poverty Lane Orchards and Farnum Hill Ciders has cases of cider from the late '90s in his barn that have not improved, but also do not seem to be going anywhere. The second part of Cote's Laws of Maturity says that wine will be in its prime for an equal amount of time that it took to get there. If we apply the Cote's Laws of Maturity to cider, then we can understand why cider may not last for decades, but will taste great in a few years.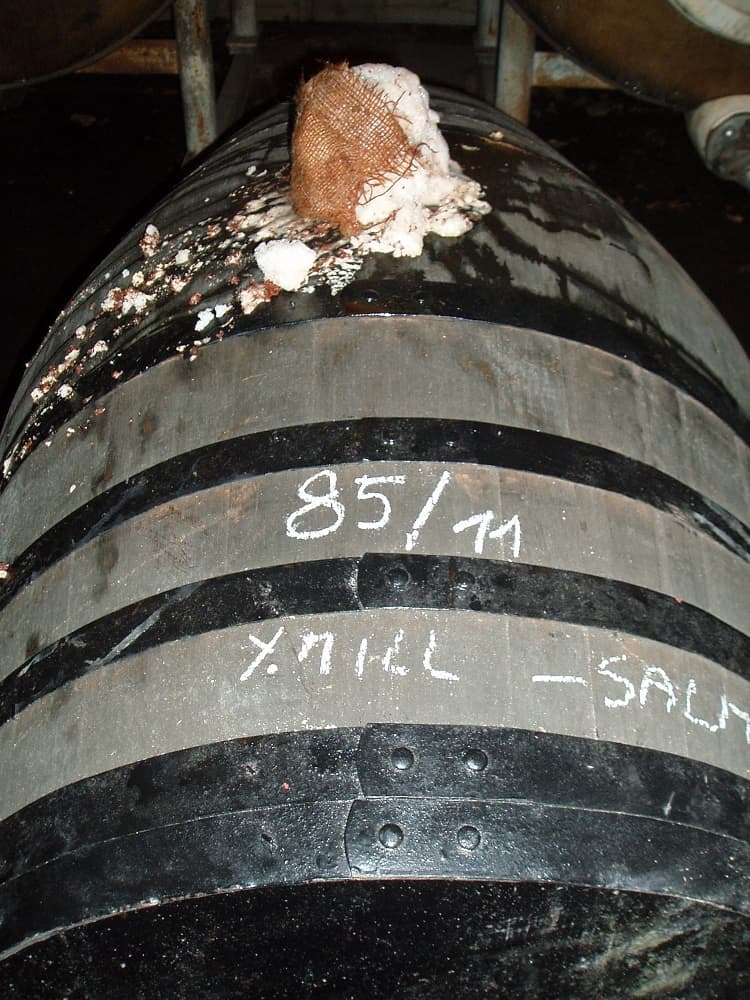 Autumn Stoscheck of Eve's Cidery delved into the depth of the aging curve of her ciders. "The first year seems to be about integration. The cider becomes less a jumble of components and more a synergized whole. Between a year and two years I find the tannins to get smokier, softer and sexier. This, I believe, is the sweet spot. After about three years, the ciders we make seem to stop getting better and begin a slow or fast decline."
Eve's Cidery produced a larger-than-usual volume in 2015, disgorged some of it in 2016 and disgorged the rest in the summer of 2017. The differently disgorged ciders have both evolved. Both are exhibiting the softer, smokier tannins while the fruit is much fresher in the recently disgorged cider. 
Stoscheck said that old cider tastes lifeless and takes on a "tinny" flavor that is not appealing. Oliver said that older keeved ciders can exhibit band-aid and sulfur, which are intensely hard to drink. He also noted that older Kingston Black can lose its fruit quickly and is simply phenolics without depth of fruit or character. On the other hand, on a recent visit to Eastern Washington, Tim Larsen of Snowdrift Cider opened a 2008 traditional method—bittersweet cider that was savory, earthy and mouth filling while keeping the heart of ripe orchard and stone fruit that makes his cider special. Felix Nash said that he recently found a 79-year-old bottle of cider from a defunct Devon producer. After all this time, the cider was oxidized and brown, but remained sweet and had gained an interesting spice element.
Cider has a long way to go before the industry has a level of experience and expertise comparable to the wine community. Everything right now is worth exploring. Stoscheck noted that in a few years, she may have totally different opinions and beliefs based on her experiences. The antioxidative effect of gross and fine-lees aging is still in its early phases of understanding as it applies to cider. While there is an understanding of fruit selection and its impact on the final cider, these are all early trials.
All other photos: Tom Oliver