For LGBTQIA+ Pride Month, we're sharing stories of queer-identified cider makers from across the country. Meet Hannah Ferguson of DOPE Cider House, via a Cider Culture article which originally published in April 2021. DOPE Cider House is now open at 460 E. Federal St., Suite B, in Youngstown, Ohio, holding hours Thursday through Sunday.
Malaika Tyson is one half of the blogging duo Cider Soms, which was started as a way to introduce wine-lovers to the world of cider. Created along with her husband Sean, the "Soms" blog seeks to uncover and explain the complexities of ciders in a fun way.\
Hannah Ferguson is a home winemaker and former assistant brewer in Ohio. When she opens her cidery later in 2021, her company will be the first black, female-owned cidery in Ohio. After reading a press release about Hannah leasing space from Penguin City Beer in Youngstown, OH to open DOPE Cider House & Winery, I was excited to learn more about her journey.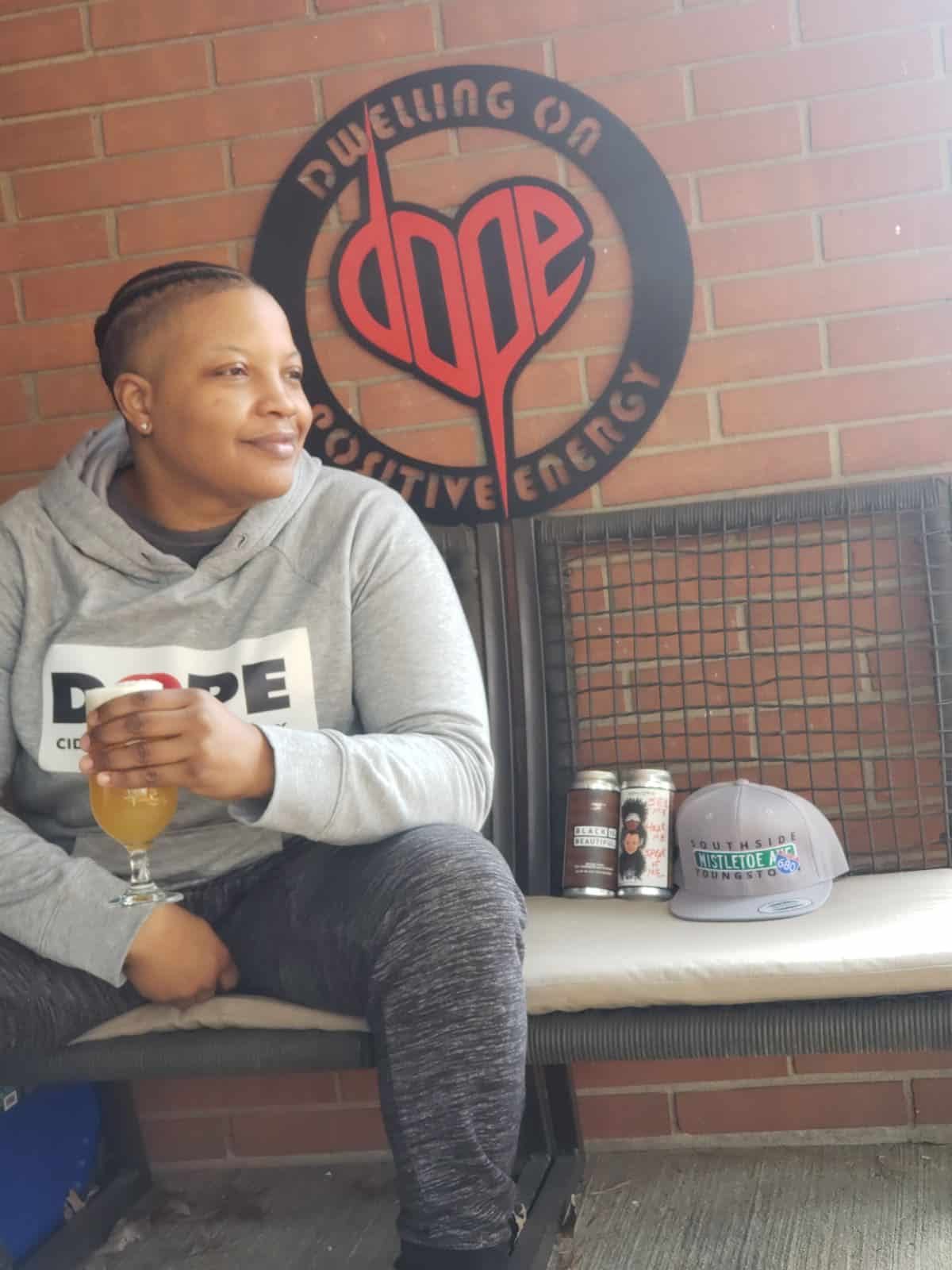 (The questions and answers have been edited for brevity and clarity.)  
Cider Culture: How did you get your start?
Hannah Ferguson: I've been a home winemaker for about 10 years, and I've always enjoyed craft beer. So while I knew how to make wine, I didn't have any idea how to make beer. An assistant brewer position opened up at Modern Methods Brewery, and I worked with them for about two-and-a-half years. I am the only black female professional brewer in Ohio. But my passion has always been wine and cider. Over the summer of 2020, I collaborated with Sundog Cellars Ciderhouse & Winery, and a portion of the proceeds went to my LLC, DOPEbrands, to help me open my business. 
How did you decide on the name DOPE?
It's an acronym that stands for Dwelling On Positive Energy. When I first started DOPEbrands, I was doing events, trying to bring open mic nights, poetry, spoken word and the like to people in their 30s. I knew that whatever my business would be, it would have to be dope, and the name stuck. I wanted the name to have a meaning, and my brother came up with the acronym.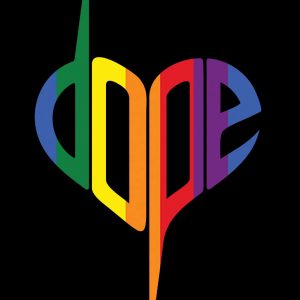 Dwelling On Positive Energy is the vibe that my circle of friends and I give off. Cities have a lot of things going on, and people always have something negative to say about Youngstown, but we have a lot of positive things happening that I want to show in what I'm doing. 
Why did you decide to start making cider?
I started researching cidermaking, and I discovered making cider is the same as making wine, and that in Ohio, cidermaking falls under the wine license. Sundog Cellars also started as only a winery. They changed their business plan to start focusing on cider because the beverage is faster to produce than wine, and it is very popular right now. So while Sundog still makes wine, cider is their moneymaker. For me, starting with wine would take at least six months to produce, and it would also be dependent on the season for getting grape juice. My interest in making cider was also bolstered when I did the cider collaboration and researched how many black-owned cideries there are. [Editor's note: not very many.]
Can you tell me about the collaboration cider?
We got the juice from Hays Orchard in Columbiana, OH. After fermentation, the base was just under 8% ABV. I wanted to give it a Miami Vice feel with a strawberry pina colada mix. A farm in Michigan makes a thick, concentrated strawberry puree that we added into the cider and gave it a beautiful color. We used other flavorings for the coconut and the pineapple. Coconut is a hard flavor to enhance, so we drank a lot to get the right taste. This experimentation is something that I think is a lot of fun, compared to making beer.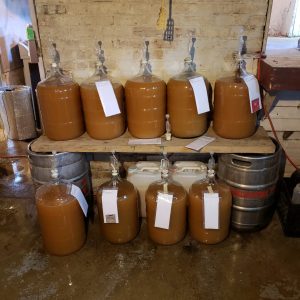 How long have you been interested in opening up a cider house and winery?
It's been about three years. Part of it has been trying to find a location. In Ohio, you can't get any licensing unless you have a location. And once you have a location, you have to start paying your bills before you start making any money. As a small business, it's already challenging to get capital, and when I found a couple of locations, there were some issues.

However, if you'd asked me five or 10 years ago if I would turn my hobby into a business, I would have said no. I was happy being the person who brings cool gifts to the party. But I want to see more people of color in this space and making cider. Also, seeing how many craft breweries were started by homebrewers let me know that I could bring this business to fruition as a home winemaker.
Is that how your partnership with Penguin City Beer came about?
Yes. Penguin City Beer found out what I was trying to do through word of mouth, and they reached out to me one day. Penguin City Beer had just purchased the ~33,000-square-foot Republic Warehouse in downtown Youngstown. They will use the majority of the warehouse space, but there is also a 1,500-square-foot office building attached to the warehouse that we are going to use for my production facilities and taproom. I am excited to break into the industry!
What style of ciders will be the first you plan to make?
I'm leaning towards the modern style, it's aligned with my palate, and the ciders I typically drink tend to have adjunct flavors. However, I want to keep it mixed up and not just have one style and make ciders that attract different people and keep the board rotating. I do want to have flagship ciders. I believe that I'll have eight taps, so ideally, I would have four flagship ciders and four rotating ciders. 

Do you also plan to can your cider?
Yes, it's one of the first things I plan to do so that I can reach a lot of markets and distribute further than my surrounding area. A cool thing about partnering with Penguin City Beer is that they already have a canning line, and they are willing to assist me with getting the ciders into cans. Even though the doors aren't open, a lot of people are asking me already for cider. It's good, and I hope it continues.
What do you consider the keys to your success so far?
The friendships and collaborations I made, starting in the beer industry. And not giving up, even though I've had a lot of letdowns in the past three years. There were many times when I was ready to quit and go back into the workforce; I used to work in higher and secondary education.

While everyone's story is different, it is hard not being able to see people who look like me or that I could relate to succeeding in the industry. However, it's never too late to find your true passion, and that drives me.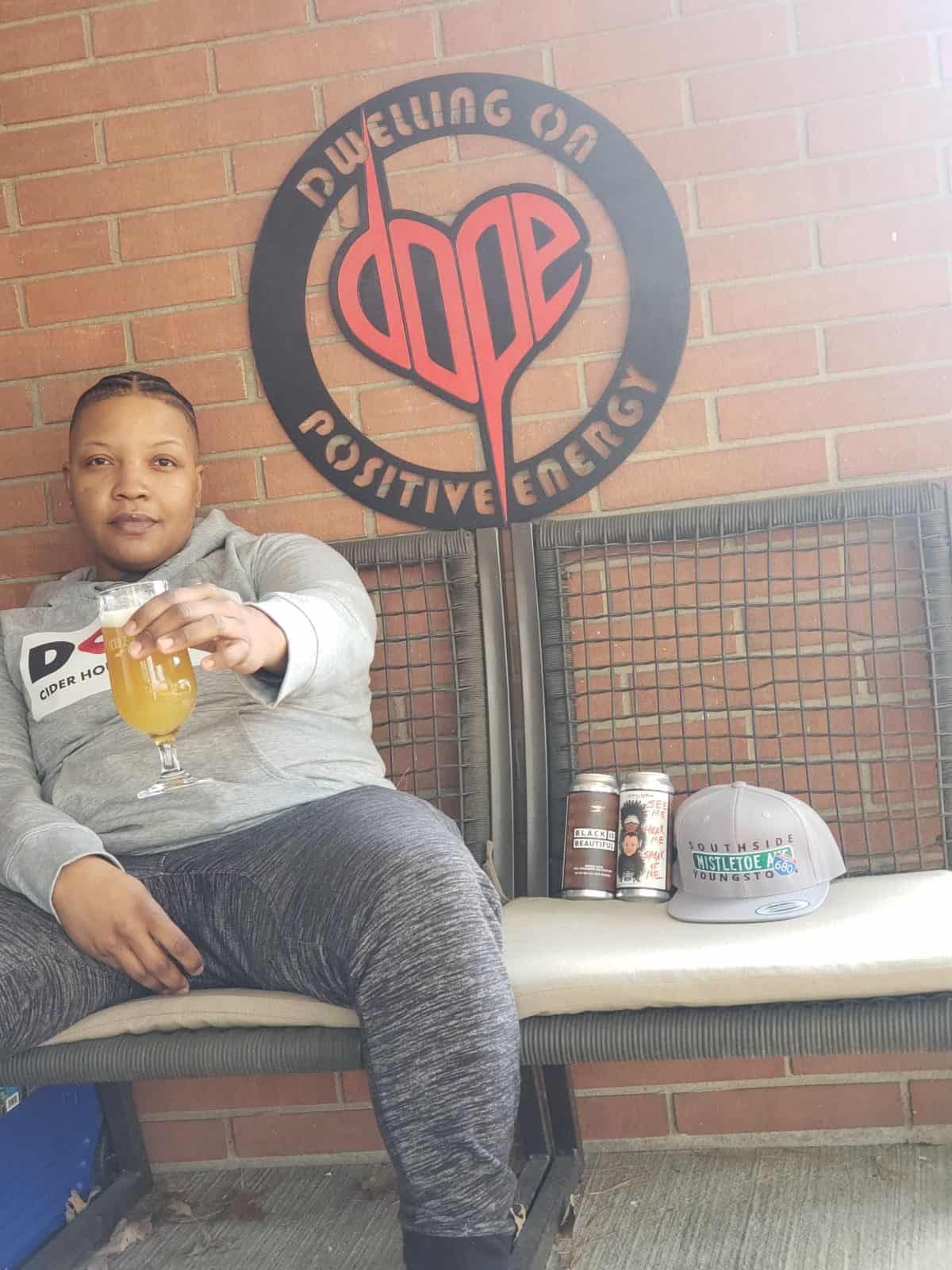 What will your taproom be like when it opens?
I've always wanted a coffeehouse feel with a happy hour vibe. I like to go to coffee shops, but sometimes I want to get an Irish coffee. The taproom will be welcoming for someone who wants to come in and read a book or log on to their computer. Very comfortable, laidback and comforting. It's a bonus that I'm next to Penguin City Beer, as they will have restaurant hubs with different smaller restaurants on the inside. They will also have a full liquor license plus beer. We will also share an amazing outdoor patio space. 
When do you plan to open?
We are hoping for September 2021. There are a lot of renovations, and we need to get the equipment in. I ordered the equipment in early March, and that takes a few weeks to get in. Our biggest concern is the licensing in the state. They are very behind in the process, and it's sad, as a lot of businesses need this licensing to open or move. I'm hoping they catch up really soon so that we can open on time. 
 

What non-cider beverage is in your glass most days?
Right now, I'm drinking an Aldi sangria. I love it! It's the best $4 wine you can buy. Usually, if I'm not drinking cider, it's craft beer. I enjoy Rhinegeist Brewery. They make cider and beer and have some cool flavors.
To learn more about DOPE Cider House & Winery, and to keep up with Ferguson's progress toward opening the cidery, check out the brand's website, Facebook and Instagram pages.