So many cideries start because some brave soul, who's chugging along in a more "traditional" career, decides to give up the desk jockey routine and pursue their passion for cider. The founding of Texas Keeper Cider starts in such a manner, with co-owner and cidermaker Nick Doughty bailing on his plans to go to law school and instead traveling to New Zealand and enrolling in a university there to study winemaking.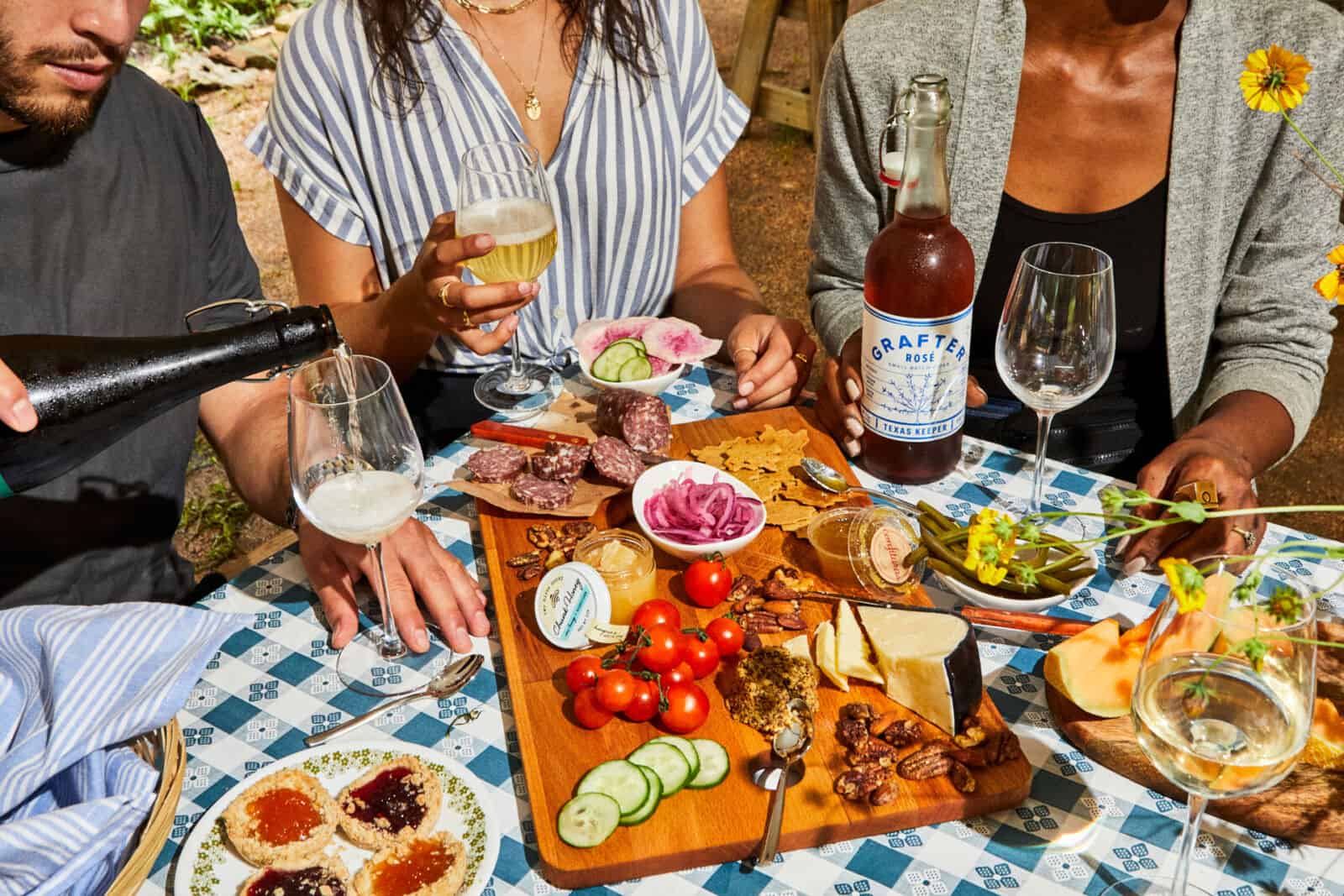 It's a lucky thing that Doughty had the fortitude to make this life choice, because the Texas cider community and the industry are better for it. Texas Keeper's fruit-driven ciders are informed by Doughty's winemaking experience and profound sense of curiosity and creativity when it comes to apples and other fermentable fruits. You can see evidence of this in Texas Keeper's ciders, like Grafter Rosé, a co-ferment of Rome Beauty, Cameo, Honeycrisp and Fuji apples and Texas-grown Mourvedre and Cinsault grapes.
We were able to catch up with Doughty to learn more about the founding and flourishing of Texas Keeper for this Cidermaker Q&A:
Cider Culture: How did cider first come into your life?
Nick Doughty: I grew up in Austin, Texas but my dad is English, and my aunt lives in Somerset. Whenever we'd visit when I was a kid, we'd go to cideries. Wilkins is a legendary old-style cidery that stays in my memory, with an old barn on a hillside. The owner grows all the apples and makes ciders. Lindsay [Doughty's life and business partner] and I actually got to go back there in 2017! In 2004, she and I actually moved to New Zealand and got work holiday visas and worked a season in the apple orchards. We went back again for part of 2010; it was great work!
How did those experiences lead you to opening Texas Keeper?
At that time, I was a film editor and did more academic work. But I really loved working hard in the orchards, doing a hard day's work. I came back here to grad school, and got a degree in public policy, but then decided to not go to law school. Instead, I enrolled in Lincoln University in New Zealand and moved back down there to learn winemaking. Lindsay and I lived in New Zealand on and off for multiple years over a decade-long period. Part of my studies there included tending to a row of grapes that we'd use to make wine with. My vineyard partner and I started crushing apples and making cider on the side just for fun. Lindsay and I started thinking about opening something in Austin, and began working on a business plan. When I came back to the States, I got hired as the assistant cidermaker of Austin Eastciders, where I worked for a few years before I slid out to start Texas Keeper. We got the first apples for Texas Keeper in 2013, and released our first cider in 2014.
Why did you turn to cider instead of pursuing winemaking?
Playing around making cider in grad school showed me how much creativity you can bring to the process. At the time, the American wine scene didn't really exist if you were outside of certain areas in the Northeast and West Coast, but cider was burgeoning everywhere.

Plus, good cider is wine, and that's how we've always treated it. We don't own any apple trees, but we work with a few small farmers focused on getting quality fruit and treating it like wine. To us, that means fermenting low-and-slow, letting the apples speak for themselves, and doing a lot of the cidermaking through the blending process. We've really leaned in to the orchard-to-bottle style: everything we do is finished in 750-ml bottles, and a few things in draft, but no cans. We only keep our Gold Rush and Texas Keeper #1 cider around year-round, but everything else we make just once, or we'll make new vintages of it.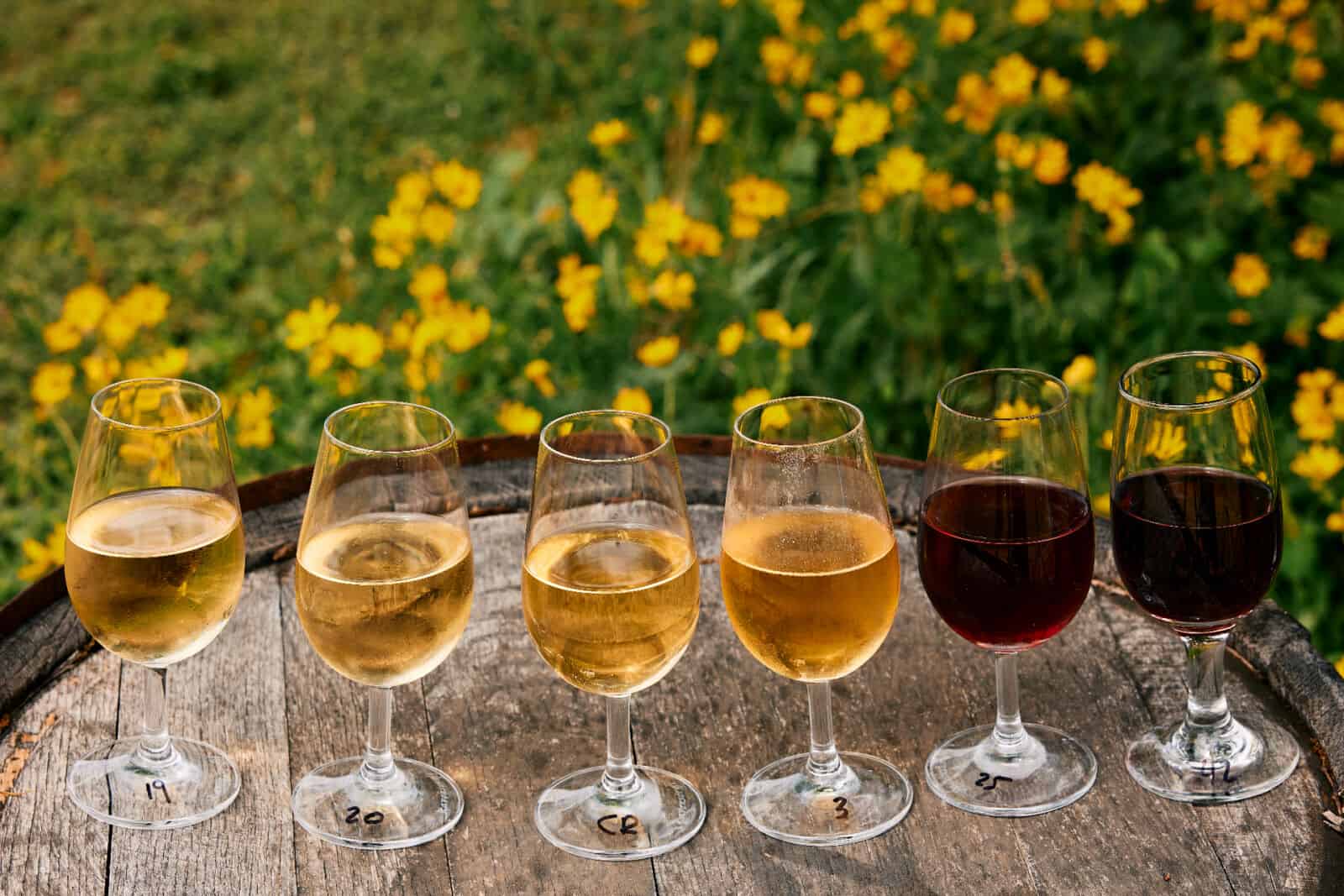 How did you find the growers that you're currently sourcing from?
We reached out to the Ag extension office who helped connect us with some Texas apple growers. We also ran into one of our growers on a Google Group who had all the cool old American apples we were looking for. We use some old American heirloom culinary varieties, like Rome Beauty or Rhode Island Greening, and some bittersweets and bittersharps, too.
Does focusing on local fruit ever limit what you can do?
And yeah, we're really dependent on what's available. A lot of these apples are biennial croppers, and we're always reacting to what the season gives us. But to us, the most fun thing is to make the best cider you can with what you've got each season. For instance, Grafter Rosé in 2015 was our first apple/grape hybrid. It came about because the clone of Rome Beauty we were using had some pigment bleed through, but the color wasn't stable. So we thought, let's play around with grapes and do some co-fermenting, and the next year we co-fermented the apples with Cinsault from the Texas High Plains. We also do a skin contact cider where we take Sangiovese skins and layer finished cider on tops of them and do a post-ferment maceration, which results in a pretty interesting rosé-style cider/wine. The hybrids are fun, for sure.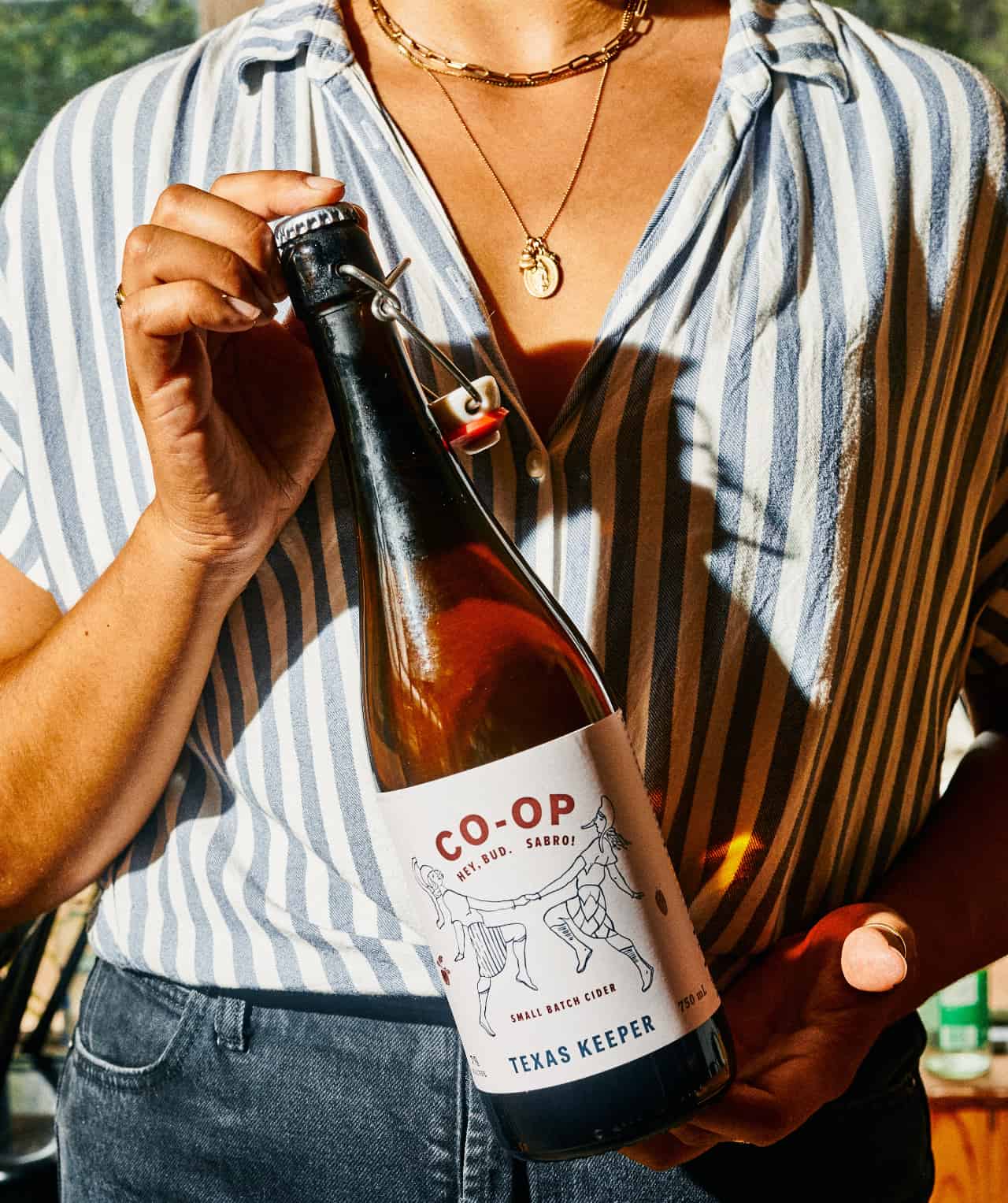 You've been making cider now for a solid decade. Has your approach changed or evolved at all?
I've become more comfortable with ciders getting a little funky. In the beginning, we only made clean, very fruit-forward cider, and then started to do more wild fermentations and barrel-aging. I think it's a result of growing more confident. As a cidermaker, you start playing around and see what's going to happen, and over time, gain more comfortability letting more chance happen in your cidermaking.
Tell us a little bit about your taproom!
Oddly, we started out doing just 100% wholesale, and then opened our taproom two years later, in March of 2016. Most people don't do it that way!

But our cidery/taproom is just outside of Austin, on the south side of town. It's on 19 acres of land full of old live oak trees, wildflower prairie land, a few veggie gardens, and lots of open space. It's an old stone ranch house, and parts of the building date from the 1880s and some are from the 1940s. We renovated and converted it into the taproom, with a kitchen that focuses on cheese and charcuterie, and a bar area where you can have ciders on tap and flights. We also carry other people's wine and some ciders, from Texas and all over the place. It has more of a winery tasting-room vibe, but you can also find people and families enjoying the picnic tables, and we have bands out here, and release events on the weekends.
Any future plans you can share with us?
We're moving into more fortified ciders, like making our pommeau, Dovetail, which takes around four years in American oak. We've also been taking some fruit from Texas, fortifying it and aging it in ex-Calvados barrels. We make Cerise, a sour cherry cider aged in sherry casks and cognac barrels. Those projects are really fun — there's so much you can do with it with fermentation, barrels, and aging!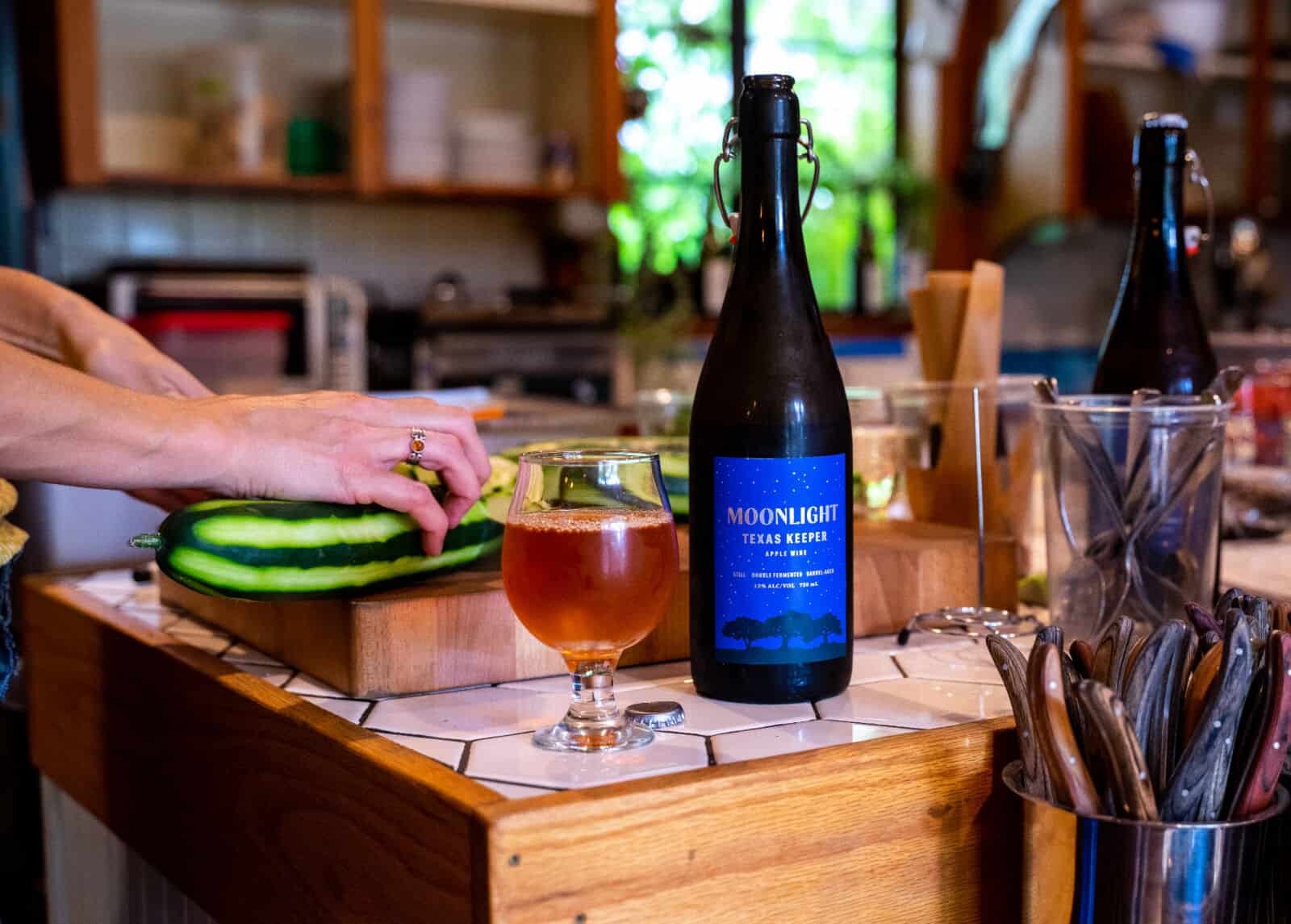 For more info on Texas Keeper Cider, visit its website, and follow along on Instagram and Facebook.
Find Texas Keeper's tasting room at 12521 Twin Creeks Rd. in Manchaca, Texas; phone: (512) 910-3409.