Malaika Tyson is one half of the blogging duo, Cider Soms, which was started as a way to introduce wine-lovers to the world of cider. Created along with her husband Sean, the "Soms" blog seeks to uncover and explain the complexities of ciders in a fun way.
Ian McGregor and Orion Bellorado are the founders of Farmstead Cider, a Jackson Hole, WY-based cidery making ciders with Wyoming and Rocky Mountain-grown apples. I first encountered these folks at CiderCon in Chicago ('21) and I was excited to learn more from Ian about more, including how their ciders help with human-animal interactions.
Cider Culture: I'm not that familiar with cideries in the Rocky Mountain Region. What can you tell us about the region?
Ian McGregor: We are a budding  community, as we're the only cidery in the state. There is a cidery in Idaho and one in Montana, too. I'm honestly itching for that to change. I love the community behind cider.
How did you get your start in cider?
I started out in wine making. I worked for a bunch of different wine cellars over six years and also worked in different vineyards and diversified farm settings, including managing a 100-acre farm for 3.5 years in Healdsburg, California. I was enthralled by the wonders of fermentation and growing things, but I was intimidated by the level of capital and competition in the wine industry. I also decided I wanted to be near family, so I moved back to Wyoming and started an organic farm.
Are there a lot of apples in Wyoming?
When I was growing up in Wyoming, I thought nothing grew here except for kale. But when I got back to Jackson, I started to notice crab apple trees growing everywhere I hadn't noticed before. I also discovered all types of sweet apples that I didn't think grew in Wyoming.
 Is that when you decided to start making cider?
Not quite. Initially I was really interested in seeing how different apples grew in this cold climate. Then my business partner, Orion, and his wife registered for (and received) a little basket fruit press in 2016 that would squeeze out maybe a gallon of juice. Both of our wives are from the northeast and have vivid memories of apples being part of autumn traditions. So in the fall, we found a few free trees and started pressing some apples. We did a couple batches of fermentations as well as a sweet cider, and had some low key fun with it.

Orion Bellorado and Ian McGregor of Farmstead Cider, photo by Ryan Dee/Sharp Eye Deer
Why did you decide to take your cidermaking commercial?
That winter we went to a dinner and the lead large carnivore biologist for the Park Service was also there. We brought some of our ciders and started talking about picking apples locally. The biologist told us that there was an issue with apples in neighborhoods all around Teton County. The vast quantity of apples in certain areas are a nuisance for the residents because the bears come and eat the fruit. They told us there was some funding for projects that help mitigate bear and human conflict. And since apples were one of the main contributors, there would be an opportunity for a grant if someone could pick and remove the apples.
That's really cool. So did you get the grant?
Yes, it was a three-year grant that we received in 2017. When applying, we told them we could pick apples in the problem areas, and asked them to help us pay for the labor to do that. We also told them that we'd try to start a business that could create an incentive to have these apples removed without taxpayer money. While we didn't get a ton of money, it was enough to harvest the first year and we hit as many trees as we could in all these different areas.

We got permission from landowners and harvested a ridiculous amount of crab and sweet apples from abandoned, neglected, wild and otherwise ignored trees and we officially opened for business in 2019. Over time, we've built a huge network of people whose trees we pick apples from who are also a great customer base when our summer tourism sales end.

Is that why your slogan is, "Save Bears, Drink Cider"?
Yes. We are interested in the bear-human relationship; it's mainly black bears where we live. We do have grizzly bears in Jackson and Yellowstone, but not in our actual town. But more and more bears have been able to expand their range as they've recovered well after previously being listed as an endangered species.

In 2020, there was a famous grizzly bear from Grandview National Park, Bear 399, who came out of her den with four cubs. She's known in our area because she's always lived so close to the town. She mostly stays near the park area, but sometimes wanders among traffic jams of people taking pictures of her. With four cubs, they learn to live on their own more slowly, and so with many mouths to feed, she expanded her range looking for food, not just hunting animals, but also hunting for fruit. In the fall of 2020, she came and brought her four cubs right through downtown Jackson. In the fall of 2021 she brought her cubs back into town and they were huge!

Everyone knew where she was and we were zooming around harvesting trees all over the place and trying to predict where she would be next. We never actually saw her, but one of the people who has a tree in an urban orchard sent us a picture of her shaking a tree with her four cubs all around it eating apples. When Bear 399 and her cubs came to town, our number of urban orchard signups doubled.

Since you're community harvesting, how do you build flavor in your cider?
We figure out what brix and flavor attributes we want, and find those in the apples. We really got into learning about how to use crab apples because the bears forced us to harvest every single apple, not just the sweet ones. We started playing with all the different amazing crab apple diversity and it's become our bread and butter to work with these overlooked fruits. We also identified some unique sweet varieties, like Yellow Transparent which was a common tree planted by homesteaders.
Do you use the same yeast strains for all your ciders?
At the very beginning we used champagne yeast. But it gets so cold here, that we found that when we used commercial yeast we had to heat the tanks and the equipment or the commercial yeast would shut down. We did a bunch of wild yeast fermentations and found they handled our 40-degree cellar pretty well. Even though fermentation was slow, the yeast wouldn't struggle and kept ticking along. So since then we have become 100% wild spontaneous fermentation.

How many ciders do you currently sell?
We have between 7 and 10 ciders. When something sells out, we discontinue it. For example, we made a cider from a 130-year old orchard in Lander, Wyoming. We were able to get a really big harvest one year, but there hasn't been much since and we just sold out in May.

We've named a bunch of our ciders after the neighborhoods in which we harvest, like the Kelly Street Cider. We also blend all bittersweets from different neighborhoods into our Bitter Local blend. Our Teton Pét-Nat has more of the dessert sweet apples and is a more accessible cider.
And all of the apples used for Farmstead Cider are from your general region?
We generally only work with orchards and fruit grown in Wyoming and in the Rocky Mountain region. We also started a little orchard of about 150 trees. I've planted a ton of diversity and we've grafted all sorts of different varieties. Last winter we had about 175 trees and 25 of them died from the cold and some others looked sad. We are still trying to find trees that can survive the winters which can get as cold as -20 degrees.

What rootstock did you graft the trees on to?
What a journey. During the first year, we had about a 40% success rate, and I learned a great deal about grafting. We used a lot of M-111 and Bud 118. The second year I did dwarf rootstock, which we will never do again. The trees only grew two inches!

Then I found a cool connection between the cider world and deer hunting. There is a guy in Pennsylvania at Blue Hill Wildlife Nursery who is interested in using apples to attract deer. He's grown a ton of Dolgo seedlings and uses them as root stock to graft all sorts of wild trees he's found in Pennsylvania. The Dolgo seedlings I've ordered from him have performed so much better than anything else we've used, which makes sense because Dolgo grows well in this area.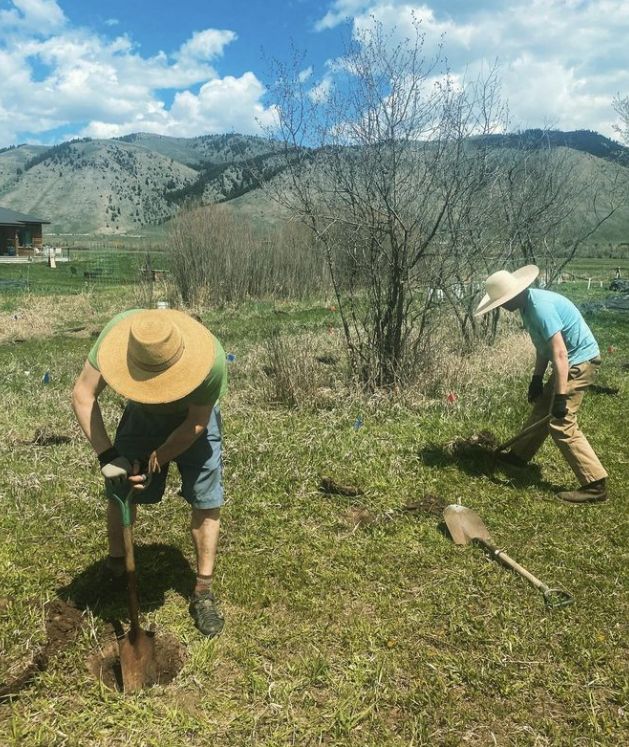 Last question! If you could have any superpower, what would it be?
I would want powers like Isabela Madrigal from Encanto, possessing the ability to instantaneously make flowers and plants grow.
To learn more about Farmstead Cider, and to keep up with bears, check out the brand's website, and Facebook and Instagram pages.

Other photos: Courtesy of Farmstead Cider