Surely you've seen the words "wild apples" or "foraged apples" listed as ingredients on some of your favorite ciders. Wild apples are prized by cider makers for their (usually) high acidity and high level of tannins — and they create some beautiful and funky ciders. We've been curious about how cideries actually go about foraging for apples, like: Where do they find them? What ciders do they choose to use them in? Can you only make small batch ciders with foraged apples, or is it possible to scale production?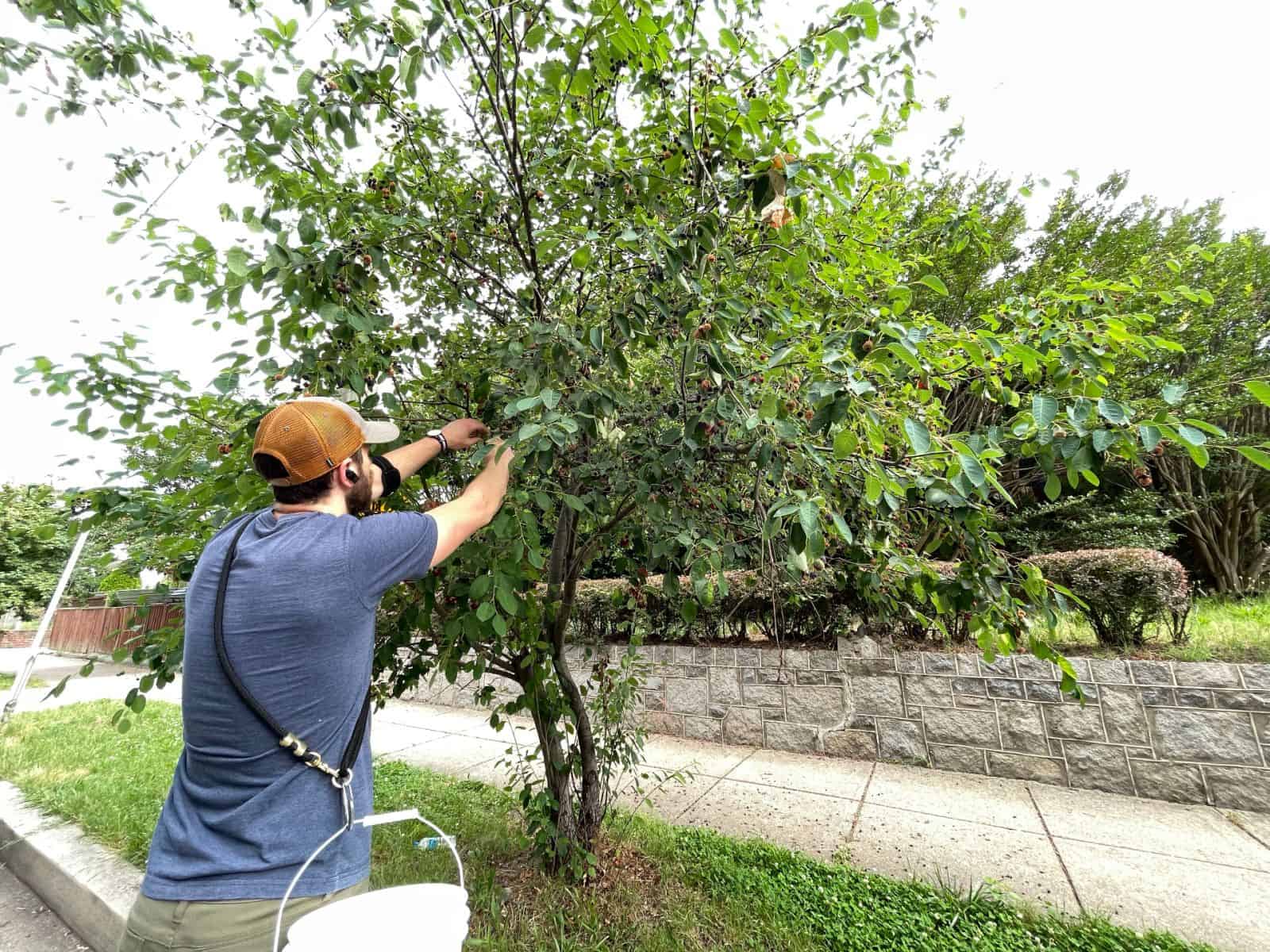 To learn more, we picked the brains of folks from two medium-ish sized cideries in the US: Sam Fitz of ANXO Cider, and David Dolginow of Shacksbury Cider. Both of these cideries release products containing wild apples, and both Fitz and Dolginow are a wealth of knowledge on the subject!
ANXO has been making a special batch of foraged apple cider called DC AF every year since they've been open. Usually, they make about 50 gallons at a time, and only sell it at their taproom in Washington, D.C. Fitz notes that ANXO is really focused on buying high quality fruit, primarily from growers in Virginia and Pennsylvania, and that supporting those farmers while keeping ANXO's prices affordable are their main priorities. The economics of foraged cider just don't make a lot of sense for a cidery like ANXO.
"Foraged cider is really expensive and/or a huge time suck for people like me who wear eight different hats in my business, and have a family," he notes. "If I add up my gas mileage and hours, it's like by the gallon this costs me 17 times what my other ciders cost. If you want to make foraged cider that makes sense for your business, you have to be a smaller producer who's making higher-end products that command top dollar."
Nevertheless, Fitz can't help himself from dabbling in foraging during the fall each year. He does it as a passion project, and because he believes the ciders ANXO can make from them are exceptional.
"Yes, it's hard to make it work in a spreadsheet, but I do think foraged apple ciders are still worth making in some quantity," he notes. "For us, it's a way to continue exploring our love of apples."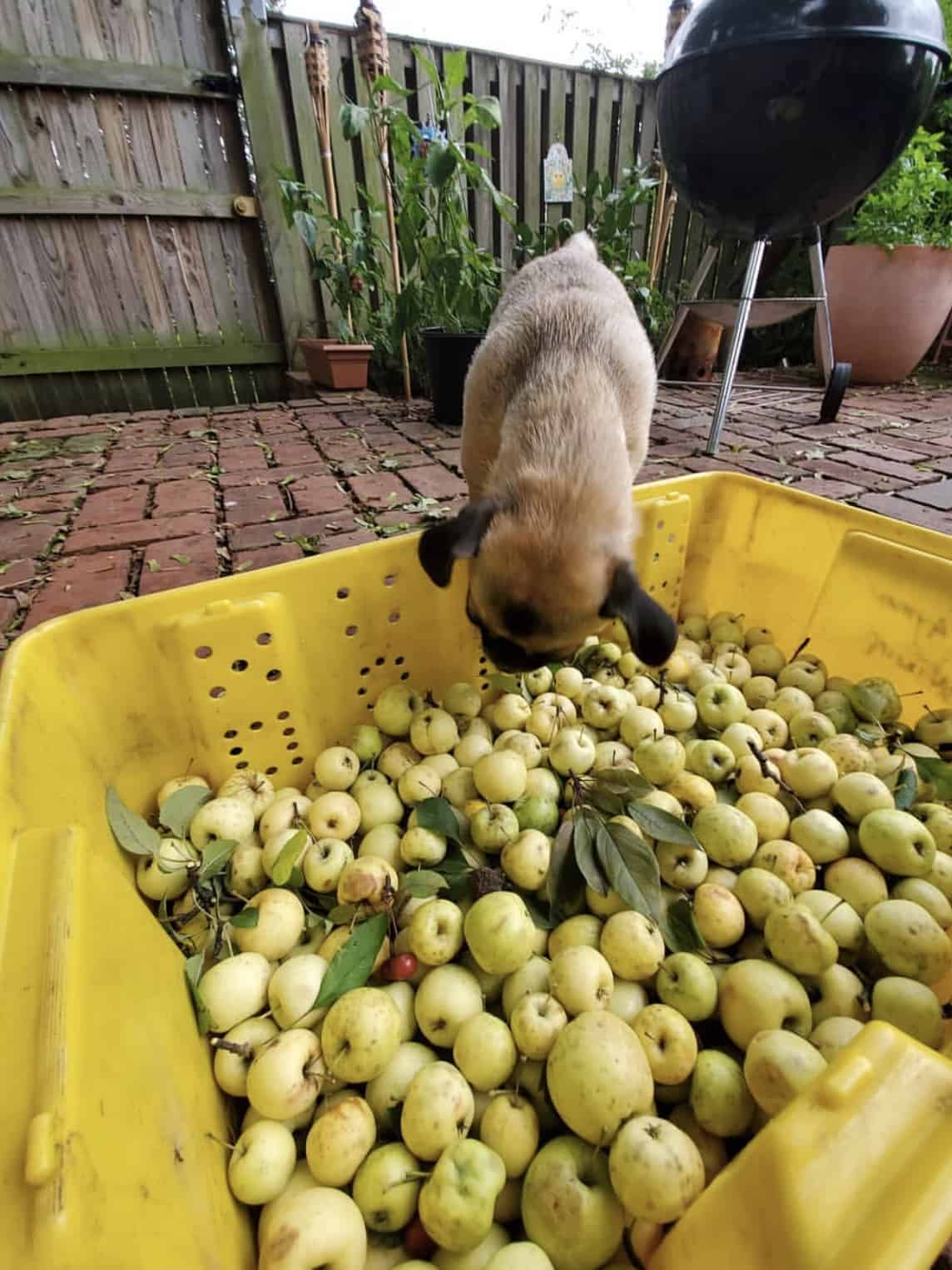 All of the apples that ANXO forages come from Washington, D.C. proper, where ornamental crab apples are a common city planting. Most of the crab apples are tiny, no bigger than blueberries, and too dry to press juice from. However, a while back, Fitz observed that a small handful of the crab apple trees produced slightly larger fruit, about as big as a quarter.
"These oddball crabs are bigger and juicier and do press, and are high in tannins, sugar and acid. There's also a red fleshed crab in this mix that's closer to the size of a penny; they're neon red and make beautiful red juice," he says. "Most all of them are growing on the verge, which is the area between the street and sidewalk. That land is owned by the District Department of Transportation, and they gave us permission to forage there."
The Brightwood neighborhood, is where Fitz lives and where the ANXO taproom is located, has one of the highest concentrations of these crab apple trees. Every fall, usually between mid-October and Thanksgiving, Fitz organizes staff and volunteers to pick the fruit. They usually pick for two or three days, then press the juice and ferment in carboys. After kegging it, they let it rest for a year, and then serve it at their annual fundraiser that benefits the DC Abortion Fund.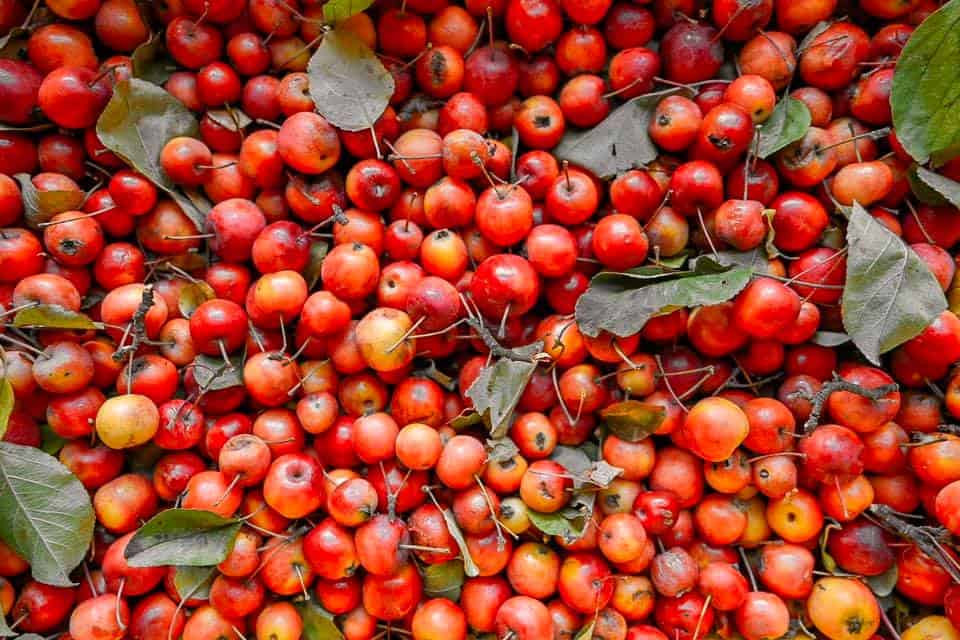 For Shacksbury, wild apples have been woven into their story from the very beginning. Dolginow and co-founder Colin Davis' whole reason for wanting to start making ciders, Dolginow remembers, came from trying cider that their friend Michael Lee of Twig Farm had made at home.
"He made these really complex, really interesting ciders, and the key component was the wild apples," Dolginow says.
In 2013, the year Shacksbury formed, there was a profoundly prolific harvest in the Champlain Valley in Vermont of both cultivated and wild apples (this was after a rough 2012 which experienced a late frost).
"We were like, we have to make one out of foraged apples — look at all these apples! It was just Colin and me trying to navigate our way into the cider industry, and using foraged apples seemed like a way to do something unique and terroir-driven. It was like we were painters, and wild apples gave us access to colors we didn't previously have."
That's what led to the Lost Apple Project, where Dolginow and Davis propagated 11 varieties of wild apple trees by grafting them onto 1,000 apple trees in partnership with Sunrise Orchards and Windfall Orchard. Though this project is on "pause" for now, according to Dolginow, it was a huge part of their identity and a focus of their energy for years.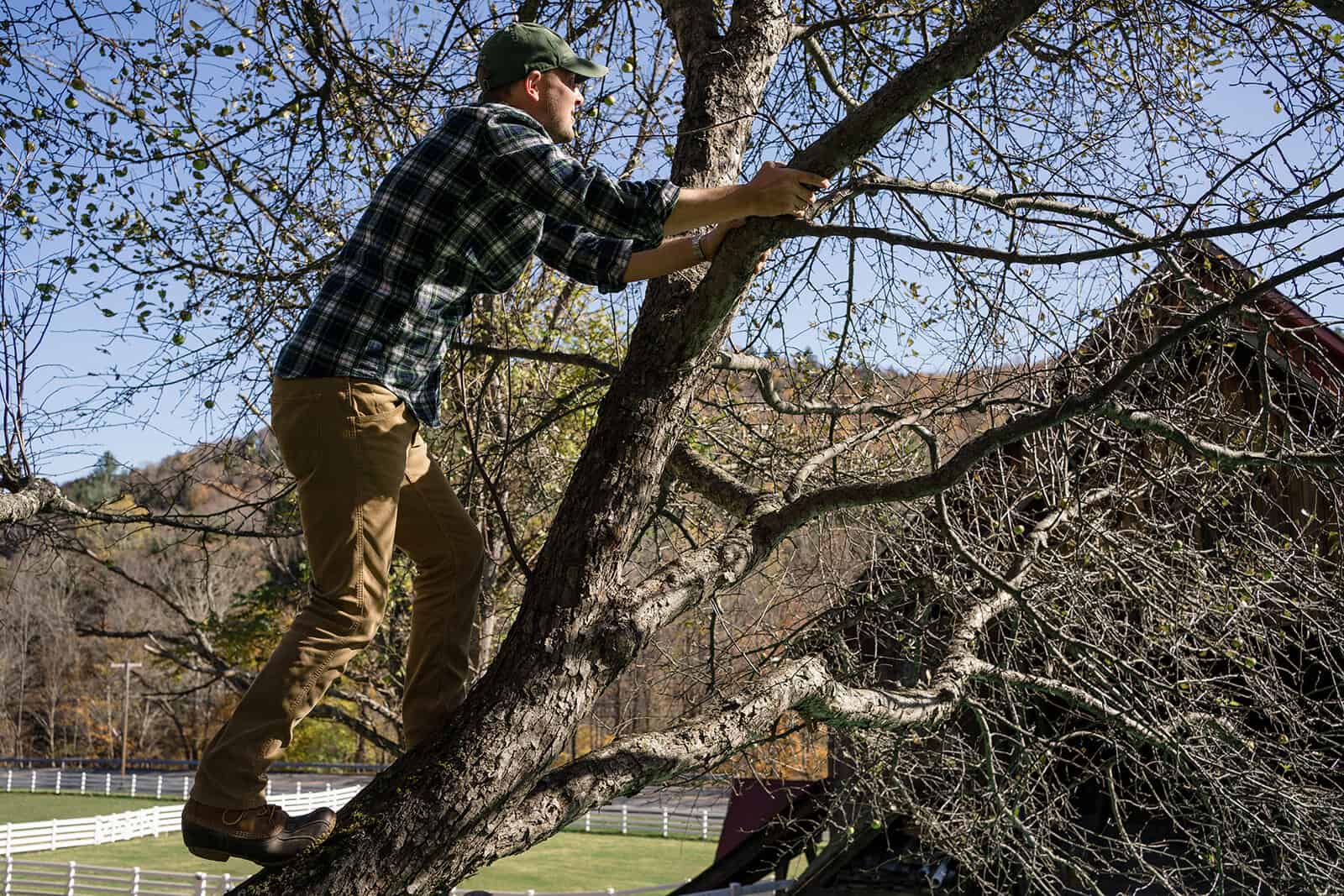 Shacksbury currently releases two foraged apple ciders each year: Deer Snacks in the fall, and The Shake in the winter. The Shake is a barrel-aged, higher ABV with a touch of Vermont maple syrup, and Deer Snacks (now in its 6th iteration) is a sorta-sessionable, easygoing wild cider that's aged for about 9 months, then packed in cans with very cute artwork.
"Deer Snacks has a great following," Dolginow says. "The canned format makes it seem like it's not precious. But it is a precious cider; there is a lot of labor and work put into it."
After 9 years of foraging, the Shacksbury crew has their spots where they always know to go. They first discovered these by simply driving around in the spring when the trees are in bloom to see where wild apple trees are growing. He credits Michael Lee with really training them on how to spot the trees, and how to taste the apples for tannins and secondary flavors.
"Up in the mountains, in the Ripton/Lincoln area, the landscape is so hilly that it was never as developed into dairy agricultural farmland like down here in the valley, so there are trees everywhere up there," he notes. "Down in the valley they are as well, but they might be mixed into a dairy field or the hedgerow of someone's field."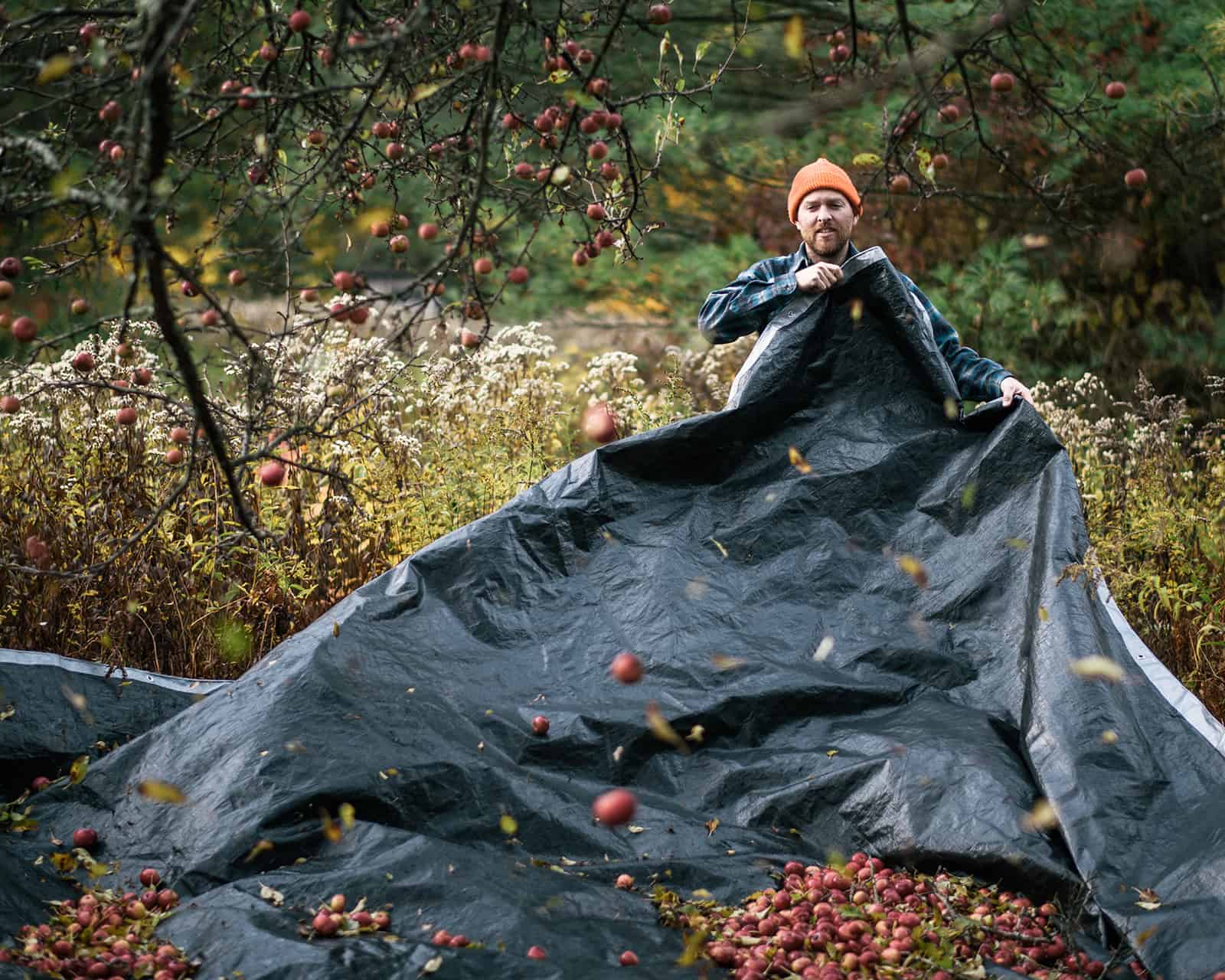 He also said that once people knew that Shacksbury was into foraged apples, folks came out of the woodwork. They also put a lost apple registry on the Shacksbury website, which generated lots of leads.
"Someone reached out saying they had 100 apple trees," Dolginow says. "That's much more efficient than what we call 'road warrior' style, which means driving around with a pickup truck, pulling over, shaking some trees and throwing the apples in the truck.
Generally, Shacksbury doesn't travel for more than 45 to 60 minutes to forage apples. They also work with a forager named Ryan Yoder in Southern Vermont, from whom they buy fruit.
"That's a component of what makes up our wild apple ciders and part of how we've been able to do it on a larger scale: we have a few other people who forage and help increase our supply," Dolginow notes. "We'd love to spend 6 weeks out foraging all fall, but we do need to rely on people."
What are your favorite foraged apple ciders? Have you ever gone foraging? We want to know about it! Join in the conversation on the Cider Culture Facebook and Instagram pages.
Second two photos: Shacksbury Cider