Cider fans: Have you checked out Press Then Press? If so, you already know how rad of a resource this is for getting hard-to-find ciders shipped right to your door. And if you haven't, you're in for a real treat! This online cider shop is a veritable virtual emporium of wonderful craft ciders, many of which aren't really distributed outside of the regions where they're made. In fact, some of the ciders are usually only sold at their home cideries!
Perusing the site is a real delight — you can shop by brand or style, or use the "help me choose" function to explore different curated cider packs. There are ciders that might be familiar, and some that you've only seen on Instagram, like the musician-themed ciders from Brittany-France-based Ferme de Port Coustic, whose varying labels feature "Elpom John," "Nina Sipome" and "Frank Cidrata" (oh, how we love a good cider pun).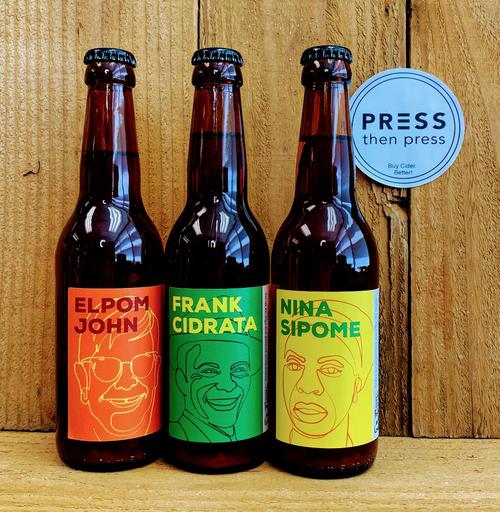 We think the reason that Press Then Press is so awesome is because it was founded and is run by a passionate cider fan. Chris Dawe, who lives in Seattle, Washington, is the person responsible for Press Then Press, and the origin of this remarkable online cider bottle shop started with a bad breakup with beer.

"For most of my 20s and 30s, beer and I were pals. I lived in Seattle, which was a wonderful heaven to be in with a great beer scene," he remembers. "But all of a sudden, after drinking beer, I had this irritation in my gut — it wasn't gluten or anything else, just beer."
Forced to stop drinking this beloved adult beverage, a friend suggested that he try cider. That was in 2012, and he began exploring the limited cider options in Seattle. In the search for "less commercial" ciders, he came across some local makers, like Dragon's Head Cider, Alpenfire Cider and some local urban cideries.
"It kind of blew my head open, and I wondered why it was so hard to find info about where good, not mass-produced cider can be found," Dawe says. "I started bringing cider back in my luggage from California, where I'm from, whenever I visited."
One night, he was complaining to his wife about how it's a pain to bring cider back from travels, and was inspired to start researching legal information about how selling alcohol works in the three-tier system in the United States.
"I was frustrated that I couldn't shop online for cider. Opening a bottle shop was too expensive, but an online shop is much more affordable than paying rent to some landlord," he says. "I thought there could be a business idea here, where people would spend their money to have a curated cider experience where they know they're going to get something good."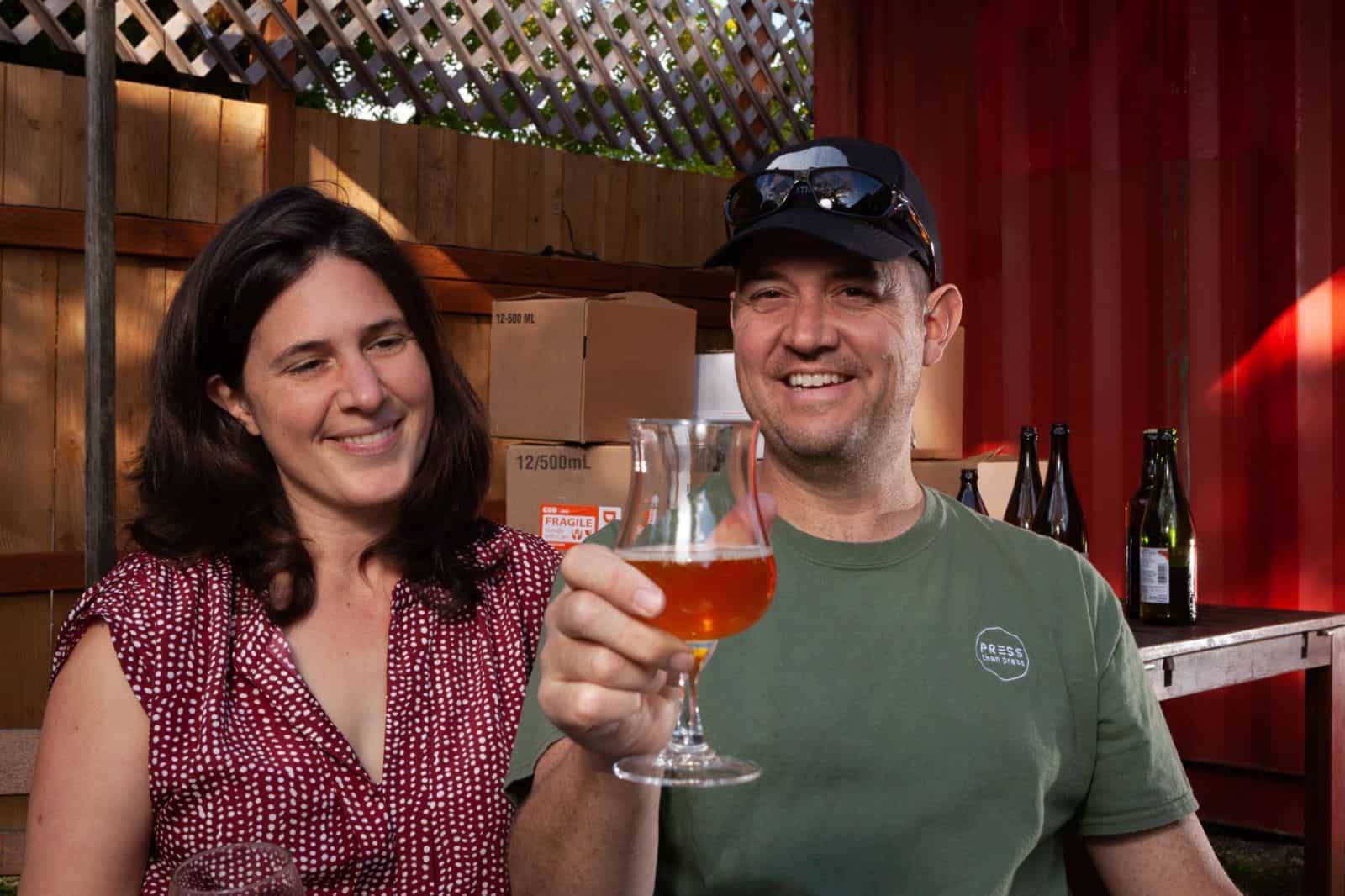 This was in the summer of 2019, and Dawe had recently left a career in corporate facilities and operations, where he hadn't felt fulfilled. He jumped into this new business idea right away, talking to shippers and cardboard manufacturers, and applying for a retail license with the state of Washington. Dawe would visit cideries in and around Seattle to convince makers to wholesale to him.  
"It was a lot of convincing and cajoling, because people were hesitant about the online marketplace for alcohol, because it's so confusing," he notes. "One of our strengths is bringing in ciders that won't get distributed outside of the region where they are, that's still our wheelhouse."  
Dawe erected a shipping container in his backyard to store all the cider he was purchasing, and began to fill up the container, because the law mandates that there is a minimum quantity that he must hold at all times. After some promotion, like at the 2019 CiderSummit in Seattle, people began responding. But it was really in March of 2020, when the COVID-19 pandemic shut everything down, that things took off.
"That really turned the firehose on for our site," Dawe notes. "What kicked it off was my Pandemic Six, a six-pack of ciders that I had in stock. We came up with cutesy names for each one. I went through a lot of these kits, and I was like, 'Okay, something's working.'" 
These days, Dawe still buys directly from cidermakers, but has expanded to working with distributors and importers to keep growing the Press Then Press portfolio. The site originally began with four cideries, and it now sells cider from over 50 makers! And though it is still firmly cider-focused, Press Then Press has evolved to include some co-ferments, meads, cysers, vinegars, and non-alcoholic options.
"But having that direct contact with the cidermakers is my favorite part of the business, visiting their farm, noting their terroir, seeing what's happening for them," Dawe says. "I think one of the great things about this community is that everyone is nice and people are respectful. It's a family industry."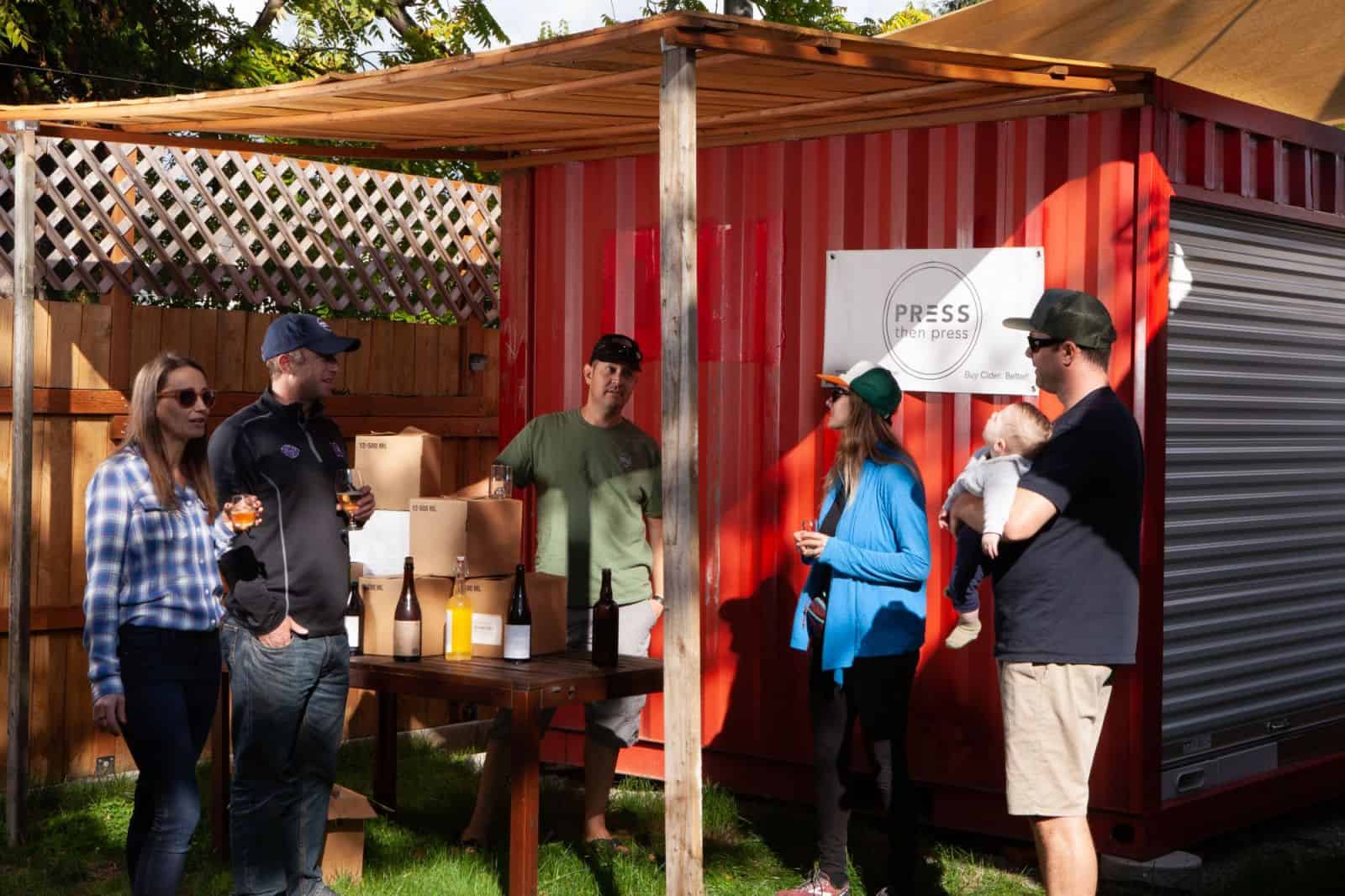 When we spoke with Dawe, he was on a trip to the Finger Lakes region in New York State to meet with more cidermakers, in the hopes to get them on board. He says he also hopes to include a handful of other East Coast and Midwest-based cideries soon.
"This whole thing is bootstrapping, minimal investment with maximal results," Dawe says. "This is my only job right now, to just keep it growing." 
Visit Press Then Press to peruse its deep internet shelves, which are always packed to the gills with interesting ciders! Orders are shipped across the country (except to Utah), and pick-up and delivery options are available to Seattle-ites. Hit up main@pressthenpress.com with any questions or for more info!