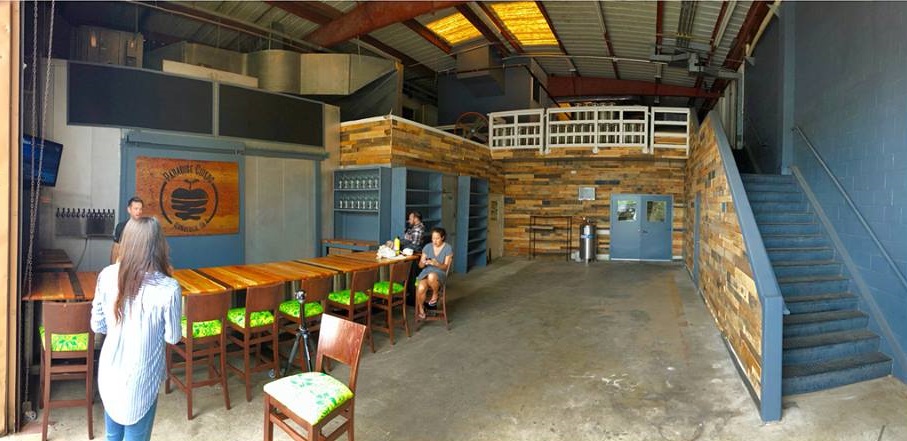 Bummed about summer winding down? Well, now you have another reason to visit the place where summer is endless — yup, we're talking about Hawaii — with a fresh craft cider in hand, to boot. Paradise Ciders, the 50th state's first cider company, is now open for business! Its tasting room, located in the Kalihi-Palama neighborhood of Honolulu on the island of Oahu, is holding hours from 3 to 8 p.m., Wednesday through Saturday, offering cider flights, growlers and fills, bottles, merchandise and more.
The company, which was founded in 2017 by friends and former bartenders and home brewers, Shaun Peck and Kasey Sulheim, focuses its handcrafted ciders on the tropical fruits so often associated with Hawaii. The flagship flavors include  Lei'd Back Lilikoi Cider, a semi-sweet cider with lilikoi, an island fruit closely related to passion fruit. Pineapple Cruzer is an English-style cider made with local pineapples, Mango Daze is a cloudy cider with a tart, vibrant flavor, also made with local mangoes; Kickit Ginger is coarsely filtered, semi-sweet with local pineapple, ginger and citrus; Guava Lava incorporates juicy pink guava; and Killah Dragon features ripe dragonfruit for a cider with a lovely magenta hue and notes of raspberry and watermelon.
Keep up with Paradise Ciders via Facebook and Instagram, and if you do get to pay a visit to its new tasting room (LUCKY!), let us know what you think!
Find Paradise Ciders at 2003 Colburn St. in Honolulu, Hawaii.