When you envision Washington, D.C., what comes to mind? One might think of a sprawling landscape of fortified government municipalities that stabilize the backbone of our nation's capital, or the monuments that stand as reminders of stalwart figures of our nation's history.
However, there is so much more to this eclectic city that many visitors have yet to discover. Washington, D.C. and the surrounding regions of Arlington and Alexandria are filled with a plethora of culture brought to life through art, culinary experiences and endless events. An often overlooked aspect of this region is the very water that flows through the District of Columbia: the mighty Potomac River.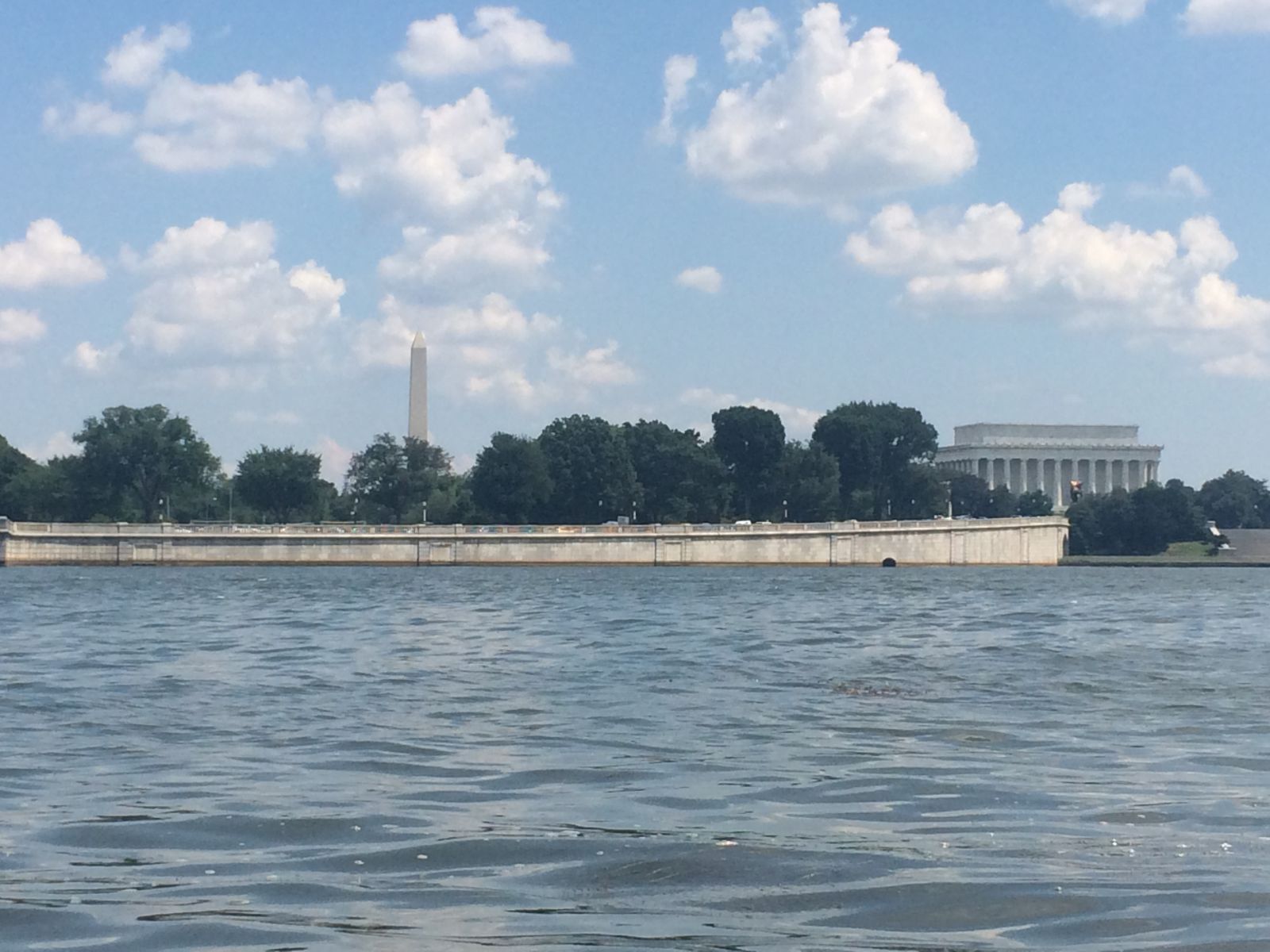 The Potomac River bathes the D.C. region and the surrounding watershed with history. The establishment of Washington, D.C. along the Potomac was no coincidence — George Washington selected the location along the massive waterway because it already included two major port towns: Georgetown and Alexandria. During the 1800s, the district began using the Potomac River as the major source of drinking water for the population. Currently, the river stands as a form of a flowing monument of our nation's history, with its ever-changing riverbanks reforming with the passage of time.
I wanted to take a new perspective on my recent D.C. adventure by utilizing this waterway for an unforgettable outdoor excursion: a kayak trip. The one thing that is not lacking along the river is an abundance of rental locations, all ready to serve you by offering a variety of waterway equipment, like kayaks, canoes, paddleboards and so much more!
To prep for your trip, be sure to pack plenty of water and sunscreen in a waterproof bag to keep in your boat. I recommend bringing a good pair of water shoes, but if you don't have these on hand, a pair of flip flops will suffice. If you are new to kayaking, I do have one more recommendation: Consider leaving your phone in your car or at home. There are waterproof phone cases available, but if you are unsure of your paddling skills, it is always best to not risk tipping into the water with expensive technology!
Consider getting to your chosen rental location early, because on a weekend in D.C., there will be plenty of traffic and crowds to deal with. I arrived at my rental location, Key Bridge Boathouse,  at 9 a.m., and there was already a significant line forming along the sidewalk.
Nevertheless, the rental location was efficient with its loading process, and the line moved quickly. Within 20 minutes we were at the front of the line and excited to go! Two boats were chosen for my friend and me, and after they were placed into the waterway, the staff kindly aided us as we got into the kayaks. Paddles in hand, and life vests securely strapped to our bodies, we were off!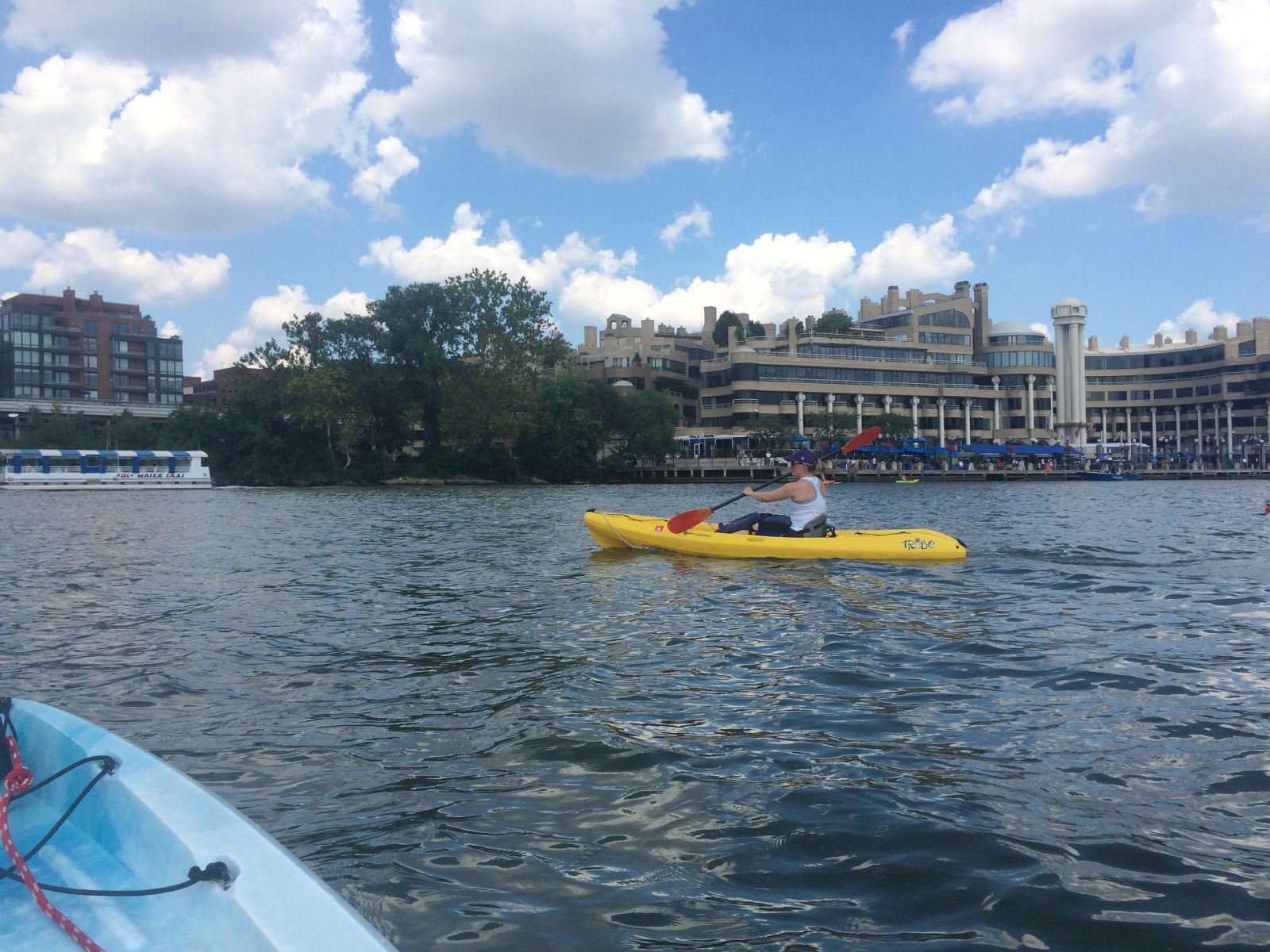 We could not have chosen a better Saturday for our kayaking trip! The sun was shining, the temperature was a steamy 82 degrees, and the water was beckoning us to dive on in. We began to paddle against the current a bit, as we ventured upriver to view some of the sites. The current wasn't rough, which made paddling a breeze. The water was teeming with fellow paddlers who were out for an equally relaxing day.
Paddling has so many benefits: It is a great way to cross-train if you are looking for exercise alternatives, it is peaceful and it provides a view of your surroundings from an interesting angle. I managed to snag photos of both the Lincoln Memorial and Washington Monument from this unique vantage point. On our trip, my friend and I also enjoyed watching the people from shore, who seemed to stare at us kayakers with awe and envy. We knew we were among the lucky ones who chose the water over the cement-covered land that day.
Take a moment to put your paddle down and soak in the world around you and feel the powerful, yet calm, water flowing beneath you. Even though you may be be out for a relaxing day, you will still need to work a bit to get your kayak to the next destination.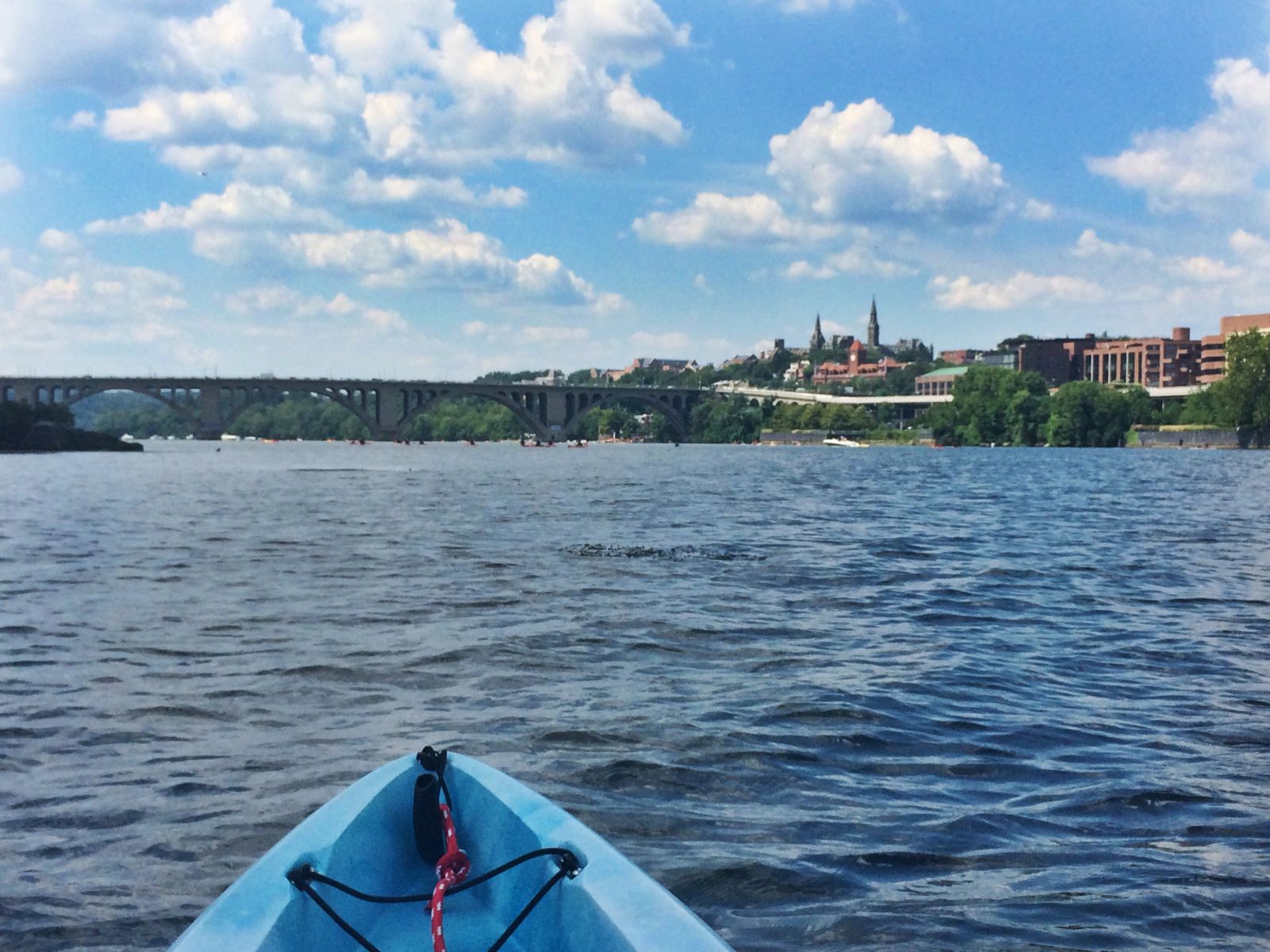 There are a few things to remember while paddling on the Potomac in this area. As we paddled, we noticed islands where kayakers and paddleboarders, alike, were beaching their watercraft in order to munch on a snack or to bask in the sun on a sandbar that slightly jutted out into the river. Though this was allowed, there are many areas that you cannot get out of your kayak for security reasons. It is lovely to see the monuments from your boat, but please be aware that you cannot use the kayak to get closer to a monument, with the intentions of exiting your kayak for a photo. For your safety and the safety of others, please do not try to do this.
With so many other things to see from the river, why would you want to get out, anyway? Letting the current take your boat down the river and seeing the city in a new way is exhilarating. We had a hard time saying goodbye to the river once our rental time was over, but we knew we had places to be and cider to taste!
Once your boat has made it to shore and the paddles have left the water, it is time to decompress with a post-paddle beverage. The cider industry is slowly beginning to tap the abundant D.C. market, and there are some really great spots you should visiting while in town.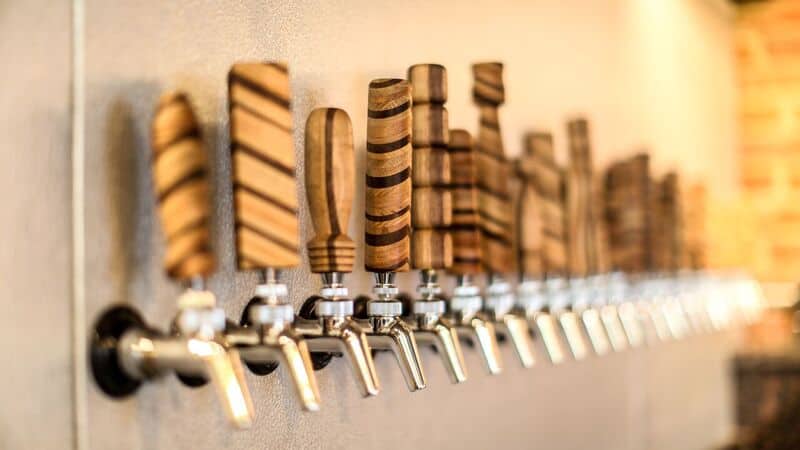 Make ANXO Cidery and Pintxos Bar your first stop. Located in the city's Truxton Circle neighborhood, ANXO has made a name for itself as a hot spot for thirsty patrons who want quality cider and a relaxed environment. This Basque-inspired bar and eatery is perfect for grabbing a bite to eat, and for sipping on a flight from its ever-changing cider list. Try its traditional pre-fixe cider flight, which features Anxo's Cidre Blanc, the Transcontinental '17, a rosé cider, and the Caravan, a rustic cider made from Goldrush and Albemarle Pippin. 300 Florida Ave. NW, Washington, D.C.; (202) 986-3795.
Note: ANXO also has a second location, a Cidery and Tasting Room, in Northwest Washington, D.C. 711 Kennedy St. NW, Washington, D.C.; (202) 722-2696.
Next up: Supreme Core Cider located in Northeast Washington. Supreme Core is the new kid on the block, with a newly opened taproom that brings a fresh vibe to the neighborhood. Multiple varieties of cider are created on location, so each sip is delivered to customers at the peak of freshness. Supreme Core also welcomes all patrons to bring along their well-behaved furry friends, because they are 100% dog-friendly. 2400 T St. NE, Washington, D.C.; (202) 215-5029.
If you are still feeling thirsty and adventurous, then head to another somewhat recent arrival: Capitol Cider House, in D.C.'s Petworth neighborhood. Its cider menu is always changing, including some of its own cider options, as well as pours from cider producers within the Mid-Atlantic region that are not always easy to find in Metro D.C. 3930 Georgia Ave. NW, Washington, D.C.; (202) 621-0982. 
Washington, D.C. has proven itself to be more than just a place for work — it is a hub for recreation, culture and countless restaurants! Opt out of all of the tourist destinations on your next visit and paddle  your way to a different perspective of our great capitol.
Where will your next adventure take you? Let us know in the comments below.
All other photos: Samantha Story