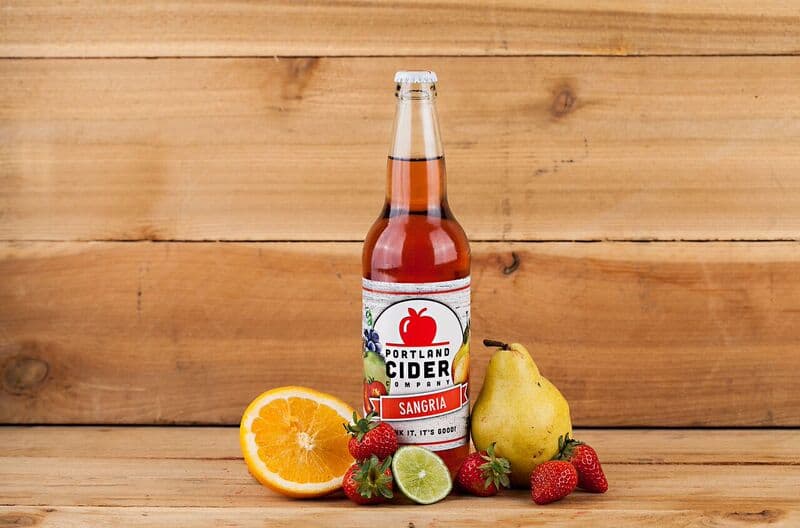 Portland Cider Company is upping its cider game with a new Sangria cider release.
The year-round addition contains a variety of fruit juices, including orange, strawberry, pear, passionfruit, elderberry and lime, combined with Portland Cider Company's award-winning Sorta Sweet cider made from 100% Northwest apples. The 5.5% ABV cider is available in 22-ounce bottles and draft kegs and has a semi-sweet finish that complements dishes such as herb-crusted grilled chicken, strawberry spring salads and creamy risottos.
The release of this new cider was the result of Portland Cider Company fans asking for a more fruity, sweet cider option. Owner Jeff Parrish and head cider maker Deron Davenport worked together to fulfill their patrons' request.
"This cider is a slight deviation from what we normally make," says owner Lynda Parrish, "so we put a lot of time and energy into creating a cider that met our standards of quality, while meeting the requests we were getting from our customers."
The brand-new Sangria cider bottle will launch today, Friday, January 13, at the official Sangria Bottle Release Party at Portland Cider House on Hawthorne. Cider fans will also be able to find Sangria bottles at select retailers within Portland Cider Company's distribution area and at both taprooms, Hawthorne-Portland and Clackamas.
Find out if Portland Cider Company's ciders, including this new release, are available at a location near you.