Malaika Tyson is one half of the blogging duo Cider Soms, which was started as a way to introduce wine-lovers to the world of cider. Created along with her husband Sean, the "Soms" blog seeks to uncover and explain the complexities of ciders in a fun way.
I first came across Potter's Craft Cider during one of my conference trips to Northern Virginia. Every year I would peruse the cider selections at Crystal City Wine Shop and come back with a suitcase full of cider, including some of Potter's ciders. I was excited to get a chance to learn more about Potter's Craft and its head cidermaker, Andy Hannas.
(The questions and answers have been edited for brevity and clarity.) 
Cider Culture: When did Potter's Craft Cider get started?
Andy Hannas: Potter's was started in 2011 by Tim Edmond and Dan Potter, homebrewers who met in college. After graduation, Dan moved to Richmond and Tim to DC, but they still stayed connected and continued to make beer. The pair planned to start a farmhouse brewery, planting a small hop yard where Dan was working, but in 2010, the farm flooded and they lost all the hops. However, they had access to freshly pressed local apple juice, and their homebrewing equipment was already set up, so they filled a carboy [which is a fermentation vessel] with juice and let it ferment in the back of a cabin. The resulting cider was dry, high-acid and fruit-forward, and not like anything they had ever tried before, and they decided to pivot from beer and make cider instead.
When did you start working with Potter's?
I started in 2013. I had been living in Richmond, working as a chef. I got engaged and decided that a chef's work schedule didn't work for me anymore. My wife and I moved to Charlottesville and worked for a season at a small farm. While working at the farm, we happened to meet the Potter's guys who were at a farm right down the road from us. We already knew their brand from seeing it in Richmond. When the farm season ended and I didn't have a job, I asked if I could work for them.

Since you started as a chef, do you feel like you bring some of your culinary inspiration and background into the ciders that you're making?
Definitely. Especially as we have gone into the craft-cider side. While you could choose adjuncts off the shelf and it would probably be fine blending them together, we approach it more systematically. Like with the making of our Passionfruit Mosaic cider. We played around with 10 different hops, before settling on Mosaic, and then wound up adding passion fruit, based on the flavors in the resulting hopped cider. The process is a chef or kitchen mentality, but it's also inspired by bartenders that I've worked with over the years. Essentially, it's about creating a balance.
I also love that I have the freedom to use my background and palate to develop new ciders. While I've had some cider projects that didn't fare as well as others, I wasn't criticized for it. I also like that we aren't beholden to specific ciders or schedules, which allows for flexibility and a casual approach.
What's the brand's most popular cider?
Farmhouse Dry (a blended all-apple, totally dry cider) is our most popular cider, as far as sales. Cider Nouveau is another cider we make yearly and tend to release right before Thanksgiving. We ferment early harvest apples, usually Ginger Gold or Jonagold, on Petit Verdot and Merlot grape skins from King Family Vineyards, and age the cider in French oak barrels.
There is this short overlap in seasons where King Family Vineyards is pressing all their red wines and we have our first apple harvest. So far we've been really lucky. For the past four years, those dates have coincided. The cider comes out a little heavier than a rosé and is more like a fruity Pinot Noir or a Beaujolais nouveau, which is why we call it Cider Nouveau.
Where do you mainly sell your ciders?
Our hometown markets are Charlottesville and Richmond and we distribute through all of Virginia, DC, Maryland, North Carolina, South Carolina, and Tennessee. We have a nice balance, as our cider is available in small, locally owned shops. But we also have good placement in national grocery chains.
Some of your ciders are in bottles and some in cans. What is your approach in deciding how to package your ciders?
Our ciders with hops and tropical fruit are what I consider our "beer-inspired" ciders, where we are looking to the craft-beer world to see what they are doing. Because of that, those ciders really lend themselves to cans. They are really intensely flavored with other fruits and hops, and you can drink them out of the can and not lose the sensory experience. Also, the can is a great format for more artwork, like full-color illustrations.
The other direction that we go with the cider is what I call "cider-focused" and borrows from winemaking techniques. For one of our ciders, instead of pressing juice and fermenting it, we crush the apples and ferment the pulp, like you would with red wine macerations. So we're creating something that is going to appeal more to a wine drinker. With these bottled ciders we have full-color labels that tell a story about the cider, like the apples used, or how it was made.  
Do you find that there's any crossover for your consumers? For example, someone who started out with the cans and eventually gravitated towards the more cider-focused styles and the bottles, and vice versa?
Yeah. When I first started at Potter's, we only made two ciders: our Farmhouse Dry and Oak Barrel Reserve (aged in apple brandy oak barrels). In the early years, people only knew us for these ciders, which were on draft or in bottles, and we really got people in Central Virginia excited about these styles of cider. 

When we expanded our offerings, making canned fruit-flavored and hopped ciders, we saw some of our core customer base make the switch to cans. They were pretty happy to do so, because even with the addition of more fruits and hops, the ciders were still totally dry, with zero residual sugar. As for it going the other way, through our tasting room (which opened in 2019), we've been able to expose people who are looking for sweeter or fruity ciders to our heirloom or oak-driven ciders, and spread their palate out a bit.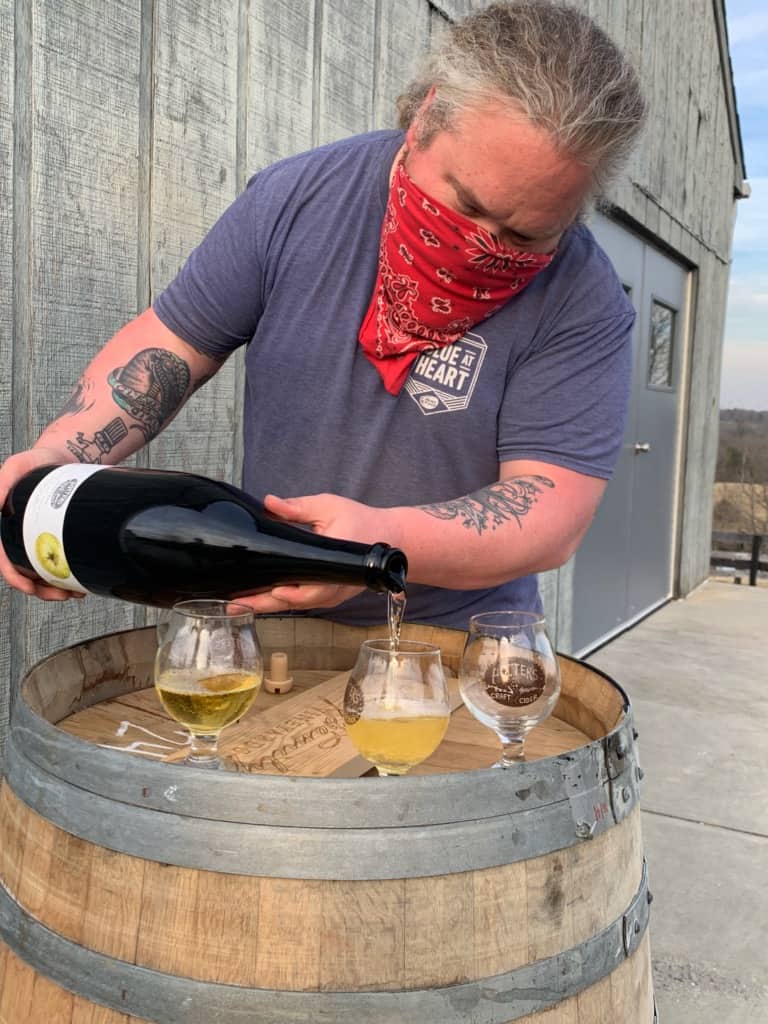 What is the tasting room environment like?
The building the Potter's Craft tasting room is housed in is called Neve Hall, a 100-year-old stone church building, just south of Charlottesville. It was most recently a private residence, and when they built the house onto the church, it was also built from stone. So it's a completely stone building with wood floors and very open, with a couple of workstations at the bar to encourage mingling and engagement (when it is safe to do so again). In the summer we have a little tap trailer and outdoor music on the lawn. The tasting room sits on 19 acres and has a very mountainous view. So it's as much about the building as it is the surrounding property.

Currently (spring 2021), the tasting room is open for limited indoor seating, but lots of outdoor seating and live music are happening through our "Live on the Lawn" series. That may change soon, as Virginia has been loosening restrictions, so I would encourage people to check our social media before heading out
Do you have any cider pipe dreams that you're dying to make a reality?
Albemarle CiderWorks is right down the road from us, and they make a méthode champenoise cider, Brut d'Albemarle, which uses all Pippin apples, heavy champagne bottles, and they do the full aging and disgorgement. I am so jealous of them and want to do something like that! I don't know exactly what it would be, or will be, but definitely something vintage champenoise, aged on the lees, discouragement, and dosage, with the heavy cork and cage. I really love sparkling wine, but it's something we just don't have the equipment or capacity to do right now. We definitely have our eye on it, though.
What non-cider beverage is in your glass most days, and where is your favorite place to enjoy it?
I have two drinks that I enjoy at Cape Hatteras national seashore in the Outer Banks of North Carolina. The first is a Painkiller cocktail made with Pusser's Navy strength rum and the second is a pilsner from Ardent Craft Ales.
To learn more about Potter's Craft Cider, check out its website, Facebook and Instagram pages. Potter's Craft Cider is available for purchase online, or at select retail locations. Contact Potter's Craft Cider at info@potterscraftcider.com.
Potter's Craft Cider is located at 1350 Arrowhead Valley Rd. in Charlottesville, VA; phone: (434) 244-2767.