There is a serious and long overdue reckoning happening in the craft brewery world right now around sexual harassment, sexual assault, racism, misogyny, homophobia and other unacceptable attitudes and behaviors. Maybe you've seen the hundreds upon hundreds of stories shared through brewer Brienne Allan's (of Notch Brewing in Salem, Massachusetts) Instagram account, @ratmagnet, since May 11. Reading through them is upsetting and, just FYI, may be potentially triggering.
The cider industry certainly isn't immune from similar systemic problems, and Tas (@girlwithaciderreview) is one of the first in the cider space that we've seen to take action. In 2020, Tas launched the hashtag #NoAppleogies to support women in the cider industry who reported facing blatant sexism and harassment. Now, she says:
In light of the sweeping disclosures of sexual violence and harassment in the beer industry, I hope to take an active role in ensuring cider spaces in Canada (and the drink industry itself) is a safe place for everyone.
She is currently planning a workshop series titled, "Enough is Enough," aimed at providing education and discussion around ensuring that the Canadian drinks industry (where she is based) is focusing on safe, inclusive places, free from gender-based violence.
"If you are not from Canada, you are more than welcome to attend!" she notes. "It is a great education piece for ALL companies and individuals in our community."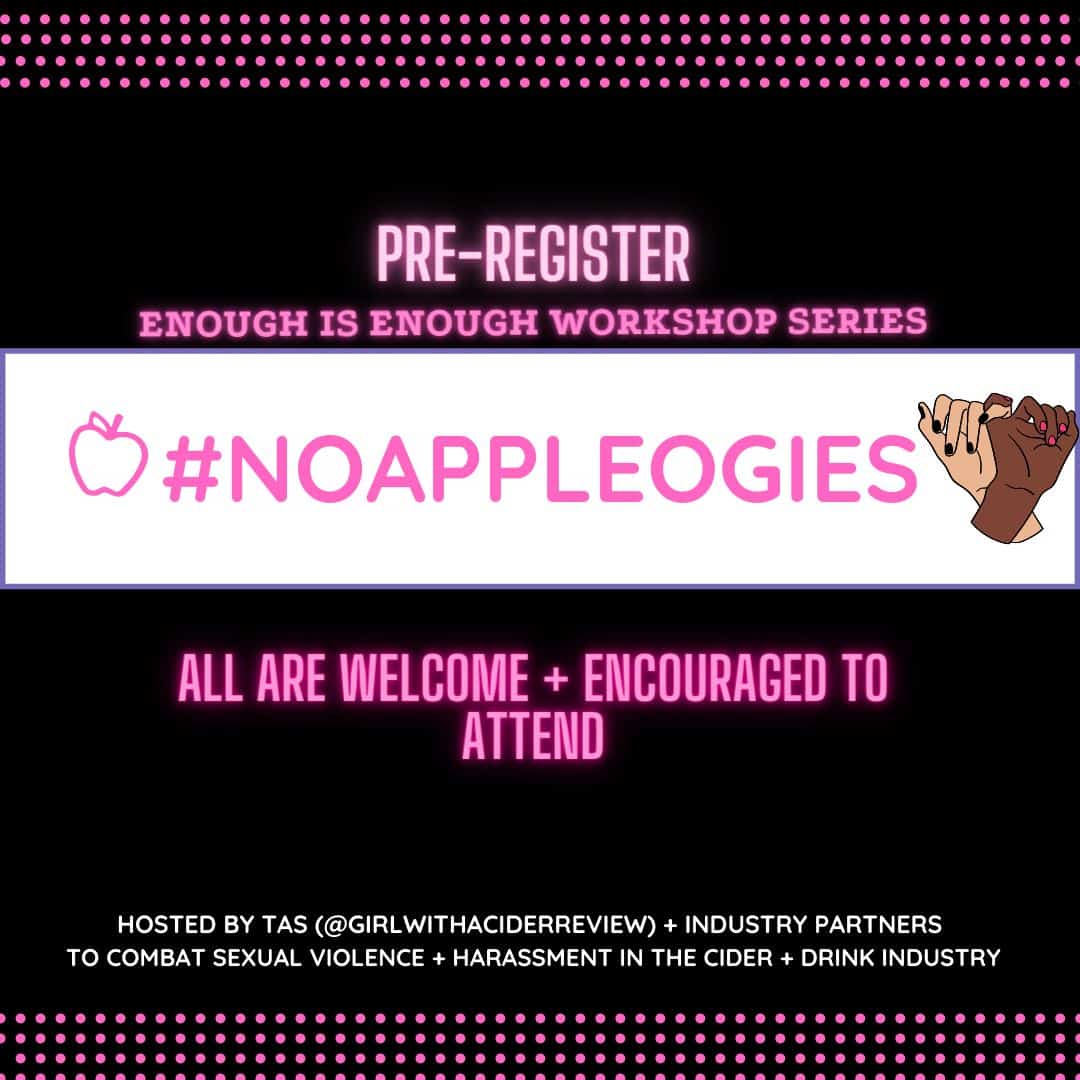 Some details are still in development, but the workshop series will likely consist of three to four interactive sessions based around different topics, co-hosted by various partners from inside the industry, and outside professionals. The goal is to engage the community in a needed discussion and action plan. Both the leaders and employees of cideries, wineries, breweries and distilleries are encouraged to attend.
If you're interested, please pre-register here and fill out the survey to help Tas determine when and how long the workshops will be. Once details are finalized, we'll be sharing that information on Cider Culture, as well! If you're ready to see real change take place in the craft beverage industry around issues of sexism, racism, transphobia and homophobia, this is a proactive first step to join in a conversation and come away with some new skills and plans to take back into your workplace.
Workshop flyer: Girl with a Cider Review