In our column, "Cider Loves Food," contributor Meredith Collins (blogger extraordinaire at Along Came a Cider) is looking at different cuisines and finding the perfect ciders to help take your meals to the next level.
I'm so happy to have the chance to really geek out by combining two of my favorite topics: cider pairings and regional cuisine. Growing up in rural Kentucky, I was surrounded by amazing Appalachian dishes that I thought everyone knew. It was only later that I learned that smothered potatoes, transparent pudding and apple stack cake are local culture rather than universally known. Since then, regional food culture has been a fascination. I've invested, wisely no doubt, many hours into the Wikipedia pages of different regional sandwiches.
Today, I'll be sharing a few notable regional dishes from four different cider-producing states, and I'll be pairing them with ciders from the same areas. The goal is to explore the pairing principle: "If it grows together, it goes together." Hopefully, these pairings might inspire a little regional food-and-cider exploration in your neck of the woods! 
Virginia: Peanut Soup & Crab Cakes
I've been curious about peanut soup since I first visited Colonial Williamsburg as a young nerd. Once I tried it, I never looked back. It's creamy, savory and satisfying. It works well with fresh apples as well as cider. My favorite pairing is with Big Fish Cider Co.'s Virginia Hewe's Crab. The brightness of this tart and lively cider is a lovely contrast to this luscious soup.The Virginia Hewes Crab has creaminess of its own that matches the heft of Peanut Soup perfectly.  
Next up, I strongly recommend pairing Virginia Crab Cakes with Potter's Craft Cider's Pippin Cuvee. Yes, people associate crab cakes with Baltimore, but there's an incredible season for Blue Crabs in coastal Virginia as well. Virginia Crab Cakes are all about richness.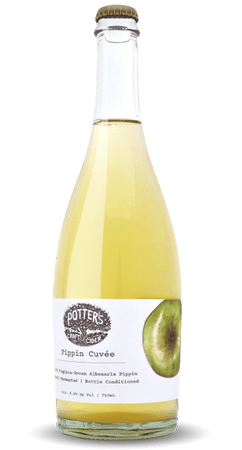 What I want from Potter's Craft Cider's Pippin Cuvee is bracingly tart acid. This zingy bubbly cider is 100% excitement that's perfect for the subtle and buttery flavors of crab. I love the gentle funk from its wild fermentation. My mouth waters just thinking about these two together!
Washington State: Salmon & Marionberry Pie
I know that salmon is probably the first food that folks think of when it comes to Washington State. I'm not straying very far from the beaten path here, but it's just so hard to come up with anything tastier than cedar plank salmon. Whether you choose honey or maple syrup, don't skip the sweet element in this preparation. That's part of what makes pairing this salmon perfect for Alpenfire Cider's 2018 Glow Airlie Red Rosé Cider.
https://www.instagram.com/p/B1ewG7bFuqT/
This cider smells unusually floral, which I love for pairing with any dish with honey. There's also plenty of acid to contrast with all those healthy fats we find in salmon. The two create a harmonious interplay of flavors and textures.
Marionberry Pie is irresistible. I love berries, in general. But the tart, tangy, slightly earthy berries, like Marionberry, Black Caps or Tayberry, hold a special place in my heart — and in pies! I want to lean into fruitiness, so pair this with Greenwood Cider's Lingonberry. The Lingonberry works particularly well because it's a semi-sweet cider with some extra dimension. It's a little bit bitter in the best possible way. And if you really want to maximize the delight, serve the pie with ice cream. You can keep it simple with vanilla, or find something that you think further compliments the tart and sweet of the cider and pie, like a lemon curd or black pepper ice cream. I like making an adventurous choice with ice cream accompaniment, especially when my dessert and cider are so trustworthy and tasty.
Michigan: Pasties & Cherry BBQ Sauce
I love how much my Michigan friends love Upper Peninsula's pasties. I'll admit that I'm less familiar with these, except through the rapturous descriptions I've heard. Find me a vegetarian version to try, and I'm down! From what I can tell though, they make a hot hearty meal with a great balance of protein and carbs and a beautiful medley of textures. I'm thinking a cider that hearkens to a UK cider profile might be appropriate, in which case I'm happy to recommend Starcut Ciders Pulsar. The cider has some wonderfully smokey, yeasty, wild flavors that I love. I think they'd go well with pasties. Try it and test my theory! 
What I can personally vouch for in terms of Michigan's special local dishes is the sweetly spicy kick of cherry BBQ sauce. It will work for chicken, veggie burgers, grilled kebabs, or, truth be told, I like to dip potato chips in it!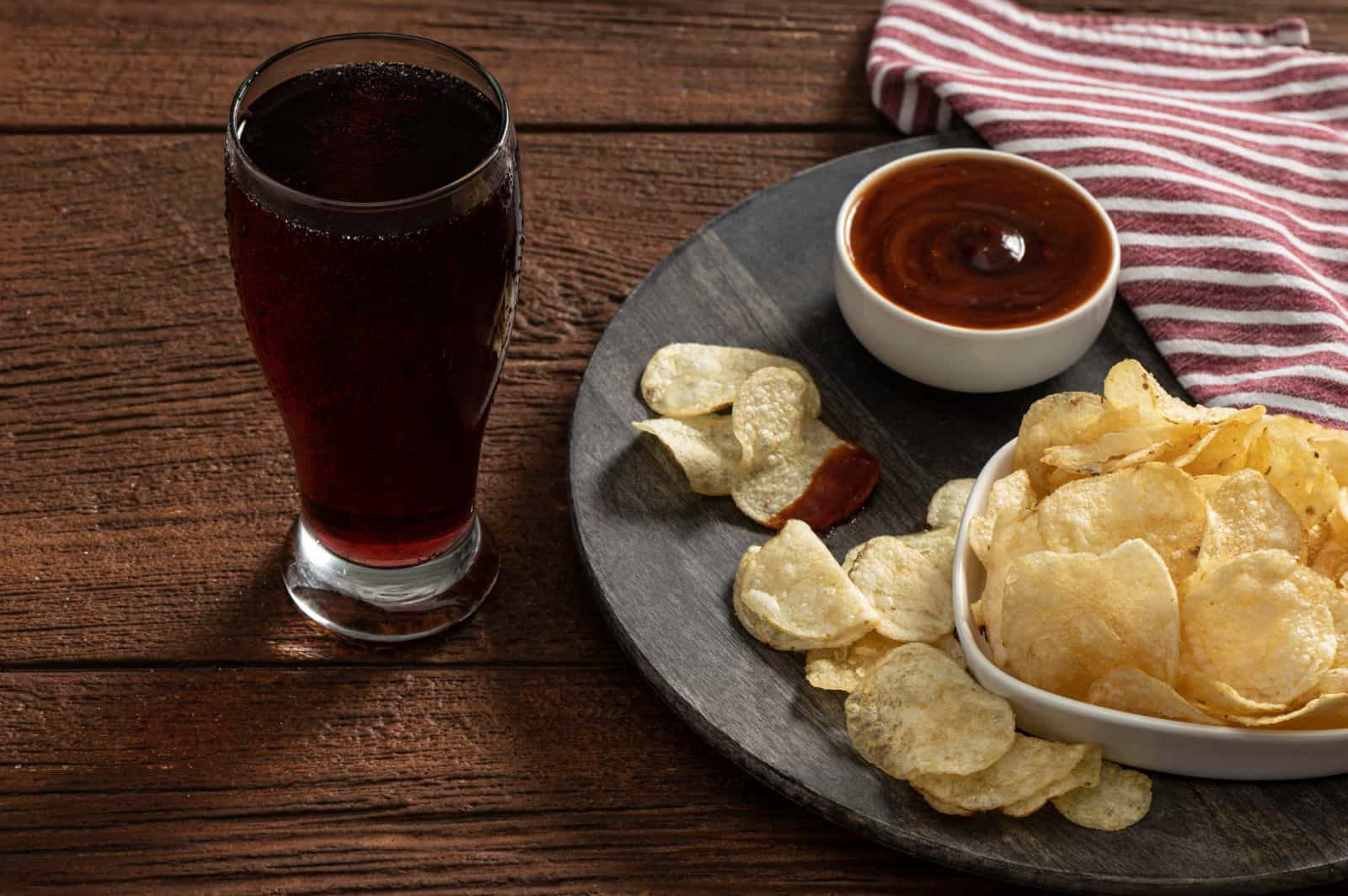 I pair this with Vander Mill's BLUish Gold. It's a lot of berry to pair cherry and blueberry like this, but it works! The BLUish gold is a beautifully balanced semi-sweet cider with loads of bubbles. It's tremendously food-friendly.
Pennsylvania: Pot Pie & Whoopie Pies
This one has a special place in my heart, thanks to the years I've lived in Pennsylvania, and the awesome cider experiences I've had going back more recently. Let's start with slippery noodle pot pie (also called Pennsylvania Dutch pot pie) because it's a fun meal to pair. I love veggie pot pies, and adding homemade noodles just maxes out the comfort-food factor. I recommend pairing this with Big Hill Ciderworks' Newtown Wickson. We need something with crackling high acidity to lift up the layers of flavor in this carb-heavy hunk of deliciousness. The Newtown Wickson can deliver! Crabapples bring some of my favorite notes of concentrated tropical fruit, and this cider shows that off perfectly.  
Yes, I had whoopie pies before I lived in Pennsylvania, but they are ubiquitous and beloved in PA. I've picked them up at gas stations and bakeries alike. While I'll try a pumpkin spice or red velvet whoopie pie, what I really want is the classic chocolate. I want to enjoy it with a semi-sweet cider that won't become sour or bitter when enjoyed alongside sweet, sweet decadence.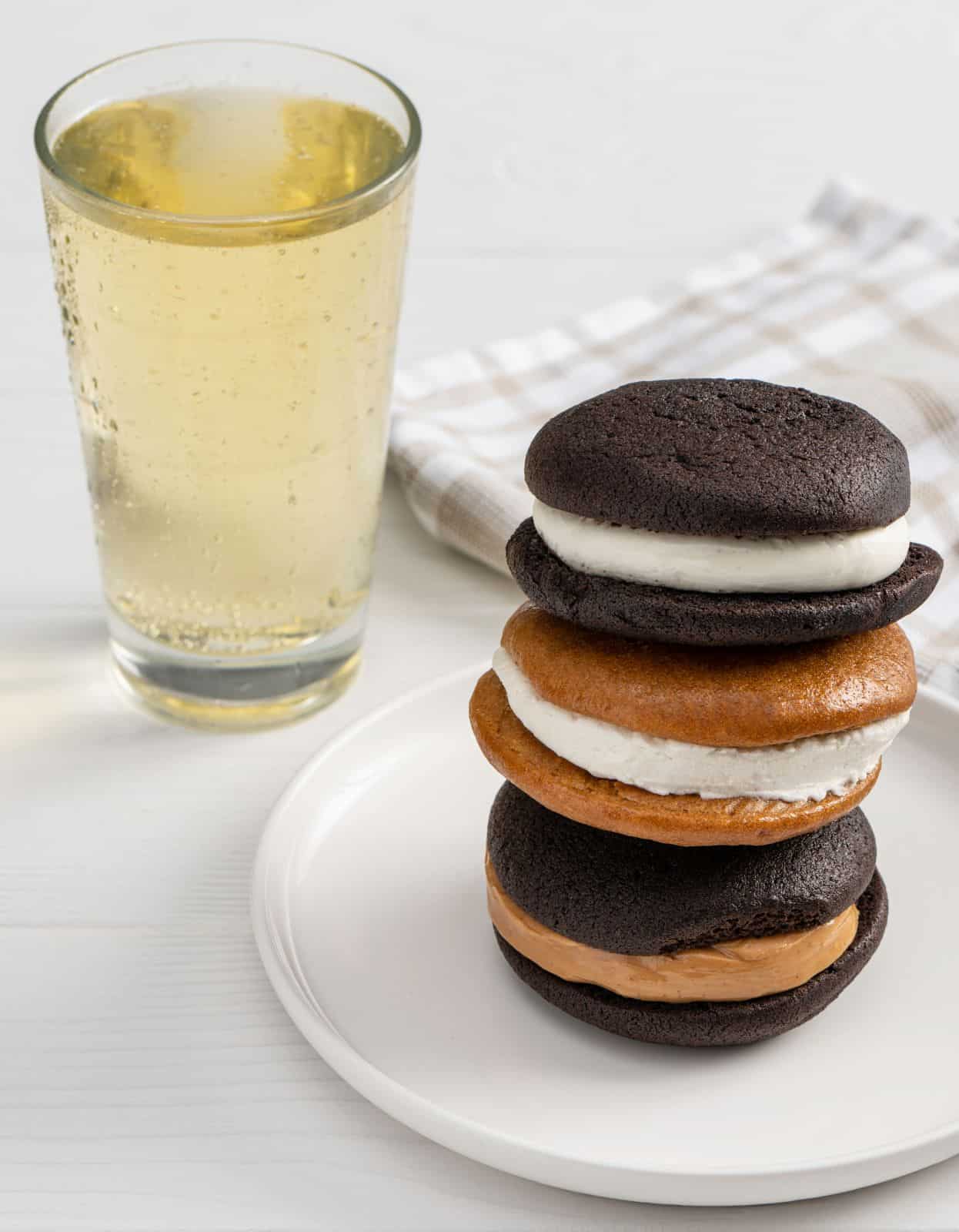 That means I want something like Threadbare Cider House's Spiced. I love mulling or baking spices with chocolate. They don't always play nicely together in the same baked confection; I want all of the flavors to remain distinct. Sipping sweet spices while enjoying a classic chocolate whoopie pie solves that problem tidily! 
There are so many more places and dishes I couldn't cover. Good food and drink are the most beautiful way to share culture I know. Sharing the local and the quirky can give us intimate little peeks into places we love or could love. I hope pairing a few bits of regional food and ciders can show off just a few of the amazing dishes and ciders that we have all around us.