This recently-announced collaboration seems to sit right at the crossroads of the craft cider industry: new world vs. old world; innovation vs. tradition; mainstream vs. niche. Ryan Burk, head cider maker at Angry Orchard and Tom Oliver of Oliver's Cider and Perry, have teamed up to create Understood in Motion 03, a dry, tannic cider with a funky vibe, made with two distinct wild-fermented juices from rare apples.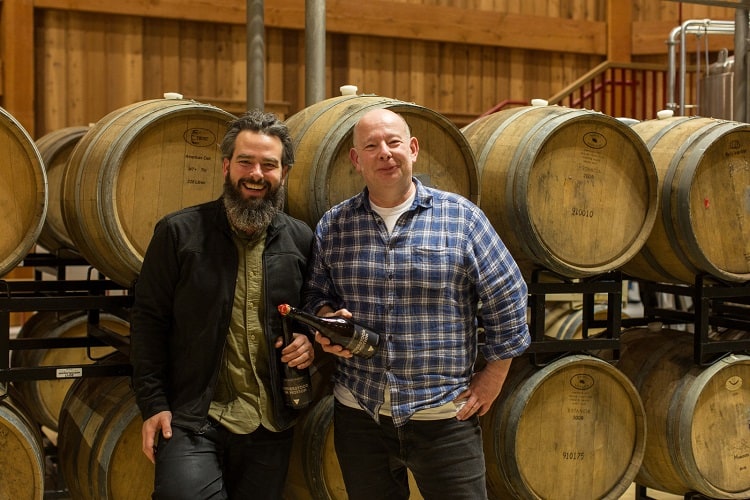 This is not the first collaboration between the two. Burk and Oliver are friends going back six years, when they met while Burk was visiting Oliver's cider house for the first time. After hitting it off, they spent time eating, drinking and traveling together, tasting ciders all along the way. Their first cider series together, Gold Rush, began their work as co-conspirators; the Understood in Motion series is an Angry Orchard line, and the first two iterations have been collabos with Eden Specialty Ciders in 2016 and E.Z. Orchards in 2017.
"Tom has been an inspiration and mentor for many years, and through our shared love for cider and food, has become a dear friend," says Burk. "I'm honored to have worked with him on this creation that celebrates the occasions when cider is enjoyed with friends and family, and highlights what is special about cider making here in the U.S. and in the U.K."
Understood in Motion 03 was two years in the making. It began as two different naturally fermented ciders using wild yeast, made by both cider makers. Angry Orchard blended Dabinett apples with Northern Spy apples, and fermented the juice in used calvados barrels and aged on lees. Oliver's blended Dabinett apples with Foxwhelp apples, which are only available in the west Midlands of England, then fermented the cider in stainless tanks and aged on lees. After a year, Oliver traveled to Angry Orchard's HQ in Walden, New York with his cider, and the two cider makers began to undertake the tedious art of tasting and blending. The final style uses ciders from multiple harvests as far back as 2014, all of which matured in oak.
This special bottle is only available for limited release at the Angry Orchard Cider House. Sales started on March 23 — the  750 mL bottles run $25 each — and are only around while quantities last. Get thee (or dispatch a friend) to upstate New York to nab a bottle of Understood in Motion 03 while there's still time!
Find the Angry Orchard Cider House at 2241 Albany Post Rd. in Walden, New York; phone: (888) 845-3311.