Malaika Tyson is one half of the blogging duo Cider Soms, which was started as a way to introduce wine-lovers to the world of cider. Created along with her husband Sean, the "Soms" blog seeks to uncover and explain the complexities of ciders in a fun way.
Sean and I first met Caitlin Braam, the president of Yonder Cider, after a Pomme Boots Society meeting at CiderCon in 2019. Since then we've had the opportunity to work with Caitilin in her role as chair of the American Cider Association's Diversity Committee to help support anti-racism, equity and inclusion efforts in the industry. Caitlin is also involved in The Source Cider, a cider-focused, business-to-business venture. We are excited to share more about Yonder Cider and Caitlin's story through this Cidermaker Q&A. 
(The questions and answers have been edited for brevity and clarity.)
Cider Culture: Was starting a cidery always a plan for you?
Caitlin Braam: No. After I left as president of Seattle Cider Company, I told my husband I would never start another cider company. It's not for the faint of heart. However starting two companies in 2020, Yonder Cider and The Source Cider, in the midst of the pandemic is also not easy! 

During my time working in the industry, I started to see a gap in the market. When cideries are getting started, they are not usually putting money into marketing, branding and design. After 10 years of working in the industry, particularly in the marketing and PR space, I had honed in my design eye, developed my cider palate, made valuable connections, and met amazing cidermakers. From that, I recognized that I had all the tools to start a cidery the way I envisioned it.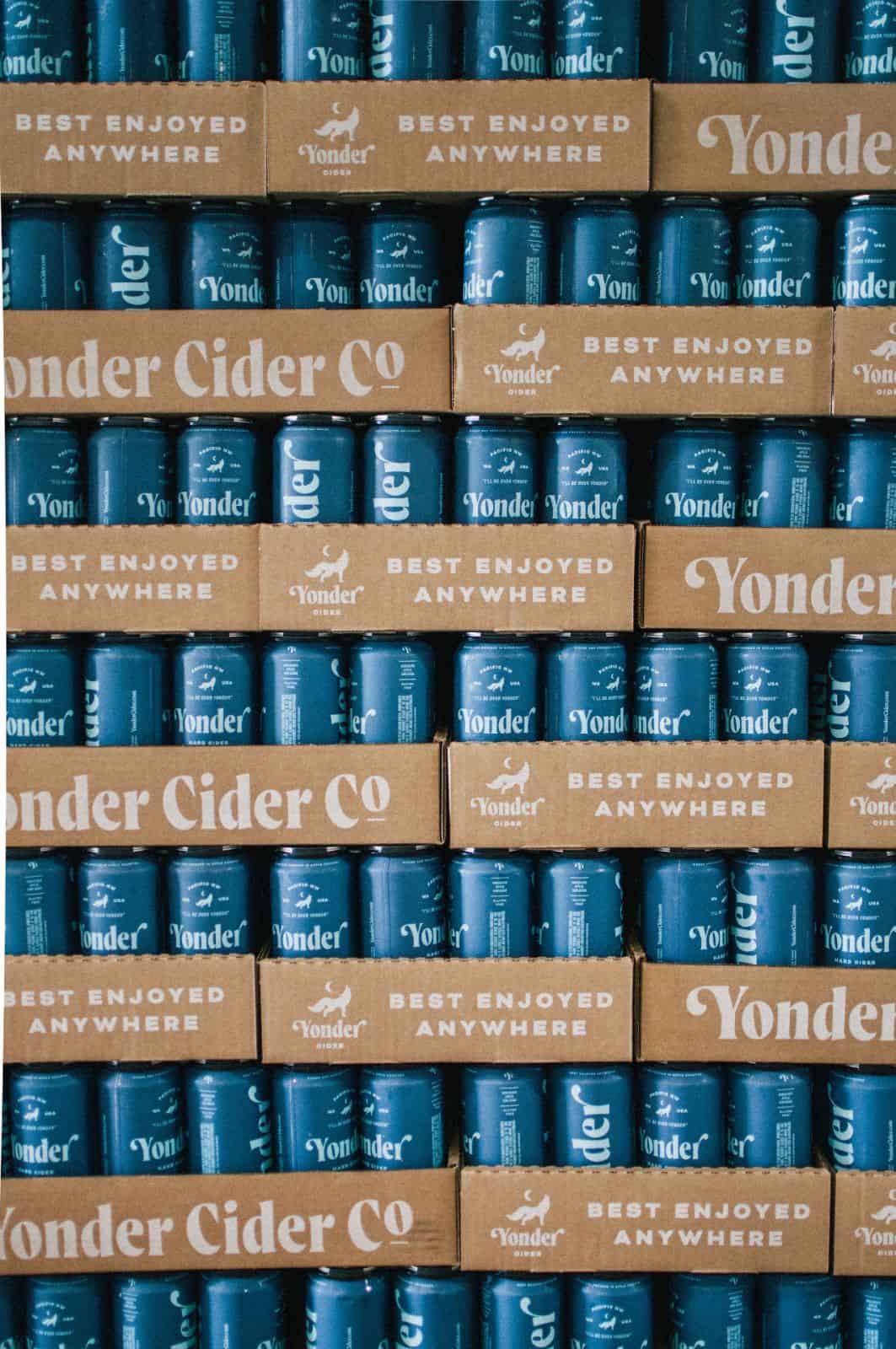 How does Yonder Cider fill this gap?
Yonder Cider has been my opportunity to marry my branding experience with my cider experience, creating beautiful cider in alluring packaging. Often, people buy products because of the label, and Yonder Cider's cans don't look like traditional cider packaging. We want to make it so that consumers would stop and take a look at the package, notice that it's cider after they pick it up, and decide to try it. 
On social media, we've seen a lot of posts about how someone who isn't a cider drinker picks up the cider because of the way it looks, and then loves the product. That's why I really love Yonder Cider: It's a culmination of 10 years of both of my worlds coming together into a great brand that I absolutely love. I also want to show that ciders, like our single varietals, can command a higher price point. 
What challenges have you encountered since starting Yonder Cider?
We started working on Yonder Cider in January/February of 2020 and then the pandemic hit. As such, Yonder Cider is growing up in the era of the pandemic, and we honestly don't know any other way.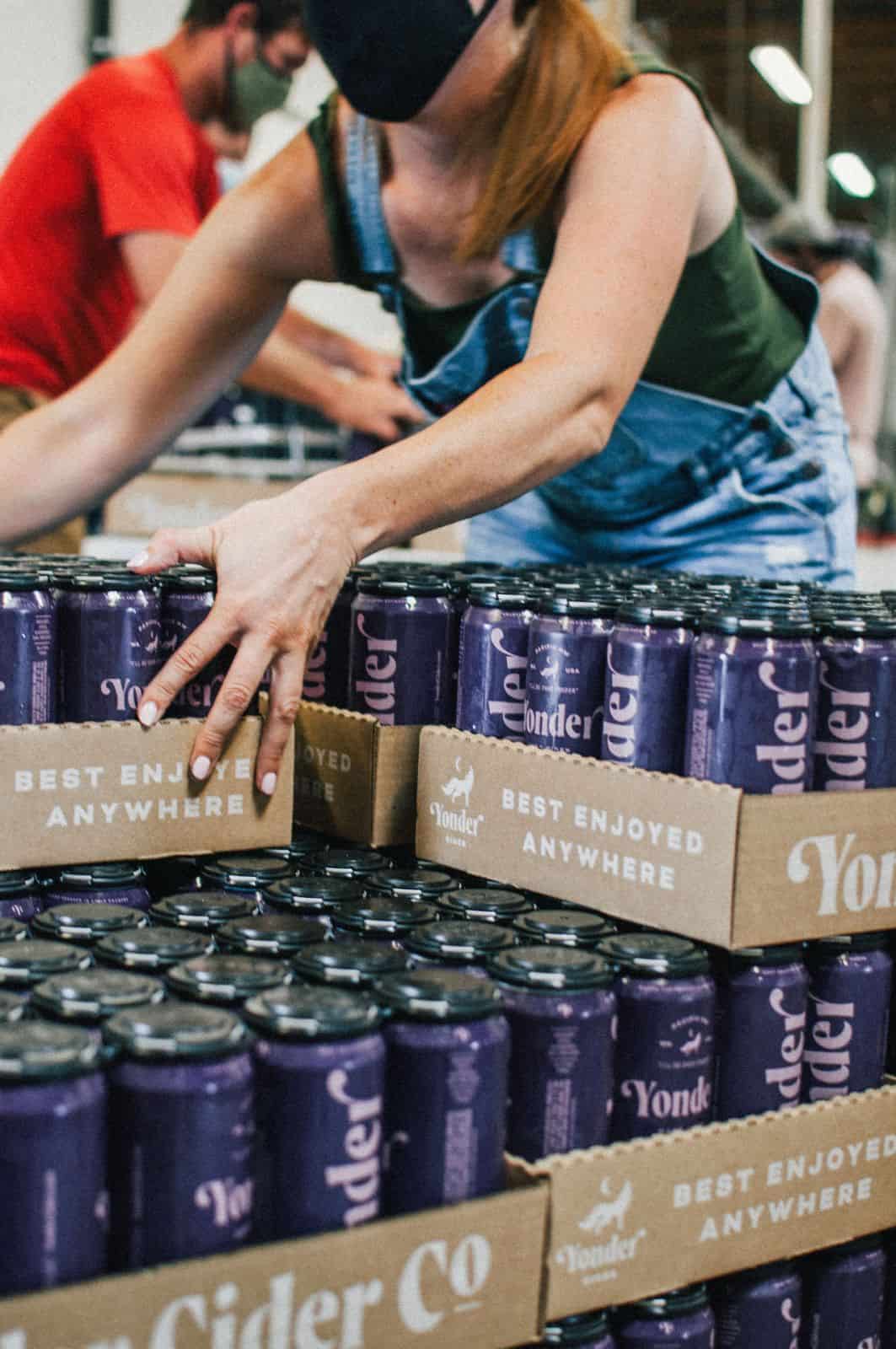 We knew that we wouldn't have anything in draft, and that cans would be premium, with larger orders for cans than what we may have initially anticipated. We also knew that getting a distributor and putting a lot of time into off-premise was also important. This really allowed us to focus our efforts, rather than having to shift. However, all of our timelines are three-times longer than we thought they would be, and more expensive. It hasn't been easy, but I can only imagine the sigh of relief when this goes away, and maybe everything will seem a bit easier. 
Where is Yonder Cider produced?
It all happens in Wenatchee, Washington, which is about 2.5 hours from Seattle. I started going out to Wenatchee five or six years ago, and I was really taken aback. Not only does it have copious amounts of apples, but it is also a beautiful area with rocky cliffs and a valley in the middle with apple trees, pear trees, hops and wine grapes growing. That is also where I met Tim Larsen, our head cidermaker (he is also the head cidermaker for Snowdrift Cider). We have a production facility that is split between Yonder Cider and The Source Cider. 

Can you tell us a little more about The Source Cider?
The Source Cider is a business-to-business cidery, where we do custom fermentation and premium juice. For example, Yonder Cider purchases finished cider and juice from The Source Cider and Yonder Cider does the packaging and any infusions. The Source Cider also started up alongside Yonder Cider. It was a different business that was closing and we acquired all the equipment and started up as a new company. One of the reasons we did so is because the amount of money it takes to start up any production facility is significant. 
Where is Yonder Cider distributed?
We are distributed In Washington State, mainly in Western Washington, from Bellingham (near the Canadian border) down to Olympia/Tacoma. Currently we self-distribute in the Wenatchee and Leavenworth area. We are also sold at Redfield Cider Bar & Bottle Shop in Oakland, California. Oliva [Maki] and Mike [Reis] are some of my best friends, and what Redfield does for the industry and does as a hospitality-based business is fantastic. So we send a pallet of cider down to them every couple of months. We also have our to-go bar, Yonder Bar, in my garage.
How did Yonder Bar come about?
We had plans for a full tasting room, and also plans for a 500-person launch party in Seattle and dinner in the orchard. However, with the pandemic, all the marketing strategies that I traditionally employ for a brand launch went away. A couple of months into the pandemic, the city of Seattle instituted "stay healthy" streets, shutting down the streets to cars and limiting the streets to primarily pedestrian traffic. I live on one of these "stay healthy" streets and my father-in-law commented that we now had thousands of people walking by our home and joked we should sell the cider out of our garage. 

We took that joke as inspiration to transform our garage into a to-go spot. Honestly, it has been the brightest light for us during the pandemic. Not only from a direct-to-consumer sales pipeline, but also from a PR perspective, as Yonder Bar has the feel of a cider speakeasy that you have to seek out to find. We started with our three canned SKUs, added draft, and now we have single varietals we are selling out of Yonder Bar.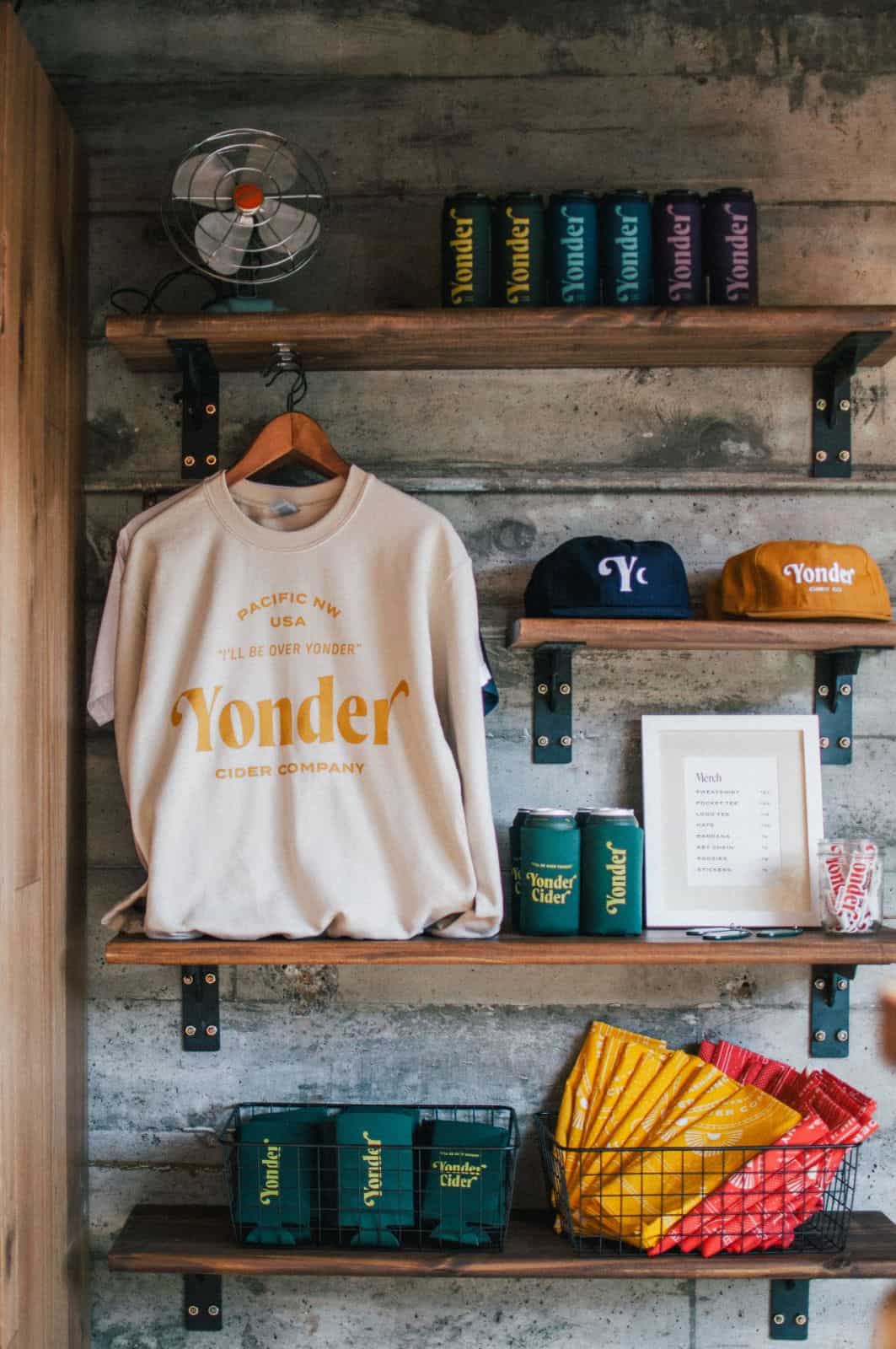 It sounds like a great way to introduce consumers to the brand.
It is! We have people who seek out Yonder Bar and are so excited when they find us. I find so much joy in the experience of watching someone who found Yonder Cider on social media or was just walking by. My favorite is when bikers or runners are working out, pass by Yonder Bar, and then turn around to buy cider. It's also been fun to introduce so many people in this neighborhood to cider. There have been so many people who say "I don't like cider" or "I've never had cider, it's not my thing." But then they get a mixed pack, and then they will come back the next day and buy more. We changed their minds about cider!
Do you think you will keep Yonder Bar open after the pandemic?
Even though everything from our garage is now in our house, I would love to see Yonder Bar continue through at least the summer of 2021. It's become such a neighborhood staple. We have regulars and people who come by anytime they see something posted on social media. We also donate some of our proceeds to the Phinney Neighborhood Association. It's been great to be a part of developing this community. 
If you had one business strategy that you could implement to better the cider industry, what would it be?
I honestly think The Source Cider and people using it. What I love about The Source Cider — and not just because I own it — is that it provides cideries the option to start up with a lower capital expense and have access to beautiful, high-quality fruit and cider, which can be hard to come by. 

We are working with cideries and breweries across the country and it saves them extra costs, while giving them the ability to increase the quality of their product. We also have the ability to scale with them. Typically when a brand takes off, it may not be able to quickly expand. With The Source Cider, the brand can shift and move products more quickly. Also, if we can convince a cidery that only uses culinary fruit to add 10% cider fruit to their cider to boost the aroma, flavor, and tannin, we will continue to see the industry grow and stretch our legs on what consumers can afford and get used to. Yonder Cider is a good example of this. We are 80% culinary fruit: a base of Fuji, Honeycrisp, Pink Lady, and Granny Smith, and 20% cider fruit. That 20% cider fruit adds more flavor, mouthfeel and aroma.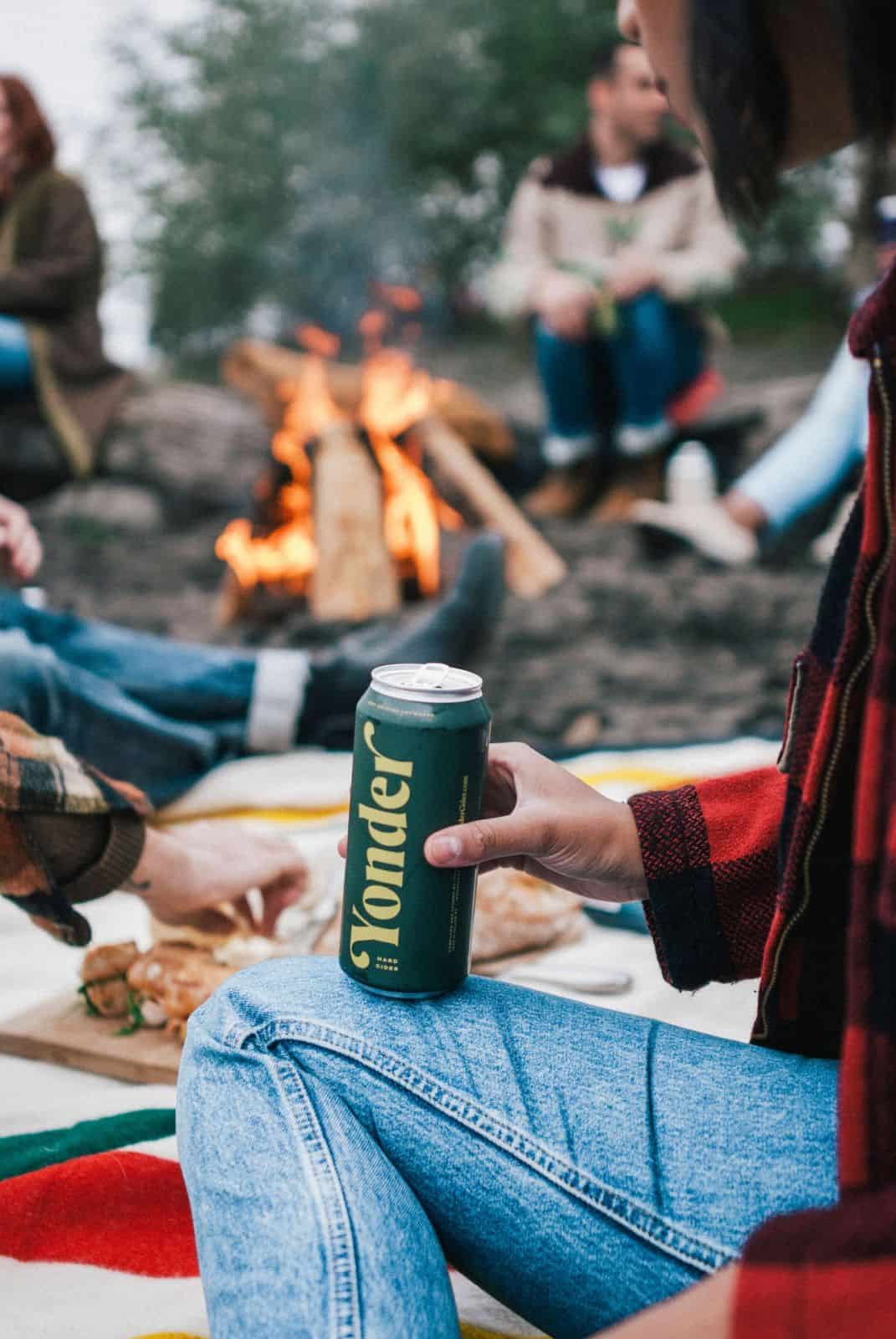 What is the makeup of your team?
Our team has grown really quickly. At first was just me, Tim, and Maddy Porter (Creative Director). Tim also supports The Source Cider and I've known Maddy for a really long time. We recently added Pam, our production manager in Wenatchee, Monique, a full-time cidermaker, as well as other part-time production people, David, who does sales and manages Yonder Bar, and a couple of wonderful ladies who work at Yonder Bar. I would be remiss if I didn't mention my husband, Jon, who helps with our accounting, built Yonder bar, and keeps my sanity intact. 

I also hope that the passion that our team has for cider and our brand comes through. Yonder Cider means a lot to us and we hope that our passion comes off authentically and approachable at the same time. You might pick Yonder Cider because it looks beautiful; you can drink it because you are learning more about cider; or you can be a nerdy cider person and care about the fact that there is 20% Ashmead's Kernel in our Cashmere and Roxbury Russet and/or Dabinett in the other ciders and be able to pick out some of those flavors. It's also important to make sure the cider is both price- and package-accessible. 
If you could have any superpower what would it be?
Invisibility. I would love to overhear what people trying Yonder Cider for the first time are saying.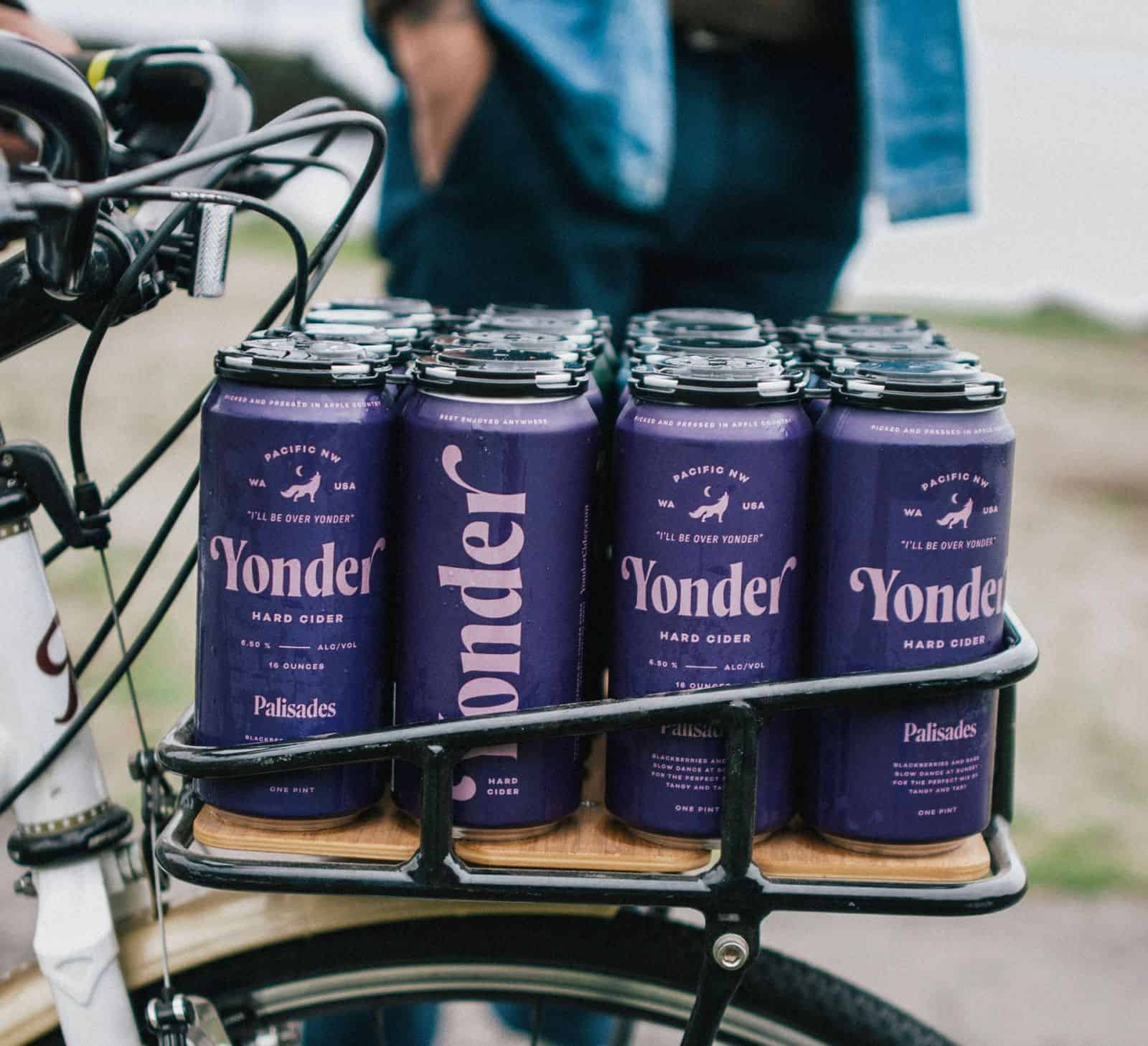 To learn more about Yonder Cider, check out its website, Facebook, and Instagram pages. Yonder Cider is available for purchase at Yonder Bar, online, or at select retail locations. Contact Yonder Cider at hello@yondercider.com.