It looks like another cider festival season is rolling around with many organizers once again choosing to go virtual in lieu of large in-person gatherings. Once such classic event is Cider Summit Portland, celebrating its 11th annual go-round on Saturday, June 26, 2021! After adjusting to the virtual format last year in the earlier stages of the COVID-19 pandemic, the organizers (and festival-goers) now totally have the hang of this new, inclusive format.
"Cider makers have continued to produce outstanding products that people may not have had a chance to try because of dining and travel restrictions," said Cider Summit founder and producer Alan Shapiro. "With our Festival-To-Go Tasting Kits, we can get world-class cider into the hands of cider lovers, and give them first-person access to a really thoughtful and fun tasting experience."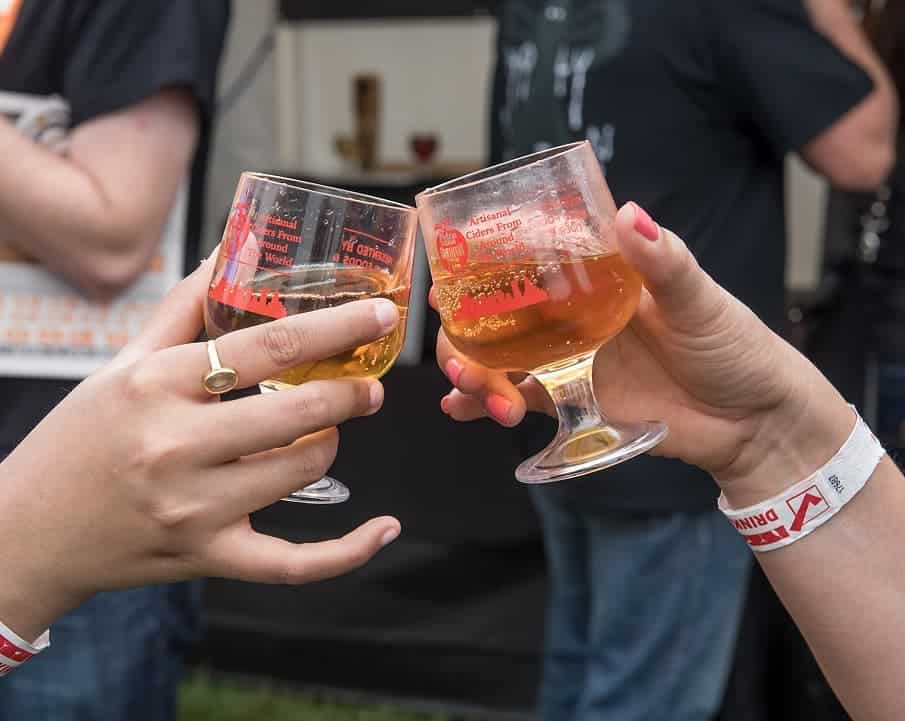 The Summit is now accepting pre-orders for the Festival-To-Go Tasting Kits, which allow for safe, contact-free home tastings. These kits provide cider fans with an exciting variety of cider brands and bottles, including limited-release, small-batch and hard-to-find stuff. Though the event is all-virtual, the organizers have worked to ensure a great range of offerings while adding a more intimate online tasting event.
"Since early 2020, we've hosted virtual festivals in Portland, Seattle, Chicago and San Francisco, and every one is better than the last," continued Shapiro. "Each time, we learn more about how to give our attendees the best possible experience, and we are really excited about this summer's Portland event."
Want to get in on the action? You can pre-purchase the Cider Summit Portland tasting kits from now until Sunday, June 6, 2021 at 11:59 p.m. If you live in the PDX area, you'll be able to pick up the kits at a drive-through (and bike-through and walk-up) event on Saturday, June 26, from 12 p.m. to 3 p.m. at the Memorial Coliseum Benton Lot, located at the corner of North Broadway and North Benton Avenue. If you'd rather do delivery, this is an option for select Portland and Vancouver-area zip codes for an additional fee, with a delivery date of June 24 or 25. Also, very exciting for non-Portlanders: you can get the kits shipped across the country through a partnership with Press Then Press.
Festival-goers get to choose from three themed tasting kits (each of them comes with a super-cool branded Cider Summit cooler bag), promotional merchandise from Cider Summit and participating cidermakers, and access to the virtual tasting event on Saturday, June 26, from 6 p.m. to 8 p.m. Here are the kit options:
Modern Styles – ($39.00 + fees/delivery options)
2 Towns Cosmic Crisp (12-oz.)
Anthem Bloom (12-oz.)
Avid Marionberry Mojito (12-oz.)
New West Pina Colada (12-oz.)
Portland Cider Imperial Peach Tea (12-oz.)
Reverend Nat's Punch (12-oz.)
Square Mile Rose (12-oz.)
Swift Pomegranate (16-oz.)
Art of the Apple – ($59.00 + fees/delivery options)
Apple Outlaw Jefferson Dry (16.9-oz.)
Baumans McIntosh (16.9-oz.)
Double Mountain Perry (16.9-oz.)
EZ Orchards Hawk Haus (16.9-oz.)
Seven Seeds Llyn Fawr (16.9-oz.)
Wildcraft Rome Blush (16.9-oz.)
Global Artisans – ($69.00 + fees/delivery options)
Aspall Blush (16.9-oz.)
Ciders of Spain Chai & Dry (12-oz.)
Fuchshof German Cider (12-oz.)
Kystin Brut (25.4-oz.)
Miloslawski Perry (16.9-oz.)
Sea  Cider Ruby Rose (25.4-oz.)
And, if you've got a new quaran-pup or long-time furry buddy, they can have some fun, too! Cider Summit has partnered with Portland Pet Food Company to offer a two-bag dog treat sampler to add your cider celebration. Add a Grain & Gluten-Free Biscuit Pack to your cart during the checkout process, and each sale will benefit the event beneficiary, DoveLewis, a local pet clinic.
For more info, including pricing details and how to purchase tasting kits, visit CiderSummit's website and follow along with CiderSummit on Instagram; be sure to use the hashtags #CiderSummitPDX and #CiderSummitToGo to engage with your fellow cider fans!