As autumn arrives each year, nostalgia sets in, reminding us of all the traditions that make the season so special. Pumpkin carving, apple picking, fall festivals … it's hard not to fall in love with this season. Autumn also brings back cider donuts! Made from the juices of freshly pressed apples, every sugary bite brings back memories of previous falls when we couldn't wait to open a paper sack filled with these fragrant, freshly made treats.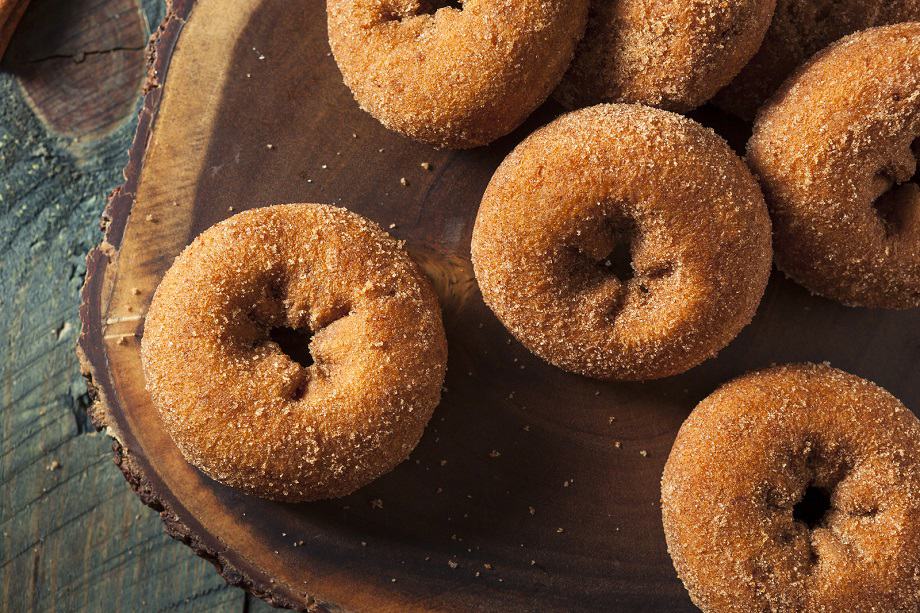 Chances are if you're a craft cider fanatic, baked goodies infused with apples also make you happy. If you've been craving these beauties, check out our list of some of the best cider donuts from each state in the northeastern United States.
Maine
Be sure to visit Capt. Jack's Donut Shack to get your hands on these tasty treats. Enjoy wagon rides, a corn maze and apple picking, available daily at the orchard. 201 Hanson Ridge Rd., Springvale, Maine; phone: (207) 324-5054
New Hampshire
For a sophisticated experience, stop by White Mountain Cider Company, where you can indulge in cider donuts while dining in a beautifully restored farmhouse restaurant. The homemade cider donuts are served with vanilla ice cream and drizzled with decadent caramel sauce. Feeling fancy? Order a cidertini from the bar. You can also head to White Mountain's market for cider donuts by the dozen, as well as tons of other gourmet treats. 207 US-302, P.O. Box 790, Bartlett, N.H.; phone: (603) 383-9061
Vermont
Enjoy a taste of fall at this charming local spot, known not only for its donuts, but for syrups and other lovely Vermont goods, too. Bonus: Cold Hollow makes hard cider — try a pour of the housemade Barn Dance cider at the onsite cafe, The Apple Core Luncheonette & Brew! Not able to visit the cider mill's location? Not to worry: You can order Cold Hollow's donuts online! 3600 Waterbury Stowe Rd., Waterbury Center, Vt.; phone: (800) 327-7537
New York
Wager's Cider Mill has been family-owned and -operated for 4 decades, producing 21 varieties of apples throughout the year. It also offers a wide variety of homemade donuts, including its famous apple cider donuts, which are made strictly with fresh-squeezed apple cider. Stop by the Penn Yan location (in the Finger Lakes region) to dive into these delightful donuts, which are made daily and served fresh. 256 E. Main St., Penn Yan, N.Y.; phone: (315) 536-6640
Massachusetts
Honey Pot Hill Orchards is open throughout the year, offering pick-your-own apples, peaches, blueberries and pears, depending on the season, of course. However, its cider donuts are the main attraction! Be sure to get to the orchard early and get a paper bag filled with mini cider doughnuts, before the long line inevitably begins to form. 138 Sudbury Rd., Stow, Mass.; phone: (978) 562-5666
Connecticut
Stop by the Apple Barrel, Lyman Orchards' unique market, for fresh-baked goods, including muffins, pies, cookies, loaves of bread, pastries and, of course, apple cider donuts! These delicacies are made daily in the Farm Kitchen Bakery. Let the enticing aroma of sweet apple goodness take over your senses as you take a bite out of one of Connecticut's best-rated cider donuts! 3 Lyman Rd., Middlefield, Conn.; phone: (860) 349-1793
Pennsylvania
A historic 300-acre family farm in suburban Philadelphia is home to some of Pennsylvania's best apple cider donuts. Don't miss out on these amazing donuts from Linvilla Orchards' bakery, which opened in the 1960s and began the legacy of the orchard's fresh-baked goods. While you're there, be sure to pick up other treats, including Linvilla's famous pies, cakes, loaves of bread and apples! 137 Knowlton Rd., Media, Pa.; phone: (610) 876-7116
New Jersey
Delicious Orchards, a 60,000-square foot family-owned farm market, makes its apple cider donuts (and a slew of other treats, like cream puffs, brownies, cookies and cannoli) using the same recipes it started with 50 years ago! Be sure to get there early to snag yourself a few warm and sugary pastries. Visitors can even take a behind-the-scenes tour of the bakery to see firsthand how all of these goodies are made! If even more fried apple goodness is what you crave, don't miss the Fritter Shack, featuring made-to-order apple fritters; note, the Shack is only open on weekends. Route 34 South, Colts Neck, N.J.; phone: (732) 462-1989.
Delaware
Just west of Dover, Fifer Orchard's Farm and Country Store provides the freshest fruits and vegetables in the area, featuring a constantly changing mix of seasonal, homegrown options. The orchard's cider donuts are the main attraction, though! Preorders are especially recommended for Thanksgiving and Christmas, so be sure to get your order in early! Stay at the orchard for some of the Farm and Country Store's hand-dipped ice cream, locally roasted coffee and local honey. 1919 Allabands Mill Rd., Camden Wyoming, Del.; phone: (302) 697-2141
Maryland
Ordering your cider donuts 24 hours in advance is recommended at this Maryland orchard! With donuts so popular they often sell out, Milburn Orchards County Bake Shoppe is one of the best spots in the state to get these tempting fried sweets. In addition to their famous donuts, be sure to scoop up one of Milburn Orchards' signature pies and a half gallon of its fresh apple cider, made with four varieties of tart and sweet apples. 1495 Appleton Rd., Elkton, Md.; phone: (410) 398-1349
Who makes your favorite cider donut? Join in the conversation below!