In our column, "Cider Loves Food," contributor Meredith Collins (blogger extraordinaire at Along Came a Cider) is looking at different cuisines and finding the perfect ciders to help take your meals to the next level.
Before we begin: some context.
It may sound curious to use the phrase American-Chinese food for the title of this article. I want to describe the foods and cider pairings accurately, therefore I need to distinguish between the fusion cuisine that I've known and loved since childhood and traditional Chinese food. 
American-Chinese food is a distinct cuisine with a history, repertoire and profile of its own. Several dishes that many Americans associate strongly with Chinese food were in fact created in America by immigrant families and chefs bringing their skills and knowledge to a new place with different available ingredients. This article and these pairings are my affectionate homage to this delicious fare. I hope you use it as a jumping-off point for explorations of your own!
Wonton Soup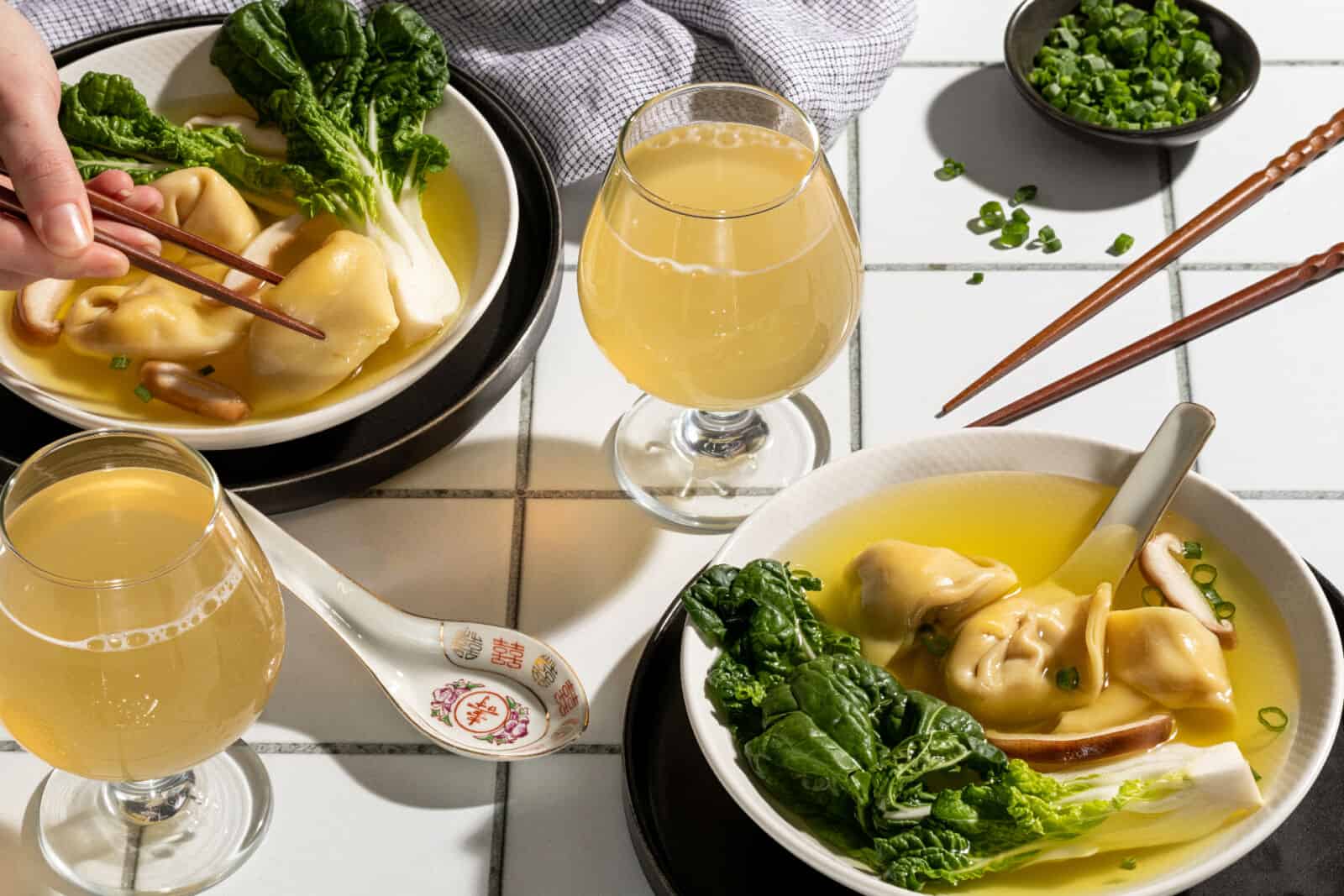 I like the subtle sweetness of Chinese flowering cabbage or bok choy along with savory broth and tasty dumplings in my wonton soup. When I make it at home, I buy frozen vegetarian wontons, but traditionally the savory dumplings are filled with a blend of seasoned pork and shrimp. This soup is tremendously comforting and warming while still remaining light and perfect as an appetizer. I keep that lightness going with my pairing! Nashi Orchard's Hukari Asian Pear Perry is delicately tinted with citrus, floral and honeyed notes. 
General Tso's Tofu and Broccoli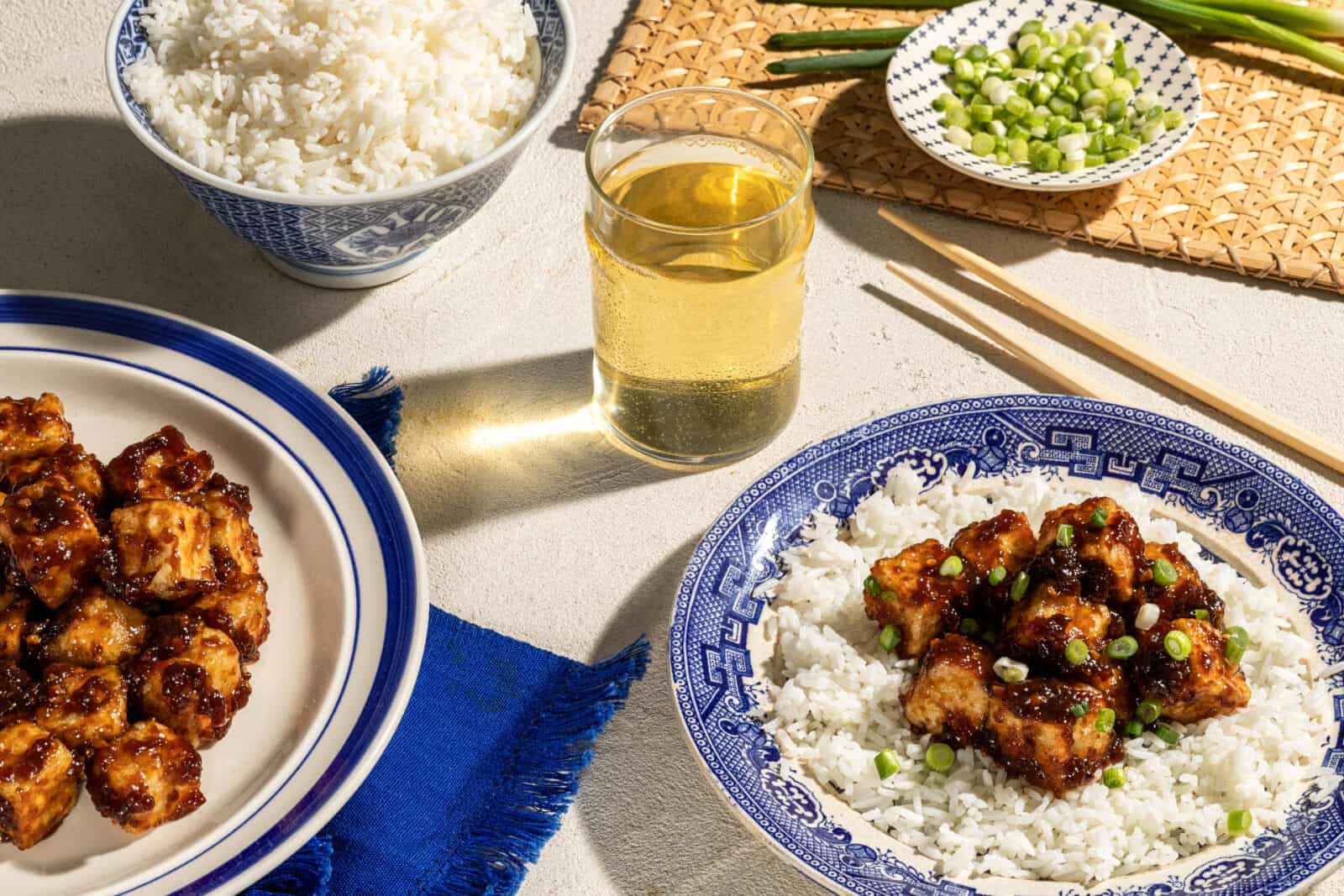 Whether you prefer your brilliant red General Tso's sauce on chicken or tofu, there's no denying its popularity. According to some metrics, General Tso's is the fourth most popular carryout dish in America, regardless of cuisine! Because of its bold sweetness and deep-fried crunch, General Tso's pairs best with a cider that's bubbly and semi-dry. Eden's Peak Bloom is perfect. The cider is gently semi-dry with tons of ripe apple flavors and bold minerality. It's a perfect meeting ground of approachability and sophistication — just right for this immediately appealing dish.
Hot Pot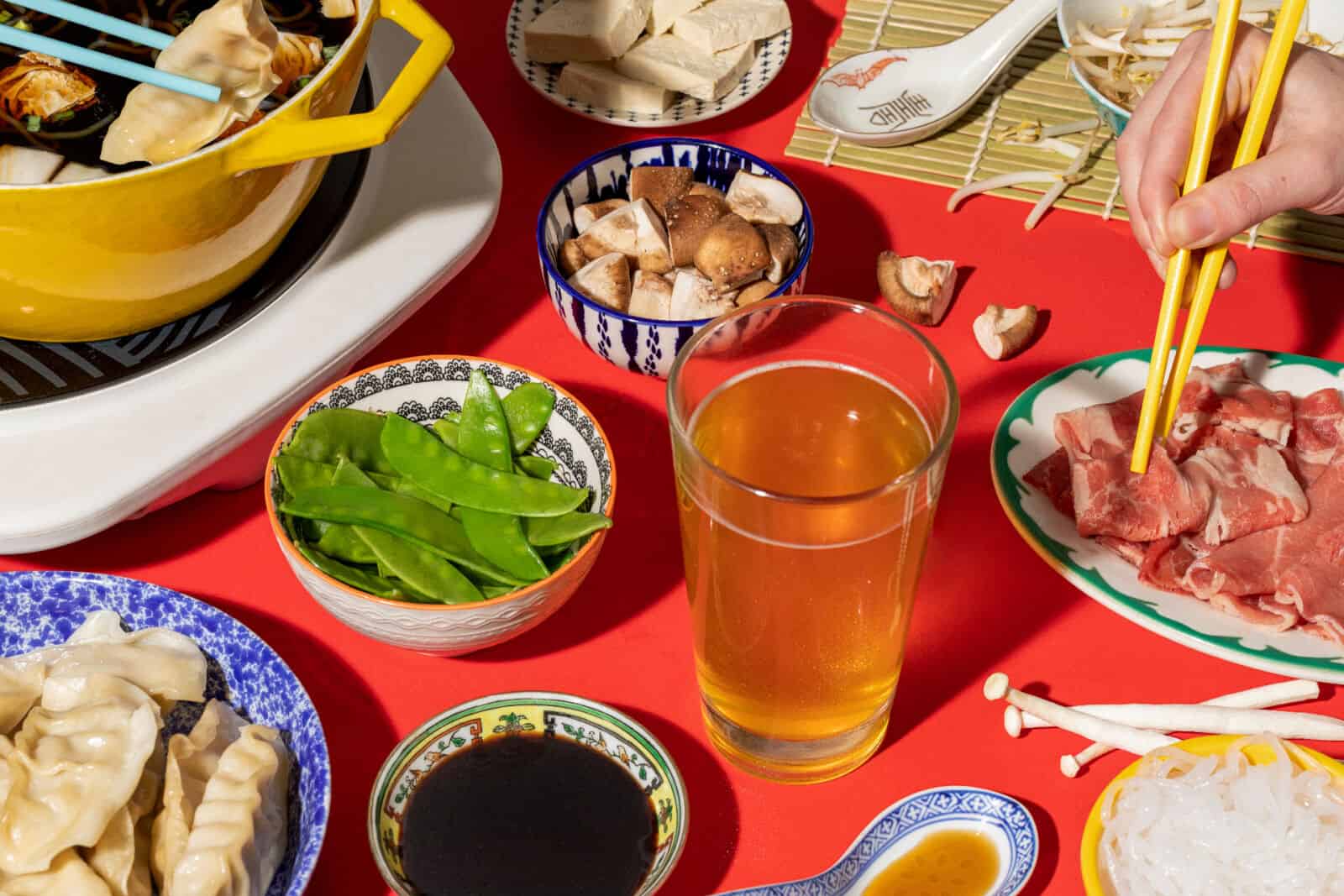 Hot Pot can mean a lot of different things to different people, but a tureen of simmering seasoned broth filled with delectable treats is the necessary element. I like mine with lots of bok choy, green onion, ginger and super-thin noodles. Just writing these words is making my mouth water! 
My favorite hot-pot nights have always been at friends' houses. That's how I learned that a hoppy beverage is a shockingly wonderful contrast to hot pot. Give me something hazy, crisp and citrusy to wake up my taste buds between bites of umami and spice. I love Stormalong's collaboration with Exhibit A Brewing IPC (India Pale Cider), and it fits the profile to a T.
Sweet-and-Sour Chicken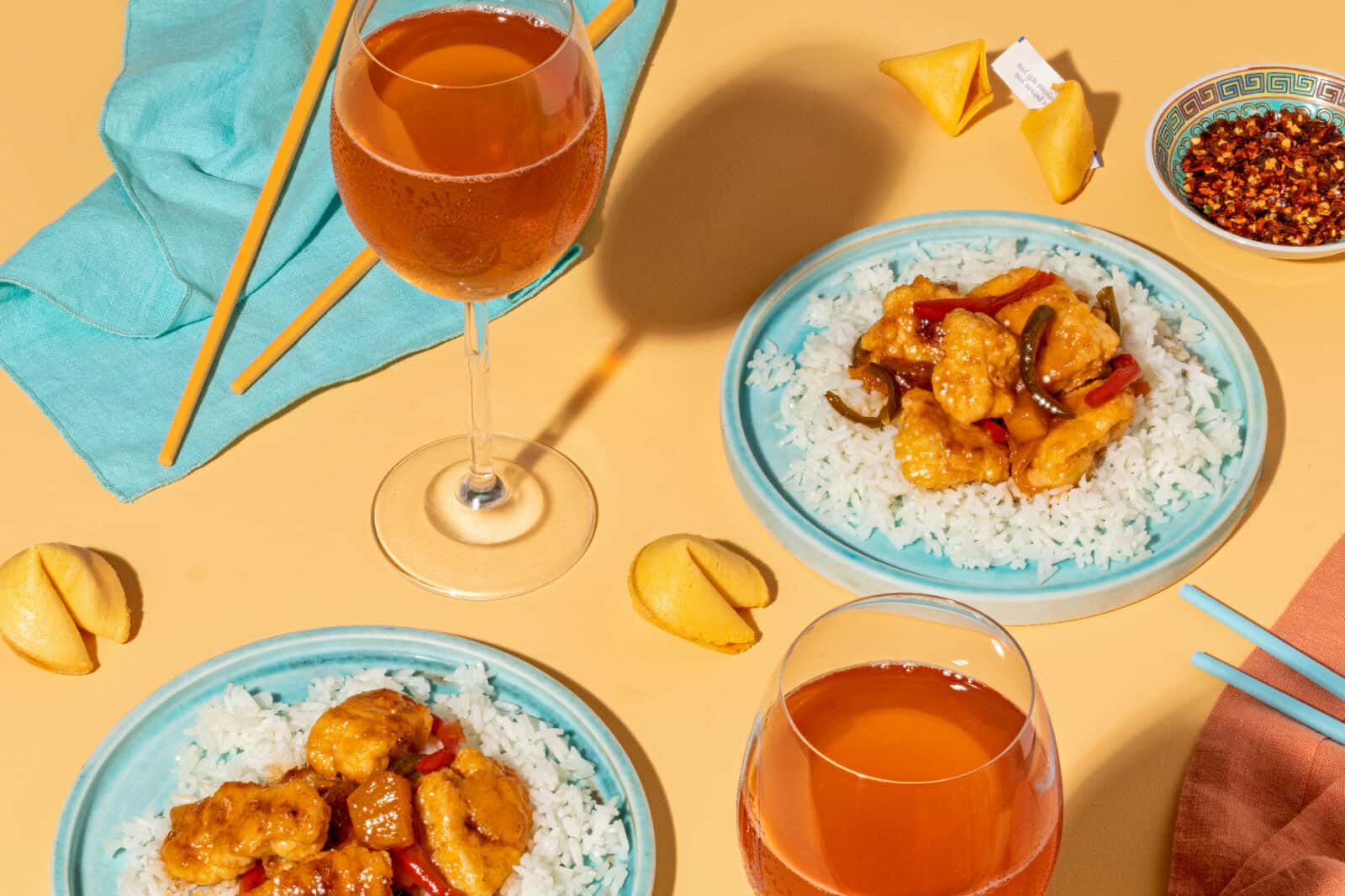 Crisp and juicy bites of chicken, pineapple and bell peppers atop a bed of fluffy rice: Sweet and sour chicken is a quintessential American-Chinese food and about as satisfying as an entree can be. It has lots of its own contrasts of flavor and texture, so my recommendation is to line a cider that matches the dish. For this type of complementary pairing, I recommend Thor's Hard Cider Arctic Rosé, a rosé cider that uses both wine grapes and Dolgo crab apples to balance sweet-and-tart elements, echoing the sweet-and-sour elements of sweet-and-sour chicken. 
Ma Po Tofu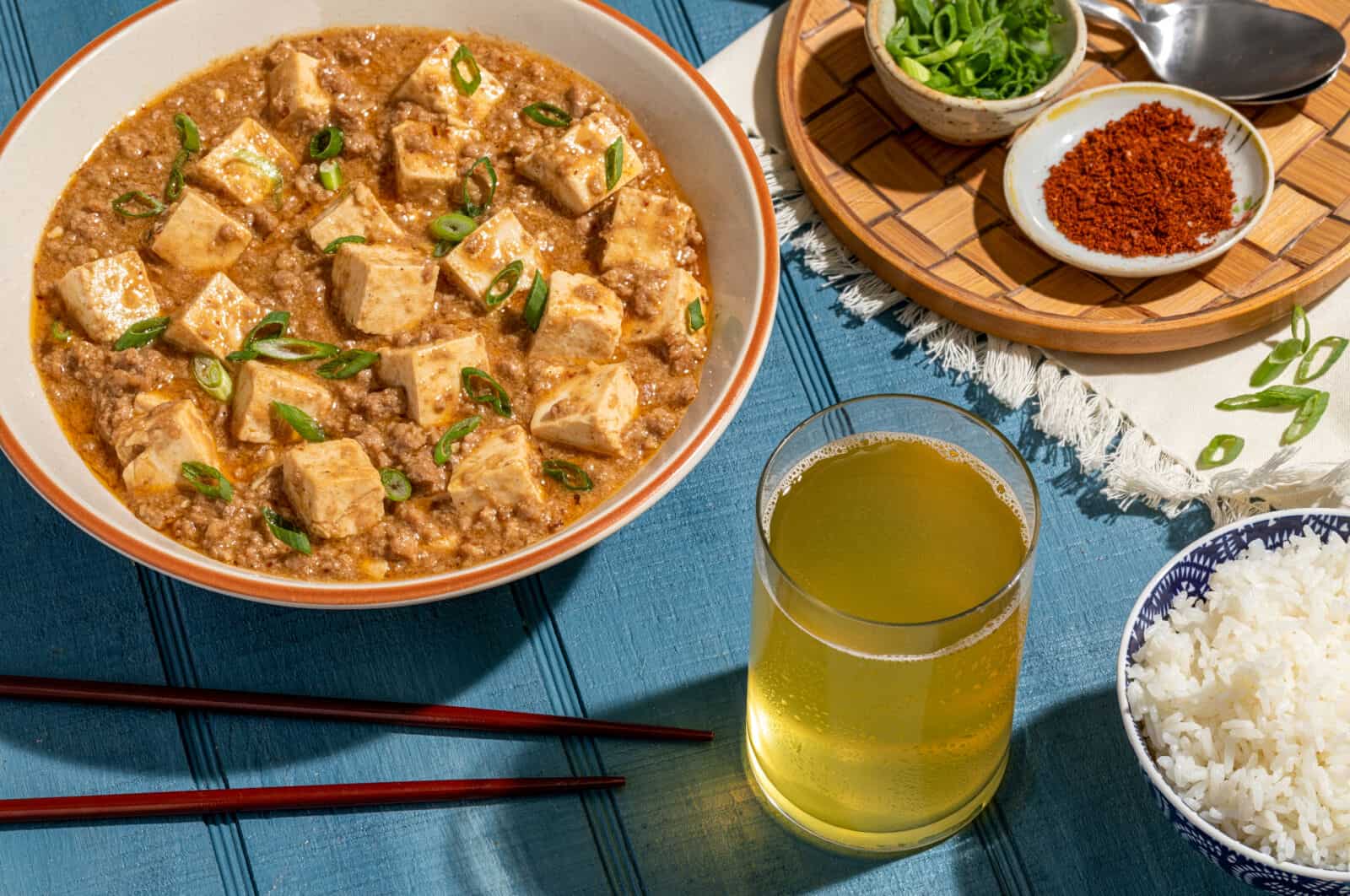 Pairing a spicy dish can be challenging. It's crucial to cooperate rather than compete with the heat! In Ma Po Tofu, Szechuan peppercorns and chili oil combine with silken tofu and peanuts to create an elaborate taste experience that brings texture, spice and richness to the table. I suggest a petillant or even fully still barrel-aged cider. Stem Cider's Le Chêne offers up barrel notes, like vanilla and toast, that help to temper this dish's fire in the best possible way. 
Vegetable Fried Rice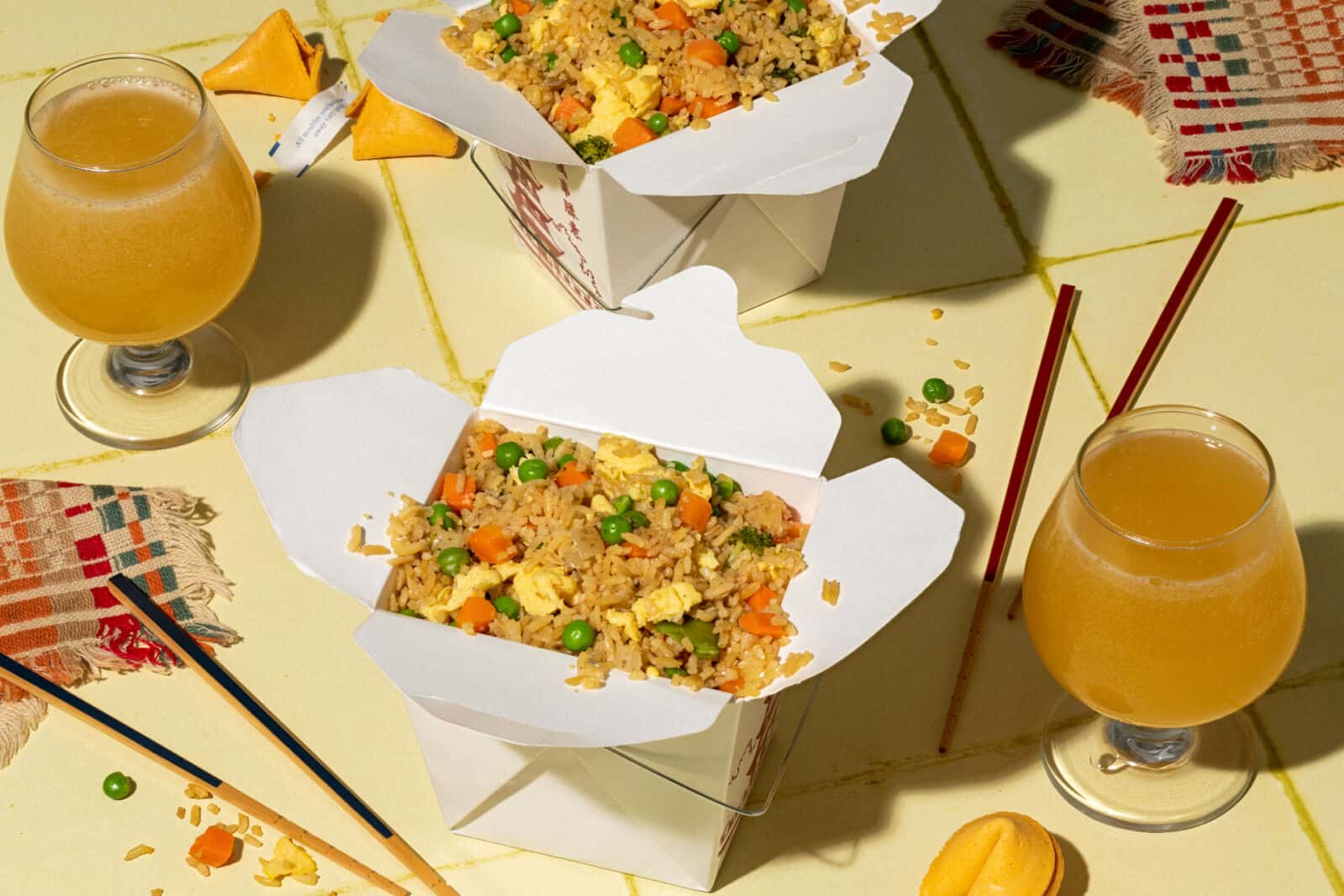 There are nearly infinite variations on fried rice; my favorite version includes pineapple, shrimp, tofu, peas, carrots and lots of ginger. But that's just one way to go — there are so many more, and ordering this is a great way to find out about the house style of a new restaurant.
For a cider pairing, I like to use a bold and funky high-acid cider like Wayside Cider's Hunt the Fox to cut through the unctuousness of the fried rice. This cider is still, but you could choose a funky sparkler if you prefer (especially if the fried rice isn't too spicy). 
Fortune Cookie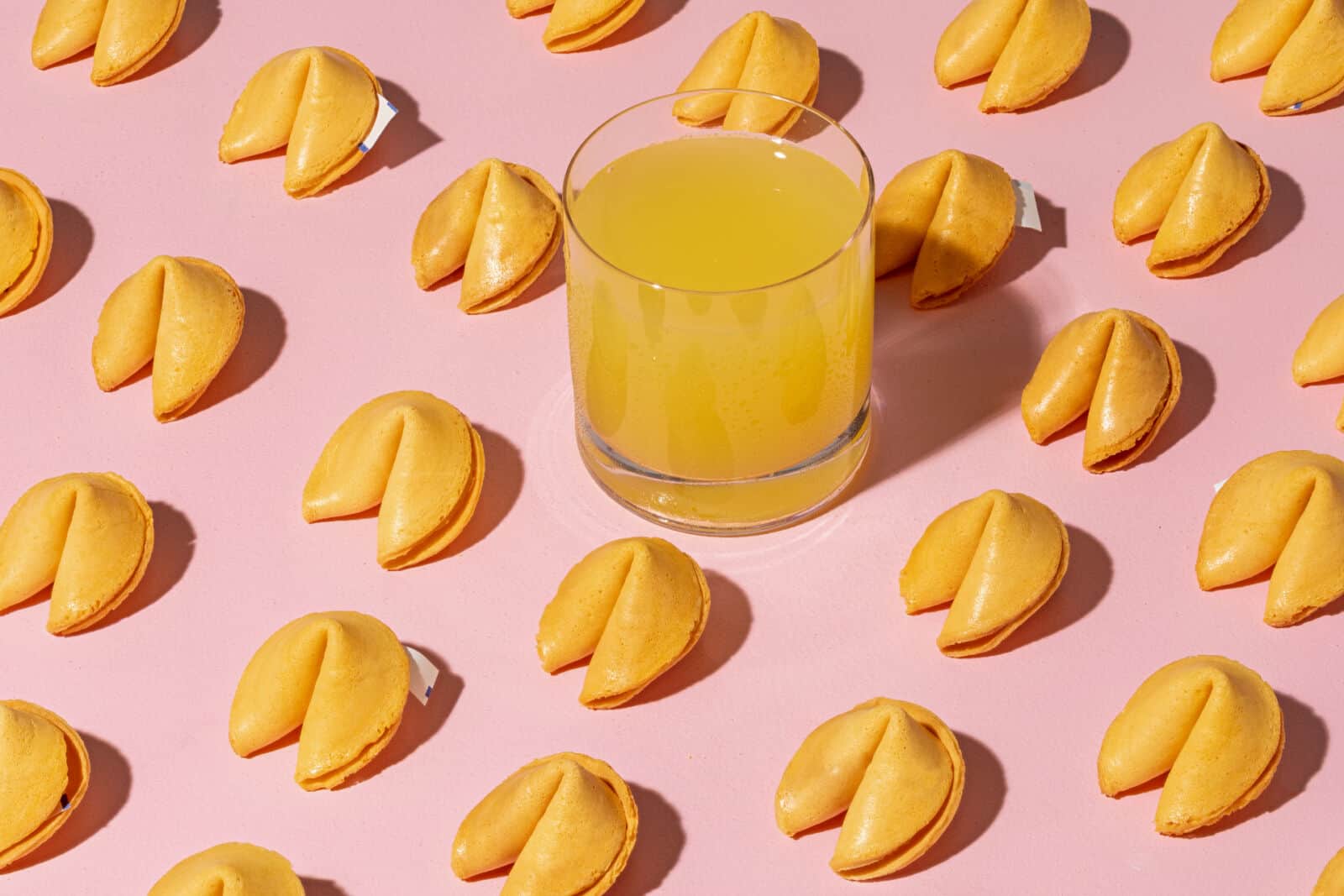 There are so many competing theories as to the history of this iconic treat, but the fortune cookie is undeniably associated with American-Chinese food. I cannot resist them at the end of a meal, especially when they have subtle aromas of orange and almond. 
For a pairing, echo the citrus element with a mimosa cider. There are a handful of choices out there that combine tart orange juice with the sparkle and apple nose of hard cider. Woodchuck's Mimosa should be easy to find all over the country, or if you want to try something a bit more adventurous, Graft's Lost Tropic uses tangerine and passion fruit in addition to orange. Either way, I hope your fortune predicts great things ahead!
Whether you decide to tackle some of these dishes at home, or go for a take-out feast, I hope these ideas help you pair American-Chinese food with cider deliciously. Cheers! 
For more great cider and food pairing ideas, check out the rest of our Cider Loves Food series!