We're seeing red! Only in the sense that ciders made with red-fleshed apples seem to be popping up everywhere. We hesitate to call this a trend because cideries have been experimenting with these beautifully hued apples for years now. But if you peruse the cider-sphere as much as we do, you can sometimes catch wind of a category growing and expanding, and that is exactly what's happening with red-fleshed apple ciders.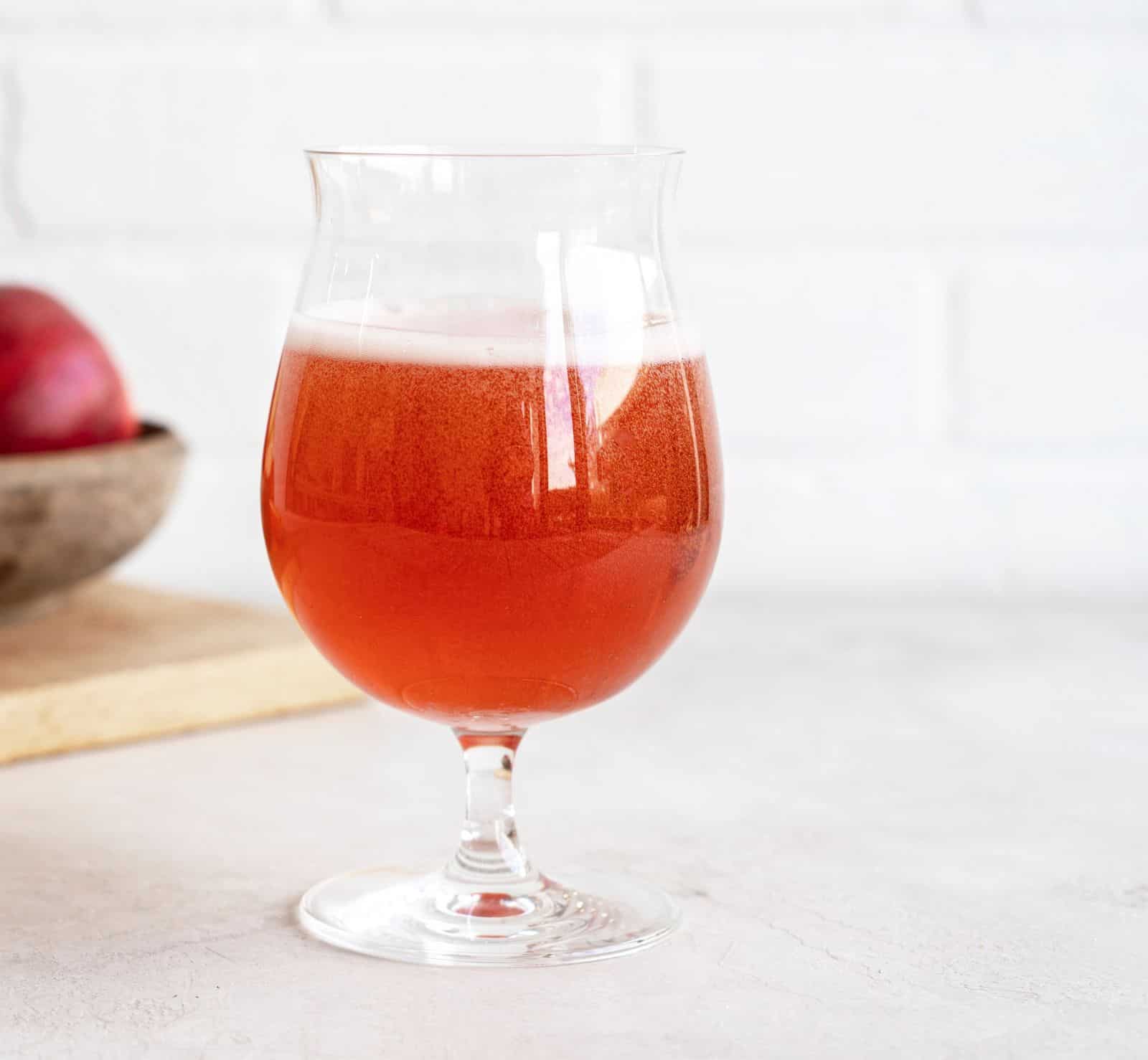 Some red-fleshed apples are descendants of crabapples native to Asia, specifically the hilly regions in Kazakhstan, and some are the outcome of hybrids and cultivars developed in the mid-20th century by botanists and plant breeders. Redlove, several apple cultivars that are hybrids from cross-pollination of red-fleshed and scab-resistant plants, are a more recent breed from Markus Kobelt in Switzerland. If you look carefully at your local farmers market, you may occasionally find varietals like Pink Pearl, for eating. But, like most cider apples, it's pretty unlikely that you'll stumble across a pink or red-fleshed apple at the supermarket.
We're excited to see how cidermakers approach this fruit, which yields a gorgeous rosé color without the need for any other additions. Red-dy to give one a try? (Sorry, had to). Here are nine ciders made from red-fleshed apples to crack open:
This Port Townsend, Washington-based heritage cidery and organic orchard has been making Glow, a vibrant ruby red cider, for years. This single-varietal rosé cider comes from the unique Aerlie Red Flesh apples, which sport pale green skin with a watermelon-hued blush of the fruit within peeking through. As far as flavor goes, Glow yields candied apple aromas with tropical fruits on the palate. Lightly spritzy, with sparkling acidity and a touch of sweetness on the finish, makes this a great happy hour sip or dry alternative to dessert wine. Shop for Glow, and other Alpenfire Ciders here.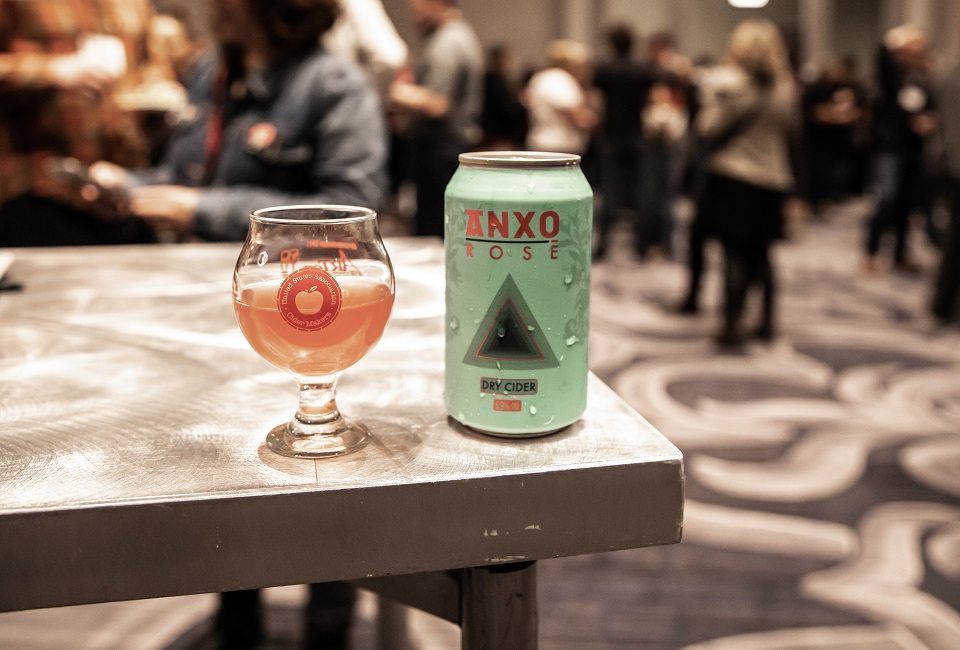 ANXO's Rosé is a tart, zippy, dry cider, made from a blend of red-fleshed apples grown in the Red Love Breeding program, sourced from Snowdrift Orchards in Wenatchee, Washington, and blended with Goldrush cider made in Washington, DC. Because ANXO uses only apples, the hue of this cider varies from harvest to harvest, ranging from light pink to vibrant red. Shop for ANXO Rosé and other ANXO ciders here.
Vermont's Champlain Orchards Cidery makes its crushable Redfield with 100% red-fleshed Redfield apples, a hybrid crab-apple originating from New York. Open a can to find a tart, dry, and aromatic blush cider with zero grams sugar. Find Champlain Orchards' ciders with its finder tool.
Double Mountain, from Hood River, Oregon, brews beer and makes cider, and its Rosé Cider is a very popular release among its impressive lineup. Made with red-fleshed Mountain Rose and Pink Pearl apples, this dry cider sports a subtle pink pallor, delicate aromas of citrus and raspberry, and lightly tart notes of cranberry and Chardonnay on the palate, with a charming effervescence. Double Mountain's products are only available for take-out and delivery in Oregon; see here for more info.
In late July of 2020, Fenceline Cider released Spur Bearer, a red-fleshed cider made from 100% red-fleshed apples. The apples sourced for this cider (which is named after a style of apple tree growth) are tart, complex and wild, similar to the red apples found in the wild apple forests of Kazakhstan. Shop online for Spur Bearer and other products from Mancos, a Colorado-based cidery.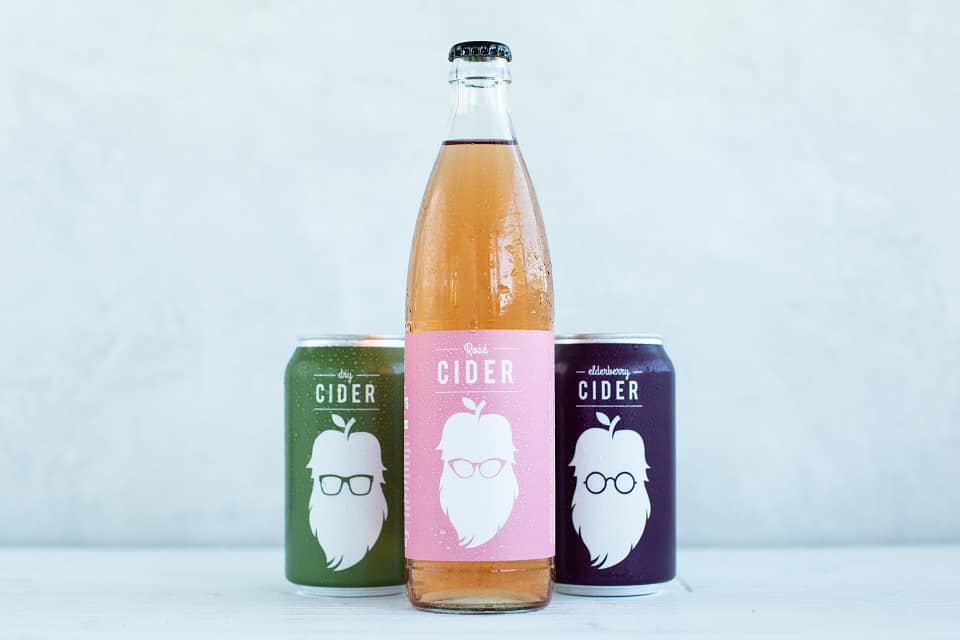 Bellingham, Washington's Lost Giants Cider Co. is no stranger to playing with flavors and styles when it comes to its craft ciders. It has an entire Cider Infusion Program to research and experiment with the blending of natural fruits, vegetables, flavors and spices! Its Rosè Cider, however, sticks with only red-fleshed Mountain Rose Apples to achieve a delicate pretty pink color and delicious flavor.  Shop for cider online, available only for local pick-up.
Naishi Orchards' elegant Airlies Redflesh Cider is a single varietal made from organically grown Airlies Redflesh apples from the King's Valley, Oregon growing area. Pop the top on this 750-ml bottle to find bright acidity and minerality with notes of crushed red berries. The beautifully-hued cider is slow fermented to dryness for a deep complexity. Shop online or at the Naishi Orchards tasting room in Vashon Island, Washington.
Located in the heart of apple-growing country in Washington State, Snowdrift Cider has grown apples in its own orchard for over 30 years. They oversee a red-fleshed apple breeding program, so it comes as no surprise that Red Cider is one of Snowdrift's flagships. Made from apple varieties closely related to those found in the hills of Kazakhstan, this brilliant red crimson cider is loaded with acidity and flavors of cranberries, watermelon, rhubarb and strawberries, with soft toffee tones on the finish. Order online or use Snowdrift's cider finder to locate a retailer new you.
Also located in the same part of Washington State as Snowdrift (East Wenatchee), Union Hill Cider Co. are also orchardists and cidermakers. Their red-fleshed cider is called Pinkheart, and is a union of Red Fleshed and Cripps Pink apples blended with Dabinett. This salmon-hued cider is versatile and crowd-pleasing: medium-bodied with bright notes of red raspberry, rhubarb and grapefruit, with a pleasant tart finish. Shop online, or check out Union Hill's cider club!
Which red-fleshed ciders have you gotten to try? Any favorites that we should know about? Chime in on the comments to let us know!