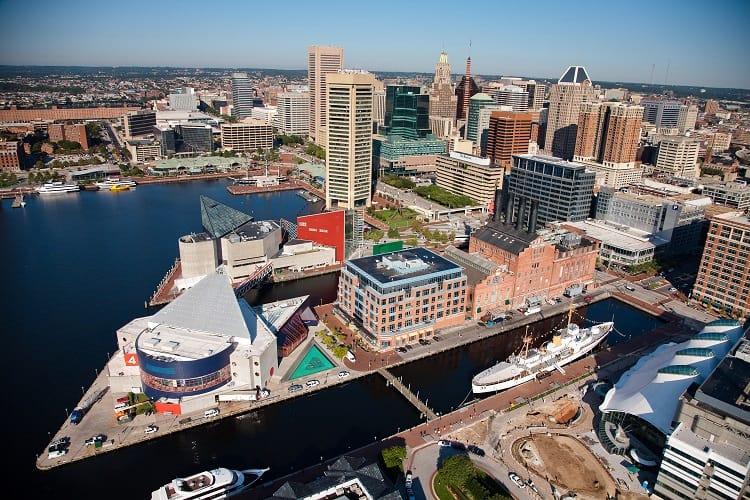 The countdown is ON, folks: With less than a week until CiderCon 2018, it's time to start finalizing all of our travel plans. In between packing (remember to save room to bring some bottles home!) and texting with friends about where and when you're meeting up, check out our guide for our favorite spots to eat, drink and hang in Charm City:
Fells Point
As you surely know by now, the Waterfront Marriott is the official hotel of CiderCon, and will be the center of all the action. It's where the trade show, the media meet-and-greet and most of the sessions and lunches will be held. The hotel is, as its name suggests, right on the water, smack in the middle of the Fells Point neighborhood. This is a pretty touristy area, with plenty of old-time-y cobblestone streets, bars, restaurants and other attractions. It's a nice place to walk around, and Fells Point offers plenty to do, if you find yourself in need of a breather from all the CiderCon activity.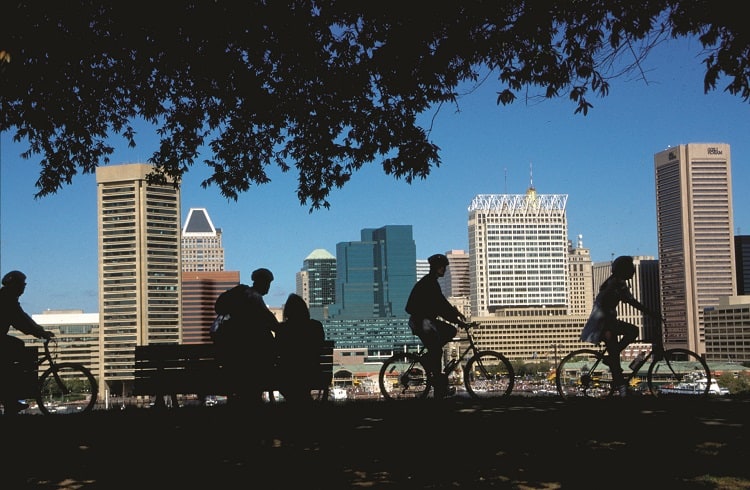 For a quick snack, there is an outpost of Shake Shack in the Inner Harbor, about a 10-minute walk from the hotel. Even closer to the Marriott is a Whole Foods Market, for a cheap and healthy salad bar snack, hangover-fixin' kombucha, or pretty much anything else you might need. Coffee people: Good news! Ceremony Coffee Roasters' Harbor Point shop is also just a quick walk from the hotel. This coffee is super-legit and Ceremony Coffee serves cocktails like boozy milkshakes and espresso martinis, too!
For further adventures in adult beverages, enjoy a classy waterfront happy hour at Wit and Wisdom, the swanky tavern from chef Michael Mina in the Four Seasons hotel, literally steps away from the Marriott. Later, catch a down-to-earth party vibe at Sir Duke Bar & Liquor Store, just seven blocks away from the hotel. This lively, hip spot offers badass cocktails, food 'til midnight and a stocked-to-the-teeth liquor store that's open 'til 2 a.m. every day of the week.
Sticking to suds? Alewife is a classic gastropub with 40 taps (usually includes one or two craft ciders), a curated bottle list and seriously bangin' bar food. It's a little bit farther away from the hotel — about a mile and a half. But, a 20-minute walk might not be such a bad thing to work off a few pints and a fried chicken sandwich. Brewer's Cask, also a decent walk that includes a ferry ride, is another great spot for beer, and is hosting Burgers & Bingo Night with Graft Cider as part of Cider Week Baltimore. Heavy Seas Alehouse, quite close to the hotel, in fact, is also hosting a number of Cider Week events, like a New York and New England Cider Tasting on Wednesday, February 1.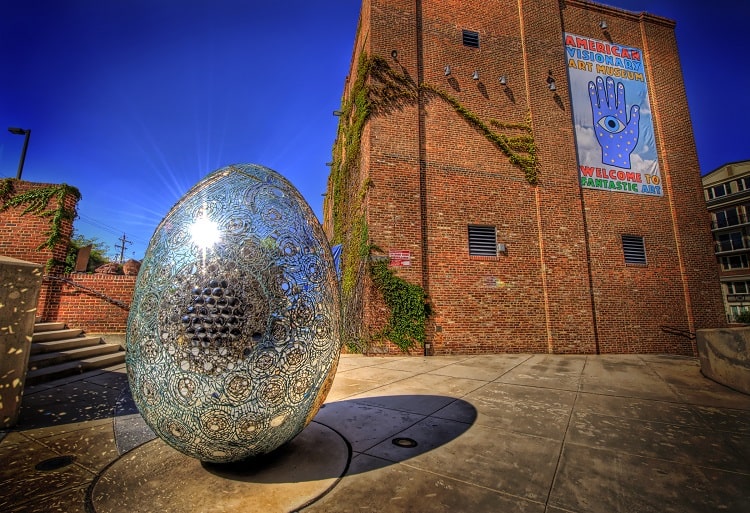 When it comes to cultural fun, Fells Point and the Inner Harbor are packed with things to do. To name a few: the American Visionary Art Museum is an outsider/self-taught art museum that's really one of the coolest and most inspiring museums we've ever been to (for real). The AVAM is directly across the harbor from the hotel — a ferry can whisk you there in just a few minutes — and their staff has generously offered a $2 discount off regular admission to any CiderCon attendee showing their conference badge at the front desk!
The Walters Art Museum, a mile and a half north of Fells Point, is a more traditional art museum with an impressive collection ranging from the third millennium B.C. to the early 20th century. Also nearby the hotel are the National Aquarium, the Maryland Science Center and a very weird and rad-looking place called Geppi's Entertainment Museum.
Hampden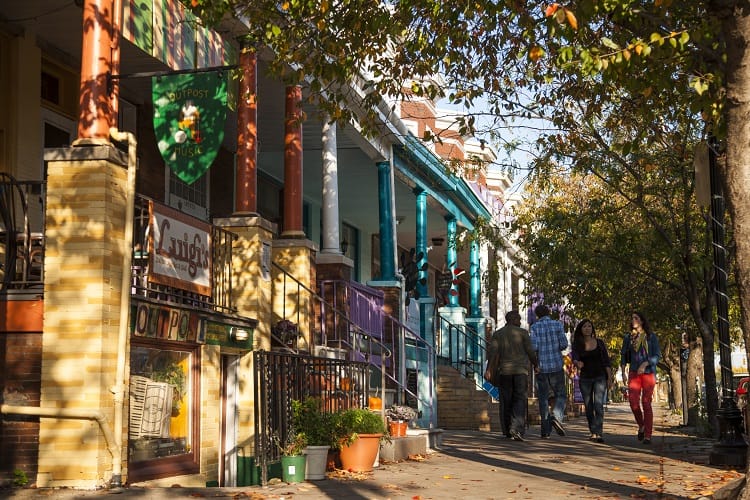 Every city has one neighborhood that's the cool kid of the bunch, and in Baltimore, it's Hampden. This cute, quasi-residential 'hood is adjacent to the Johns Hopkins University campus, about 4.5 miles north of Fells Point, but that's an easy jaunt in a cab or car service. While there are great bars, restaurants and shops all over the city, nowhere do they proliferate more than in Hampden. Stroll up and down W. 36th Street (a.k.a. "The Avenue") and nearby blocks to explore B'more's hippest digs.
Southwestern-inspired comfort food and a cozy bar await at Golden West Cafe. This is a fun spot to get lunch or a drink, but brunch is really where the action is (beware: that can mean a wait for a table). For an old-school, eccentric vibe, walk a bit down the block to Cafe Hon for classic lunch-counter fare. For a cheap and filling meal (not a bad idea with full days and nights of cider "sampling"), duck into Holy Frijoles for no-frills but tasty Mexican food and a couple rounds of pinball.
Digest while perusing the comics books, obscure magazines and other ephemera at Atomic Books, and gear up for the rest of the afternoon or evening with a spro at the excellent Artifact Coffee, where beans from Counter Culture are on the menu.
If you're feeling a bit splurge-y, hit happy hour at The Food Market, or make dinner reservations at hyper-seasonal foraged. or the critically-acclaimed Woodberry Kitchen, in the Woodberry neighborhood, just a quick walk west from Hampden.
Want more? Check out Union Craft Brewing and Waverly Brewing Co. for local brews, The Charmery for funky ice cream and The Corner Charcuterie Bar for glorious meat-and-cheese boards.
Charles Village, Remington & Harwood
Partway between the Marriott and Hampden is Charles Village and a few other nearby neighborhoods, Remington and Harwood, each loaded with great places to check out.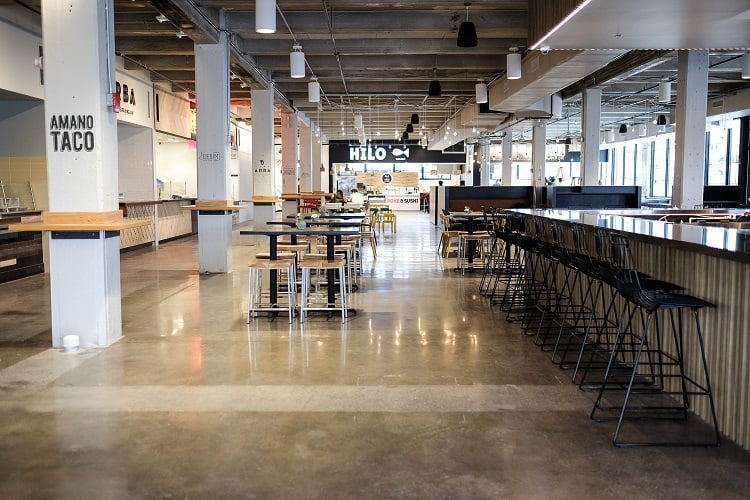 You know how high-end food halls are all the rage in U.S. cities these days? R. House, a 350-seat, 10-chef culinary extravaganza helped to start this emerging trend! Pick up lunch from any of the awesome vendors, paired with a drink from r. bar, also tucked inside the massive space.
Wood-fired meats and veggies and killer sandwiches rule at Parts & Labor (great cider selection, too), W.C. Harlan channels a sultry speakeasy spirit, and Paper Moon Diner offers a ridiculously extensive menu of diner favorites with a wild, toy-covered interior that's really worth checking out.
For cooler-than-average nightlife (think: punk shows and dance parties), The Otto Bar is the place to be. If you seek a quieter night out, catch a current or restored classic flick at the gorgeous venue, The Charles Theatre.
More, More, More
Here are just a few other bars, restaurants, etc. that you shouldn't miss while in Baltimore for the week:
Charm City Meadworks: As mead is a sort-of cousin to cider, why not check out Baltimore's very own craft meadery? It's hosting Vermont Cider Night on Tuesday, January 30, as part of Cider Week Baltimore, and otherwise, its taproom is open on Thursdays and Fridays from 5–8 p.m., Saturdays from 1–7 p.m. and Sunday from noon–4 p.m.
Arguably the best craft brewery in town, The Brewer's Art basement bar (very nearby Charm City Meadworks) is worth a visit, if you dabble in beer.
Of Love & Regret, about two miles east of the Marriott, describes itself as "a Libation Cult & Kitchen that serves as the gallery for Stillwater Artisanal." You'll be ready to join the cult when you see the bar's stellar cider selection.
Baltimore really is a special city, kind of weird (in a good way!), super-friendly and full of creative, fun folks. By no means is this a complete guide (let us know what we missed!), but between Cider Con, Cider Week Baltimore and all of our suggestions, we'll bet you'll have plenty to keep you busy during your visit next week!
R. House photo: Meredith Herzing
AVAM photo: Jack Hoffberger
Parts & Labor photo: Julie Hove Andersen
Artifact Coffee and Woodberry Kitchen photos: Scott Suchman
Sir Duke photo: Sir Duke
Ceremony Coffee photo: Ceremony Coffee