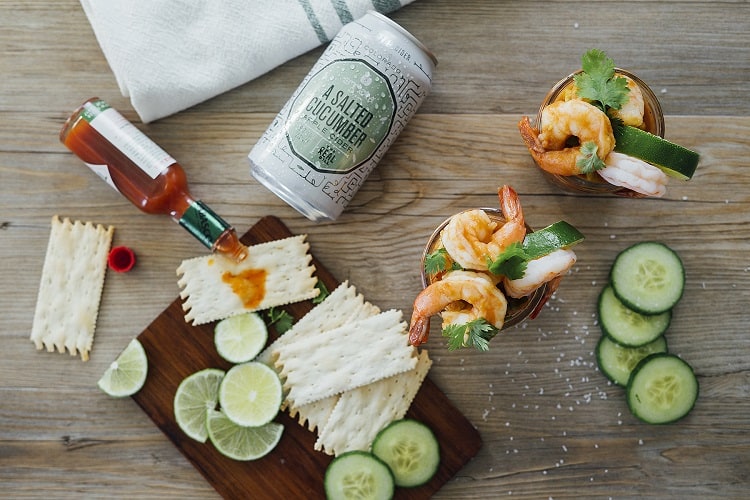 Cinco de Mayo is, unfortunately, a holiday centered around watered-down beer. On the upside, it's also centered around delicious Mexican food, which is one of our go-to, would-eat-anytime favorites. This year, we say, ditch the beer and pick cider instead, not just for sipping but for cooking with, as well! We've got a bunch of fun recipes to share with you, the first of which incorporates a super cool new cider that we've been excited about: A Salted Cucumber, a seasonal collaboration between Stem Ciders and The Real Dill, a local artisan pickle maker in Denver.
Last year around this time, the two companies joined forces to create Salty Pomme, a limited-release cider in honor of the pickle company's five-year anniversary party. However, after receiving overwhelmingly positive feedback, the duo knew they had to reincarnate the cider as a seasonal summer staple on the shelves. And A Salted Cucumber was born!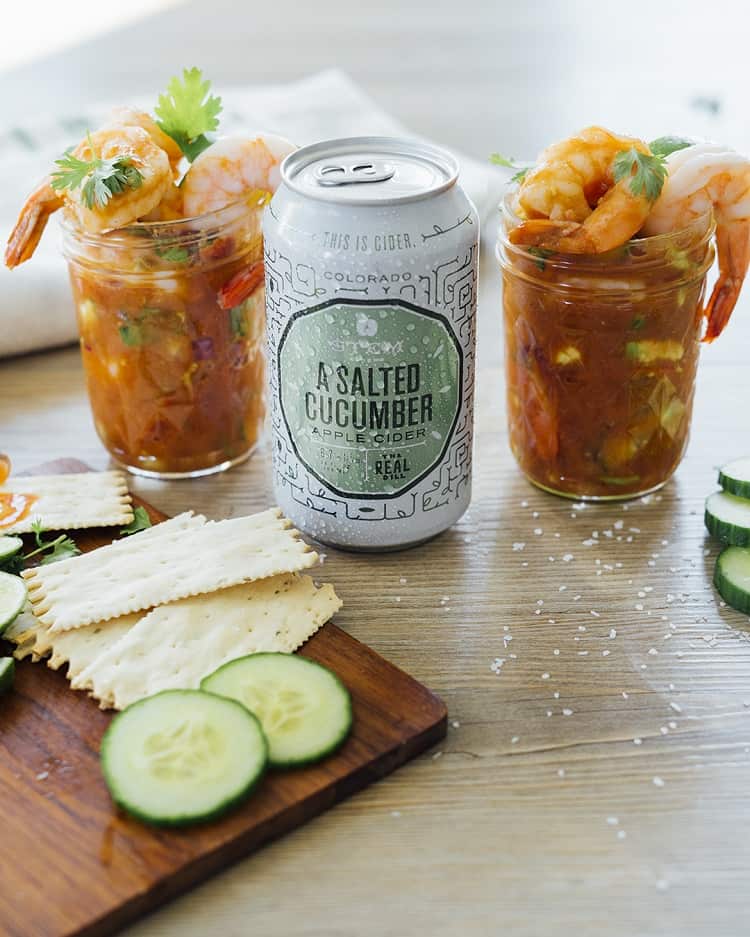 A Salted Cucumber is made by combining Stem's Hopped Apple Cider, made with fresh pressed apple juice and dry hopped with Cascade and Citra hops, with fresh cucumber juice along with some sea salt. It's important to note that it's not made with actual pickle juice, brine or vinegar. Instead, it's fresh cucumber juice, hopped apple cider and sea salt. Although, now we're forced to wonder: Are cider picklebacks a thing yet?
The end result is refreshing and bright. A Salted Cucumber's flavor harmoniously merges together what Stem Ciders and The Real Dill do best. Cucumbers are naturally crisp and refreshing without being sweet, and these are the same qualities that make Stem's ciders so special.
A Salted Cucumber is now available in cans in California, Colorado, Illinois, Kansas and Missouri. Not to mention, you can sip one in the Colorado sunshine at Stem's RiNo Taproom and new Acreage location in Lafayette.
If you can get your hands on some, dedicate part of a can to this fantastic recipe developed by our sister company, Dish Works. It's an easy, light and refreshing snack to serve this weekend and all summer long!
Cider-Spiked Mexican Shrimp Cocktail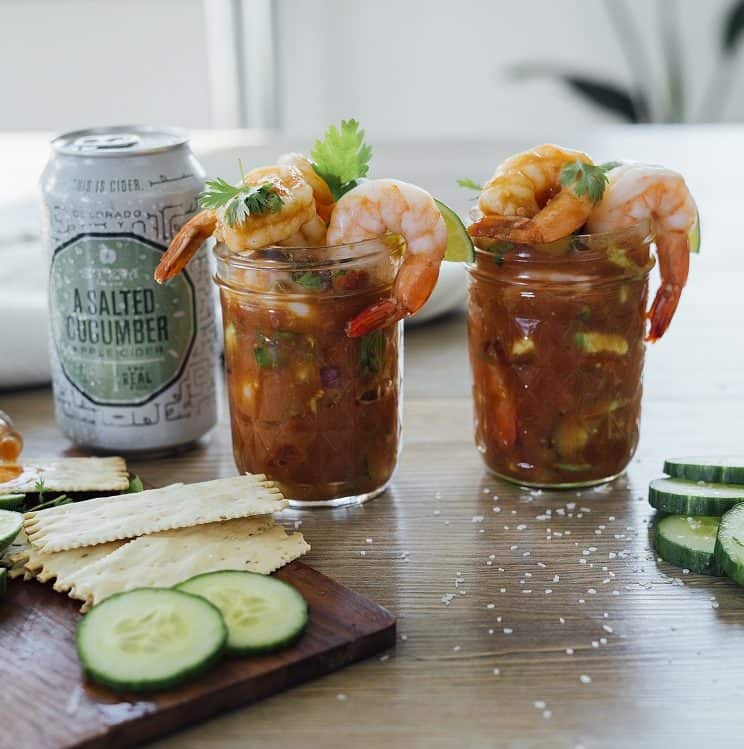 Prep time: 10 minutes
Cook time: 0 minutes
Ready in: 70 minutes
Serves: 6
Ingredients
1 pound large shrimp, peeled, deveined and steamed
2 avocados, chopped
1/2 cup cilantro, chopped
1/2 cucumber, seeded and chopped
2 Roma tomatoes, seeded and chopped
2 limes, divided and cut into wedges
1/2 cup red onion, chopped
4 dashes Tabasco sauce, or to taste
10 ounces tomato juice
1/2 (12-ounce) can Stem A Salted Cucumber cider
Method
Place shrimp, avocado, cilantro, cucumber, tomato, juice of one lime, onion, Tabasco, tomato juice and cider in a large glass bowl and toss to combine. Chill for 1 hour.
Divide shrimp cocktail mixture into 6 individual cocktail glasses and serve with lime wedges. Pair with your favorite Stem cider. Optional: Serve with crackers or corn chips.