It's no secret that many cider fans love bubbles. I number myself among these folks, but some ciders show off their best qualities by being still. During the heat of summer, we tend to chase refreshment—the more sparkles, the better. But right now, as cool weather settles in, we may be able to appreciate more nuanced subtleties in our beverages. So this feels like the perfect time to highlight some still ciders that deserve special accolades. Two of these are recent reviews from my blog, Along Came A Cider, but two come from entries further back in time. I've chosen each one for how each still cider speaks to me.
Solstice Still Cider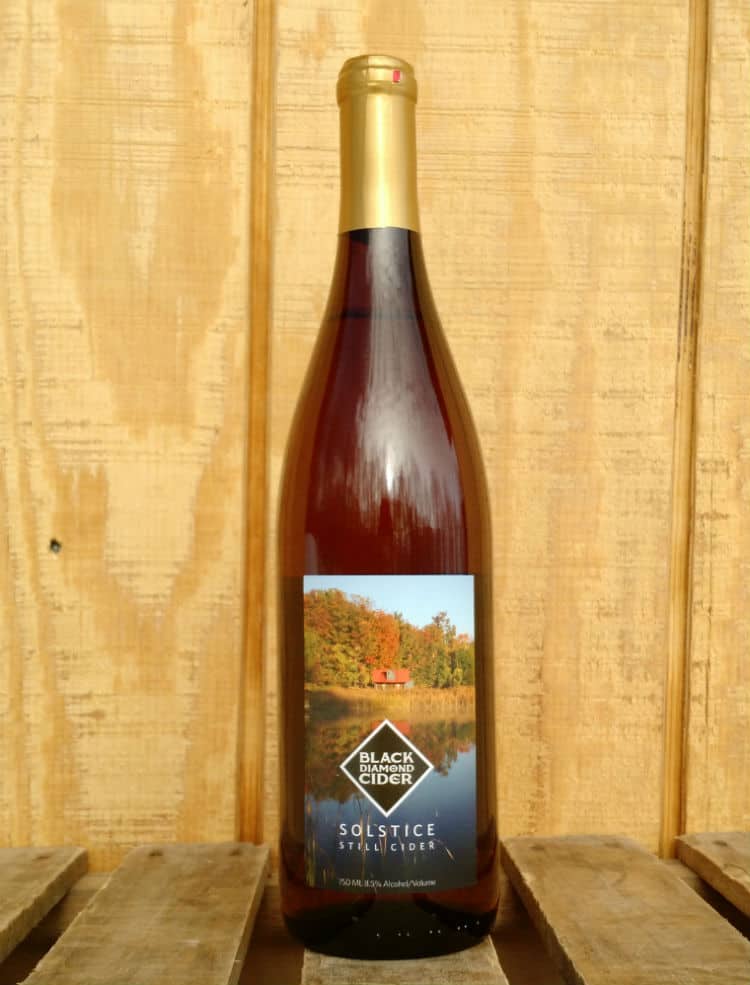 Ian and Jackie Merwin run Black Diamond Cider as a small family cidery out of a diverse and mature orchard in the Finger Lakes region of New York. Lots of devoted cider folks know that Dr. Merwin taught Pomology at Cornell University in addition to growing fantastic apples and making cider. Straight from the cider maker, I learned how this cider got its name, from "a Latin pun connoting stillness and the sunny color of this cider."
When I bring my nose to the Solstice, I can smell sun-warmed apples and limestone with a dusting of baking spices. Drinking it, the high acidity stays in balance because of the high tannins. It needs to be still for me to think about flavor and not texture. I love that this cider is rich and complex; some flavors are darkly fruity or even caramelized, even though the cider isn't sweet. The finish lingers like the warmth of late summer.
Pairs with: pescatarian Cobb salad or grilled peaches
Jack Ratt Vintage Dry
This English cider comes from Lyme Bay Winery in Devon. This cider is named after a famous smuggler, Jack Rattenbury, from the area right around the winery. I found out from someone at the cidery that its "vintage ciders are created using unique blends of apples crafted from the same local apple varieties, which would have been used in cider making during Jack Rattenbury's lifetime, such as Tramlett's Bitter, Foxwhelp and Tom Putt." That puts these cider-specific apple varieties at late eighteenth century to early nineteenth century.
I expected this cider would be still because so many offerings from England are still ciders, and I wasn't incorrect. The Jack Ratt Vintage dry tastes mellow and raisiny with an enjoyable and surprising tongue-drying action. The Jack Ratt reminds me of a tea made from leather, sweetened with flowers. It also only brings low levels of acid. I found it extremely tannic, even when compared to other English ciders, and this is one quality that really calls up on a still cider.
Pairs with: Italian white beans baked with sage or flatbread with sundried tomatoes and zucchini garnished with fresh micro greens
Stone Fence Farm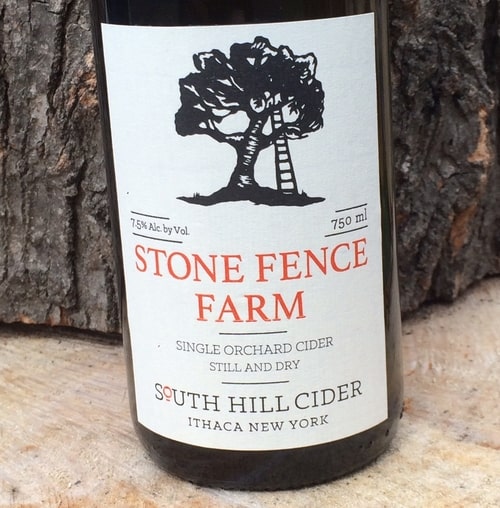 One of the cideries making the Finger Lakes cider explosion happen is South Hill Cider. Steve Selin's small cidery uses local fruit, heritage varietals of apple and foraged fruit. Stone Fence Farm has a few really interesting features. All of the fruit is from a home orchard and all of the trees are well matured, the latest being planted before the year 2000.
Here's a list of the apples just for a little inspiration: "Golden and Roxbury Russets, Redfield, Tremletts Bitter, Bramleys Seedling, Zabergau Reinette, Kingston Black, Major, Michelin, Medaille d'Or, Chisel Jersey, Brown Snout, Esopus Spitzenburg, Sops of Wine, Granny Smith, Foxwhelp, Winter Banana, Calville Blanc, Cox's Orange Pippin, Sheepnose and more."
Stone Fence Farm cider brings a few aromas right away; it's subtly floral, softly papery and a little powdery. It also smells like ripe apples and tropical fruit. The cider is completely still with high tannins, high acid and just the barest hint of sweetness. I taste fermented fruit rather than fresh fruit. This cider is pleasantly yeasty, a little spicy and very mellow with a long golden finish. Again, the stillness makes the cider for this one.
Pairs with: heirloom tomato gazpacho or quinoa tabbouleh with tons of parsley
Manchurian Crabapple SV Cider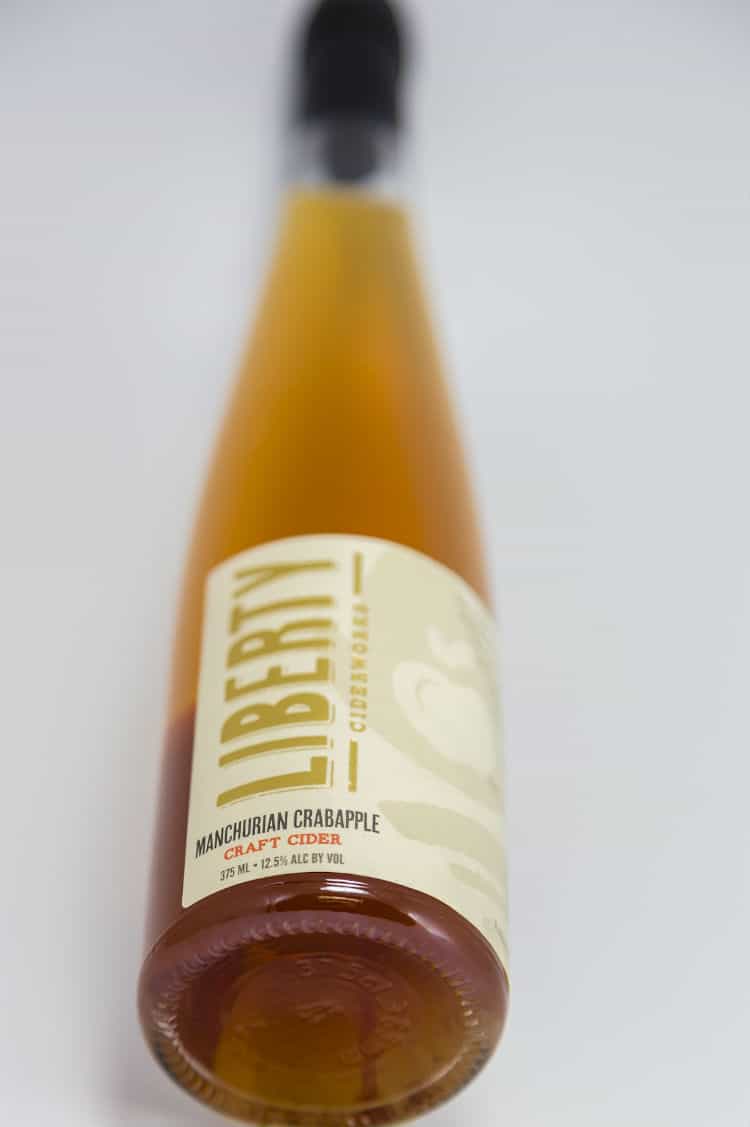 At Liberty Ciderworks, Rick Hastings and Austin Dickey make cider, run a tasting room with bottle shop and maintain a cider club. This small cidery in Spokane, Washington, cares tremendously about local fruit and apple-centric cider, including several single-varietals. I was lucky enough to be given a bottle of Liberty Ciderworks Manchurian Crabapple SV Cider. This is a high-ABV cider at 12.5% because of the naturally high sugar levels in Manchurian Crabapples.
I learned from cider maker Rick Hastings that this particular cider was "fermented in stainless with a cultured yeast known to metabolize a portion of the acids present in the must. It was further aged in bulk (FlexTank with French oak chips) for 12 months, allowing the cider to mellow and mature."
I find that the Manchurian Crabapple smells sweetly like cooked apples. When I actually taste it, cocoa powder, baking spices and stone dust invade my palate. I'd call the cider semi-sweet tempered by extremely high tannins. So often my favorite still ciders are very tannin-oriented. In this case, they feel earthy, thick and leathery in all the best ways. This cider is intense and deserves your full and undivided attention.
Pairs with: goat cheese blended with honey or melon salad with whole mint leaves
I hope you'll try some of my favorites and discover a few of your own. Feel free to add to the list in the comments!
If you enjoy cider round-ups, check out Meredith's first post about ciders pushing the envelope.