I write Along Came A Cider, a blog where I review ciders from all over the world, focusing on the experience of looking at, smelling, drinking and ruminating over each one. At this point, the blog goes back more than four years; that's a lot of cider and a lot of reviews.
Something I don't necessarily get to do through my blog is take readers on a short tour of the recent ciders that have been making my taste buds sing. So, I'm rounding up a few freshly-tasted ciders that not only wowed me but show some of the ways cider can really stretch its own boundaries as a category. These are ciders pushing the envelope, each doing something different that help to expand our expectations of cider. 
The Mad Russian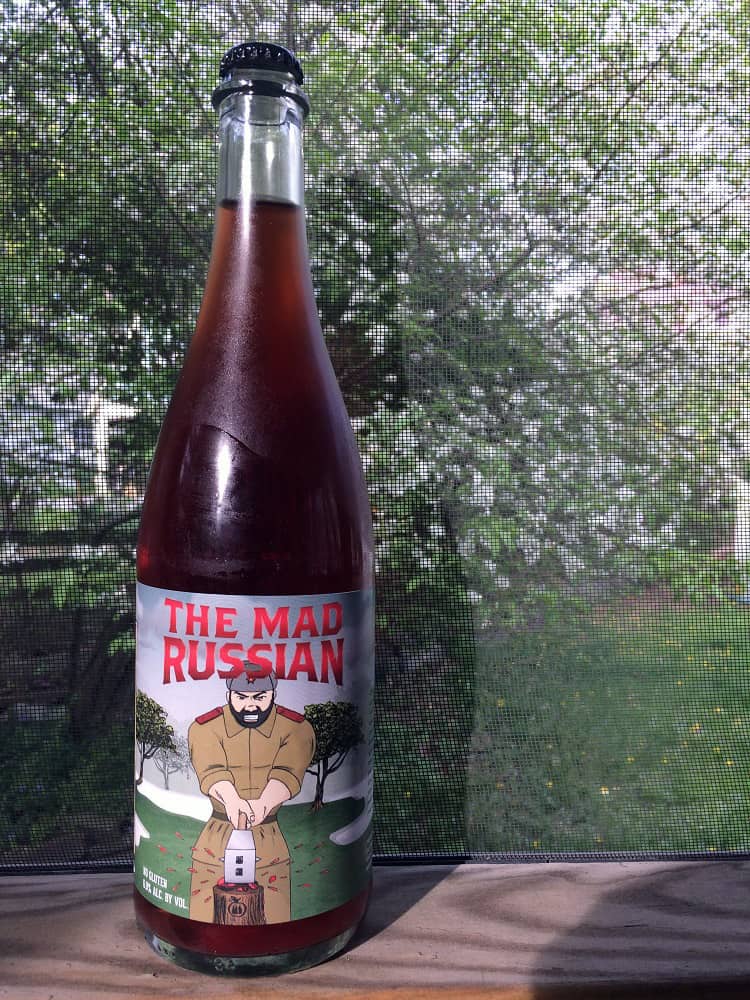 One such cider is the beautifully red cider The Mad Russian by Eastman's Forgotten Ciders. This small cidery is based out of Wheeler, Michigan, and grew out of a specialty orchard, Eastman's Antique Apples. Eastman's cares tremendously about heritage apples and the history of hard cider.
When I had this cider, I was struck by how much the Mad Russian smells like plums, grapes, tart cherries and peaches, all with a nice backbone of apple. This serious cider tastes excitingly bitter, dry and astringent even with its fruit-forward character. The amazing red color comes from the specific red-fleshed apples used to make The Mad Russian.
Pair with: cavatappi pasta with basil cream sauce or a Belgian endive salad with walnuts and blue cheese
The Companion
Citizen Cider burst onto the scene in 2011 in Vermont, and since then they've grown and experimented tremendously. Companion is a recent release that includes Balaton and Montmorency sour cherries. Maybe that doesn't sound like it's pushing the envelope enough, but their angle for fermenting apples and sour cherries together is a creative one. And, it's the source of the cider's name: Companion is a reference to the agricultural compatibility between apples and cherries.
The Companion strikes me as both sweet and very tart—it nearly made my eyes water. Its fermentation is clean, the first flavor has slight tannins then it turns spicy then sweet. This progress feels natural and oh-so pleasant; there is no weird cough syrup flavor, more like a good cherry pie. The best part has to be the cleanly floral finish.
Pair with: chickpea salad, veggie crudites or olive oil and rosemary bread
Peach Tea
One cidery I knew would be in this round-up is Nine Pin Ciderworks out of Albany, New York. They consistently release boundary-pushing specialty ciders, most recently the Peach Tea. This cider with peach and black tea smells overwhelmingly like fresh peaches. The Peach Tea surprised me with its juiciness: a sweet sort of juicy that's big on fruit and only mildly influenced by tea. The cider tastes a tiny bit creamy as well. The tannins mid-palate are from the tea, and the drinking experience stays light and not too boozy. Somehow, the balance of sweet and fruity with high acid is super friendly.
Pair with: zucchini-grilled cheese sandwiches or strawberry short cake
Sprig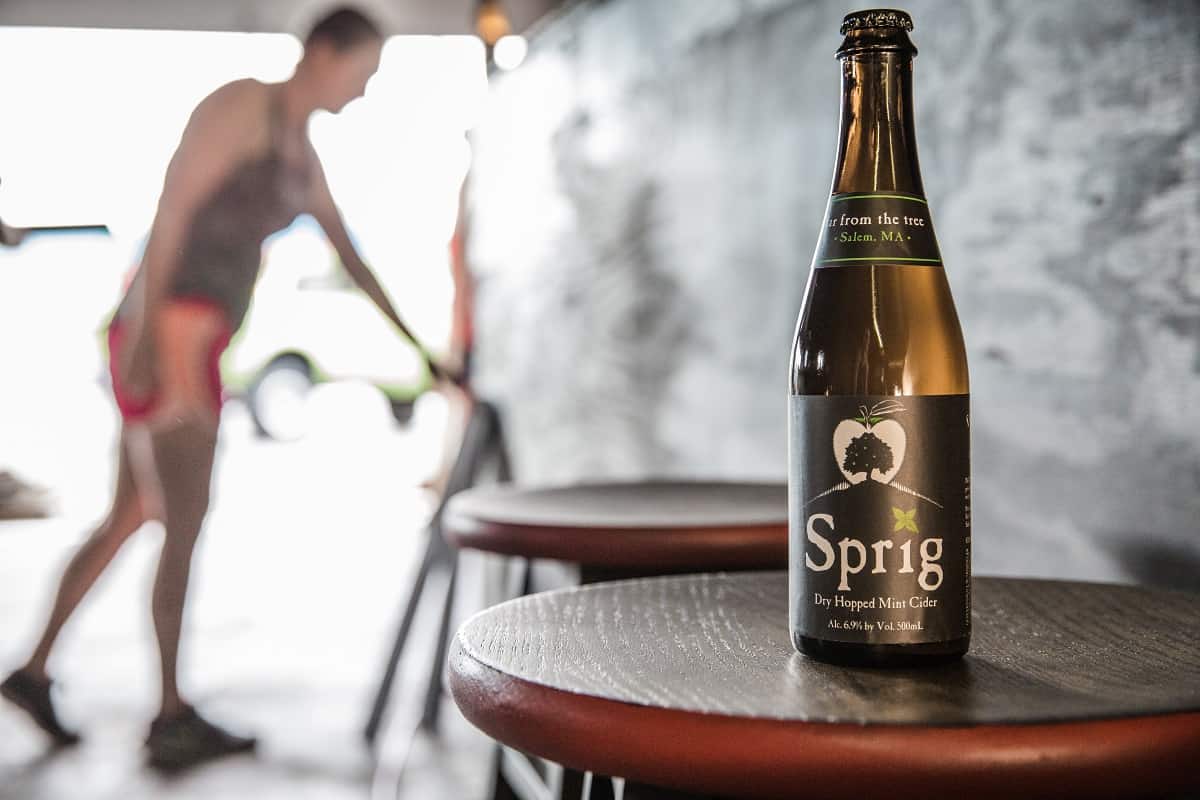 For my last envelope-pushing cider, I chose Far From the Tree's Sprig. Founded in 2013, this cider company operates a production facility and tap room out of Salem, Massachusetts. Sprig is a cider both hopped and minted, not something I'd ever encountered before.
In the cider, I can smell hops, lychee and apple, with an emphasis on everything being chilly and bright. Drinking Sprig, of course, I tasted lots of mint and apple, but I also got some hoppiness. I noticed mint more in this semi-dry cider.
Pair with: sauteed summer squash with herbed chevre, corn on the cob or baked beans
I hope you enjoyed this quick round up of the ciders that all manage to push the envelope, and check back in for my second round up about still ciders next month!
Sprig photo: Far from the Tree