In this age of strange seasons, we rarely know what to expect of winter. This seemingly never-ending stretch of cold can foretell spring with surprising sunshine and mildness, or send us burrowing back into our homes with days upon days of cold and sleet. No matter what this winter has in store for us (we wouldn't mind one good snow storm, right?), I've rounded up a few of my favorite cozy ciders. Each of these has been reviewed in my blog, Along Came A Cider. These ciders have different qualities, all vital to surviving the season.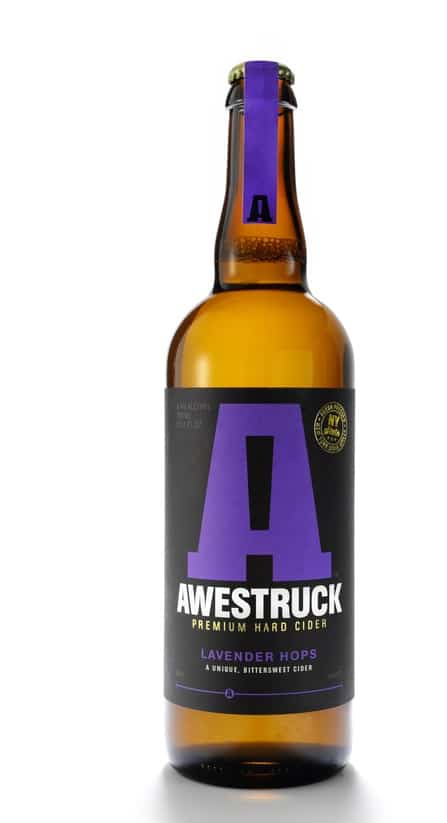 Awestruck Ciders is based out of Walton, New York. In its online presence, Awestruck Cider shares that it uses New York state apples, mostly modern culinary varieties, and though its overall identity avoids extremes of experimentation or tradition, its cider varieties look more to the experimental side of the cider world.
Lavender Hops tastes immediately like apple blended with lavender. It manages to connote herbal notes, without veering into soapy or medicinal territory. I think the hops help considerably. The cider has zesty high acid that always goes well with hops. Other fruit notes I detected include tropical fruit and berries. I like this one for winter because of the other seasons it evokes; lavender tastes so springy, and hops make me think of summer. It's a balanced and full-bodied cider that reminds me that winter won't last forever.
Pairs with: Baby spinach and white cheddar strata or a warm lentil and goat cheese salad.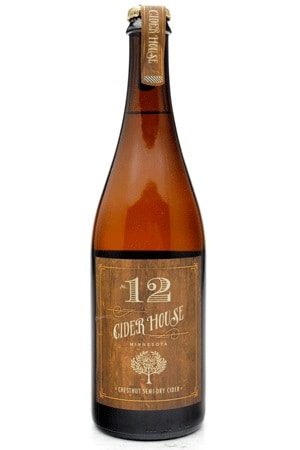 Number 12 Cider House comes to us from Buffalo, Minnesota. I have reviewed and enjoyed all three of its year-round cider styles. Named after a favorite batch of its early experimental ciders, (the twelfth one), Number 12 Cider House takes a heritage apple-centric approach to cider. The Chestnut Semi-Dry smells like homemade applesauce and barrel. I'd describe the dryness as a textbook semi-dry cider. There's enough sweetness to really open up the profile into lush overripe cider apples. The other primary flavor I noted is crab apple, bringing on some seriously fun acid. This is perfect for winter because of its richness and how it pairs with hearty winter foods.
Pairs with: Creamy mushroom pasta or polenta with sun-dried tomatoes
This small cidery (and makers of delicious cider syrup) operates in Hadley, Massachusetts. Though I recommend Gingered, and it is still possible to find it for sale, the company is headed away from adding fruits and working more towards all-apple, wild fermentation ciders with heritage varieties from a historic Massachusetts orchard.
This semi-dry cider pours with a slight haze that increased with each glass. Tasting, I get so much ginger and candied lemon peel, just right to warm you up on a winter's evening. Gingered's body is very sharp and light, with enough apple flavor to balance the ginger, but the ginger speaks up very clearly. I found this cider very approachable — with just a gentle hint of funk. I hoped this would be warm and exciting, and it certainly was! If you can't find Gingered, go for Carr's also excellent Golden Russet Blend, which is dry and fruity with a bolstering amount of alcohol.
Pairs with: Black bean and corn chili or creamy winter coleslaw.
Eve's Cidery is a long-standing orchard-based cidery in the Finger Lakes region of New York. Traditional cider fruit and heirloom varieties center its cidermaking identity along with hand-disgorgement for all of its sparkling ciders. There are no shortcuts here. Autumn's Gold is perfect for winter survival because of its full body, warm notes and delicious intensity. This cider dances across the palate with smoky overripe apple aromatics. The mouthfeel comes across as firmly structured, yet nimble, I believe from the high acids and medium-high tannins. This champagne-style cider was fermented twice and aged on the lees. I love its lingering finish. This one tastes excellent year round, but in winter, we need something special just a little bit more.
Pairs with: Thai-style spicy peanut broccolini with tofu or carrot and winter squash soup with pomegranate seeds.
What ciders are you enjoying as you hibernate this winter? Let us know!