In our column, "Cider Loves Food," contributor Meredith Collins (blogger extraordinaire at Along Came a Cider) is looking at different cuisines and finding the perfect ciders to help take your meals to the next level.
I know it's technically spring, but in upstate New York it's still a time of cold, blustery storm systems and lots of mud. It's not that I don't love spring; I do. Every springtime first — a robin, patch of daffodils or brunch invitation — is to be celebrated! I just need a bit of comfort food to get me through patches that are more stormy than balmy. Soups and stews fit the bill admirably. Plus, they go terrifically with all different kinds of cider!
Here are a few of my favorite cider pairings to enhance different soups and stews. Remember to check out the plethora of accompaniment options suggested, as well!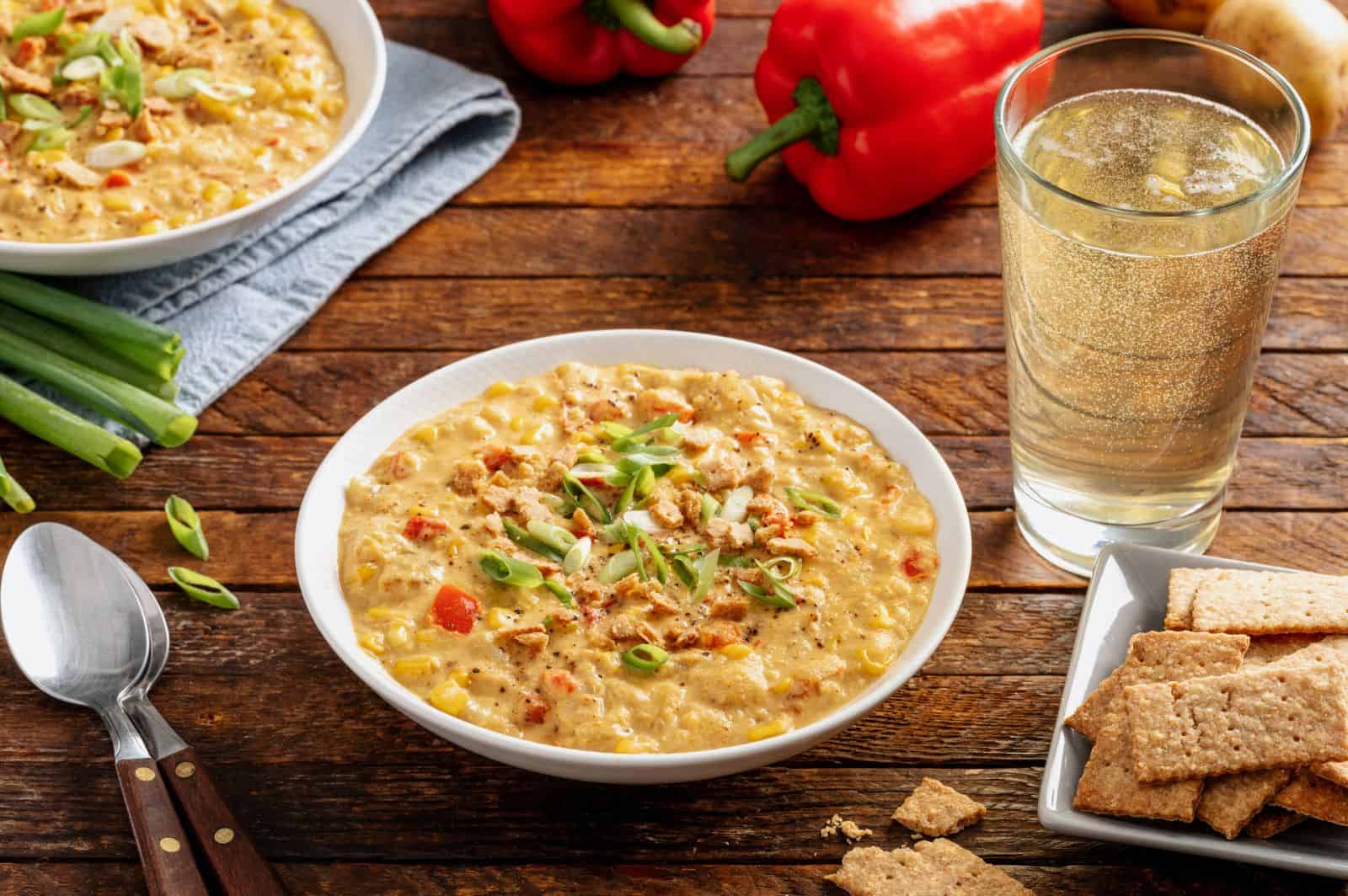 One of the first types of soups that I learned to like was a sweet pepper chowder and, over time, it's become one of my favorites. I love how the creamy base really highlights the vegetables' sweet and tart, and pops of crunch.
I suggest pairing this chowder with a dry, high-acid cider with plenty of bubbles, like ANXO's District Dry. The sparkly intensity balances a full-bodied chowder in the best possible way.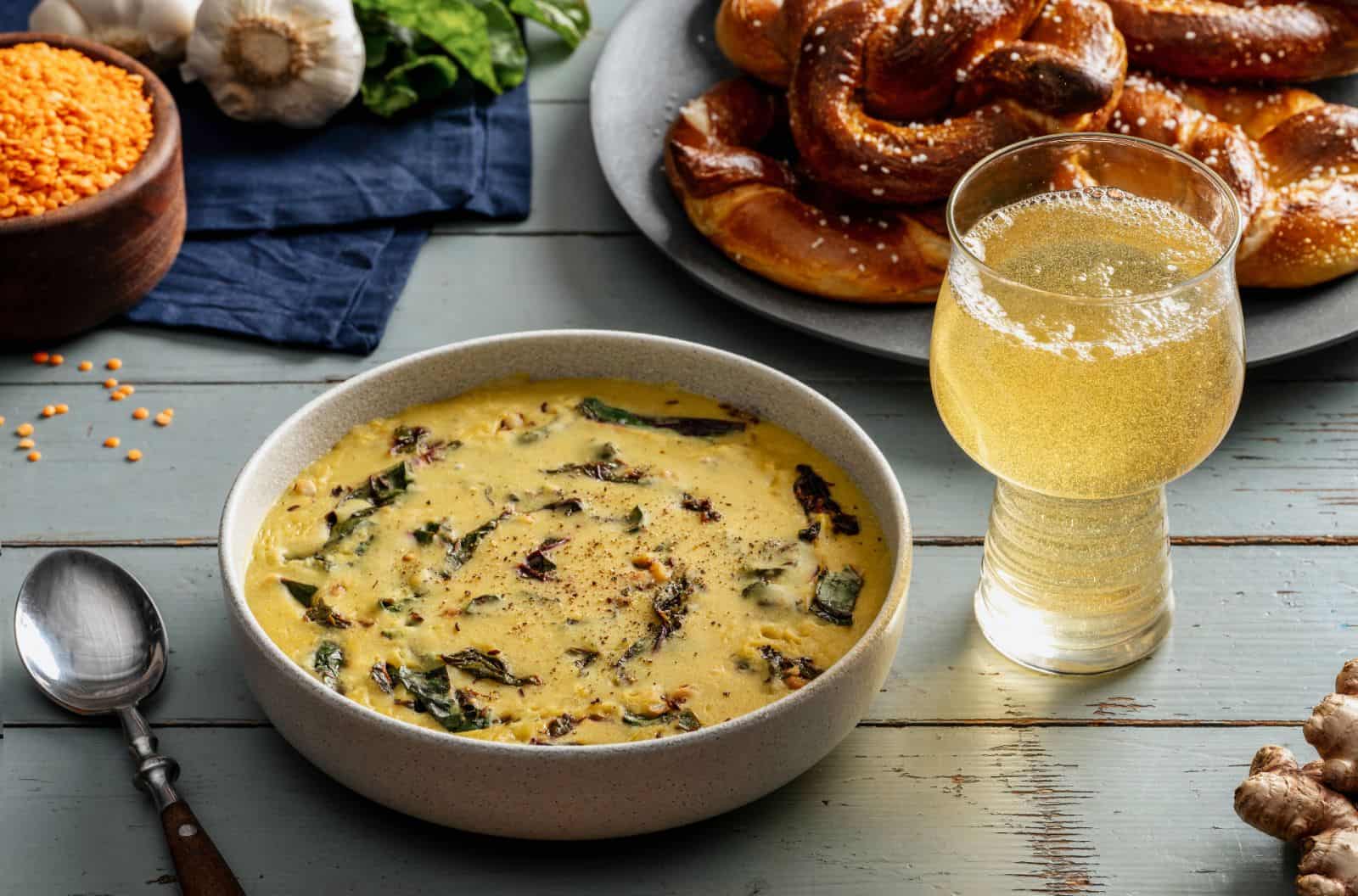 Lentil soups are life, filling and satisfying in a way that I can scarcely explain. The earthy flavors in this particular soup come from not only the lentils, but also from a generous amount of beet greens. The whole package is very grounding. 
This is a perfect opportunity for a contrasting pairing. I like using Nine Pin Cider's Ginger to add high acidity — and, the spicy side of ginger. This cider is always a zesty treat, but it shines especially well against the simple background of this nourishing lentil soup.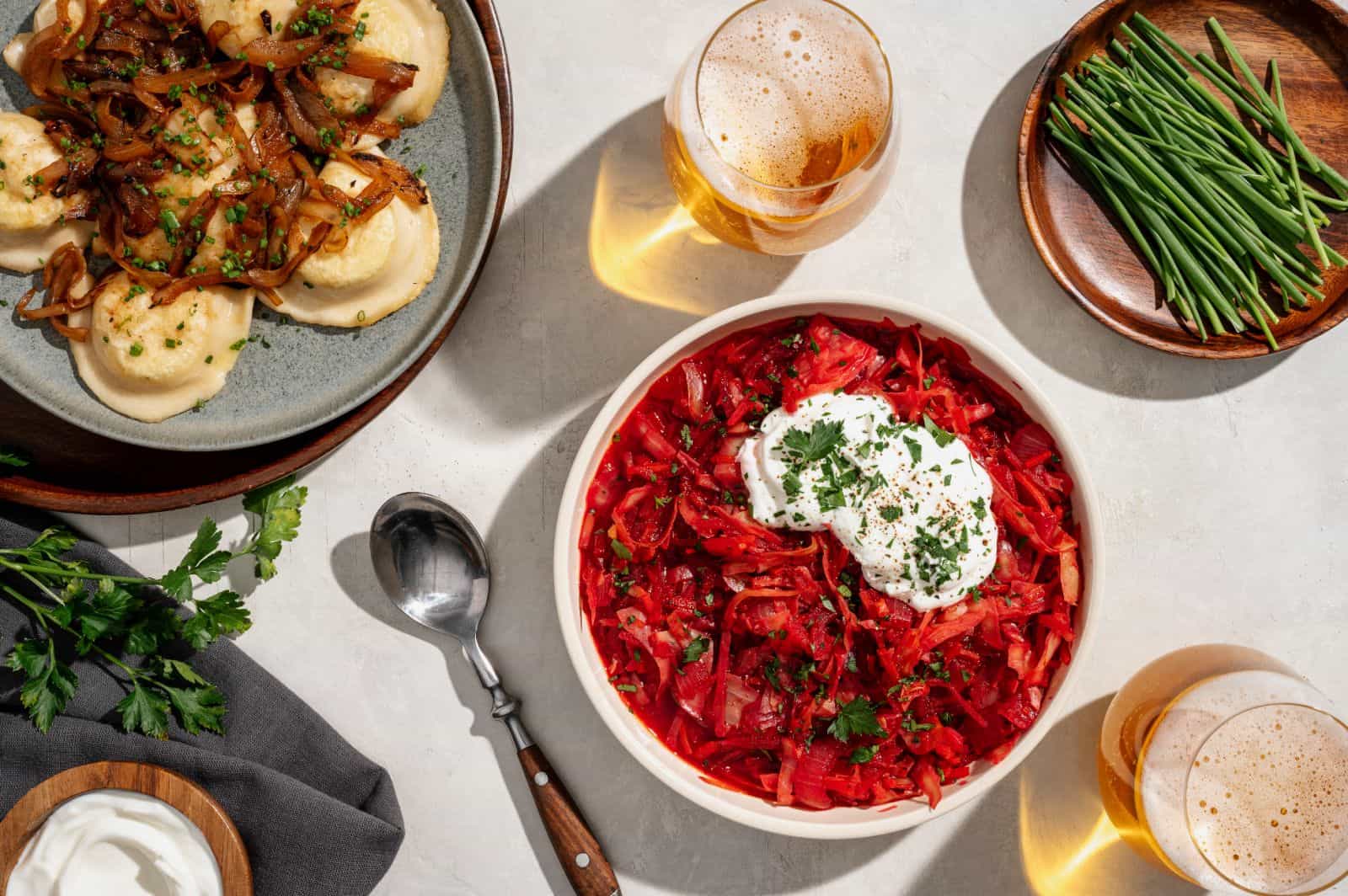 I get it: Not everyone likes borscht. I became a convert a few years ago when I was introduced to the tradition of pairing vegetarian borscht with pierogi and sour cream. Everything about it delights me: sweet beets, sweet carrots, savory onion and hearty cabbage. 
My preference is to serve this recipe with a medium-sweet U.K. or U.K.-profile tannic cider like anything from Oliver's or a Worleys Red Hen.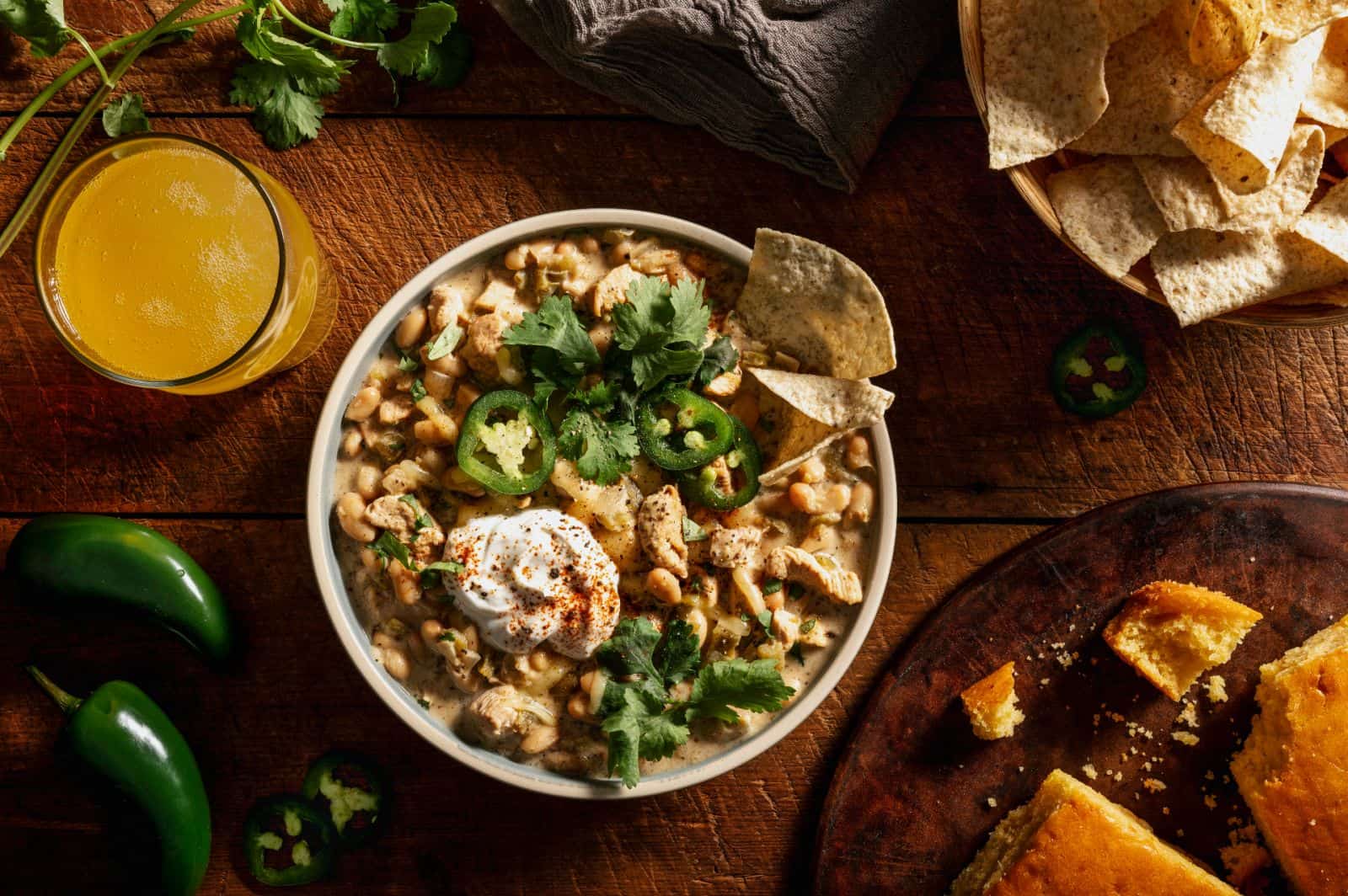 I married into a family that's decades into their obsession with white chili, and I'm so grateful that they've shared the results of this love affair with me. Both vegetarian and turkey versions exist. 
Either will work superbly with Schilling Cider House Mango Supernova. This cider carries a hefty 9.1% AVB along with its mango fruitiness, so please serve accordingly. The pairing works because of the sweet/spicy combo — white chili should never be bland! I like mine just at the top of my spice threshold, and I allow the fruity cider and its bit of sweetness to provide the necessary relief. Yum!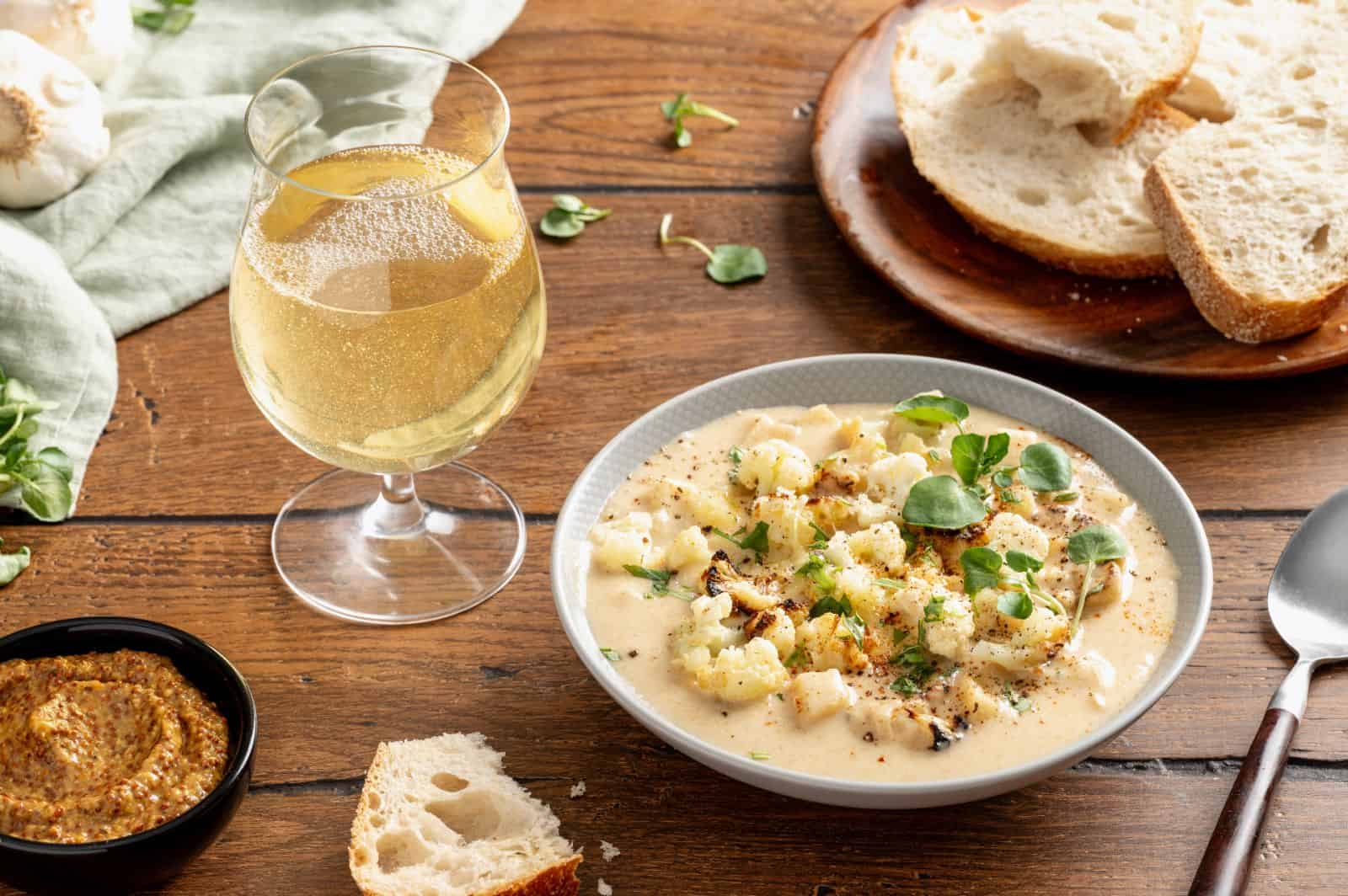 It makes me happy that the American culinary scene is finally giving cauliflower its proper credit. It was a seriously under-appreciated vegetable for most of my life, but the right cooking techniques make it a total showstopper! This recipe is a great example: A hard char on the cauliflower brings out its best flavors and textures. 
This is a great opportunity to choose a cider that compliments smokiness. Stowe Cider's Back Maple Run is a great option! Maple is a fun flavor anytime, but in spring, when the sap starts flowing, it seems extra-connected to what's happening in the wider world outside.
You'll need accouterments to go with all of these soups and stews! I love all the comforting carbs that go with chowders, stews, chilis and soups. Whether you like yours crispy, soft or cheesy, there's a perfect bready side for your meal.
Mix and match from this list to suit your pleasure!
One last note: You can absolutely buy any of these breads instead of making them. There are delightful loaves, crackers, pretzels and cornbread at your local market or grocery store. But, they also are all fun cooking experiences if you have the itch to try one. 
No matter which route you choose, you can create a full meal with a soup, cider and side for those days when you need a touch of comfort and coziness. Enjoy!