Malaika Tyson is one half of the blogging duo Cider Soms, which was started as a way to introduce wine-lovers to the world of cider. Created along with her husband Sean, the "Soms" blog seeks to uncover and explain the complexities of ciders in a fun way.
For the past couple of years, Sean and I have been stewards for the Great Lakes International Cider and Perry Competition (GLINTCAP). Basically, this means we're the people who ensure that all the GLINTCAP judges have to do during a competition is taste.
Not only is it a fantastic opportunity to connect with our cider friends, but it also exposes us to some small cideries, such as EsoTerra Cider. EsoTerra is a cidery in Dolores, Colorado, owned and operated by husband and wife team Jared Scott and Elizabeth Philbrick. Their ciders, The Last Stand and Tessano, took third place in the Modern Cider (Dry) and second place in the Heritage Cider (Dry) Best in Class categories, respectively, at the 2021 GLINTCAP.
Jared was kind enough to sit down and chat with us just days before Elizabeth gave birth to Theo, who joins big brother, Avery, as part of the EsoTerra family.
The questions and answers have been edited for brevity and clarity.
Cider Culture: Congrats on your GLINTCAP Best in Class wins! That has to be exciting for you.
Jared Scott: Yeah. That's what we were hoping for, and we've been working really hard toward that goal. I've been studying cidermaking for years, and this is the first time I've gotten to submit a cider where I had complete control from start to finish. It's so nice to see that all this hard work is paying off.
How many ciders did you submit?
We submitted everything we made, so close to 10 ciders. Pencil Hound Ciders, who makes cider with us in our facility, submitted four or five. It's our opinion that to gain traction it's better to submit everything. But, I wouldn't submit anything that I didn't think was worthy of a gold medal. I get lots of good feedback from my wife, a co-founder of EsoTerra, and from our staff and customers.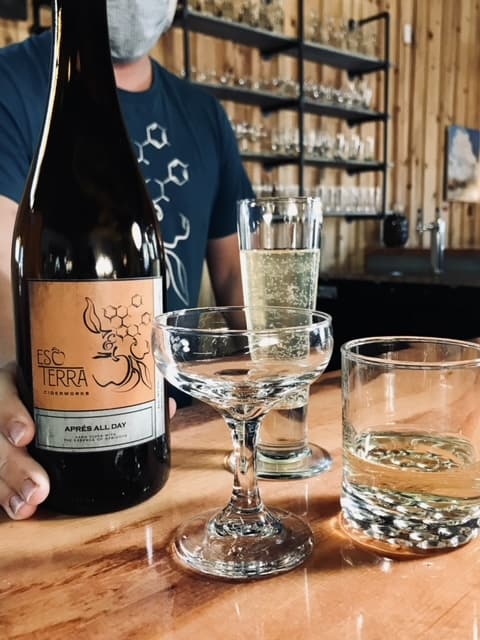 We're also not too proud to dump cider down the drain if it's not up to our standards. Luckily, all the cider is doing okay right now, but this time of year (August) is a little bit scary because everything's getting warm.
How warm is it there?
I think inside our facility it's close to 80 degrees. We don't have air conditioning, and while it rarely gets hot outside, the sun is pretty intense and beats down on our roof. So we try to keep things under temperature control as much as possible. We have glycol-jacketed tanks and a cellar room, which is just a big walk-in cooler, where we keep everything at about 50 degrees. Our production space is even colder, at 30 or 40 degrees. We taste and top off barrels every two weeks and are always monitoring our product for quality.
How many ciders are you barrel fermenting?
For GLINTCAP, I think we submitted two barrel-fermented ciders. Last fall, I got some more barrels, so I tried doing more barrel ferments. The craft can be challenging. Barrel fermenting is something that can get out of control really fast if you let it warm up. A couple of our products went through too much malolactic fermentation last April. In some old textbooks, that used to be called "the bloom ferment." In April, when the apples were blossoming, our barrels were also doing the same. My wife and I had gone on vacation, and our business partner, Leigh Reeves at Pencil Hound Ciders, sent me a video of the little barrel volcano. 

How long have you been making cider?
When I first started, it was more of a hobby. When I first moved to Dolores in 2012, I lived on a county road with many orchards and a lot of apples. I would drive down that road every day, coming back from work, wondering if anyone was going to do anything with the fruit. I saw more and more fruit fall to the ground, and not a single person harvested any of the apples on my road. In 2013, I went out and tried to find out if there was anybody doing anything with these apples.

I talked to some of the key fruit people in the area and was introduced to a couple, Martha and Dusty Teal, who had just bought an old foreclosed house with a bunch of 80-year-old apple trees — and they were making cider.

Martha had read all the cidermaking books available at that time, and from Andrew Lea's Craft Cider Making she learned about fermenting cider cold and slow. I'd been brewing beer at home, and I believed that cider should be fermented like beer, quickly and at room temperature. So we ended up doing an experimental cider run: nine ciders fermented at room temperature, and nine fermented in a 50-degree cellar room.

We had a tasting with our friends and some people from the community, and everyone enjoyed the nine batches that were fermented cold more than their warm-fermented partner batches. Since then, I've adopted the fermenting cold approach, and it helps us retain the fruity aromatics from the cider. We'll let our barrel-fermented and barrel-aged ciders get a little bit warmer because if they get too cold, the microbiology of some of our barrels will stall out.

I moved away from the area for a little bit, met my wife, Elizabeth, moved to Fort Collins and started a Ph.D. that I didn't finish. I convinced Elizabeth that Southwest Colorado was a pretty cool place to live, and she got a job in landscape architecture down here. I got a job with Fenceline Cider and made cider for them the first year that they were open. Working at Fenceline gave me the confidence to know I could make cider commercially, and Elizabeth and I decided to start the business.
How did you decide on the name EsoTerra?
Eso is borrowed from Greek and translates to "obscure." Terra is Latin and translates to "land." When we were trying to decide on a name, we really wanted a name that sounded cool and made people think, but all the ones we liked were already trademarked.

Few people know that Montezuma County, the fairly remote county where we live, has many very old trees and orchards, and that it was once a huge apple-producing region. In fact, we're housed in the former Mountain Sun Organic & Natural Juice building, which, at its peak, was the world's largest organic juice factory. I think our name is fitting for the story behind that area, this obscure place where we live in Southwest Colorado.
How long has EsoTerra been open?
We opened in September 2020. We're a small operation, and between EsoTerra and Pencil Hound, we only make 5,000 gallons of cider. We got to a point, late last fall, where we were running out of cider. But I think it's a really good thing to run out because that means that we're moving our product. We like our cider to leave and be enjoyed by someone else.

Currently (August 2021), w''re at a stage where production can't keep up with the front of the house, but it'll be the opposite story six months from now. Production will be out-producing what the front of the house is selling because it's winter, and here, cider tends to be a summer drink.
How do you get the apples you're using?
We have a mixture of apples from locals plus some relationships with fruit growers in the Pacific Northwest, particularly in Prosser, Washington, which has a similar dry climate to ours. We supplement with Pacific Northwest apples because many of the local apples are from trees that have been here for a hundred years and are not being actively managed, and many of the trees go into a biannual breeding cycle.

Locally, we work with over 40 landowners. We'll pick single trees in someone's backyard or pick up the windfalls every day. We have a lot of support from the community and the people who grow fruit, and we want to compensate them the best we can. Some people want money; others are fine getting a gift card to our cidery. For fun, I graft trees every spring, and one year, as a trade for fruit, I gave a guy a red Macintosh tree to replace an older one he was cutting down. People are really excited that we're using their fruit, especially when they actually get to drink the cider.

What I really love about the two ciders that won best in class at GLINTCAP is that those two ciders were single orchard blends. For The Last Stand, we picked from an orchard that has 130-year-old Gravensteins, pretty much the only Gravenstein trees in the area. The Last Stand was heavy on the Gravenstein, and whatever weird, funky apples I could find in the back of the orchard. I think those were probably planted for juice, cider or brandy because they were really small and leathery with more skin than flesh.
For Tessano, a cider which was first made for our friends Tessa and Stefano's wedding, we only went to another orchard once or twice, as the apples get ripe pretty late in the season. We picked the apples, brought them back to our facility, tasted them and pressed them individually because I wasn't familiar with the juice qualities. I then made a big blend from those small little presses. So Tessano is a more balanced cider, because I blended the acidity to match the specific gravity of the juice.
Besides cold fermentation, what other approaches do you take to making your cider?
We're really technique-based with fermentation. Because we ferment cold, and a lot of our older fruit lacks nutrients, we may get a sweet cider because of stuck fermentation (Editor Note: Stuck fermentation is when there's still sugar present, but the yeast is unable to process it.) But most of our ciders are dry. The only chemical we add is potassium metabisulfite, and we only dose it to the pH so that the cider will be stable in the bottle longer. Potassium metabisulfite is an industry standard additive in winemaking. It's used as an antioxidant to help preserve wine and can knock back microbes before you start fermenting.

The local fruit we use is harvested as soon as it's ripe. Summer apples tend to be more acidic and lower in sugar, and later season apples tend to be lower in acid and higher in sugars. The apples that ripen in September are usually where you want them to be for a cider. We'll go and collect as many summer apples as possible, ferment them out in a tank and call it "acid." We keep that product set aside, and for the later season stuff, we'll blend the "acid" back into our late-season fruit that needs more malic acid.
There are so many things that can arise in alcoholic apple cider, and a lot of that has to do with the acidity. Grape wine often has pHs in the low 3s. Beer, on the other hand, has a pH in the 4s, and cider often has a pH between 3.5 and 4.0. When you're working in that high of a pH environment, especially close to 4, there are certain things that don't really help you anymore. For example, if you have too high of a pH, then the potassium metabisulfite will have no effect.

That barrel that went "boom" during the bloom fermentation had a higher pH (3.7) and was lower on the malic acid side. If I'd blended the "acid" cider into that, then the ferment would have probably done a little bit better. We're constantly experimenting and learning, and that's what makes cidermaking so fun. You could spend a lifetime doing this and still continue to learn something new!
If you could win a medal in any Olympic sport, real or not real, what would it be?
When I was a teenager, I thought I was going to be an Olympic distance runner. It didn't work out, but I had a lot of success in mountain running, and I think it would be cool if mountain running could become an Olympic sport. 
To learn more about EsoTerra Ciderworks, check out its website, Facebook and Instagram. EsoTerra Ciderworks cider is available for purchase online or at its tasting room at 18390 CO-145 in Dolores, Colorado. Contact EsoTerra Ciderwork at Elizabeth@EsoTerraCider.com.