I've been fascinated by cider glassware for years. And based on the responses when I asked my fellow cider-nerds on Twitter how they serve cider, I'm not the only one. Lots of people have their own favorite type of glass in which to pour cider; other folks like to switch out the glass type depending on the cider they're pouring. Because there are so many types of cider out there, this approach makes the most sense to me: Just as different kinds of beer, wine and cocktails deserve their own specific vessels, so do ciders.
Here are my thoughts on glassware and ciders:
Specialized for Cider
Original Cider Tasting Mug: One of the most amazing glasses for cider that I've ever encountered isn't a glass at all, it's a mug: the Original Cider Tasting Mug by 33 Books. What I love about this mug is how it concentrates everything that cider has to offer: aroma, color and body. The wide mouth and tapered neck allow for space to breathe in aromatics. The opaque white walls allow you to see the true color of the cider, and the ceramic exterior helps to keep the cider colder longer.
Though this mug works for any cider, I use it most when I'm enjoying a UK Cider, like Oliver's Herefordshire Dry Cider, with aromatics and color that are both rich and nuanced. I like the leathery tannins and ripe apple as brought out by the mug.
Libbey Hard Cider Glass: I'm also fond of the Libbey Hard Cider Glass, or the 545, which was designed to maximize one's ability to enjoy a sparkling cider by preserving the bubbles longer, and still giving all of those luscious aromas a place to congregate. I find this 16-ounce size to be a bit large, based on the ABV of many quality ciders, but it's easy to leave a little room at the top. That's a double win, because it serves the cider at a reasonable volume and gives space so you can really dig into the bowl for aroma notes.
This is a great glass for a modern cider or perry, particularly one that's brilliant, so you can enjoy the shine and the smells at the same time. I like the Portland Cider Company Kinda Dry or the Doc's Draft Hard Apple Cider. Both of these ciders achieve balance by including some sweetness, plenty of bubbles and bright, food-friendly acidity.
Birrateque Cider Glass: Similar to the Libbey glass is the Luigi Bormioli Birrateque Cider Glass, and I find this glass' stylish details especially riveting to both the eye and the palate. This is another oversized glass, but it works beautifully for a hopped, botanical or fruit-blended, lower ABV cider.
Don't forget to leave room for your nose, as the aromatic chamber is key to getting the most out of a good glass. In terms of specific cider recommendations, Rootstock Ciderworks Hopped is a delicious, award-winner to try here, with piney hops that will leap out of the glass.
Incidentally Fabulous
Some glasses are lovely for cider even though they weren't designed specifically for the beverage. Here's a quick tour of some of my favorites. I've included a cider recommendation for each, a selection that demonstrates the special appeal of that glass' shape.
Footed Tulip Glass: I can certainly enjoy a footed tulip glass like Libbey's 3808 Snifter, but I don't mean to be brand-specific for this particular choice. There are a lot of footed tulip glasses, and they go by several different names, like a "tulip" or a "Belgian beer glass."
This is a preferred glass by the United States Association of Cider Makers (USACM) for the Cider Certification Program. If you like ciders fermented with beer or ale yeasts, like Wit's Up by Citizen Cider, try them in this sort of glass for an extra aroma treat.
Stemmed White Wine Glass: For a heritage or orchard-based cider with a higher alcohol content, I like a large white wine glass with a stem, like the Riedel Performance Riesling glass. This sort of glass is beautifully flexible, but I think it is best-suited to a dry still cider, like the Farnum Hill Extra Dry Still (if you're lucky enough to find it). I know some of my cider friends like a stemless glass, but I don't prefer them. They get smudgy with fingerprints without a stem to hold, and the cider does warm up more quickly.
A Universal Tasting Glass: Many cider aficionados swear by this type of universal tasting glass, like the Rastal Teku Glass. It's designed to show off the qualities of the beverage it contains, whatever those qualities might be. It isn't cider specific, but it's wonderful to show you the scents, flavors, colors and textures of special beverages. For almost-dry cider, like Colorado Cider Co.'s Block One, it's ideal. This glass' bowl is more sharply-angled and less curved than many of the rest on this list, and it is designed to retain aroma through a slow-and-considered tasting. This shape won't allow aromas to disappear after a sip or two, and that's very nice for a cider that smells as lovely as this one.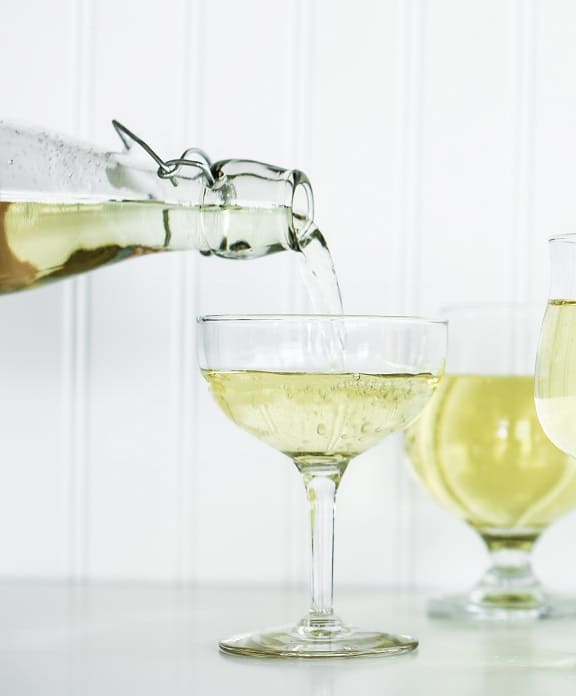 Coupe: Coupes are divisive, I know. They don't have a standard size and they don't preserve bubbles for the longest duration. But what they do provide is surface area for a strongly sparkling cider and a gloriously vintage vibe. Don't sip a coupe seriously and slowly, but do bring them out for a party! Then wow your guests with a naturally sparkling cider. I am very fond of the Marie Coupe, (and its countless variants) for a method Champenoise cider or perry. Snowdrift Cider Co. has a Perry Reserve that fits the bill for a coupe perfectly. It will bubble vigorously and show off gorgeous aromas, due to its secondary in-the-bottle fermentation
My last consideration for serving cider in specialized glassware is to consider ABV and pour size together. These should be as fundamentally linked as any two serving factors can be. Whether you are sharing cider with guests, clients or simply enjoying cider yourself, do consider ABV. Cider's ABV varies tremendously, which means that our pour size should vary too. A smaller pour of a higher ABV cider might serve best in either a smaller glass or one that leaves generous room in its bowl to sniff and swirl the cider. A lower ABV cider might belong in a larger format glass.
In all of these cases though, the glass serves to frame and highlight the beverage. Choose your glass and consider your cider appreciatively. Look, smell, taste and enjoy it. If I've forgotten your favorites, leave a comment to let me know!