It's kind of hard to believe, but we're coming up on our seventh Cider Culture Friday virtual happy hour! What started as a grasp for connection and community during the first weeks of the COVID-19 outbreak in the US has now become for us an energizing weekly tradition and soul-sustaining social engagement. Getting to "meet" so many of our readers and chat, albeit virtually, face-to-face with cider makers whom we've long admired has been a true silver lining for us since the world was upended. We hope it has been for you, too!
Let's keep it going this week with a virtual happy hour c0-hosted with Andrew Byers, Head Cidermaker and Production Manager at Finnriver Farm & Cidery. Andrew is a culinary-botanist-turned-cider-maker who has been with Finnriver for seven years. He is focused on the intersections of humans and agriculture and the fermentations that bring us all together.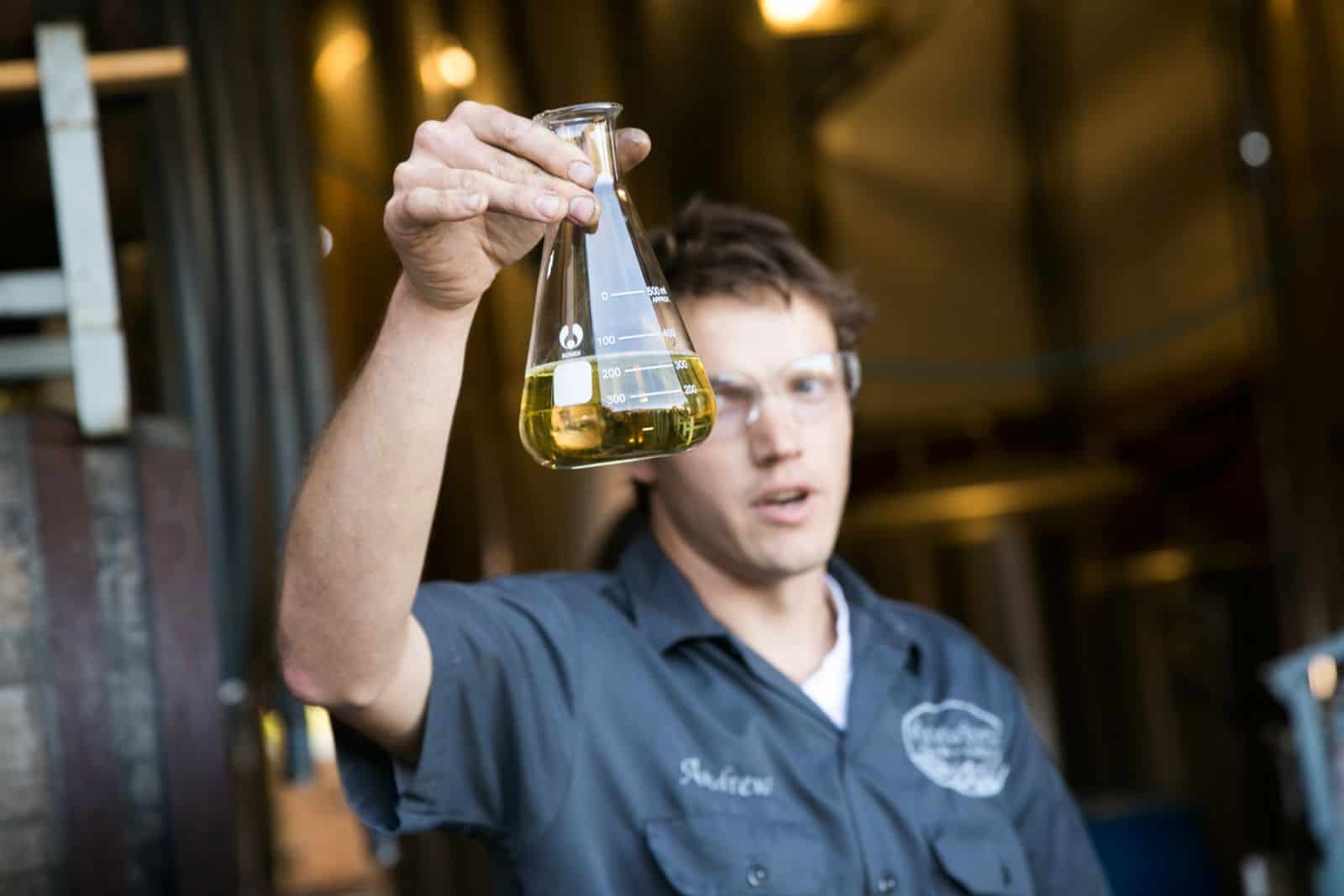 If you don't know Finnriver already, it is a cidery to become acquainted with ASAP! Located in Chimacum, Washington, just south of Port Townsend on the Olympic Peninsula, Finnriver is a crew of families, friends, farmers and fermenters. They landed on their farm in 2004, planting their feet and hearts in the Chimacum Valley. Co-founder Keith Kisler's family has farmed for five generations in Washington, and he and his wife Crystie wanted to honor his agriculture heritage, work with the elements, and create a rooted life together.
More about Finnriver's philosophy, in their own words:
Farming, we came to realize is about what you eat, and what you drink. We got the inspiration to make hard cider when our neighbor brought over a bottle he'd fermented from the apples out back. It was a crisp, dry, effervescent revelation. We began plotting with our banjo-playing neighbor Eric Jorgensen and the three of us decided to plant an orchard and start a cidery. This was an act of rural renewal and also of pure fermented joy.

Cidermaking in our barn has always been a process of discovery— a blend of art, alchemy, ancient wisdom, farm ingenuity, scientific method, nature's magic and adventurous experimentation. We are inspired by the generosity of the orchard and by the possibilities of the apple.
Finnriver makes a range of traditional, contemporary and seasonal ciders made with mostly organic Washington fruit, and they also make a few types of spirited fruit wines. They also grow an organic orchard of traditional cider apples on a historic dairy in the Chimacum Valley, which is home to over 20 varieties of heritage and traditional cider apples and perry pears. These trees represent old English, French and colonial American varieties that have been cultivated for their range of fine, fermented flavors including strong acids and tannins. They plant with dwarfing rootstock that allows them to grow nearly 6,000 trees on 10 acres of land, and keeps the trees small enough for hand-picking of the fruit.
Come learn more about Finnriver, their ciders and their community-centered farming this Friday, May 1!
Here's how it works:
We're hosting the happy hour through Zoom, a popular video conferencing website.
You don't need to sign up with Zoom to join us, but you DO need to download the app to your phone or computer. It's free and easy to do.
Grab a cider from the fridge to crack open starting at 5 p.m. ET! We'll have a fun group "cheers" and talk about what we're drinking.
The happy hour will go 'til about 5:45 or 6 p.m. ET, and you're welcome to drop in at any time.
Tell your friends! All are welcome!!
The meeting info is as follows:
Zoom Meeting URL: https://us02web.zoom.us/j/87106104799?pwd=NFAyWlAxeTg4WVhRU3d3TXRUL01sUT09
Meeting ID: 871 0610 4799
Password: 472476
We hope to see you then and there!