At its heart, cider is about fruit: the expression of the apples (and perhaps other fruits) touched by the magical transformation of yeast-driven fermentation and guided by the hands of humans. So, it's only fitting that the theme of the first-quarter box from the Northwest Cider Club this year is "Appley Ever After" — a fruit-driven array of small-batch ciders selected from distinct apple growing regions across the Northwest. 
Whether you're a bonafide apple nerd, or just want to learn more about the fruit that's in the ciders you drink, this is the subscription for you! Choose from the Elevated Box, containing four wine-sized bottles from Washington State, or the Discover Box, which features six beautiful smaller-format ciders from Oregon and Washington. Each cider is like a fingerprint, a sensory story, speaking of geography, time, people and apples.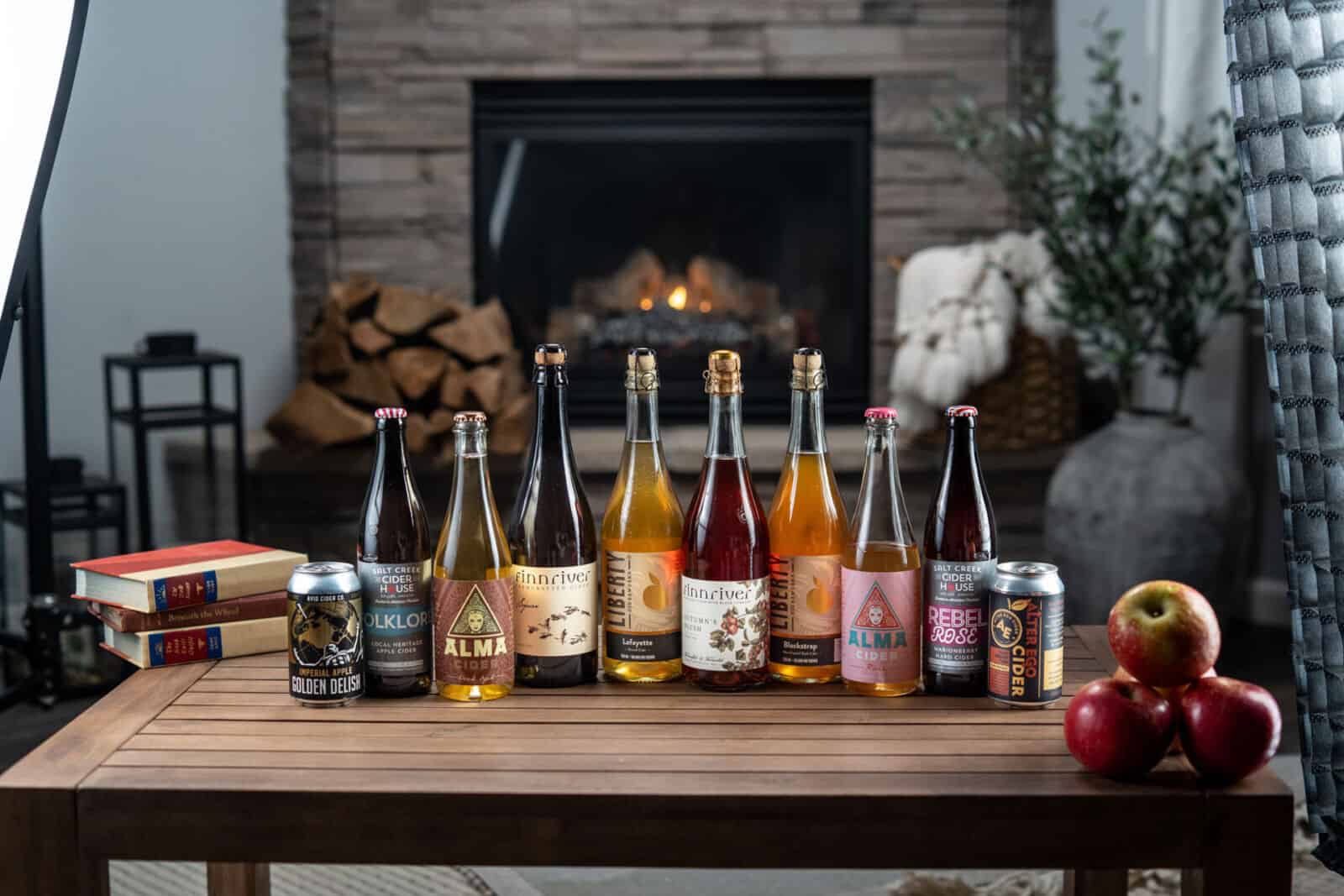 We wanted to uncover even more of the behind-the-scenes stories of these apples, the orchardists who grow them and the makers who usher them into their new lives as ciders. Three cidermakers who are featured in this winter's Northwest Cider Club box were kind enough to chat with us to share more about what makes their corners of the world so special for apple-growing, and how they make ciders to celebrate local fruit:
Dave Klawer, Cidermaker/Orchardist at Alma Cider in Skagit County, WA
Ciders in the NW Cider Club's Appley Ever After Discover Box: Wood Aged Cider and Rosė Cider 
Dave Klawer has an ambitious plan: to establish 100,000 cider apple trees in the Skagit Valley in Washington State by 2030. 
"I want cider fruit to be known as a big agricultural product in our area," he says. "The more trees we get in the region, the more that this can become a cider hotspot. How Napa Valley is known for grapes, I want the Skagit Valley to be known that way for cider."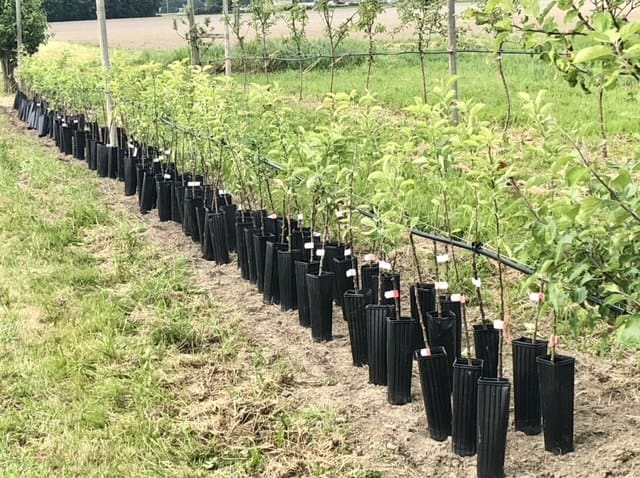 Klawer, who established Alma Cider in 2019, realized while working on an agricultural economics research paper, that in 2006, there were 85,000 gallons of cider made in Washington State, and in 2016, that number had skyrocketed to 850,000 gallons.  
"But no one planted cider apple trees in that interim, and I saw a gap," he says. "We started going around and canvassing cidermakers in the region, asking if they'd be interested in cider fruit, and everyone said, "We'll take every apple you grow.'"
In response to this need, Klawer started grafting trees in his Bitters & Sharps Orchard, and to support the project during the 5-to-7 year window before the trees started reliably producing, he decided to also make cider commercially. 
"The purpose of Alma was to really pay for the orchard, because that value-added product has a shorter road to seeing returns," he notes.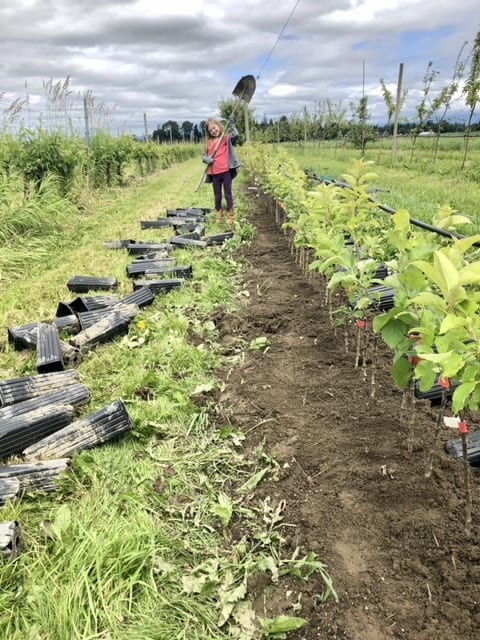 Klawer's reverence for the beauty of the Skagit Valley, and its unique growing conditions, is infectious. He ticks off the features of the geography in the Northwest corner of Washington that make it such a fertile landscape: The valley is protected from the open ocean by the Cascade Mountains, but enjoys exposure to the Salish Sea; because the valley is protected on two sides, it has temperate climates, with cooling winds from the sea and moisture-retention from the mountains, as well as ample rainfall. Then, there's the soil quality.
"The volcanoes here were full of minerals, which over the millennia have been washed down from the rivers to the ocean … we're at the bed of all those alluvial deposits," he explains. "We have the 7th-best soil in the world, stuff just grows beautifully here." 
In fact, there are over 92 varieties of crops grown there; the Skagit Valley is especially known for red potatoes and tulips (it's the second-largest tulip producing area in the world, after the Netherlands!). Apples, of course, also grow abundantly in such a special landscape, and Klawer tries to talk as many farmers as he can into grafting more cider apple trees. 
"But, I'm not doing it alone!" Klawer is quick to point out. "It's a lot of people in the valley who want to create this legacy, for the good of the community, to make more jobs and bring more agriculturally focused commerce and revenue to the area."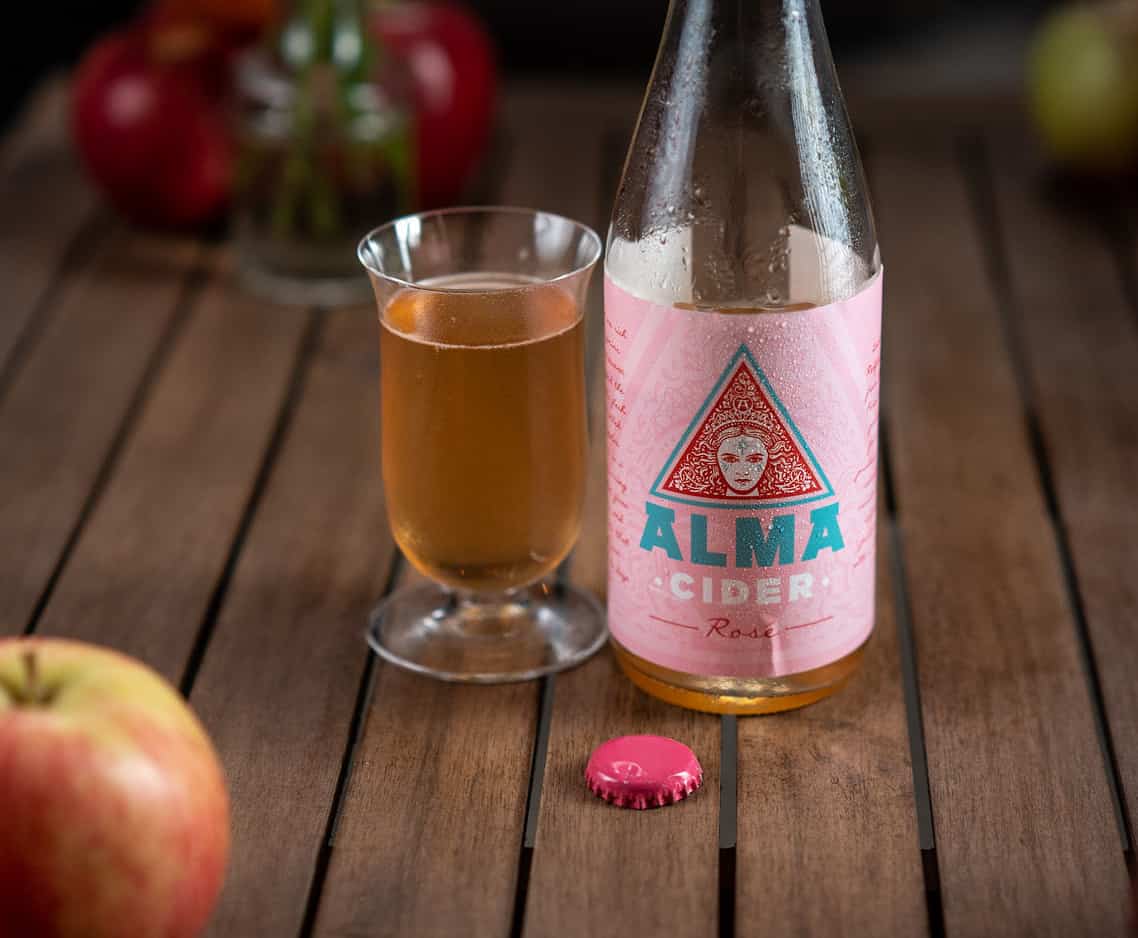 About Alma's Ciders in this quarter's NW Cider Club Discover box:
Alma Rosé: This cider is made from Mountain Rose Arlie red-fleshed apples, sourced from nearby Bellwood Farms and Pleasant HIll Farms. The apples are ready to harvest by the second or third week of October, when Klawer helps to harvest as many as they can and press the fruit right away. "The juice comes out extremely pink but if it oxidizes it gets less pink, so as we mill and press we try to get it into containers as fast as possible to keep the air off it," he says. Because Alma doesn't use temperature control, they move the juice to a non-insulated building that's basically the same temperature as outside, where fermentation is slow in the winter, and as the temps warm up, fermentation starts popping off. The cider ages until the spring, when it's racked, filtered, carbonated and packaged.
Alma Wood Aged: This is a single varietal Gravenstein, ("One of my favorite apples," Klawer notes). Gravensteins are an early-ripening apple, usually ready at the end of August or first week of September. They make bright, sharp juice, which ferments out much more quickly than later-season apples. "We'll rack the cider, filter once and put it into some freshly empty bourbon barrels and let it sit and mature until the following spring, when we take it out, filter, carbonate and bottle," he says.
Ciders in the NW Cider Club's Appley Ever After Discover Box: Rebel Rose and Folklore
When Lindy Rickert, and her husband Carter, moved into a home with a 100-year-old orchard on the property, it sparked the idea for starting a cidery. 
"All around this area are all these old orchards, but the fruit wasn't being cultivated and used, just fed to cows," Rickert notes. "Everyone here was focused on grapes. But, as we like to say, where the wine trail ends, the cider begins, with us here in the Willamette Valley."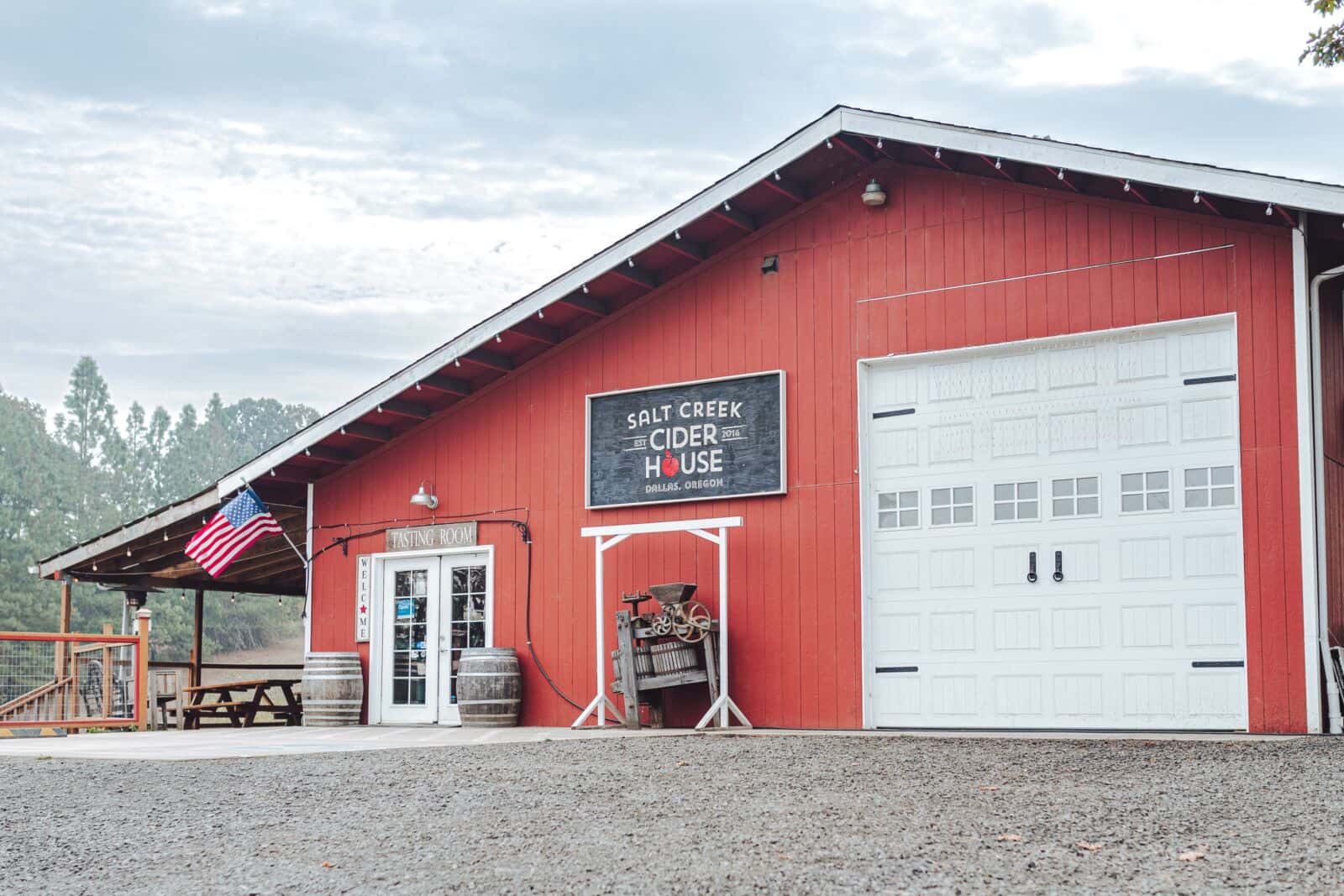 The Willamette Valley, she explains, is known for highly fertile soil, as well as the unique features of ocean air exposure in the valley. This is partially why the area has become such a well-regarded winemaking region, but the same factors help to produce beautiful apples as well.
"The juice in the fruit builds in the heat of the summer, and then the cool breeze of the ocean comes in and helps build tannins," Rickert says. "We're about 30 miles from the ocean, but we live along the Van Duzer Corridor, which is an opening in the Coast Range Mountains that funnels the wind into where we are." 
When the couple first started making cider in 2018, they'd go to the neighbors' houses and pick their fruit. As they've scaled up, that's been a bit harder to do. Currently, they buy from five local orchards in the immediate area, four of which specialize in cider apples, and one which grows dessert fruit.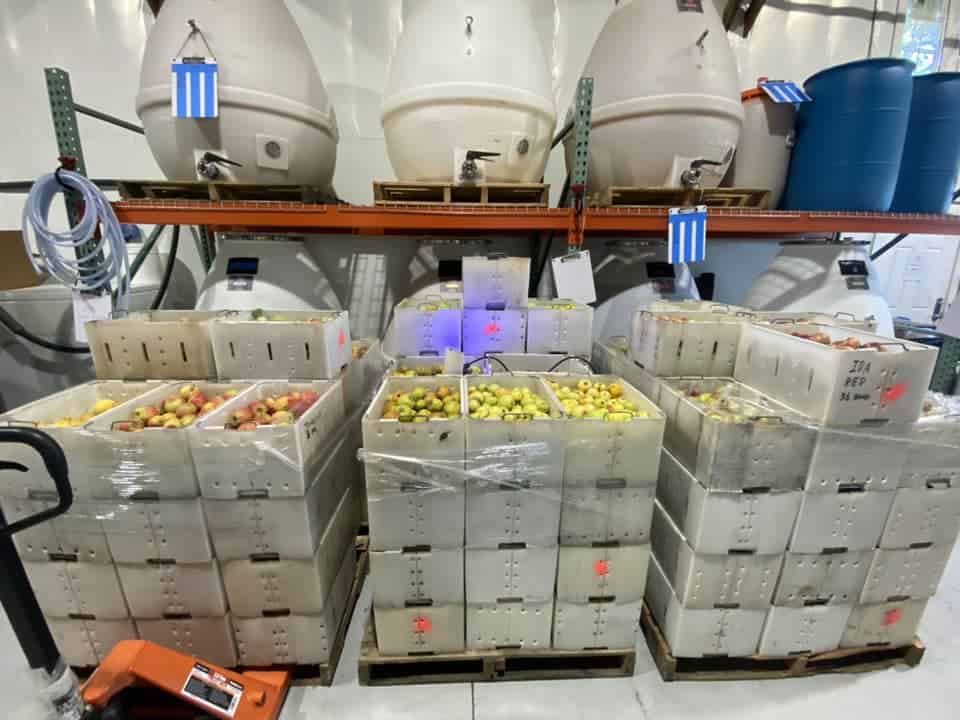 The Rickerts have also planted a "teenage" orchard seven years ago that's currently producing small batches now, as well as 10 acres on a hill of baby trees, comprising over 20 different varieties of cider apples, like Kingston Back and Dabinett. 
"We wanted to see what would grow well on our land and what makes great cider," she notes. "Because we live in a fertile valley, you can plant trees and get results, but in terms of optimizing their growth, that's been challenging." 
Managing pests, like deer and mice, and irrigation have proved to be particularly acute obstacles in the Rickerts' journey as orchardists.

"It's been a steep learning curve, but it's a lot of fun to be out in the field getting our hands dirty," Rickert says.
She also notes that other farmers and orchardists they've come into contact with are generous with sharing their knowledge and advice. 
"It's something we've been pleasantly surprised by, that people in the industry are very willing to help," she says. "Of course, we spend a lot of time on YouTube, learning to grow and prune, but the detailed local knowledge comes from the other farmers in the area who've been doing it for so long."
When it comes to turning the estate-grown and purchased fruit into cider, Salt Creek takes an "old-fashioned" approach. 
"We co-ferment everything, which is a little unusual in the industry," she says. "We mix all our juice together and ferment that, so the fruit gets to speak for itself."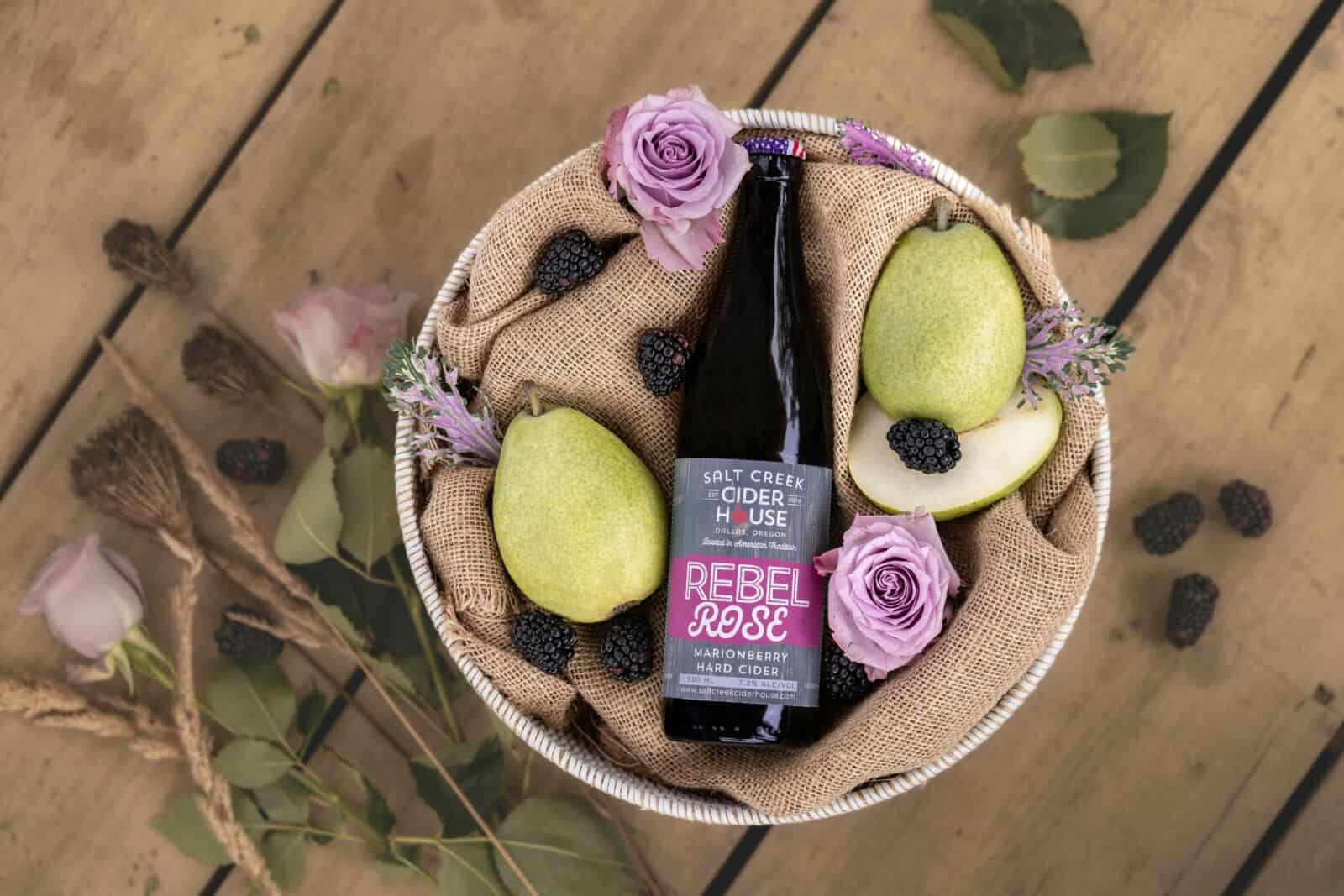 About Salt Creek's ciders in this quarter's NW Cider Club Discover box:
Rebel Rose: "We make ciders that are focused on Oregon-grown products, so with this cider, we use apples, pears, and Oregon marionberries, which are special to Marion County, which is a county over from us," Rickert explains. "Marionberries are a modified blackberry that are bigger, juicier and really quite special." Rebel Rose, which is part of Salt Creek's flagship line of ciders, is a blend of culinary and cider apples, with a dusty rose color from the added fruit, and a touch of summer-ripe sweetness.
Folklore: This cider is made with a focus on cider apples that are grown within one mile of Salt Creek's Cider House. In time, Folklore will be an estate cider, but for now, it includes fruit purchased from hyper-local orchards. "We rotate the blend, but it's always heirloom cider apples from the Willamette Valley," Rickert notes. The co-fermented blend is aged in barrel for plenty of complexity and character.
 

Andrew Byers, Head Cidermaker/Co-Owner at Finnriver Farm & Cidery in Chimacum, Washington

Ciders in the NW Cider Club's Appley Ever After Elevated Box: Sojourn – Vista Ridge and Autumn's Blush

"When I started at Finnriver a decade ago, if you wanted cider fruit, you had to grow it yourself," notes Andrew Byers, Finnriver Farm & Cidery's head cidermaker and co-owner. "I set out to find apples that would make better cider and then encourage those people to plant more apples that I thought would make even better cider."

The landscape in their region, the eastern Olympic Peninsula, is a coastal maritime climate, with marine layers and mild winters. The weather patterns closely resemble, Byers observed, some of the strongest cider cultures on the planet.

"We're not Spain, England or France, but the latitude is correct, and so is our proximity to a large body of water that regulates weather," he says. "It's not good territory to grow big beautiful honeycrisps, because the fungal pressure is strong, but it's a great place to grow ugly cider apples."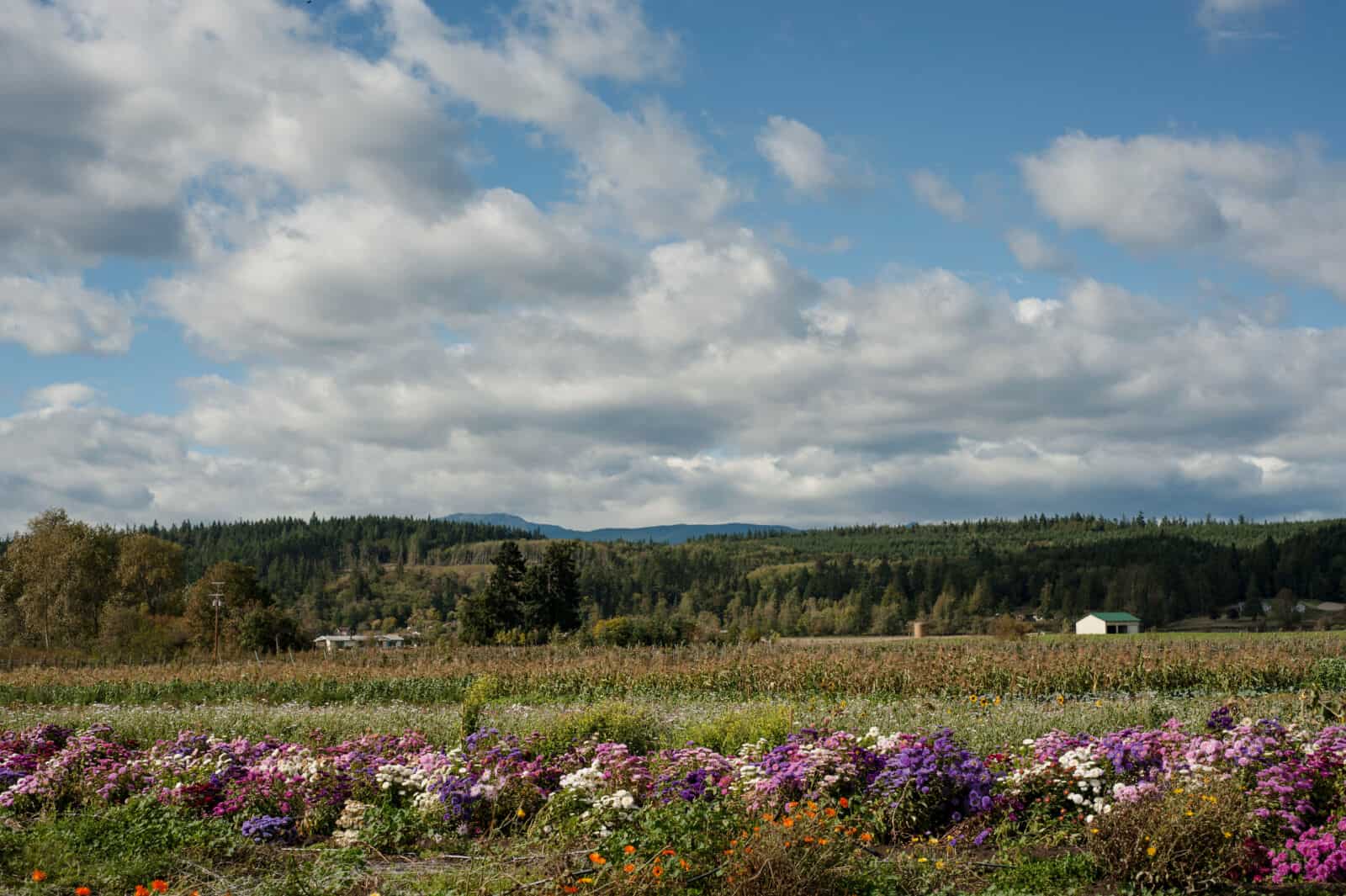 With that as its main pitch, Finnriver has been buying local apples for 12 years, from hobbyists and backyard orchardists. 
They've also been working closely with Vista Ridge, a cider orchard planted by Terry Roberts and Karen Brindle in Quilcene, Washington. They originally approached Byers seven years ago, saying they wanted to plant out a cider orchard with the full intention of selling all of the fruit to Finnriver, as long as he'd buy it. 
"We set up a price, and they planted out 200 trees, some of which I helped to graft on this rugged hillside on a mountain," Byers remembers. "They planted varieties based on my council; my thought was if we made a blend of the fruit each year, it would be different but tasty." 
Finnriver agreed to bottle a vintage from Vista Ridge each year, and are now in the third year of releasing those ciders (one of which is in the NW Cider Club Elevated Box!). Each bottling is usually a blend of between 14 and 17 different apples.
"It's like a snapshot of their orchard each year, it's the most land-based connected space we've got," Byers says. "It has a certain taste — is that the taste of the land, the impact of that hillside, or the impact of the ancient soils that are not volcanic but are old clay-based tectonic mountains? I struggle to be able to name that flavor profile but, if anything, Vista Ridge is a taste of place, and a taste of economic viability."
In addition to more serious ciders, like Sojourn-Vista Ridge, Finnriver makes a lot of playful, irreverent ciders and fruit wines, too (like cranberry rosehip, habanero and plum cyser). This willingness to be playful comes from goodwill from the fruit community.

"People keep showing up at our door with weird fruit!" Byers laughs. "My background is as a chef and botanist, so when someone shows up with 14 totes of cold hearty kiwis followed by someone else with a variety of plums that I've never seen before, we can play with all sorts of things."
Their ethos, along with a commitment to being ecological steward and supporting organic farming and fair wages, is to build community. Sourcing fruit from other farmers helps Byers connect with them and to build economic enterprise together. Plus, he notes, making traditional ciders doesn't always pay the bills. 
"We've got 12 acres of bittersweets in the ground and we're doing amazing things with them. But that won't make nearly enough money to support 30 employees in this small town," he says. "We want to be a force for good in the rural economy we're a part of."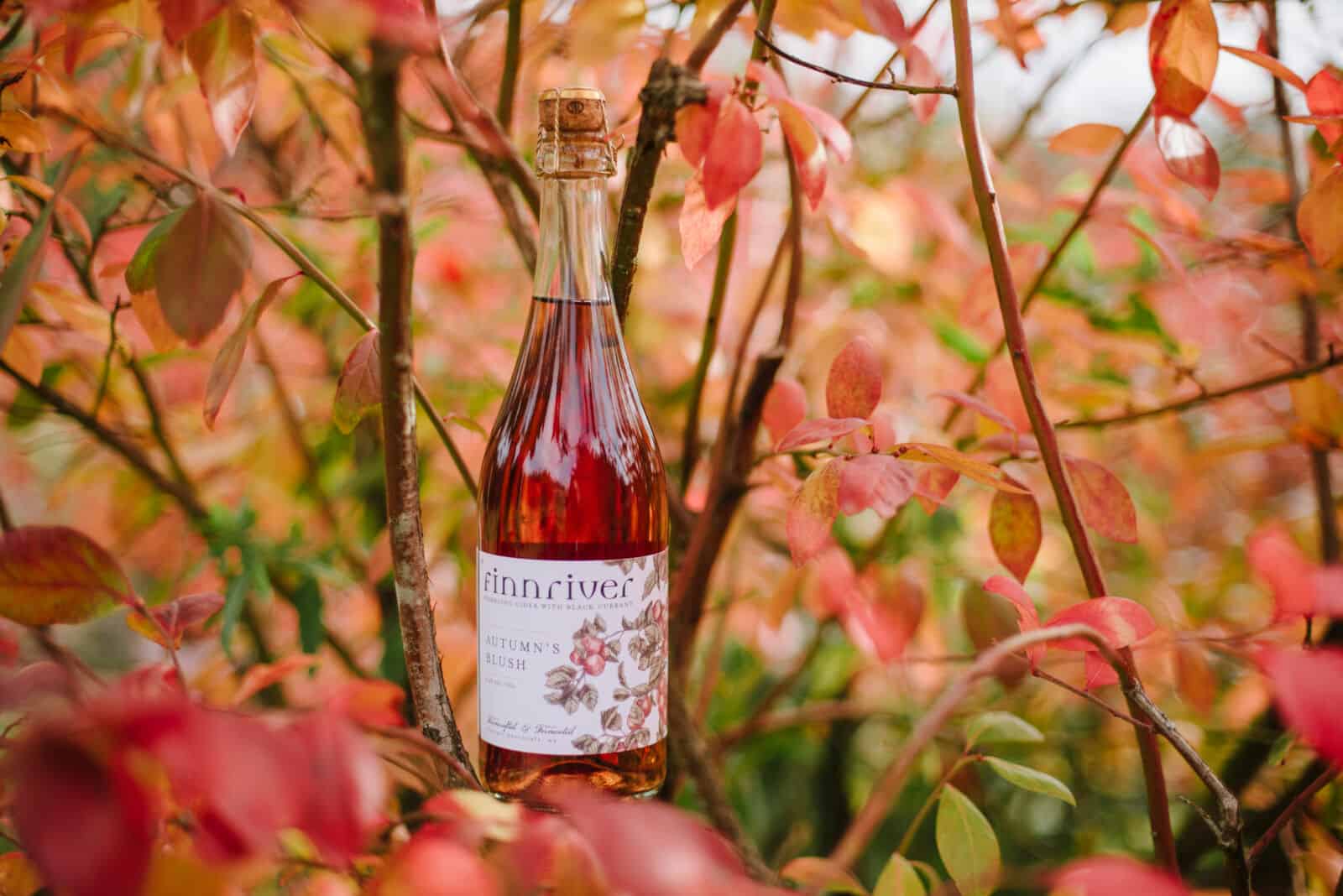 About Finnriver's ciders in this quarter's NW Cider Club box:
Autumn's Blush: This is a contemporary American cider, which represents a significant difference in production and sourcing, as opposed to Vista Ridge. It's made with organic Washington State dessert fruit, pressed on contract and delivered to Finnriver. It's ever so slightly back-sweetened and topped off with a touch of black currants. "It looks fancy, and hits that celebratory rosé vibe!" Byers says. 
Sojourn-Vista Ridge: As noted above, this is a site-specific blend of apples from the Vista Ridge orchard. It's a champagne-method cider that's bottle-conditioned and disgorged. Depending on the harvest conditions, the flavor shifts; the first year, Byers notes, was a bittersweet-heavy year, yielding a heady, leather spiced tannin-forward cider. The second year came through with more acidity, which he admits was "a less-enticing vintage." This year, however, Sojourn-Vista Ridge is leaning more in that bittersweet direction and presents as very balanced. 
For more info on all of the ciders included, or to subscribe (or send someone a very rad gift), visit the Northwest Cider Club website, who is the sponsor of this feature.
All other photos: Courtesy of Northwest Cider Club, Salt Creek Cider House and Finnriver Farm & Cidery