International Women's Day is March 8, 2022, part of the annual Women's History Month throughout the month of March. While we love to celebrate female-identified folks in all walks of life, we are especially keen to raise a glass to the badass women — both the well-known ones, and those toiling in obscurity — across the craft cider industry.
This year, you can fill said glass with ciders specifically crafted to mark the occasion. These three national cideries have launched Women's Day ciders; if you can find them in your area, crack one open in the spirit of of the day … but keep honoring and amplifying women every single day!
Virtue Cider High Tea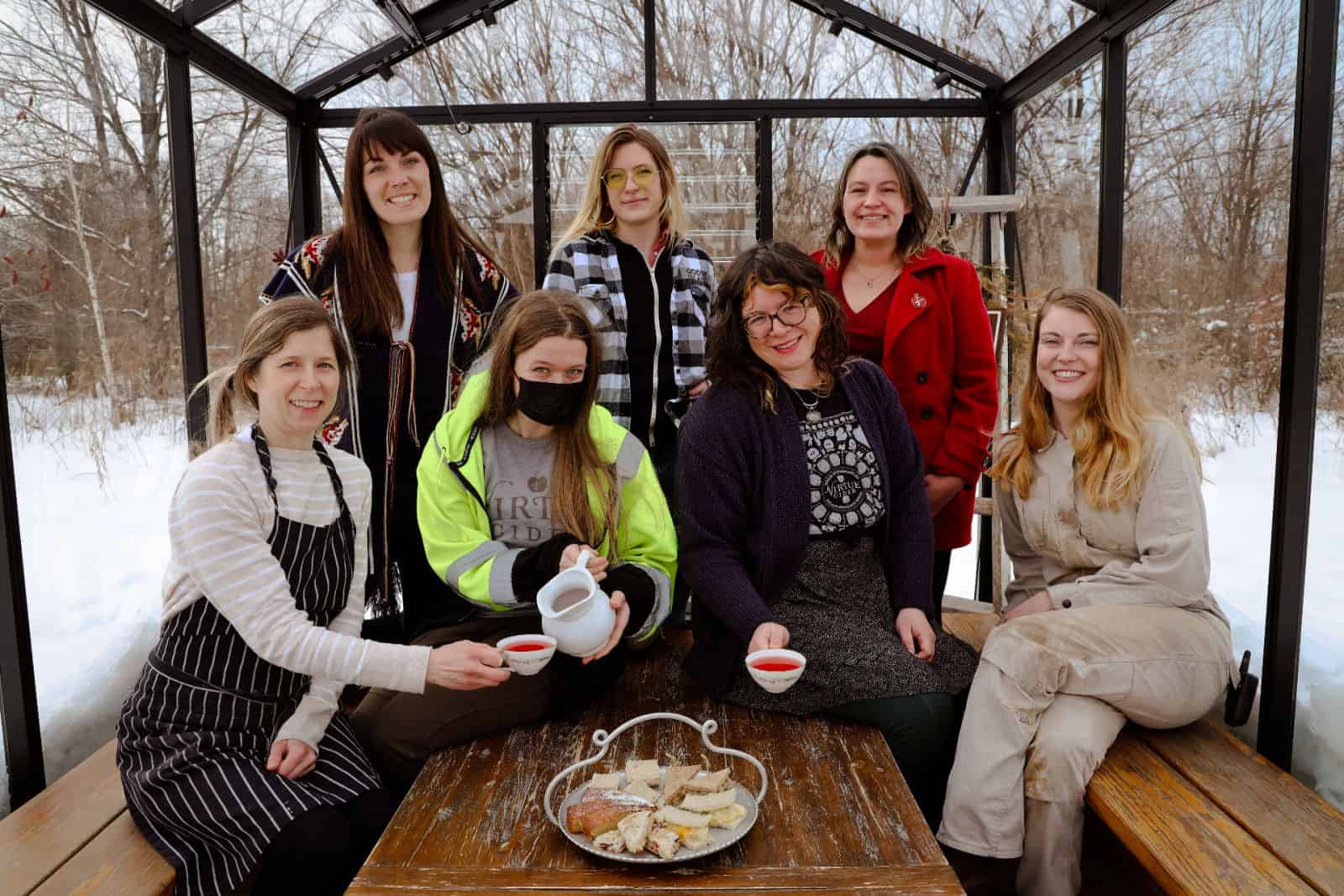 In 2021, Virtue Cider blessed us with Those Women from Michigan, a cider inspired by "multi-talented and multi-faceted women who lift each other up, live their dreams, and stand strong for what they believe in." This year, they're back with another special International Women's Day cider release: High Tea, a cider that celebrates strong women who paved the way for the strong women of today.
This bright pink 7.7% ABV cider is made with aromatic Gold Rush apples, fermented in stainless steel and aged with a tea blend of organic hibiscus, rose hips, orange peel, lemongrass, lemon peel and lemon oil. Tart, dry and floral, this cozy sipper features notes of citrus, berry and green apple with a crisp apple finish.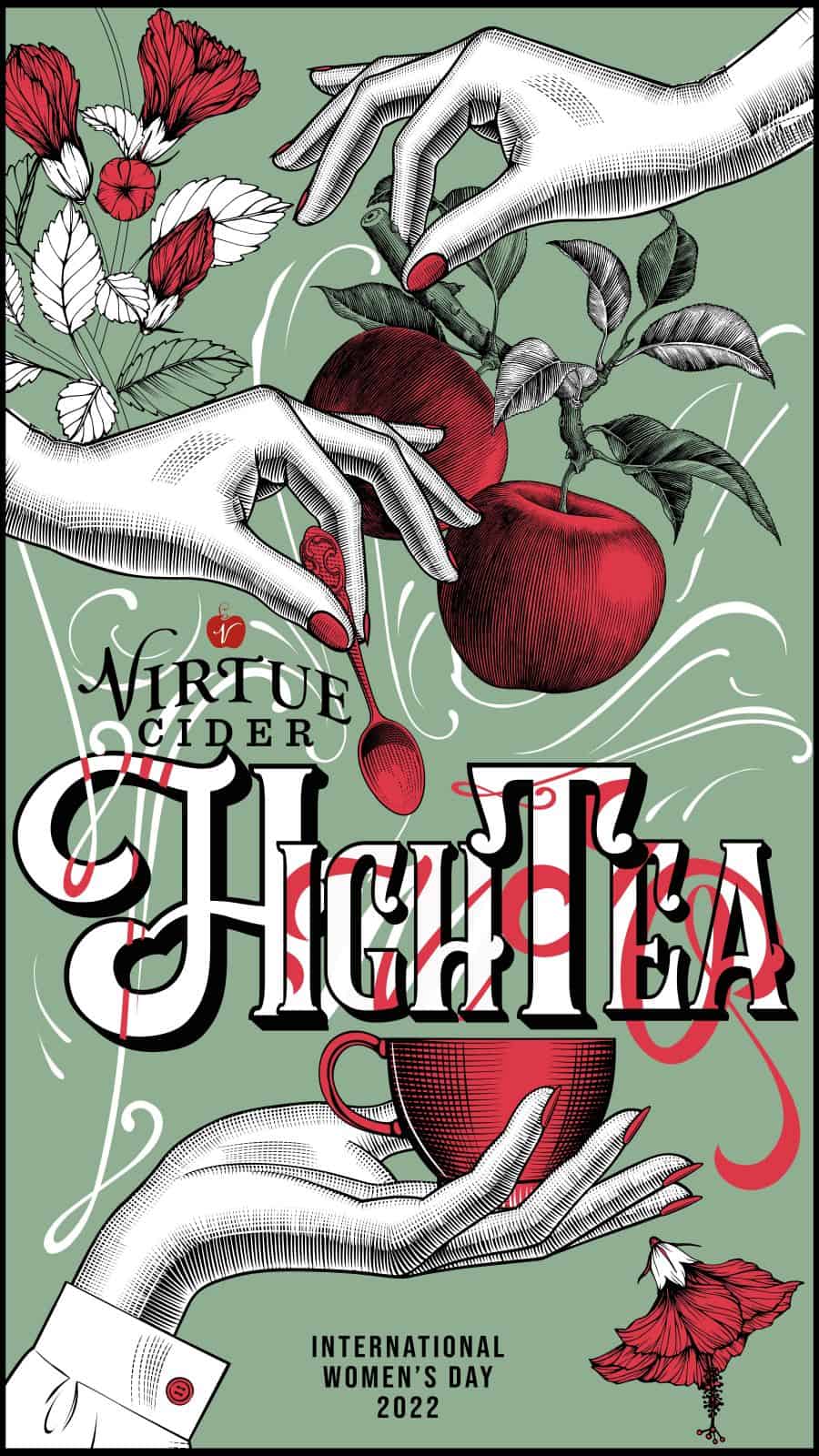 Did you know that the concept of "high tea" has feminist roots dating back to the early 20th century? Yep, during this time a tea room phenomenon swept the nation, with thousands of tea houses opening in urban and rural communities. Most of them were owned and operated by women, a sad rarity at the time. Women didn't often drink alcohol or spend time alone in public during that time, and tea rooms provided spaces for women to gather. Unsurprisingly, when women did have a place to create connections, things started to happen: suffragists  used tea rooms to organize, raise funds and recruit supporters, which ultimately changed the course of our nation's history.
"Our High Tea cider is the brainchild of our female Virtue team members," says Michele McDonnell, Virtue's senoir brand manager, "and is a toast to challenging conventions, embracing femininity, and celebrating self-care in the form of gathering with friends around good food, drink and meaningful conversations."
Find High Tea while supplies last at Virtue's farm in Fennville, Michigan.
ANXO Cider
ANXO Cider Nevertheless, a collaboration with Eden Cider, is back for another year! Packaged in a poppin' pink can, this cider is a blend of Vermont and Pennsylvania apples fermented by ANXO with native yeasts in stainless tanks.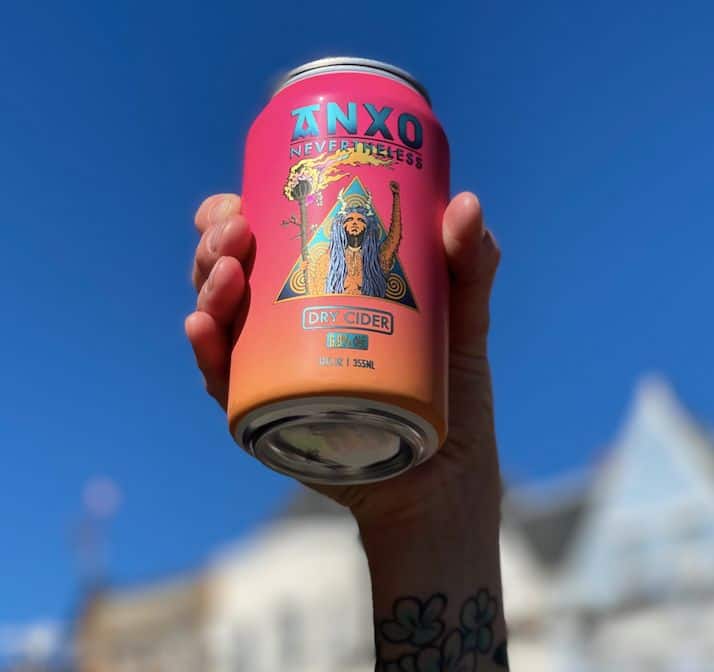 The cider's name when it originally launched in 2019 was Nevertheless We Persisted (an homage to US Senator Elizabeth Warren's now-famous objections to confirmation of Senator Jeff Sessions as U.S. Attorney General), and in 2020 the name was shortened to simply, "Nevertheless." For ANXO's 5th International Women's Month celebration, it will be donating $1 for every dine-in can and 4-pack sold to-go of Nevertheless during the month of March to Planned Parenthood. Eden will be matching all donations from Nevertheless on March 8th.
ANXO has also released a rad 2022 Women's Month t-shirt, featuring an illustration of Basandere, Basque mythology's wild woman of the forest (which is who is on the Nevertheless cans). There are various colors and styles, and proceeds of the shirts are donated to The DC Abortion Fund, a community-based 501(c)(3) nonprofit that makes grants to pregnant people who live in or travel to DC, MD, and VA and cannot afford the full cost of an abortion. Check it out here.
Truck 59 Ciderhouse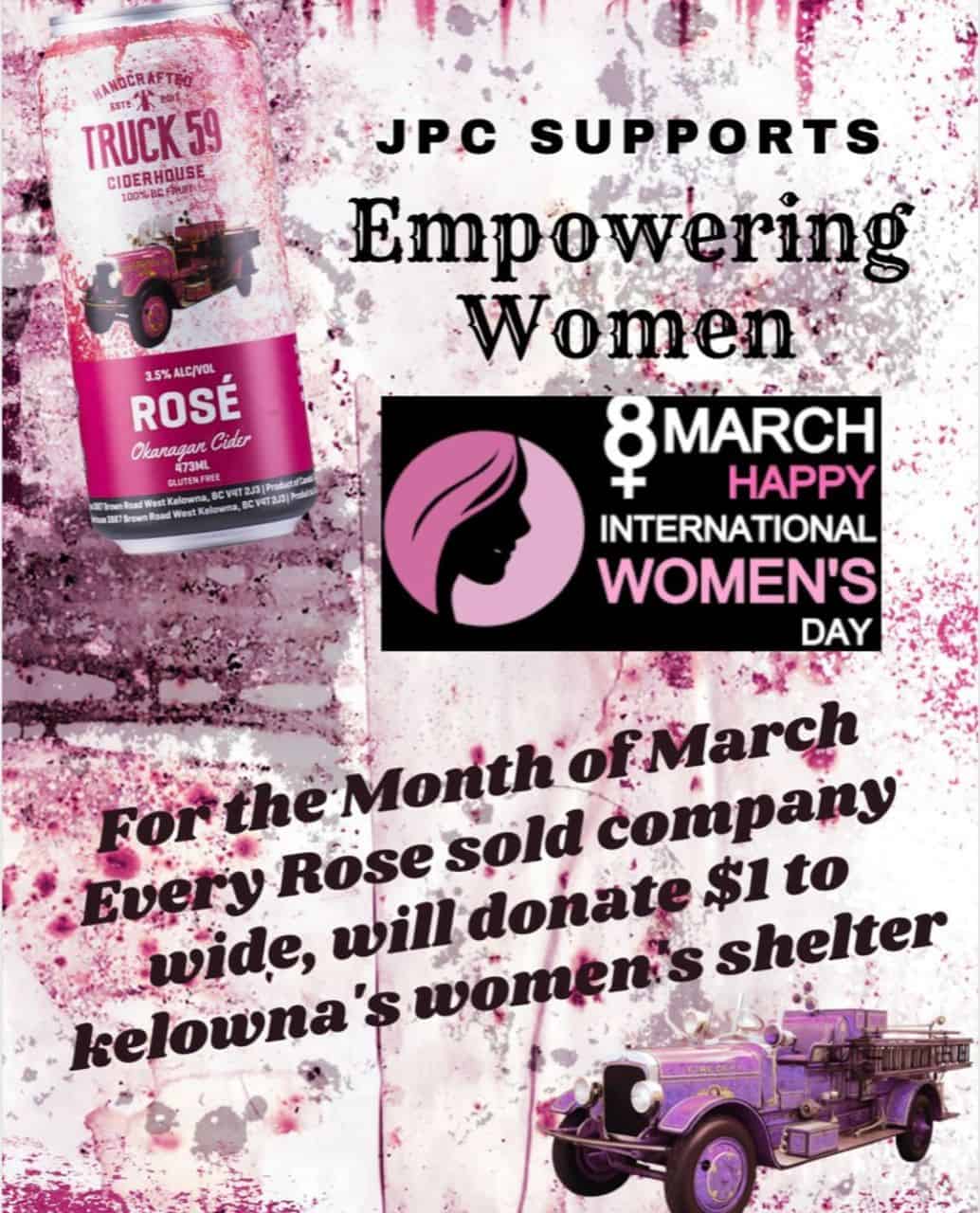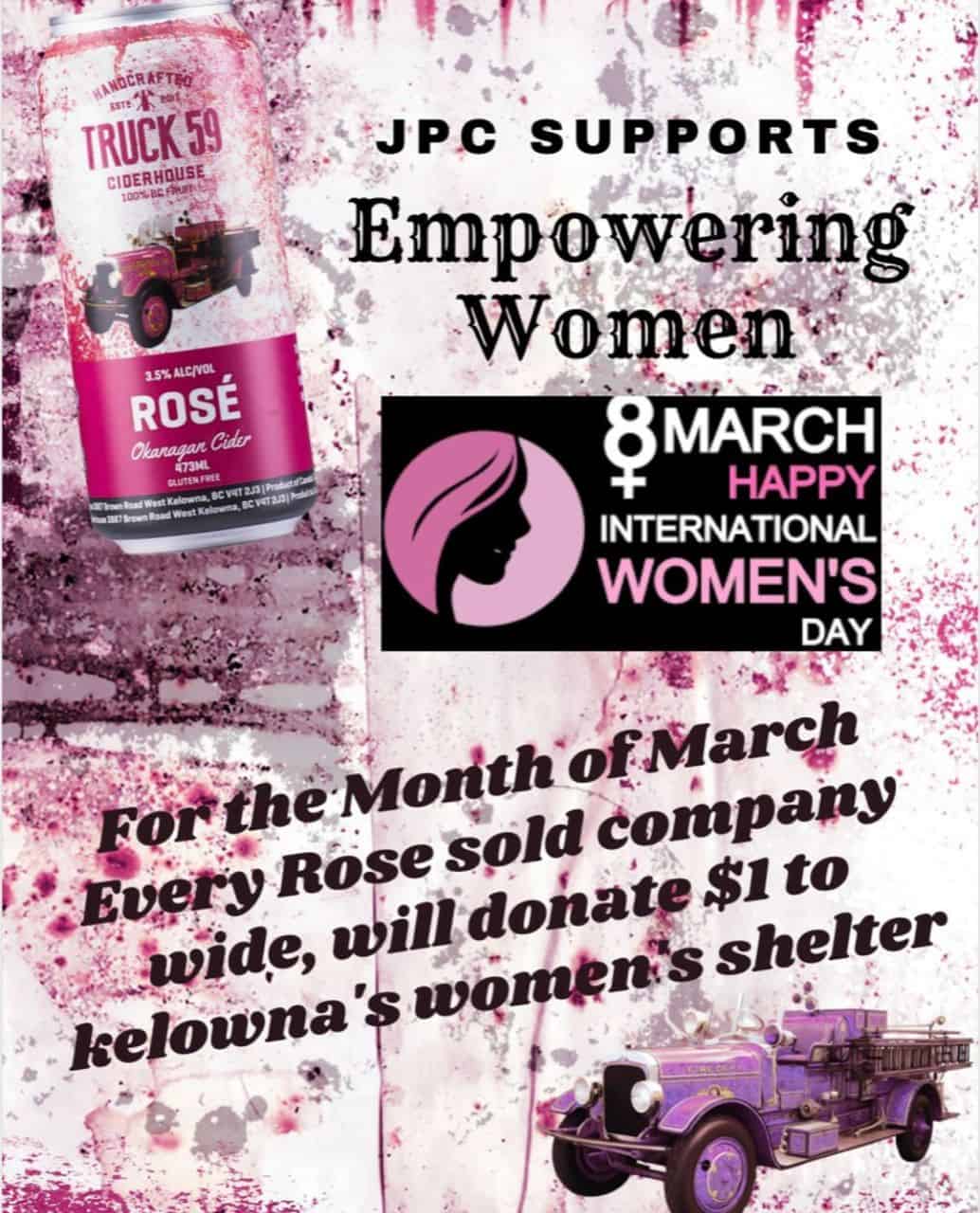 While it's not a specific cider for Women's Month or Day, we wanted to shout out Truck 59 Ciderhouse's month-long fundraiser. All throughout March, this Canadian cider is donating $1 from each can of its Every Rose rosé cider to Kelowna's Women's Shelter, a safe haven for women and children fleeing abuse. Order online or visit Truck 59's recently reopened cider house for delicious pours and barbecue from the Smokeshow food truck.
Which women in the cider industry do you want to shout out? What will you be drinking to celebrate International Women's Day? Let us know!