As you may know by now, CiderCon 2022 is happening on February 1 to 4 in Richmond, Virginia — it will be here before we know it! We hope you're as excited as we are for this chance to immerse yourself in the industry, learn new things and to mix it up with other cider professionals. Plus, it's the perfect excuse to travel, a pastime which has sadly been missing from our lives during the pandemic.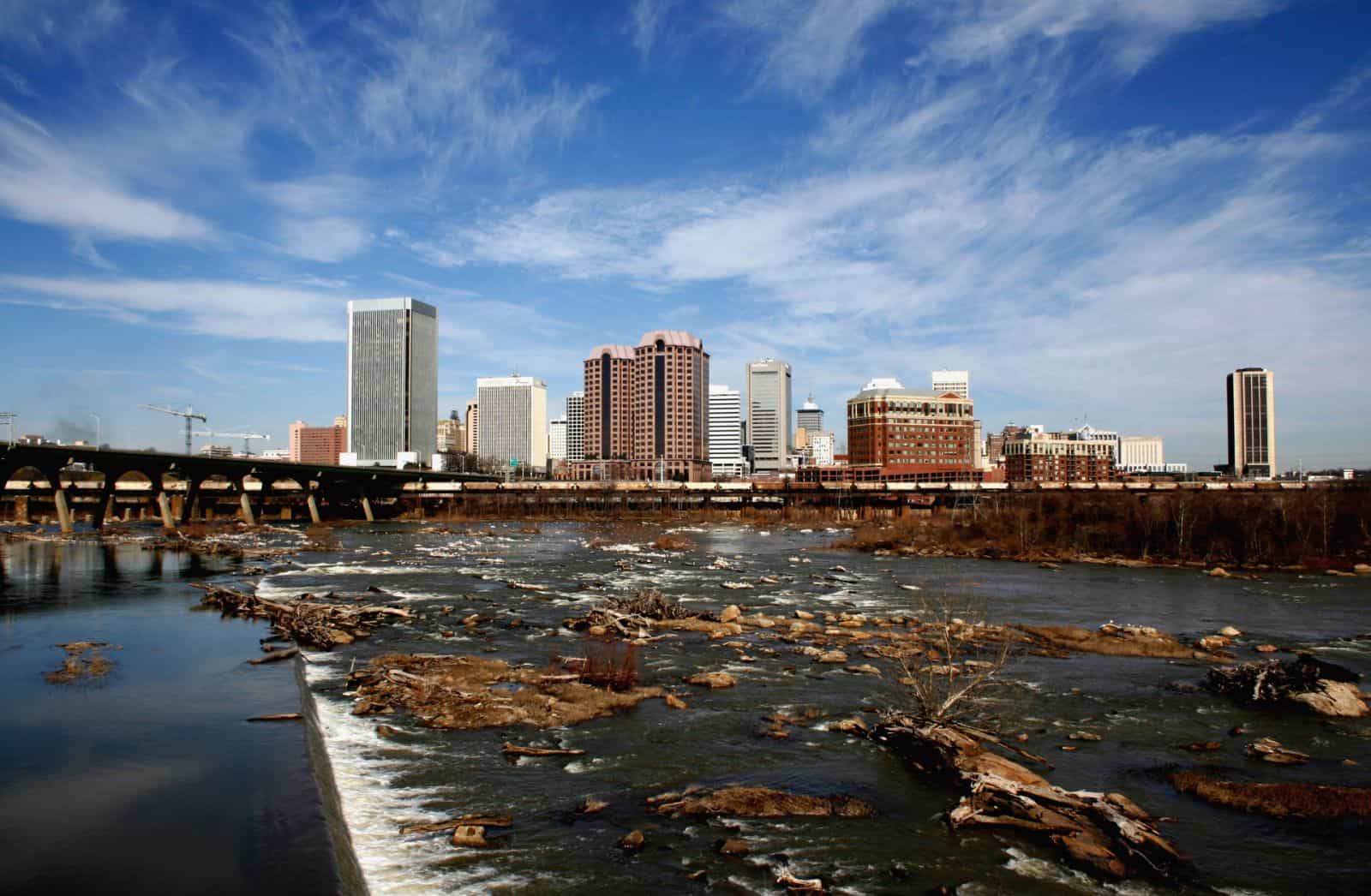 Whether or not you plan on attending CiderCon (still need to register? Head here), Richmond is such a great destination that has so much for cider lovers to explore. The city is just big enough to not feel like a small town, but totally manageable to explore in a weekend, with plenty of countryside nearby for extended adventures. Culturally, it's got this blend of East Coast cool and Southern hospitality, and the food and beverage scenes are growing more dynamic all the time.
We've only been to RVA (as the kids call it) a handful of times, and wanted to get a real insider's scoop on all the "must-do" things, so we called up Brian Ahnmark, the "Cider Evangelist" for Richmond-based Blue Bee Cider. Ahnmark has lived in Richmond for over nine years and has worked at Blue Bee for that entire time — he was its first employee, starting out pressing apples for a few hours a week.
He's a big fan of food and beverage and has loved watching the boom happen in the hospitality industry in Richmond. With his help, we've put together this cider travel guide to Richmond, Virginia, and we hope it helps you plan an amazing trip!
Craft Cideries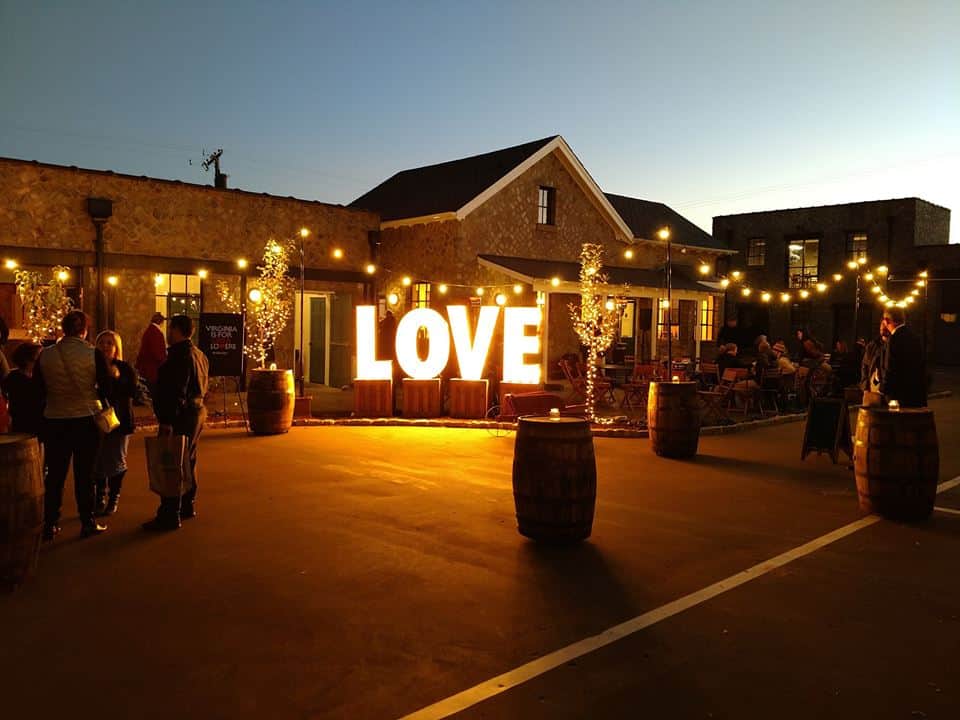 Let's start with Blue Bee, since that's who Ahnmark is understandably the most amped about promoting. When it opened in 2013, Blue Bee was Virginia's first urban cidery! In 2016, it moved from its original location in Richmond's Manchester district to Summit Stables in Scott's Addition, a semi-industrial neighborhood that Ahnmark says is like a one-stop-shop for all things craft beverage.
"Pretty much every beverage you could desire is walkable in Scott's Addition," he says. "It used to be like you could have a fun Saturday in this neighborhood, and now you could make a whole week of it. It's really popped off in the past 9 years, and turned from kind of a ghost town into a bumping place."
Blue Bee's Cidery in Scott's Addition includes a tasting room with a rotating selection of its ciders on draft, available in flights, as well as bottle pours and bottles sales. Grab a snack from the artisan cheese shop, run by Truckle Cheesemongers, located within the cidery! Blue Bee offers indoor as well as outdoor seating, and gives tours Thursday through Monday each week. 1320 Summit Ave., Richmond, VA; (804) 231-0280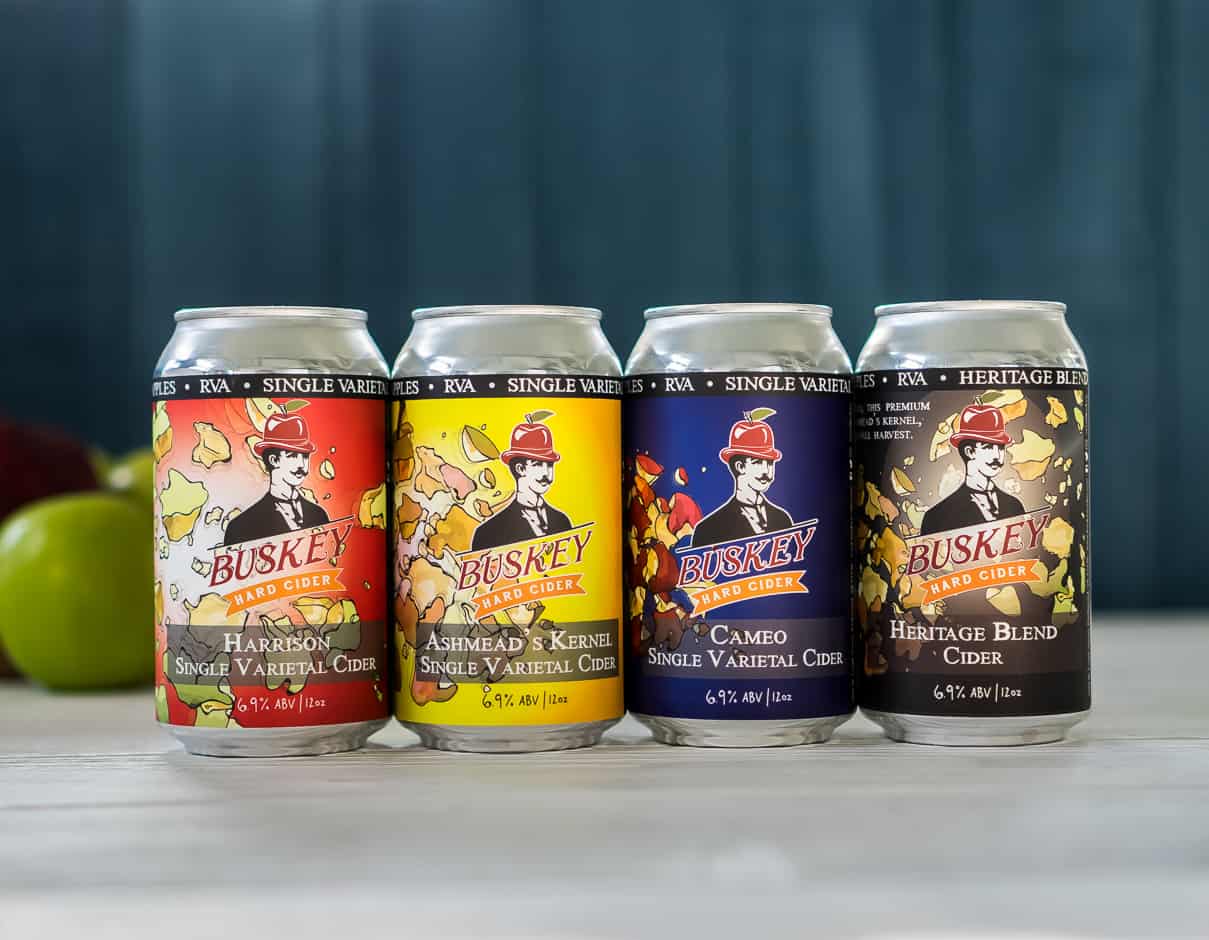 Also in Scott's Addition, you'll find Buskey Cider's tasting room and production facility, a super-fun place to drink and hang out, with 12 ciders on tap and a spacious dog-friendly patio. There's plenty of merch and to-go cider to bring home as souvenirs, too! 2910 W. Leigh St., Richmond, VA; (804) 355-0100.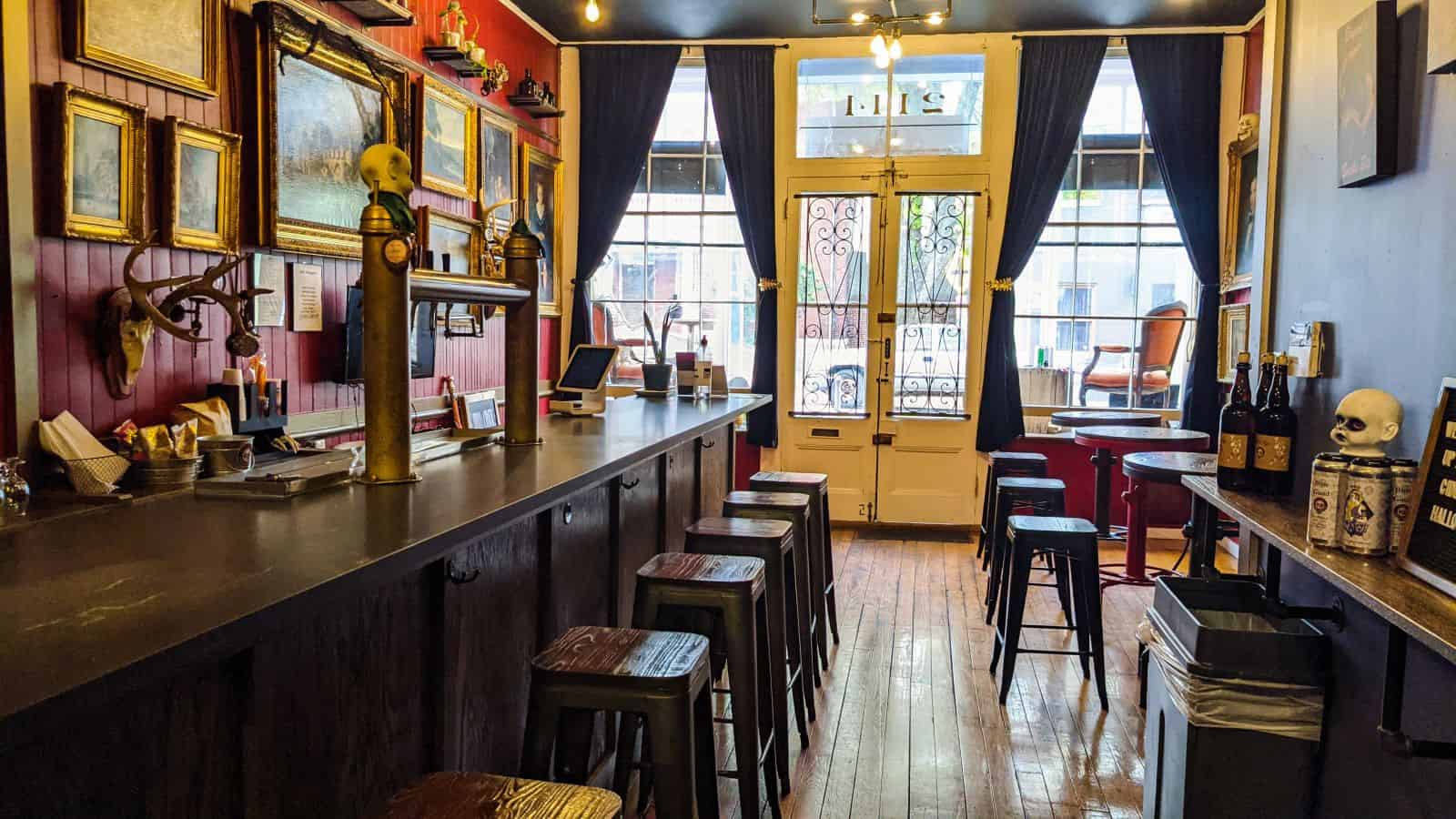 A bit further south from Scott's Addition in Downtown Richmond, Bryant's Cider has a cozy satellite tasting room in a historic 1850's storefront (its farm cidery is located in Roseland, VA). Grab a seat at the well-worn bar to try a pour of one of Bryant's barrel-aged ciders, which are aged on-site. Bryant's also hosts events throughout the week, like Coloring Book Night, Trivia Night and a Saturday Farmer's Market. Bonus: It's just about a mile from the Richmond Marriott!
Cider-Friendly Bars, Restaurants & Cafes
Ahnmark notes that, "RVA feels in the moment more like a cocktail and beer town, and not so much a cider and wine town, though we do have those things. But for people who want to explore cider, there are tons of options!"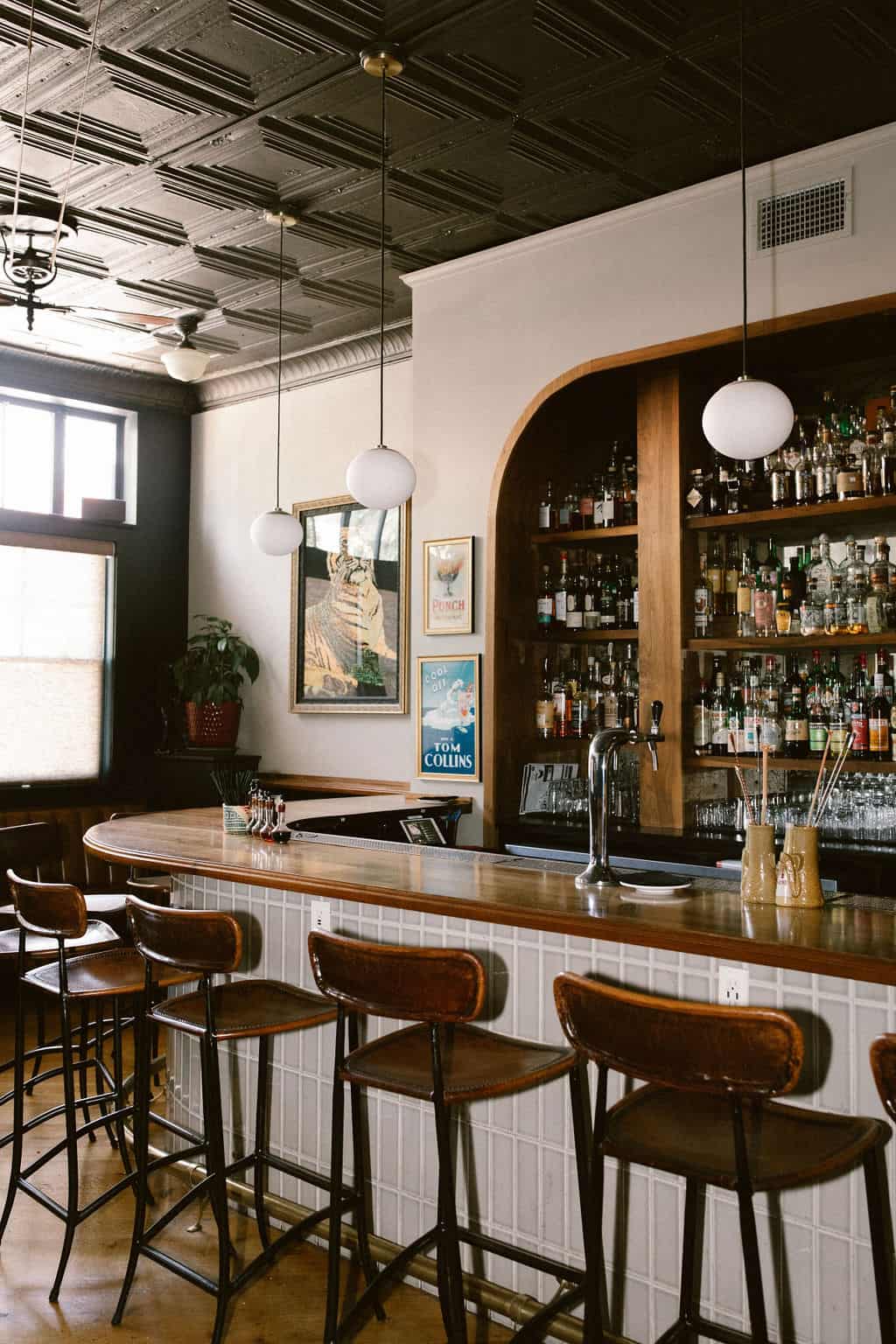 According to Ahnmark, one of the best cocktail bars in town is The Jasper. Open seven days a week, this spot has a vintage feel with a blend of throwback and modernized cocktails, including tiki-inspired Zombies on draft. You'll find a cider from Potter's Craft on draft, fun wines and a tight but tasty menu of snacks, like steak tartare, hummus and pickles. Note: reservations are not accepted here, and it's first come, first served! 3113 W. Cary St., Richmond, VA; no phone.
For a beautiful dinner and a "spectacular" beverage program, Ahnmark recommends Shagbark, a New American restaurant in the Northwest corner of the city. Farm-to-table plates, like crispy Chesapeake Bay chicken-fried oysters and Belgian endive and Shenandoah apple salad are the perfect accompaniments for any of the three local ciders on its draft list, from the likes of Blue Bee and Potter's Craft. For reservations, call or book through Resy. 4901 Libbie Mill East Blvd., Suite 175, Richmond, VA; (804) 358-7424.
For a great lunch spot, he suggests Oak & Apple, a relaxed BBQ spot that's just down the street from the Bryant's taproom. "They focus a lot on cider, and have a sister restaurant, Station 2, and both spots have always been great supporters of VA Cider," Ahnmark says. At Oak & Apple, there are 10 taps (!) dedicated to cider, with a nice mix of local and national options, as well as a cider shandy cocktail. Pair any of those with a meat from the smoker or a plate of vegan BBQ jackfruit tacos. 1814 E. Main St., Richmond, VA; (804) 477-3055.
At Station 2, there are less cider options, but always something on draft, and some great options on the cans and bottles list. The food menu is focused on gourmet burgers, with a build-your-own section and a selection of creative house-made burgers. We've got our eye on the "Ballpark," a burger topped with a literal hotdog, as well as sautéed onions, smoked gouda and habañero stone ground mustard. 2016 E. Main St., Richmond, VA; (804) 249-4702.
For a casual cafe that offers cider, beer, wine and kombucha, Ahnmark points to Union Market in Richmond's Churchill neighborhood. Scoop up one of its drool-worthy sandwiches, soups or salads to enjoy there or take away, and don't forget to check out its to-go beverage options and gourmet snacks to keep your AirBNB or hotel room stocked. 2306 Jefferson Ave., Richmond, VA; (804) 716-7233.
Café Zata in Manchester, a neighborhood just south of Downtown, is a nice breakfast and lunch spot, with classic options like bagels, deli sandwiches, hearty salads and more. Coffee made with locally-roasted beans is always hot and fresh, and this spot has a four-tap draft system that always has Blue Bee Cider as an option. 700 Bainbridge St., Richmond, VA; (804) 918-2243.  
Bottle Shops
Want to take a fun selection of ciders home with you? There are a couple of extra cider-friendly bottle shops in Richmond that Ahmark recommends:
Corks & Kegs may call itself a fine wine and craft beer shop, but it has plenty of cider to offer as well. On its well-stocked shelves, you'll find a wide selection of local producers alongside craft ciders from across the US. Don't forget to give a little pet to Duke, the adorable shop dog. 7110 A Patterson Ave., Richmond VA; (804) 288-0816.
Another place to poke around for packaged ciders is Ellwood Thompson's, an independent, organic market that specializes in local produce and goods. There's a juice bar and hot bar on-site, beautiful produce department, a bakery that has delicious gluten-free options, a fabulous cheese department and a wine, beer and cider department. What else could you ask for? It's wines are from small producers, and all of its beer and ciders are defined as "craft" by the Brewers Association of America. TL;DR: No macro brands or mass-produced cider at Ellwood Thompson's!
Other Beverages
If you're into exploring other beverages besides cider, Ahnmark says that within a stone's throw of Blue Bee in Scott's Addition, you'll find everything you could want! Here are his top picks for nearby beer, wine and spirits: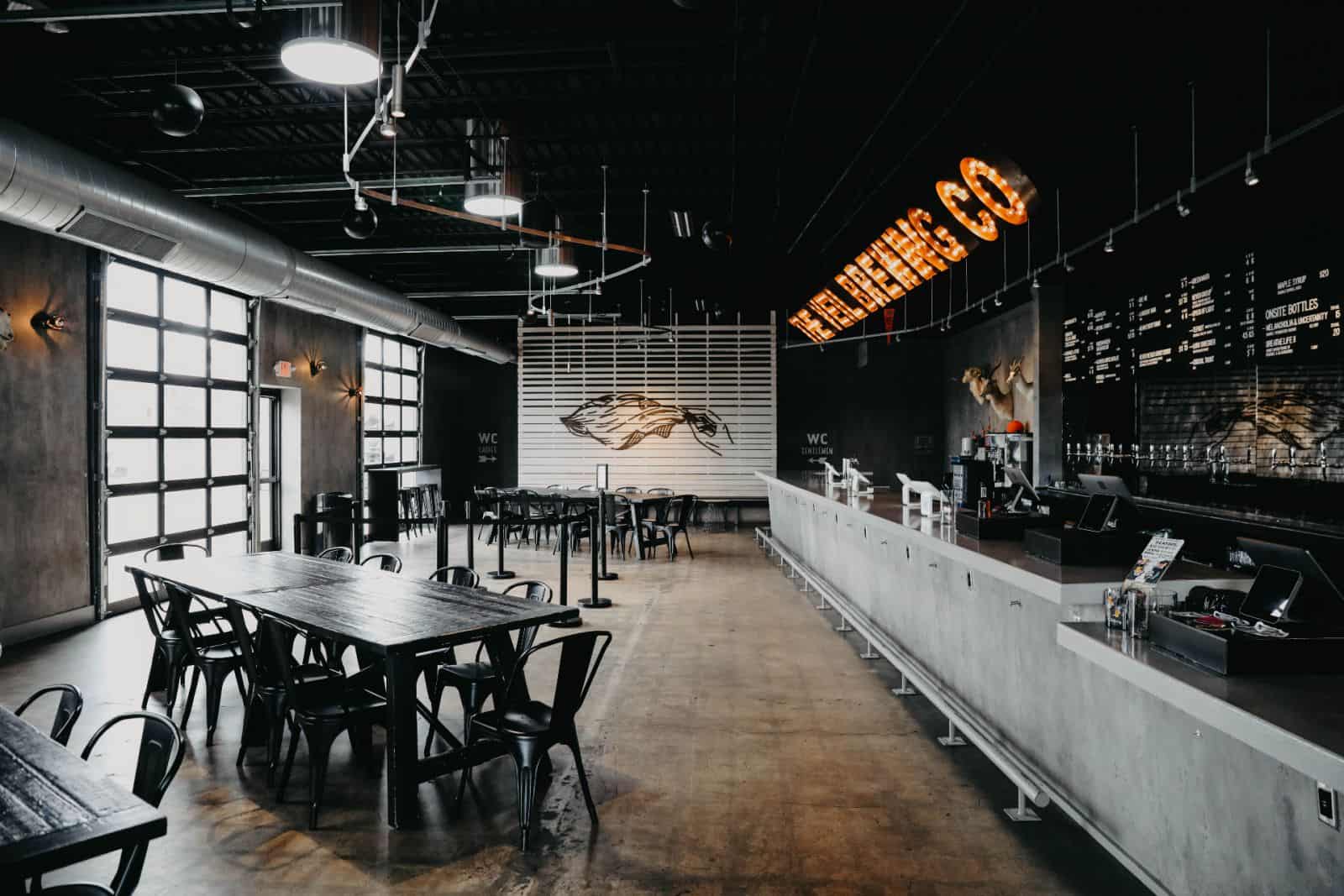 The Veil Brewing Company is a well-known spot to craft beer fans, and its sleek, huge taproom in Scott's Addition is its original location. There are tons of options on tap, and food trucks outside nearly every day of the week. 301 Roseneath Rd., Richmond, VA; (804) 355-5515.
If you dig wine from time to time, check out Brambly Park, an urban winery with a kid- and dog-friendly two-acre outdoor space and an Italian restaurant on-site. The wines are made with local grapes, as well as grapes from Oregon and California, and the beverage menu also includes cocktails, beer and a cider or two. Make a resevation on Resy. 1708 Bellville St., Richmond, VA; (804) 406-5611
Reservoir Distillery is a craft distillery in Scott's Addition specializing in bourbon and rye. Established in 2008, this small-batch operation prides itself quality; all of the grains it uses for its award-winning spirits come from within 45 miles of the distillery. Visit the tasting room for cocktails and bottle sales. 1800 Summit Ave., Richmond, VA; (804) 912-2621.
There's even a meadery in Richmond! Black Heath Meadery supports local beekeepers and bee populations with its handcrafted products. It offers sessionable carbonated meads in cans (we like the sound of the Pompelmo Reflection, with grapefruit and Italian basil), as well as more traditional sweet mead, like The Muse, made with 100% Virginia honey. Grab a spot at its small bar or shop for libations to-go. 1313 Altamont Ave., Richmond, VA; (804) 998-7090.
Willing to Travel a Little Further?
If you're down to taking a little trip outside of Richmond, or perhaps stopping somewhere on your way in or out of town, there is lots more to find!
Courthouse Creek is just a 30-minute drive west of Richmond in Dutchland, VA, and Ahnmark urges everyone to check it out. "This legit farm cidery has an orchard and they make rustic, all-barrel fermented cider, a beautiful setting," he says. "It's a must if you want that cool VA farm feel, and a little more unique and challenging styles of cider." Plan a visit to enjoy an array of ciders in the lovely tasting room, covered outdoor patio or in the orchards, along with some bites prepared by the cidery's in-house chef. 1581 Maidens Rd., Maidens, VA; (804) 543-3157. 
In Ashland, VA, an old railroad town about 20 mins north of Richmond, Ahmark loves The Caboose Market & Cafe, a restaurant serving farm fresh fare with a nice selection of ciders. 108 S. Railroad Ave., Ashland, VA; (804) 798-2933.
Ahnmark also notes that not too far west of Richmond (just about an hour), is Charlottesville. "That's essentially the heart of Virginia wine country, and in addition to all the wineries, Potter's Craft and Albemarle CiderWorks are out there with beautiful tasting rooms."  
Outdoor Activities
"We have a lot of really cool outdoorsy stuff in Richmond!" Ahnmark tells us. If you need a break from eating and drinking (hey, it happens!), he suggests Maymont, a 100-acre Victorian estate and park by the James River that was bequeathed to the city a century ago by a wealthy couple. The expansive grounds include an arboretum, gardens, a nature center and Children's Farm and more! 1700 Hampton St., Richmond, VA: (804) 358-7166.
For a great hike, check out Belle Isle, a small island in the James River that is home to one of the city's longer hiking trails, including a walking bridge with a great view of the city. It's also a local favorite spot for fishing, kayaking, rock climbing, mountain biking and sunbathing. It is also wheelchair accessible.
Plant people! Don't miss Lewis Ginter Botanical Garden, which is open year-round. With over 50 acres of outdoor gardens, an indoor observatory and a full calendar of events, this is a popular destination. 1800 Lakeside Ave., Henrico, VA; (804) 262-9887.  
Ready to rock Richmond, VA? We wish you safe travels and happy exploring, with plenty of amazing local cider along the way!
All other photos: Courtesy of their respective businesses