Hans Edwin Winzeler, a cider maker with Pennsylvania-based Ploughman Cider, is currently spending a 10-month sabbatical in Herefordshire, England. Through employment or volunteering with local producers this season, Hans is able to see firsthand what methods, techniques and practices they use. He's also gotten to know a few of these cider makers, and he is conducting a series of interviews for Cider Culture to share their stories. The first is a conversation with Mike Johnson and his son Albert of Ross-On-Wye Cider and Perry Company.
The UK is the largest cider producer in the world and consumes the most cider per capita. Herefordshire, about 150 miles northwest of London, has been at the center of UK production for centuries. It is home to many small and several large producers, including Bulmer's (now Heineken), once and perhaps still the largest cider producer in the world. The earliest written reference to cider in English is the Wycliffe Bible (ca. 1390, Proverbs 31: "Give ye cider to them that mourn…") found in the library at the Hereford Cathedral, where valuable books are chained to the shelves.
With such a rich history, cider making in Herefordshire has gone through many changes. Perhaps it makes sense for the rest of the cider making world to look to Herefordshire to learn what lessons it can.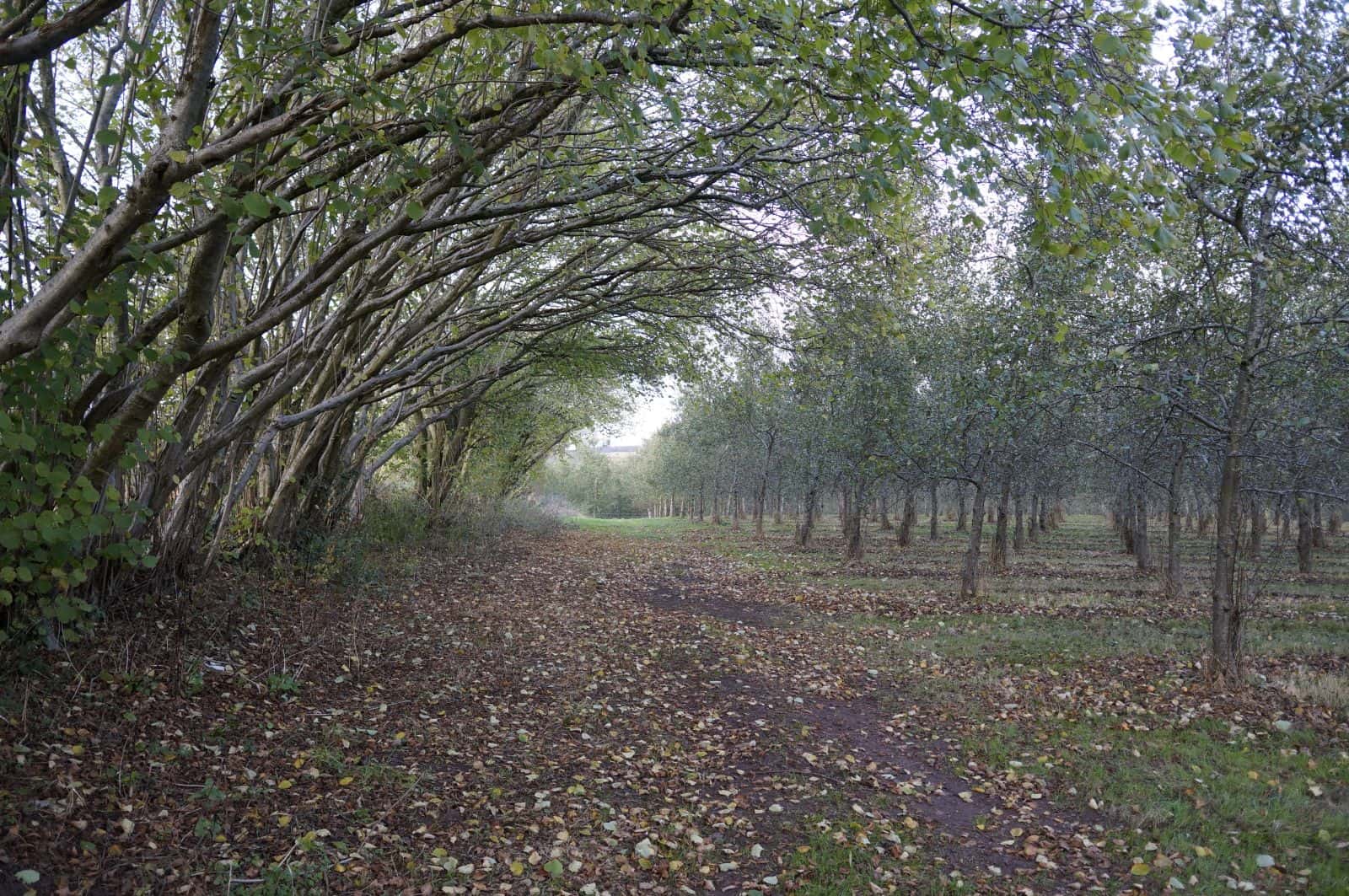 The Ross-On-Wye Cider and Perry Company, run by the Johnson family, has been making cider and perry since the 1930s. Mike Johnson has won several awards, including the prestigious Queen's Diamond Award for Excellence in Food and Drink. He is incredibly welcoming, unassuming and personable and has mentored and taught cider makers throughout the world.
The cidery is located at Broome Farm, which sits below May Hill, with its stand of pine trees planted on it in 1887 to commemorate the Golden Jubilee of Queen Victoria.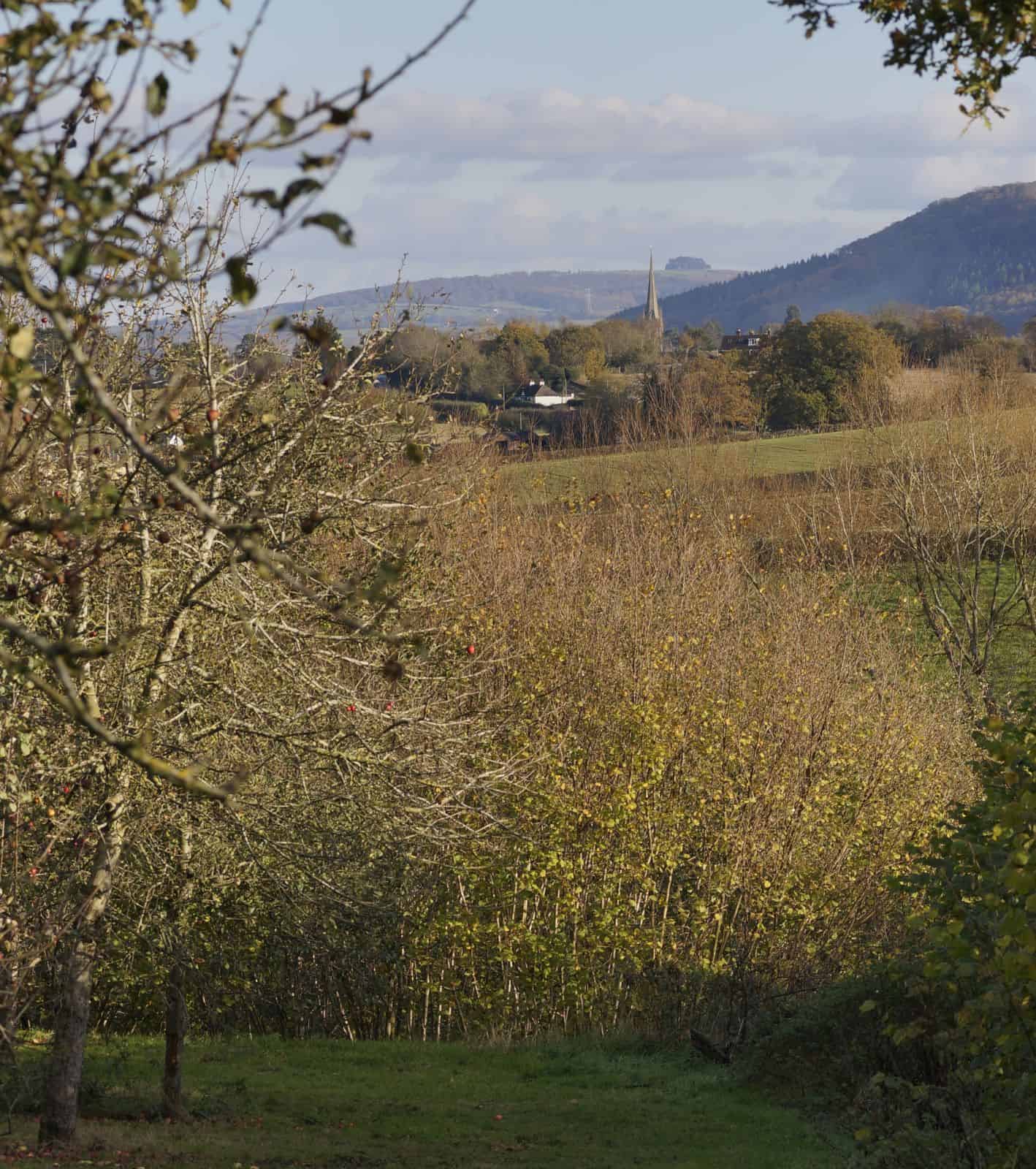 According to legend, the best perries are made within sight of  May Hill. Neighbors collect pears from the large pear trees there and sell them to the Johnsons. This year, they were able to obtain enough of the rare Flakey Bark pear to make a barrel of single-variety Flakey Bark perry. Flakey Bark is so rare that it is believed the only remaining specimens are the handful of majestic trees found on May Hill.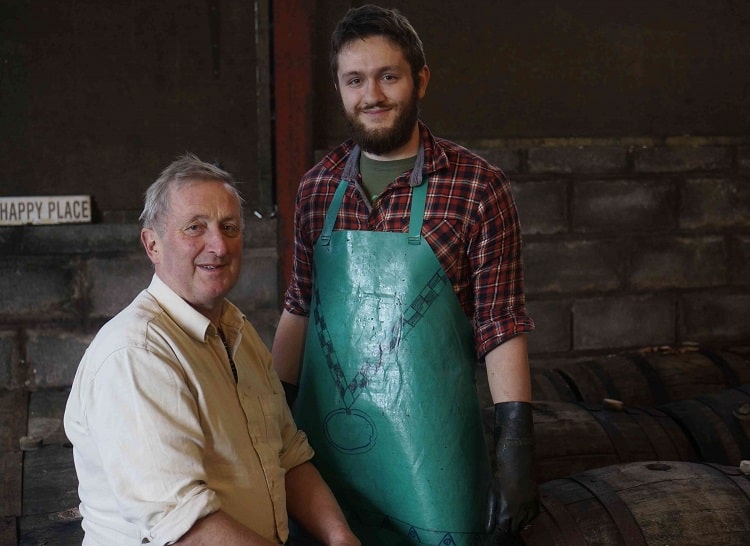 In this interview, I spoke with Mike and his son Albert about several topics, including the tradition of cider and perry making at their farm, cider apples and perry pears, their preferences for the ciders and perries they make and about the future of their business.
Hans Edwin Winzeler: How much of a role does tradition play in the decisions you make at the cidery?
Albert Johnson: I wouldn't say we do anything here because it's tradition. When we do things the way they have been done for a long time it's because that's the best way to do them. When we make a single-variety dry cider, it's not that we are trying to keep to tradition. It's because that's the best cider that we think we can make.

I believe that when you can get good cider without adding anything or trying to force it to be something other than what it is, there's just no point in doing it any other way. Our cider is superior to more engineered, commercially-driven cider because we let the cider tell its own story.

Mike Johnson: We used to [pitch yeast], but I started to leave the odd barrel without putting a yeast culture because it seemed to be working well. Eventually, we went to all with wild yeast because—it's probably my imagination—sometimes they seemed more interesting and complicated, as opposed to putting in an industrial yeast and everything having a similar sort of taste. (…) People do say that Broome Farm cider has a certain distinct taste and it may be due to the natural wild yeasts that we have here.
You have a tremendous variety of apples and pears grown on site: 120 varieties of apple and 30 varieties of pear. And you have an extremely wide product range. How did that come about?
MJ: When I was buying my trees, if Bulmer's had anything extra, I would buy them. I would buy things like Ashton Brown Jersey and Ball's Bittersweet, things that weren't grown for Bulmer's. And I kind of had more of an obsession with planting varieties than with making the ciders at the time. In the end, it has worked out really well because now I have a choice of making ciders and perries from many varieties. What we do is make them interesting to give people an experience and a range of flavors, which is a long way from sweet and fizzy. There are so many interesting apples.

We decided on this way of doing things because we know we can't compete with the industrial ciders and the big cider makers. We decided that we would do small batch cider and try to make it interesting, especially with juice content. We like our ciders to be a minimum of 80% juice; a lot of them are 95 to 100% juice. Sometimes we dilute with water to get the alcohol level down. Not very often, but occasionally, some ciders are improved with dilution, or made more acceptable to the general public, anyway.

AJ: It's a lifestyle rather than just a business. We make single varieties. If you make 50,000 liters of a single blended cider, then you have only one cider. What are you going to taste that whole year? For us, every time we go in the cider barn we get to decide what to bottle. The ciders are all going to taste different.

Even if the cider itself is not going to be a 10 out of 10, it highlights something different that means you can enjoy all the other ones as well. They all exist in the context of each other. If we only had one, a single-variety Dabinett and that's all we made, well it wouldn't really be that special. There's just no comparison when you put it like that, if you want to actually enjoy what you do.

MJ: Cider that's made from really good apples and properly matured, it should be more like a wine than an apple juice. In the end, you have to make what you'll enjoy making and be proud of, because then you're not afraid to sell it.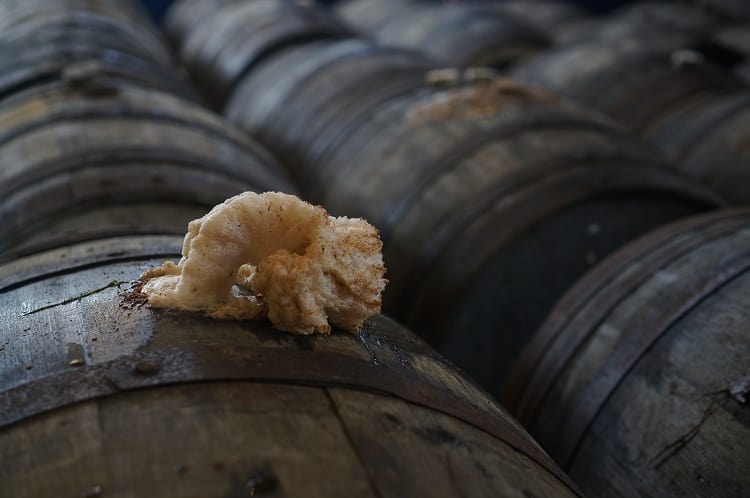 What is your favorite cider or perry to make/serve?
MJ: Bottle-conditioned dry bittersweet. Those ciders are really good. People get it. The bittersweets are fairly easy to drink. It's hard for me to make other styles because that's the one I like.

Of course, a lot can be good, if it's good fruit pressed at the right time. Somerset Redstreak is the greatest example because it's green and red, but it develops this kind of orange glow when the fruit are ripe. You know the cider's going to be so much better. It's true of Ashton Bitter, too. People pick them early because they'll come off the trees, but the later ones that have gone orange and red they are the best. That's my personal taste, probably.

I have this theory that if you're lucky you just press the majority of your fruit at the right moment. Who's to say when that is? Collecting the whole lot up at once, when half are unripe and half are overripe, is not a good way to go. Who knows when the right moment is? That's the nicest, when you have a trailer of apples that you know are just how you like them, not underripe, not overripe. You have a chance that they will make really good cider.
AJ: My favorite cider apple is Brown Snout. It always smells really earthy, like a proper traditional cider. It has very little acidity, if any. We've got a cider we call Bridgewell Beauty, which is 80% Brown Snout and 20% apples from our Bridgewell orchard. That's an exceptional cider. Basically, all the Brown Snouts we've ever made, I've really enjoyed.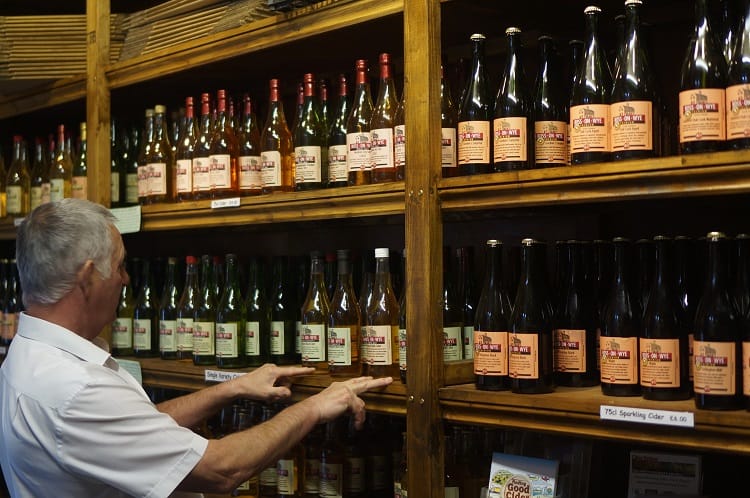 And perry?
AJ: Apples are best blended, but perry pears work as single varieties and should be served as single varieties. I really like Brinsop. I have a fondness for Gin pear. If someone has never tasted cider or perry before and they have a Gin perry they will like it. Judge Amphlett is also really nice.

When you look at cider cultures in other parts of the world, what lessons do you think they can learn from your experience?

AJ: Other countries that are just starting to discover cider sometimes find it way easier to appreciate good cider than people in the UK do. Because there's so much cider here, and there's so much poor-quality cider, people in the UK don't really notice cider for what it is. But, we've been exporting to a small distributor in Nova Scotia, so the fact that he's getting the quantities from us that he's getting shows that people there must really like it. That's promising.
Advice and lessons?
MJ: Be as genuine and authentic as possible, and make a product you can be proud of.
What's the future like for Ross-On-Wye Cider and Perry Company?
MJ: I want to step back from the company because I don't want to interfere. I'm just about to come to retirement age, pension age, and I've never felt like I really knew what I wanted to do all my life. And I'm sure that's true of masses of people. You end up doing [things] because you have to. I hadn't intended to be a cider maker, but it just came about because of the farm and the way things were. If you do something, you have to try and do it as well as you can, find your own way in it, I suppose.

AJ: The future, in terms of ROW cider, is sustainability — composting, sustainable methods, solar panels — making sure the farm stays viable for years to come. Sustainability, to me, is one of the most important things. If we can do things in a way that means we're still going to be able to do them in 20 years time, that's the way we should do it.
Learn more about Ross-on-Wye and its award winning on-site pub, The Yew Tree Inn, by visiting its website and Facebook page!
Want to read more cider maker Q&As? Check out our interviews with Mark Deno of Atlanta Hard Cider Co., John Kowchak of Original 13 Ciderworks and Virtue Cider's Seth Boeve.