At its core, cider is an agricultural product. Without healthy land and productive orchards, this beverage that we love so much isn't a possibility. Whether a cider maker is growing their own fruit or sourcing from nearby farms, they understand as well as anyone who is making a living off fruits and vegetables, the true consequences of a bad growing season or a surprise bumper crop. As weather patterns become increasingly unpredictable — with sometimes disastrous results — the fragile systems which provide us with food become compromised.
There are a growing number of cideries and cider makers who are responding to this reality by making their operations more sustainable. This might mean small steps, like recycling and composting, or bigger achievements, like reaching zero-waste status or implementing biodynamic practices in the fields. One significant investment that we've noticed a number of cideries taking is installing solar panels to power their operations with clean energy. Here are five solar-powered cideries in the US:
Lookout Farm Brewing & Cider
Lookout Farm Brewing & Cider Co. is a family-owned farm in South Natick, Massachusetts, that offers U-Pick fruit, train rides, farm animals, seasonal events, a taproom with community-oriented programming and its own beer and cider making operation. The brewery and cidery is totally run with solar power, with panels installed by RevoluSun. This is just one component of Lookout's commitment to preserving the environment and its land as a sustainable, viable farm. Its homegrown hard cider offerings include a handful of rosé ciders, including Back to the Fuchsia with dragon fruit and prickly pear, an oak-aged cider called 1651 and Hop Up, a dry cider hopped with El Dorado and Mosaic. The Lookout Taproom is open year-round (even when the farm is closed for the winter); hours are Tuesday and Wednesday from noon to 9 p.m., Thursday, Friday and Saturday from noon to 10 p.m., and Sunday from noon to 7 p.m. 89 Pleasant St., South Natick, MA; (508) 651-1539
North Canyon Cider Co.
Whether you are cracking a can of Original Dry, Dry Hopped or Ginger Pineapple cider from North Canyon Cider Co. (the in-house hard cider brand from Barsotti's Apple Cider), you'll be drinking a beverage powered by the sun! Each one is also made with fresh juice pressed daily at its family-owned, solar-powered cider mill, surrounded by beautiful rolling orchards in the Sierra Nevadas of Northern California. The ciders are gently fermented, aged and bottled at North Canyon's mountainside cider house. Two acres of solar panels (installed by Premier Power) to help run the mill, keep the family-run operation clean and green! 3541 North Canyon Rd., Camino, CA; (650) 520-4349.
Ragged Hill Cider
Ragged Hill Cider makes small-batch, heritage-style ciders made employing traditional methods with no added sugar. The apple varieties Ragged Hill grows, like Golden Russet, Dabinett, Baldwin and Roxbury Russet, are pressed, fermented and bottled at its 100% solar-powered orchard and cidery in West Brookfield, Massachusetts. Inspired by his memories of homemade cider he tried as a youth at a friend's house and the discovery of French cider, cider maker Steve Garwood crafts fine, expressive ciders in styles like Honeycrisp, Rasé (rosé with estate grown raspberries) and Traditional Dry. 94 John Gilbert Rd., West Brookfield, MA,; (508) 410-7100.
Sun Dog Cider
Located in bucolic Chatham, New York, Sun Dog Cider makes handcrafted, unfiltered hard cider in a 100% solar-powered mill, housed inside a century-old former paper mill. Its refreshing cider is traditionally fermented from a blend of locally harvested apples from the Hudson Valley, using captured CO2 to promote carbonation. The company was founded in 2013 by Jody Rael, an entrepreneur, inventor and environmentalist and owner of three other companies: Kling Magnetics, Sundog Solar and Solaqua Power and Art. It was working with other farmers in the region to install solar technology that gave Rael the idea to explore making craft cider. With one product under its belt, Sun Dog hopes to add more solar-powered beverages, like perry, other ciders, and non-alcoholic beverages to its lineup in the future. 343B Route 295, Chatham, NY; (518) 392-4000.
Virtue Cider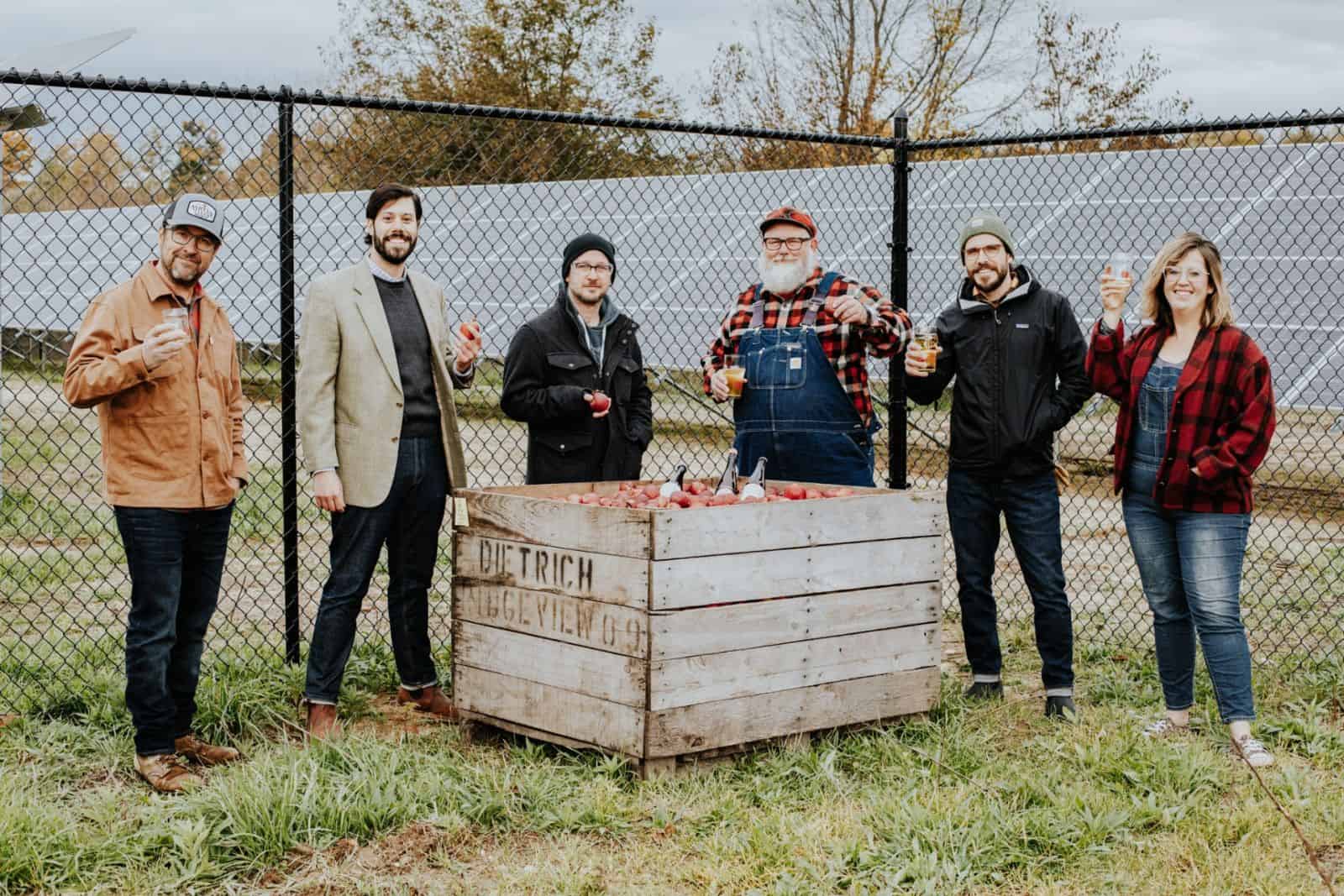 Virtue Cider in Fennville, Michigan is one of the newest cideries to join the solar gang. In October 2019, it installed a 78-kilowatt solar array next to its cider houses, which means that more than half of its purchased electricity will be coming from renewable sources. That's the equivalent to 150,000 pounds of CO2 avoided each year! Virtue's solar array includes 200 panels installed on the north side of its "Cider House 1," which will help offset the company's already very low electricity use for its cider making and farm operations. The array will be capturing over 100,000 kilowatt-hours of renewable electricity each year, making a significant contribution to Michigan's Renewable Portfolio Standard, a goal to produce 15 percent of all electricity from renewable sources by 2021! 2170 62nd St., Fennville, MI; (269) 722-3232.