There once was a time when cider made from rare apple varieties were only available in large-format bottles, dressed up like wines with austere or elegant labels, and perhaps even a cork and cage closure. But as the cider industry evolves into the second decade of the 21st century, a cool new trend (or maybe more than a trend) is emerging: heirloom ciders in cans, a casual and approachable presentation that we are feeling.
One new example is Stormalong Cider's Heirloom Variety 4-pack, a part of the Massachusetts-based company's Rare Apple Series. Inside the slickly-designed pounder cans, you'll find four distinct, dry ciders made with New England heirloom apples.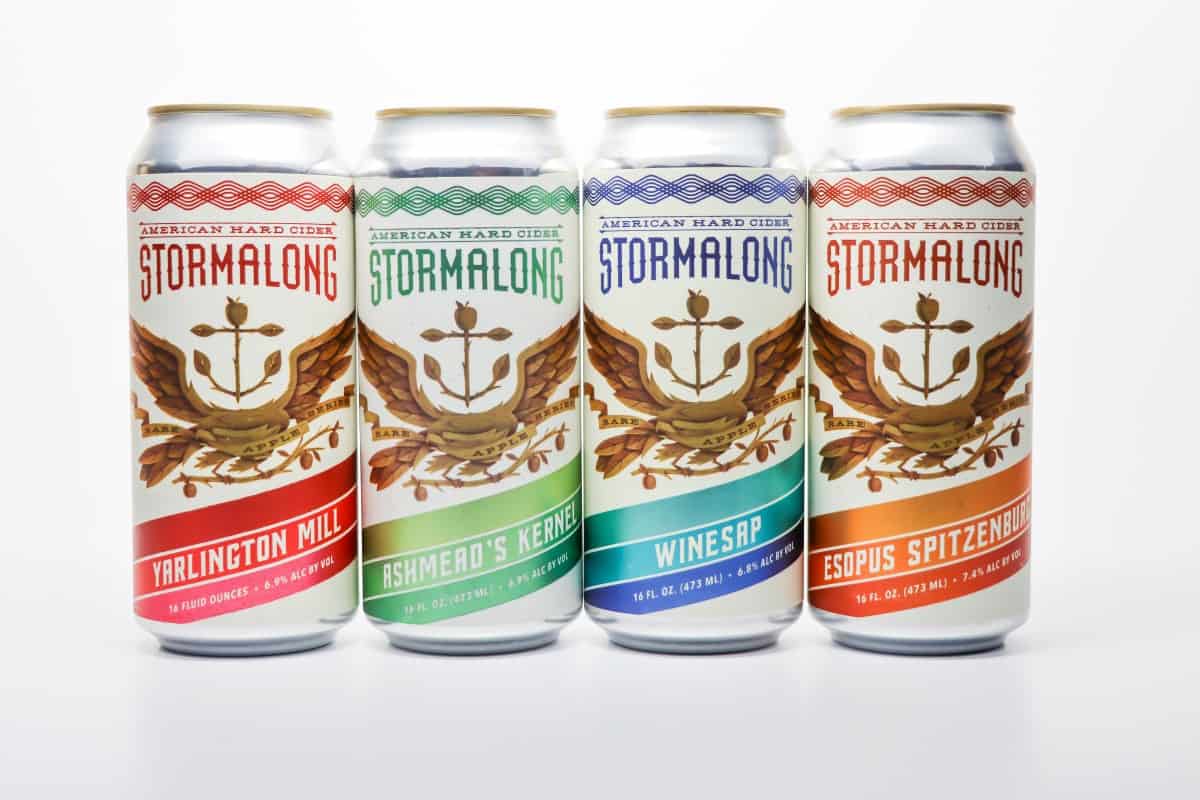 The variety pack invites you to taste your way through exciting and obscure-ish varietals, all grown in New England:
Yarlington Mill: A blend of Yarlington Mill, Kingston Black and Wickson apples. Rich, with a bold tannic structure from the bittersweet and bittersharp apples. On the palate, find an aged, caramel-like acidity and a slightly mineral character.
Ashmead's Kernel: A blend of Ashmead's Kernel, Roxbury Russet and Knobbed Russet apples. Walking a fine balance between rich flavor and tart and tangy acidity. This cider highlights the fruit with fewer tannins.
Winesap: A single-varietal made with 100% Stayman Winesap apples. Crisp and fruit-forward with notes of jammy strawberry.
Esopus Spitzenburg: A blend of Esopus Spitzenburg, Calville Blanc D'Hiver and Chisel Jersey apples. Rich, well-rounded acidity gives way to a complex layered finish. This cider also highlights tannins and astringency.
"The seemingly unlimited potential in the thousands of apple varieties was something that fascinated me about cider right out of the gate," said Shannon Edgar, founder of Stormalong Cider. "Fortunately, in New England, we still have a significant amount of 'heirloom' or sometimes called 'antique' apple varieties still in the ground. We're rediscovering and just scratching the surface in the United States on the history of cider and apples, with some varieties originating as early as the 1600s. Just like wine and famous grape varieties, cider can yield impressive results when made with unique apples grown with high levels of acidity, sugar, and tannins. One of cider's biggest challenges is educating consumers about these possibilities, and elevating the perception. This is one of the goals of the variety pack, and we're excited for people to experience all the different blends."
The Heirloom Variety 4-pack is a limited seasonal release, which will be available in Massachusetts, California, Connecticut and Rhode Island. If you live in one of these states, use Stormalong's Cider Finder to locate a retailer near you. Another way to get these ciders, and others in Stormalong's Rare Apple series, is to join its Rare Apple Club. Members receive two shipments a year of a variety of small-batch ciders that include limited releases, special collaborations and limited amounts of Stormalong's vintage cider. It also guarantees first dibs to members on new product releases and limited small batch ciders before they are released to the public. Check out Stormalong Cider and follow along on Instagram to keep up with everything the cidery has in the works!