Our Women Making Waves in the Cider World series continues with another deep-dive into one company's female-positive hiring practices. Where in earlier features we focused on women working in the cider industry, based on geographical region, we wanted to shine a spotlight on medium-to-large cider companies that employ women in high numbers, and in all types of positions. For a look at some of our other features, see our stories about Citizen Cider in Vermont and Half Pint Ciders in Southern California.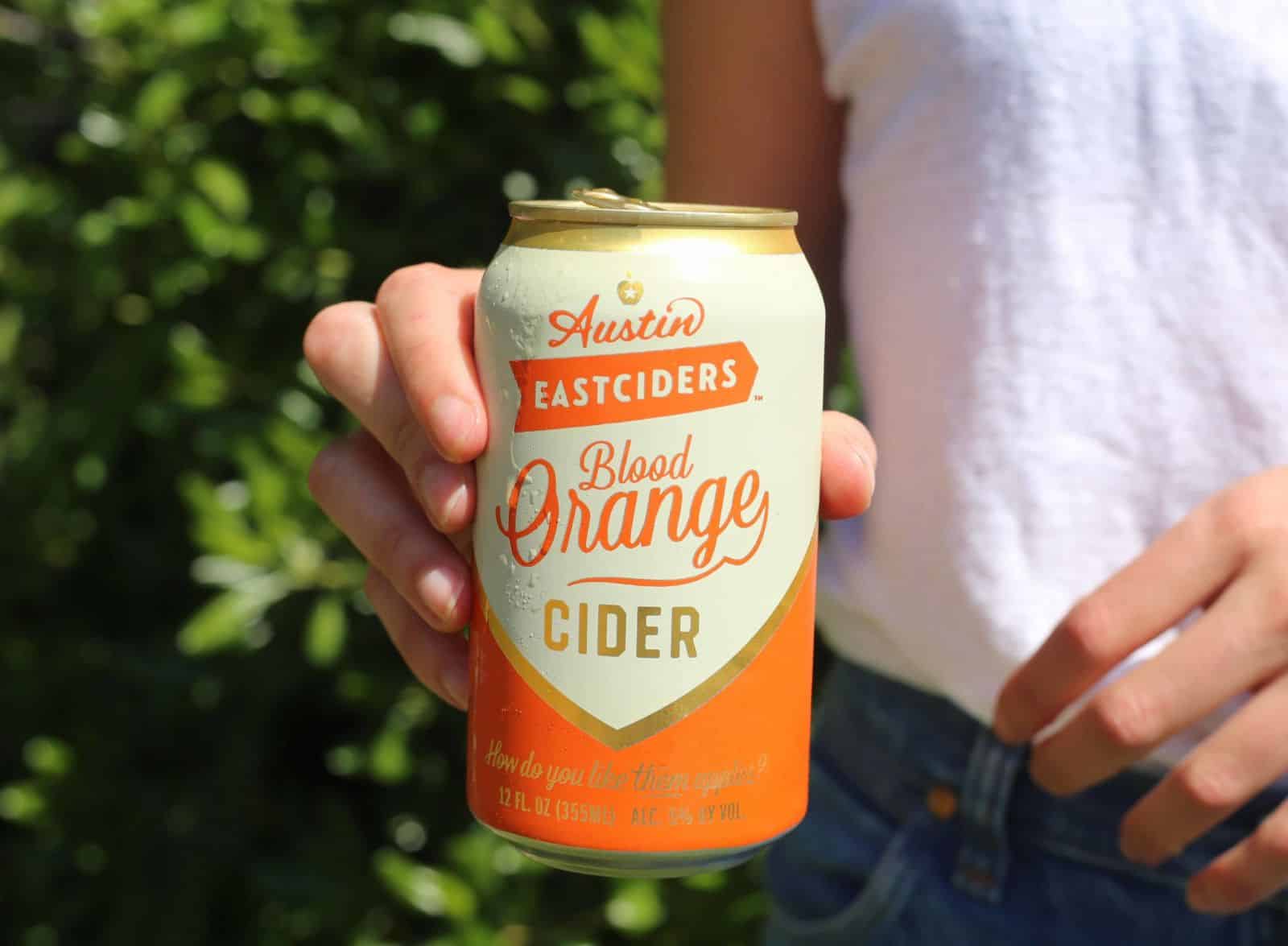 So, let's meet some of the folks working at Austin Eastciders, a fun, easygoing cider brand (its motto is, simply, "Cider, Y'all"), founded in Austin, Texas in 2013. What started as a small operation has now grown to include distribution in Texas, on the East Coast from Connecticut down to the Carolinas, as well as Tennessee, Kansas, Missouri, New Mexico, Arizona and Oklahoma. Its cider lineup has expanded from Original Dry to include a range of tasty flavors, from Hopped to Blood Orange to Texas Honey, as well as seasonally specific releases, like Spiced and Lemon Ginger.
Meet five employees at Austin Eastciders, five women who are making waves in the vibrant, eccentric city of Austin and beyond:
Brittnay Perlo, Master Cidermaker & Quality Manager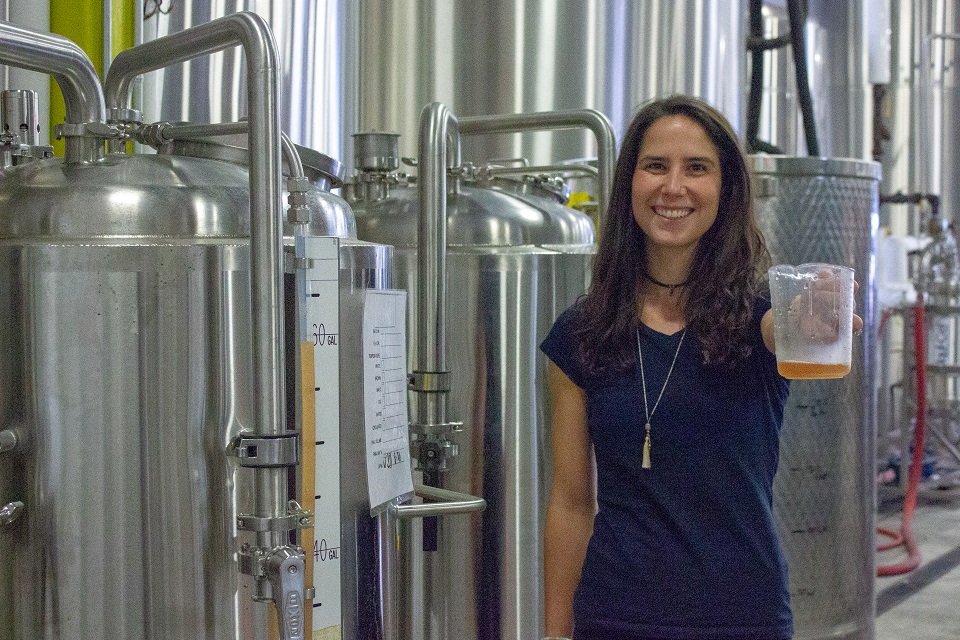 Most days for Brittnay Perlo are spent in Austin Eastciders' lab "doing a lot of chemistry and striving to improve our cider and processes. I am constantly working on the newest Austin Eastciders creation!"
She joined the company in May 2015. She used to live in New York, but after a visit to Austin, she discovered Austin Eastciders Original Dry Cider and was hooked. "It was like nothing I had ever tasted!" she says. "After I received my Master's in Chemistry, I thought there was no better way to apply it than crafting delicious cider for a great company!"
She loves working on a collaborative team of people all striving to make good cider! "Everyone is unique, and that's what makes working here so much fun," Perlo says.
She's proud to have created and helped launch numerous new ciders for Austin Eastciders, and she says she tries to bring her A-game to the lab every day. "Austin Eastciders is, and has been, a fast-growing company since I started three-and-a-half years ago, and keeping up with that can be tough!"
She applauds Austin Eastciders for employing many women in leadership roles. "I feel as though we are respected, valued, and contribute to the success of the business every day."
Katie Schutze, Senior Controller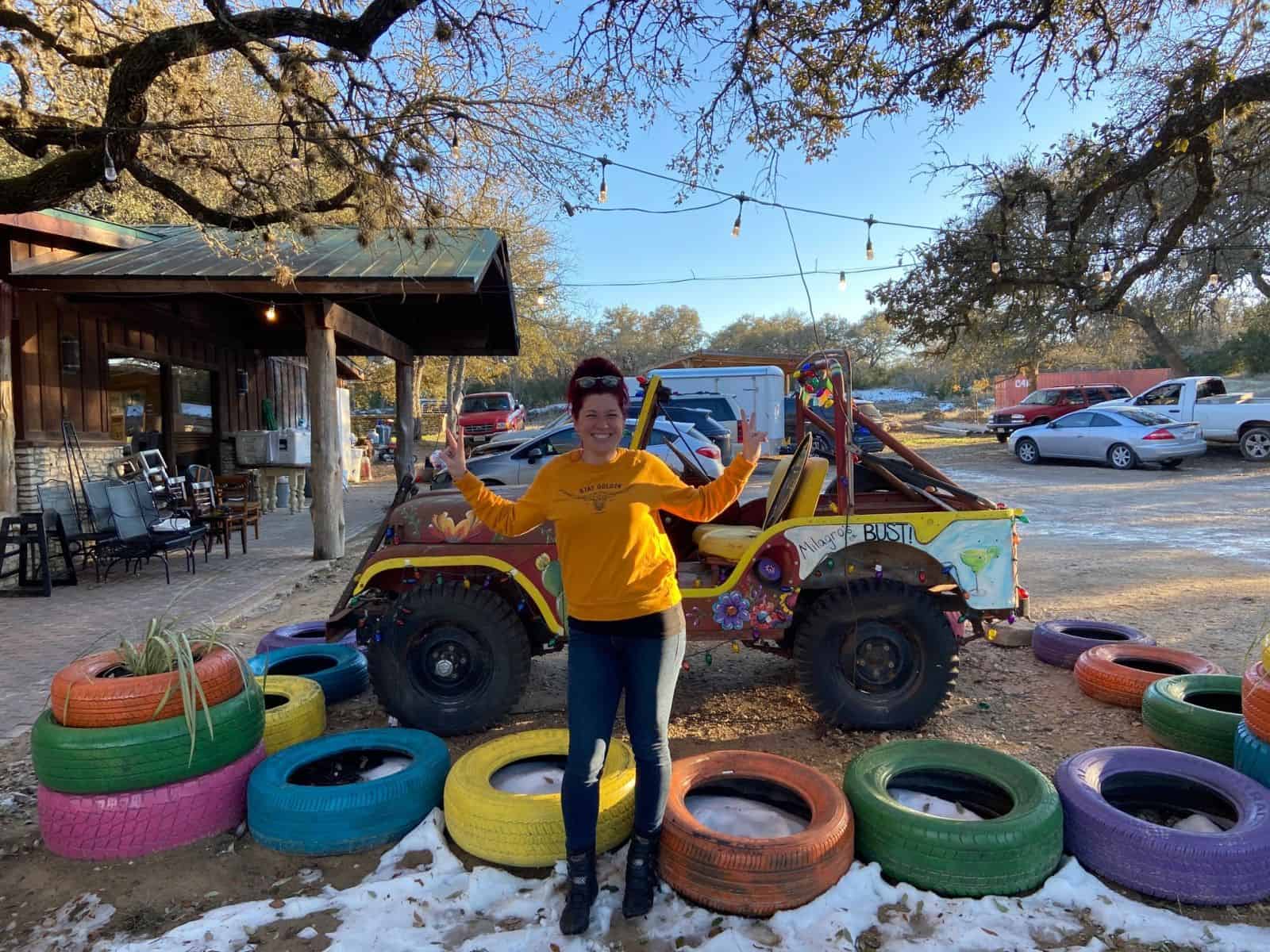 Numbers and data-crunching are what Katie Schutze spends her time with at Austin Eastciders. She's been a member of the Accounting and Finance department at the company for two years, providing accurate and timely information to other departments to empower them to make informed decisions.
"Gross Margin by SKU, costing for new product development, and monthly spend by department are examples of details I provide to help guide the leadership team as they move the company forward," she says.
While, even for a CPA, she admits it can be "hard to be passionate about accounting," she's proud of how she's been able to improve the communication between accounting and other departments.
"Accountants aren't always the most outgoing, but I'm fortunate to have the gift of gab and believe that you don't have a solid foundation without communication."
Schutze's love of cider began during her honeymoon touring the Basque region of Spain. She and her husband visited the Petritegi cider house and enjoyed an amazing lunch and "all you can drink" experience. The crisp, dry and funky ciders were unlike anything she'd ever had before.
"We later ended up in a back room with two older men who appeared to be cider veterans. They showed us how to properly catch the cider into your glass (usually from five feet away) and then spit it out so you have room for more. I felt like I was in the most-exciting alcoholic carnival game, and I never wanted to leave!" she remembers.
She loves being part of Austin Eastcider's hardworking, collaborative team who don't mind wearing multiple hats and also truly care for one another.
"During the Texas 'snowpocalypse', people who were fortunate enough to have water brought some for employees who were without it. Last week, the head of HR went to one of our locations and re-vamped all of the plants that had died due to the unprecedented cold weather. It's refreshing to know that I'm part of a team with such a strong work ethic and united front," Schutze says.
In general, she'd like to see more women involved in the production side of the cider business. She calls AEC's Master Cidermaker, Brittnay Perlo, "one of the most intelligent, creative people I know and I'm always in awe of the products she develops."
Regina Waldo, Senior Human Resources Manager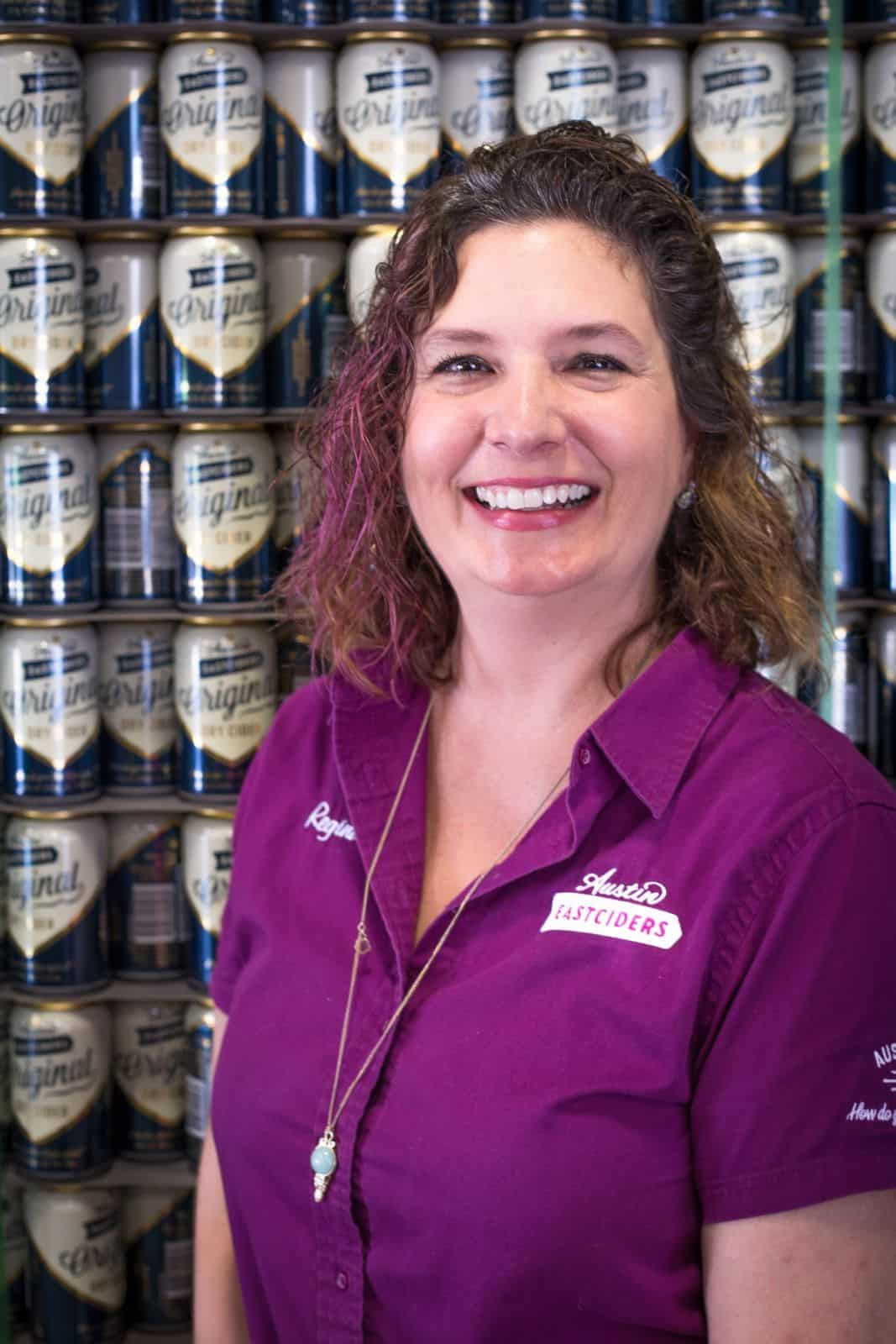 Since July 2015, Regina Waldo has been heading up Austin Eastciders' HR department, mostly spending her days working on benefits for the team, payroll, coaching, and occasionally even solving some IT problems. As the team is relatively small, she wears a lot of hats and supports many departments. She joins the leadership team meetings and often starts days at AEC's taproom and ending the days at the production facility. A member of the company since the beginning, she helps to care for Austin Eastciders' "secret ingredient, which is our people."
"I believe when people are happy and healthy they give their best to their personal life and, in turn, give their best at work," Waldo says.
Austin born and raised, she first discovered Austin Eastciders at a BBQ festival, where she was given a sample of Eastciders Original and was "hooked from the first sip." A month or so later, she was given the opportunity to consult with Eastciders on some HR needs and jumped at the chance to help them.
"Everyone was so great to work with, so when they needed help full time, I happily accepted the offer to join the team," she remembers.
In her six years (so far) with the company, Waldo takes pride in the personal growth she's achieved while there. She names her biggest challenge as tempering her perfectionism, learning not to second-guess herself, and instead moving on to the next project.
"I have been able to pursue my HR career and turn it into something I love waking up to do! I would not be where I am today without the support I have had from this great team," she says.
When it comes toward creative a more inclusive, diverse craft cider industry, Waldo believes that it all starts with creating a hiring funnel that seeks out diversity and welcomes people from outside the industry.
"When we shake things up and bring lots of different perspectives into our team, we'll be better equipped to conquer the many challenges we face as a company and as an industry," she says.
Hayley Budden, Texas Field Marketing Manager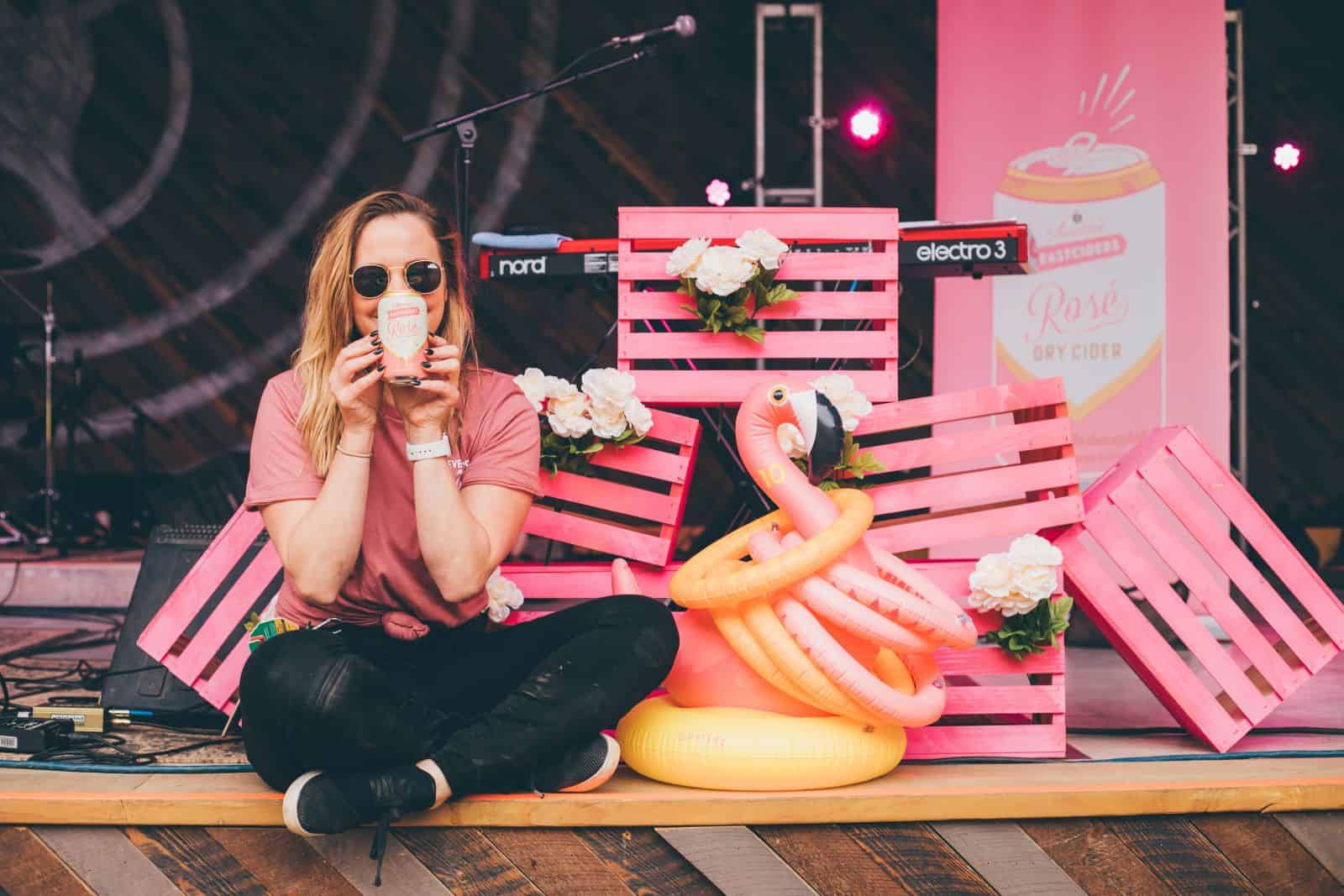 For three years, Hayley Budden has worked as Texas Field Marketing Manager for Austin Eastciders, and she says that there's never been a dull moment.
"Some days, I am coordinating marketing partnerships, finalizing sponsorships, and executing events. Other days, I'm partnering with local and national influencers and media, working on our e-commerce platform, and setting up retail demos with our brand ambassador teams across the state," she notes.
Budden entered the beverage industry in college and was immediately hooked. After working in sales for a global spirits company for a few years, she found her home with Eastciders in the field she's always been passionate about.
In the "inclusive, engaging and youthful" culture at AEC, she says there is "no glass ceiling for sharing creativity." She's always encouraged to share new ideas with her team, and feels valued and heard in her role at the company. Even during the COVID-19 pandemic, she's been able to pursue professional growth, adapting to different roles and learning how to be more creative in marketing to the unprecedented situation.
When it comes to equality and diversity, Budden thinks Austin Eastciders is doing a great job.
"In order to be inclusive, it takes the entire team to do their part in showing empathy and compassion. For example, in a non-pandemic world, we have weekly company lunches where we can interact with every department and really learn from one another. It's one of my favorite days of the week," she says.
Kiersten Abshier, District Manager for South Texas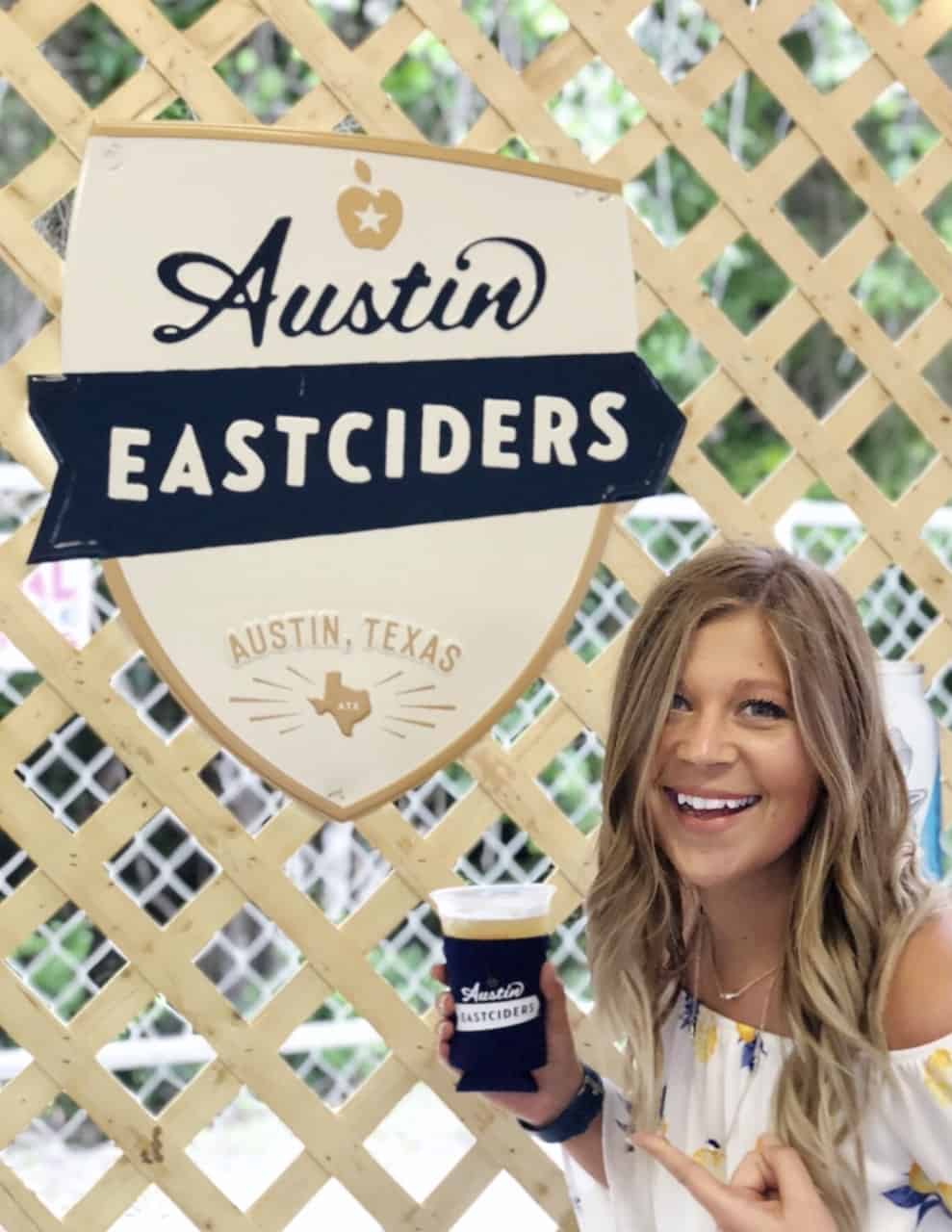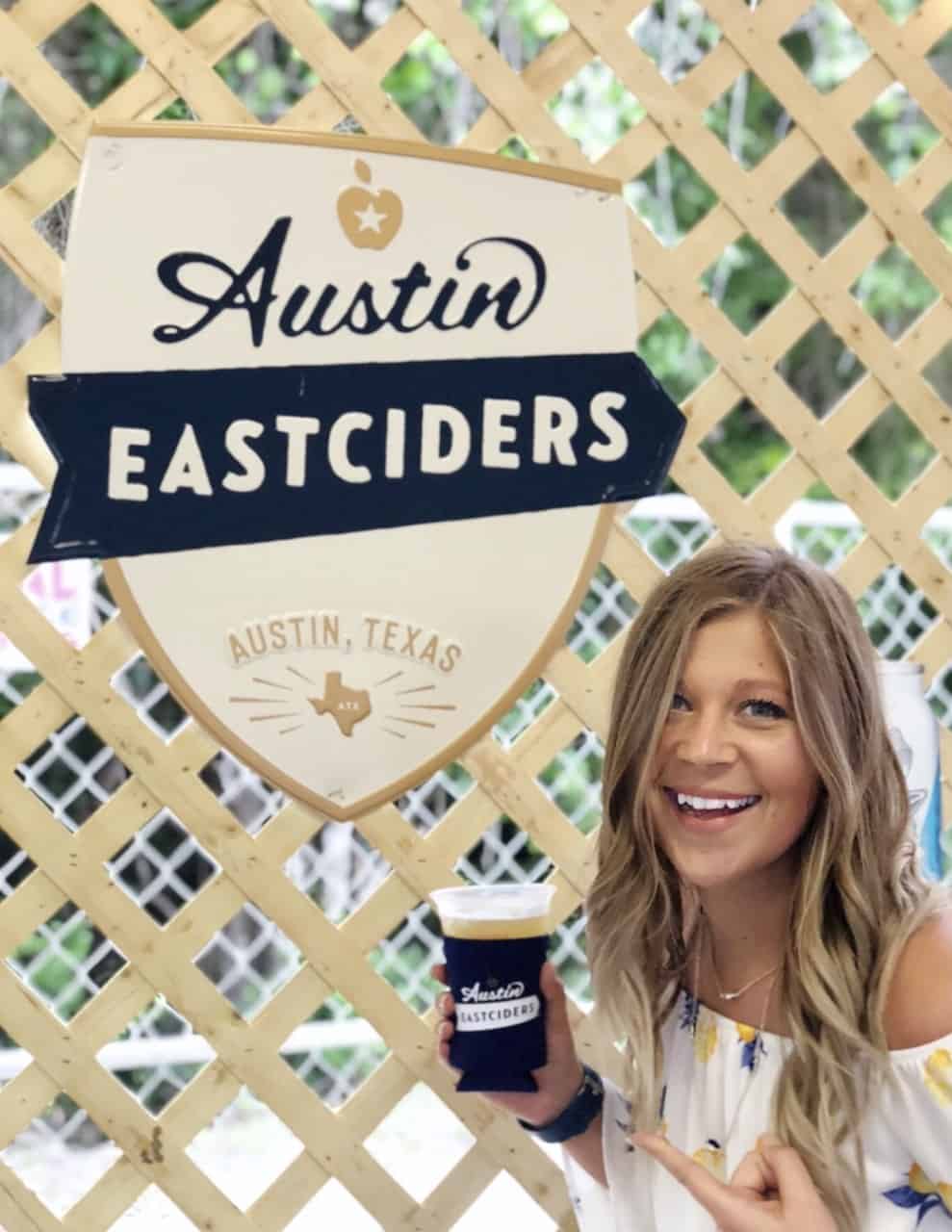 After five-and-a-half years at Austin Eastciders, Kiersten Abshier is the most tenured member of our sales team. As a District Manager, she acts as a liaison between Austin Eastciders and its many partners, which includes keeping a constant eye on orders and inventory, communicating local and company-wide initiatives, and leading the local sales team.
"I take pride in knowing all of our partners, from our distributor teams, to local grocery store directors, bartenders, and the customers enjoying our ciders have the best experience with our brand," she says.
Before coming to Austin Eastciders, Abshier worked in HR at a prestigious accounting firm, doing exactly what she thought she was supposed to do after graduating college. Through making some connections at a beer festival in west Texas, she was approached to work for a new cider company that was less than a year old.
"My parents were understandably concerned with a drastic career change from a big-four accounting firm to a small craft cider startup," she remembers. "But after talking to our founder, Mark King, over a cider at a local bar, and hearing his passion for the company and the opportunity to grow craft cider and introduce an innovative new style to the masses, he sold me on the brand and the mission of Austin Eastciders: to bring craft cider to the masses."
When she started with Austin Eastciders, she worked out of a makeshift office in a shipping container in the parking lot of the cidery. A lot has changed since then, and she now enjoys the beautiful production facility, tasting room, cidery and restaurant. She is incredibly proud of the growth and recognition the brand has been able to produce over the last five years. Growth, and the pandemic, have also meant the challenges of constant change. But one thing that has never wavered is the passion that Austin Eastcider brings to producing and selling its products.
"As we have grown, I would say our vibe is a high commitment to a quality experience," Abshier says.
In the male-dominated beer and cider industries, she says that women have often been used as "promo props." She's seen companies that follow these stereotypes and companies that shatter them.
"The more brands that choose to include women in management roles and let us have a seat at the table, and celebrate the different perspectives and opinions we bring, the stronger this industry will become," Abshier insists. "We also need to recognize when something is wrong, and allow people to take ownership and work to fix the situation through open communication and a willingness to change."
She believes that Austin Eastciders has developed into a company where all of the employees' individuality and strengths are recognized, utilized and appreciated.
For more on Austin Eastciders, visit its website (you can also shop online!) or check out its Instagram and Facebook pages.
Visit Austin Eastciders in Barton Springs at 1530 Barton Springs Rd. in Austin, Texas; phone: (512) 893-7000; and at its Collaboratory Taproom at 979 Springdale Rd., Ste. 130 in Austin, Texas.