March is Women's History Month, an excellent 31 days in which media attention turns intentionally to cover the literally infinite ways women have contributed to every aspect of our society and our world. While in some ways, it would be pretty cool if special months like Black History Month and Women's History Month were more fluidly integrated into the way society talks about history, but we still enjoy the deep-dives into storytelling about lesser-known figures in art, culture, science, politics, etc. that emerge during these months.
It goes without saying that women are integral to the world of craft cider. We've explored women working in all segments of the field through our series, Women Making Waves in the Cider World, and frequently have the pleasure of interacting with the members in the group Pomme Boots. But in all honesty, if you spend any time in any part of the craft cider world, from podcasting to production to marketing to managing tasting rooms, you'll find all sorts of people (women included, of course!) working side-by-side, which is a beautiful thing.
If you do want to get even more into the spirit of Women's History Month, there are two craft cideries that are putting special time and attention into thematic festivities.
One is Buskey Cider, based in Richmond, Virginia. Buskey has crafted a special cider called Zest in Class to celebrate International Women's Day. This cider, made from 100% Virginia apples, passion fruit, lemon and orange zest, and fresh fuchsia blooms, is a collaboration between Buskey and the women from their hometown distributor, Premium Distributors of Virginia.
"Every day at Buskey is empowering for me, so bringing together a bunch of badass women from our industry for a single project really created community and showcased how important women are in the craft alcohol movement," said Buskey Cider co-owner, Elle Correll, after working with her team and 13 women from Buskey's hometown distributor.
Zest In Class Cider was released on draft on Friday, March 6, at the Buskey Cider tasting room, and will be available in limited distribution in Richmond.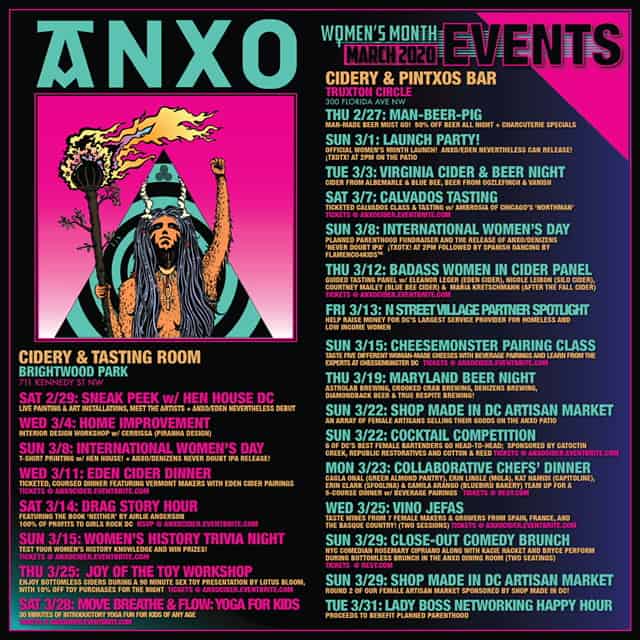 ANXO Cider is back in 2020 with another truly amazing lineup of programming, tap takeovers and a special release cider. What started as a single fundraising event for Planned Parenthood on International Women's Day in 2018 has become a whole month of exciting collaborations, events, fundraising and recognition of all-things-women among ANXO and its friends in the community.
All month long, both ANXO locations will only be pouring beverages made or owned by women.
"The first year we did this, we genuinely didn't know if it would be possible to fill all 36 draft lines in addition to wine, liquor and non-alcoholic products," says Rachel Fitz, managing member of AXO. "This year, we're finding ourselves limited by space, wishing we had more room to highlight all of the amazing women we have discovered. What is even more meaningful is the progress; our first year we needed to do a massive overhaul of the drink menu to accomplish this goal. This year, half of our menu was already women-made or -owned before even thinking about March festivities."
ANXO is also hosting 23 events throughout March, including a "Badass Women in Cider" Panel, an all-female cocktail competition and a Lady Boss networking hour. In addition to supporting ANXO, guests at these events will be supporting five local nonprofits that ANXO is donating to all month long: Girls Rock DC, N Street Village, I Support the Girls, She Should Run, and Planned Parenthood of Metropolitan DC. For more info and full events listings, check out ANXO's website.
But it doesn't stop there! Last year, ANXO released a special collaboration cider with Eden Cider called Nevertheless We Persisted (an homage to US Senator Elizabeth Warren's now-famous objections to confirmation of Senator Jeff Sessions as U.S. Attorney General). This year, they've done it again, with a brand-new can design, and a new name: just "Nevertheless."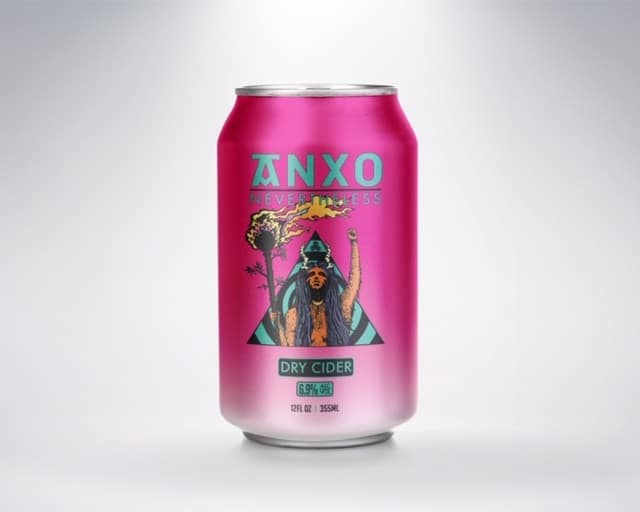 This artwork is based on Basandere, the female counterpart to the Basque Country's mythical bout Basajaun, the Wild Man of the forest. There is little written or known about Basandere, so ANXO chose to use her likeness on the can — depicted as an unapologetic, fierce and compassionate leader — "because we know there's more to her story than the little that's been told."
Nevertheless is a dry cider, a blend of Vermont and Pennsylvania apples fermented by ANXO with native yeasts in stainless tanks. Released in March to celebrate women cider makers during Women's History Month, a portion of proceeds from this cider will be donated to the Metropolitan DC branch of Planned Parenthood, PPMW. Eden and ANXO's co-owner, Jason Burnett, have also started a National Campaign for Planned Parenthood with a $6,000 matching challenge. Every dollar raised by the end of March will be doubled by the matching challenge, up to their joint goal of raising a total of $12,000.
Furthermore, proceeds from all Women's Month merchandise, including t-shirts, sweatshirts, hats, totes and more, will also be donated to Planned Parenthood.
There are so many ways to celebrate Women's History Month! Even if you can't enjoy Buskey and ANXO's offerings, find a female-owned cidery in your community to send a little extra love to, read a cider-focused book by a female author, dial up a cider podcast hosted by women, or get creative in other ways! Hopefully, celebrating all of the people in our wide, wonderful cider community is something we can all strive to do more than just one month out of the year!