March of each year is Women's History Month, a time that educational institutions, businesses and nonprofits take to shed an extra-bright spotlight on the social contributions of women throughout the ages. In 2018, ANXO in Washington, DC celebrated with a fundraiser for Planned Parenthood, and inspired by the huge outpouring of support and enthusiasm from women across all different business sectors who wanted to be involved, this year ANXO has lined up an exciting, dynamic calendar of events to celebrate Women's Month, all month long.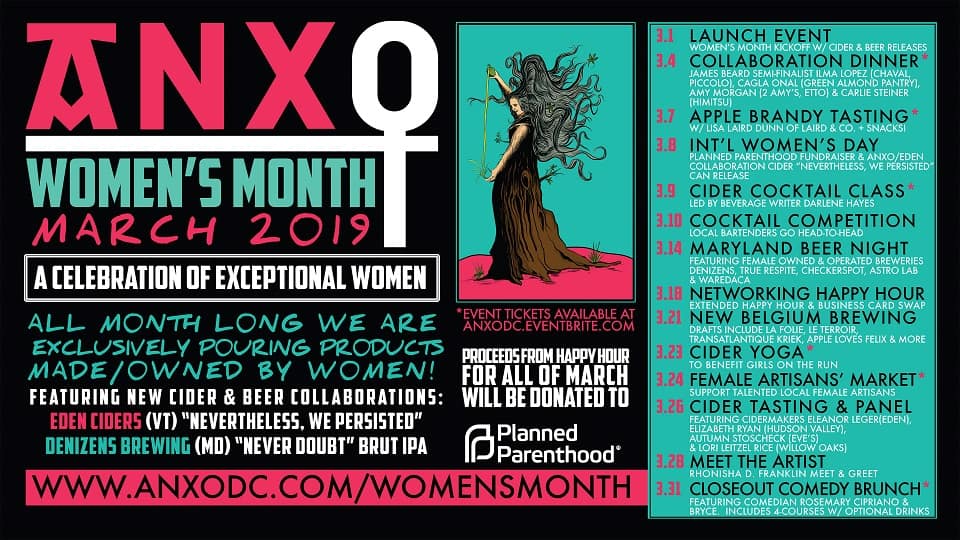 Rachel Fitz, a managing member at ANXO Cidery & Pintxos Bar, shares that before she got involved in the cider world, she worked as a social worker.
"I was supposed to be a silent partner in the business, but with how quickly we grew, it was not only apparent that I was going to need to be active, but that the opportunity to do social work in the context of the service industry was there," she says. "We have done smaller events surrounding gun violence and for the previous Women's Marches, but we wanted to host something that was positive and a celebration, not just a reaction to bad in the world."
When the ANXO team set out to plan the Women's Month events this year, they knew a goal was to pour only beverages made or owned by women, though worried that curating a list on those terms might be a struggle.
"But, we were amazed by the number of female producers we found, we were connected with, and who reached out to us, and in the end we have had no trouble at all filling 36 draft lines, wine, liquor, and non-alcoholic offerings," Fitz says. "We have had so many women thank us for highlighting their work, because even though they are an equal or majority owner of the business, they get referred to as 'the farmer's wife' or 'assistant,' or they are left out of the story altogether."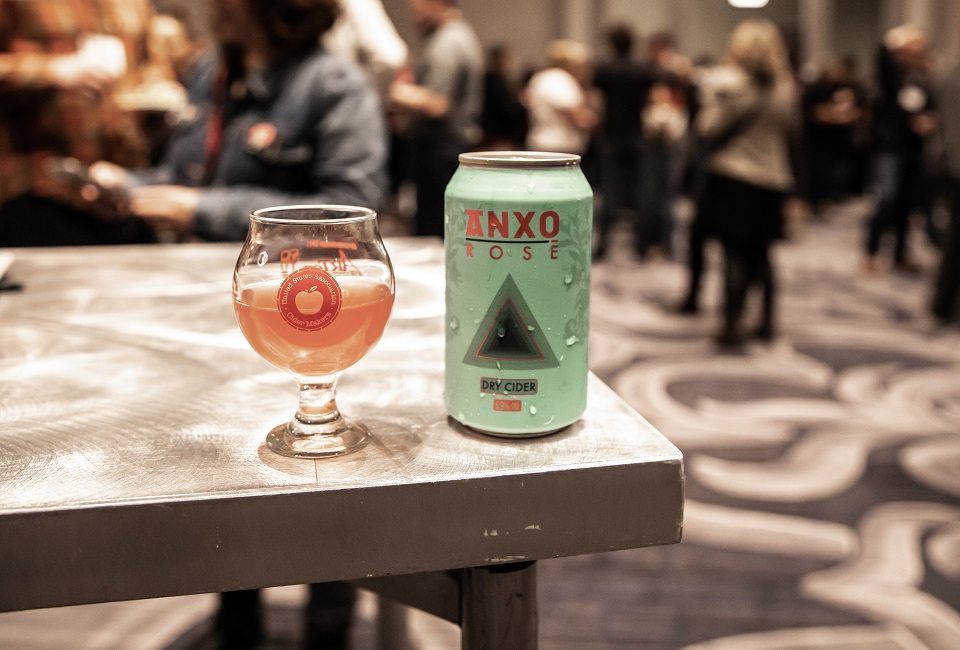 The list of female producers/owners available at ANXO in March is indeed deep and diverse, including the following cider makers:
"Certainly in the cider world we are seeing an incredible growth of women in the industry, as has the craft beer world. Pomme Boots, an amazing group of women in the cider world, started with just a handful of members at their first meeting three years ago, and this year at CiderCon, the meeting had to be moved to a larger space to fit what must have been more than 100 women (and a few wonderful men!)," says Fitz. "But it's not just about having women be more involved, which is important. It's about showcasing and valuing their work in an equitable way, which I think is the part that gets lost too often."
There will be a special collaboration cider between ANXO and Eden called Nevertheless, We Persisted, a collaboration that Fitz says they hope to do every year, one day culminating in a scholarship program funded by each can sold, to allow a female-identified recipient to be able to go through Siebolt or Cornell at no cost, followed by an internship at one of ANXO's cideries. A second collabo, with Silver Spring, Maryland-based Denizens Brewing Co., is beer called Never Doubt, a Brut IPA dry-hopped with the Pink Boots hop blend.
"Both collaborations included female staff and stakeholders in ANXO, some of which had brewed or blended cider before, but many of which never had. Too often staff, especially women, want to learn but they don't want to be in the way or be a burden," Fitz notes. "These collaborations gave an opportunity for these women to be a part of something that they were asked to join."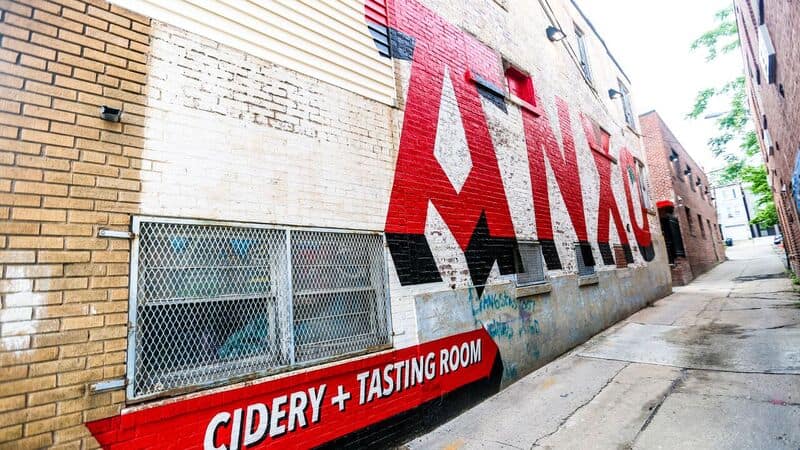 On the wine front, find names like Portuguese producer Filipa Pato, Spanish makers Bodegas Moranza and Castell d'Age and French duo Marie et Vincent Tricot. Spirits are on deck, from local distillery Republic Restoratives and New Jersey-based Laird & Company (among many others), as well as cocktail ingredients and mixers, like 18.21 Bitters and Keepwell Vinegar. Beer-wise, look for pours from New Belgium Brewing Co., Right Proper Brewing and True Respite Brewing Co. and others.
As for the events ANXO has planned, there's an amazing-sounding collaboration dinner on Monday, March 4, with some big name chefs, a Cider Yoga benefit on Saturday, March 23, and a Badasses of Cider Tasting Panel (with Eleanor Leger, Elizabeth Ryan, Lori Rice and Autumn Stoscheck — "The four of them in a room together is fire," Fitz says) and all-you-can-eat-pintxos bar on Tuesday, March 26. Proceeds from happy hour through all of March will be donated to Planned Parenthood. See here for the full list of Women's Month events and here to buy tickets.
"Of course we want to raise money, but more than anything we want to celebrate. Women have been doing amazing things in the food and beverage world and beyond, but with Women's Month we get to bring that collective energy and skill set together and showcase the breadth of talent that these women have," Fitz says. "When I think about Darlene Hayes flying across the country just for this event and spending the entire weekend with us to participate in any way she can, or Eleanor coming at the beginning and end of the month from the border of Canada to celebrate, the collaboration that is happening between cider makers that don't distribute in DC to work together to personally drive their products to us and support each other, and the new connections we have made with local breweries in Maryland, it makes me proud to be a part of a community of women that are unapologetically successful and fierce."
For more info, keep up with ANXO's Facebook page or explore the Women's Month page on its website.
ANXO has two locations in DC: Truxton Circle at 300 Florida Ave. NW Washington, DC; phone: (202) 986-3795; and Brightwood Park at 711 Kennedy St. NW, Washington, DC; phone: (202) 722-2696.