Apples are the stars of the show when it comes to making craft cider; the characteristics of the fruit determine so much when it comes to the flavor of the liquid. But, yeast is nearly just as important to the process — after all, without yeast, fermentation is impossible, and it's both the flavor and effects of fermentation that make hard cider so lovable.
Just as cider makers must make a series of choices about which apples to use, about how to press and ferment them, and about a thousand other things, which type of yeast strain to use is a major decision. Foraged yeast, or yeast from spontaneous fermentation, can produce funky, wild flavors; champagne yeast can evoke wine-y notes; some yeast producers make cider-specific strains that almost guarantee consistent, predictable results. Ale yeast, AKA beer yeast, is also growing as a popular choice for cider makers, as the flavors often play really well with apples, and the stylistic fusion creates another bridge for craft beer drinkers to explore the world of cider.
Here are six craft ciders made with beer yeast — if you've never tried this style, these selections are a great place to start!
Lots of people are introduced to the beer beyond fizzy yellow party juice via Belgian beers. Perhaps the style is discovered via travels abroad or at a craft beer bar, alongside a bowl of mussels. The candy sweetness and notes of banana and clove are a friendly introduction to European beers, and a lot of that is due to the yeasts used in the brewing process. Those same yeasts work wonders in cider, like Nine Pin's Belgian, one of its core cider offerings. Belgian starts with a farmhouse blend of local apples that are fermented with a Belgian Abbey Ale yeast. The result is a 6.3% ABV cider that is reminiscent of top-quality Belgian beers, with notes of tropical fruit, and a smooth creamy mouthfeel.
Another cider borrowing flavors from the Belgian Abbey Ale yeast is Finn River's Apple Abbey, a semi-sweet, silky, full-bodied farmcrafted cider. Thanks to the "yeast adventure," as Finn River calls it, the sweetness from the blend of organic Jonagold, Cameo, Gala and Honey Crisp apples helps to amplify the qualities of two Belgian yeast strains: tropical aromas of ripe banana, pepper and clove spice and a nutty, bready finish. The lees create a cloudy appearance in the liquid, which looks lovely poured into a tulip glass. Consider Apple Abbey for a dessert cider, or to pair with tangy, sharp cheeses.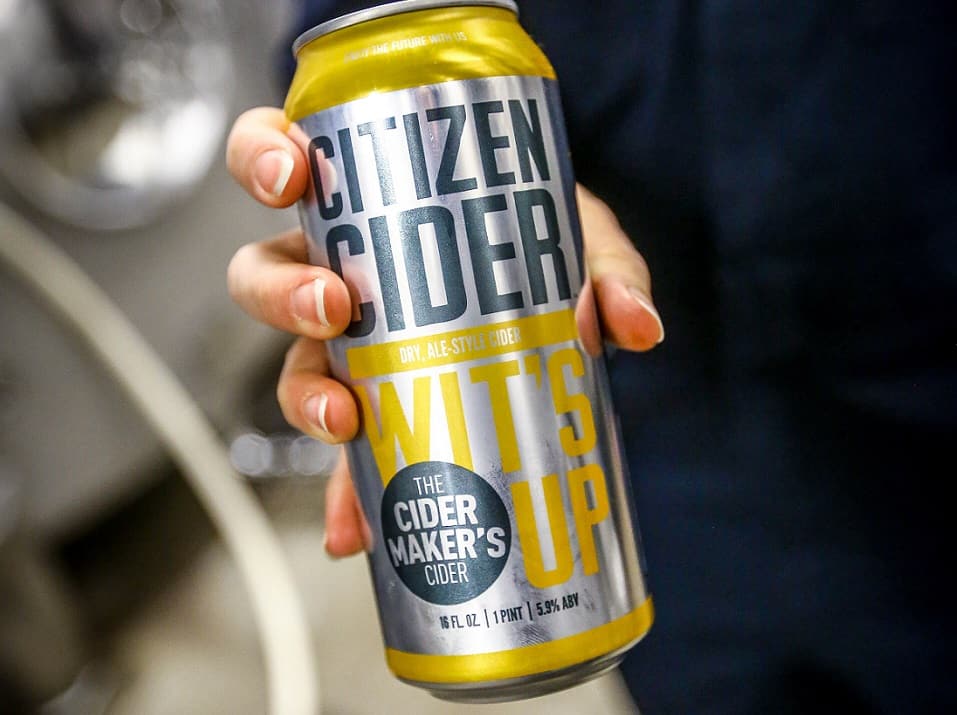 As you may have guessed, Wit's Up from Citizen Cider is made with Beligan-style saison yeast often used to make wit beers. Originally released in 2014, this was the third can Citizen added to its core lineup, and it is now one of its most recognizable ciders. Made with no added sugars and zero sulfites,  Wits Up undergoes a malolactic fermentation (when tart-tasting malic acid is converted to softer-tasting lactic acid) to create a balanced, non-acidic cider with a gentle mouthfeel. Wit's Up is super-crisp and easy to drink, starting off reminiscent of an ale, and finishing like a chuggable session cider.
Not one, but two of Prospect Ciderworks' core offerings are made with Belgian yeasts: Sidro and Paradise. Sidro is a balanced New England cider, crafted with five apples and Belgian saison yeast, and skirting the line between off-dry and semi-sweet. Paradise enjoys the addition of orange peel and West African Grains of Paradise (a spice closely related to cardamom) after fermentation, and those flavors, plus Belgian ale yeast, create a cider that is an ode to the classic Belgian Witbier. Look for these, and other Prospect cans in Massachusetts, Maine, Rhode Island, Connecticut and New Jersey.
Potter's Craft has been doing some extremely cool things with fruited ciders lately (think: strawberry ginger, grapefruit hibiscus and guava galaxy), but it avoids treading in super-sweet, cider/soda territory by using careful, artisan production methods. This is a mix of locally grown heirloom and traditional cider apples, and cold-fermenting the fresh juice to coax out the unique flavor and aromas of the apples. No sugar or water is added to its ciders. Its crisp, tart summer-crusher Watermelon Saison is made with a blend of fresh-pressed, whole watermelons and Virginia apples, and then it's fermented with a fruit-forward Belgian saison yeast.
Doesn't it seem like hibiscus is everywhere in craft cider right now? Its vibrant pink hue and tart, floral notes make it a happy pairing with apples. In Common Core's Hibiscus Saison, those flavors are kicked up with the addition of saison yeast for a dry, fruity, spicy profile. Like all of this California-based cidery's offerings, this one is made with locally sourced apples and organic botanicals. Hibiscus saisons are also quite popular this spring in the craft beer community, so this is a fun way for cider lovers to get a taste of the trend.
Do you like ciders made with beer yeasts? Let us know some of your favorites!