Now in its 8th year, Oregon Cider Week is happening from now until the end of June! After nearly a decade of running this celebration of Oregon's incredible cider community and industry, the crew at the Northwest Cider Association knows a thing or two about putting together a successful cider week. They're upping the ante this year with even more tastings, dinners and workshops across 10 days of cider-soaked fun.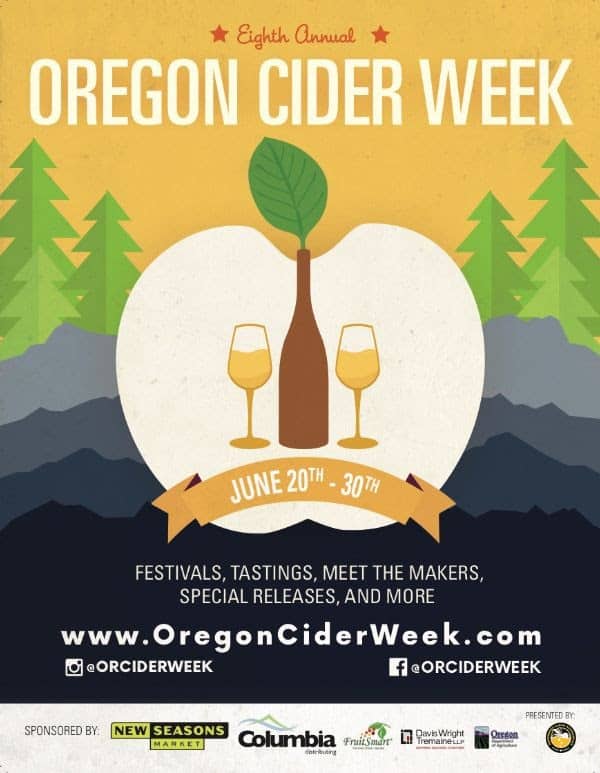 The Cider Week action is spread all across Oregon, so pretty much wherever you go in the Beaver State (yes, this is for real), you'll find Oregon-made cider on tap. To get a sense of just how many places there are to enjoy local sips, check out NW Cider Association's new interactive Cider Map, with tons of info on dozens of places. In fact, almost two dozen cideries have opened in Oregon in the last two years! Great job, Oregon!
When it comes to Oregon Cider Week events, there are so many to choose from. Some events, like the Blue Star Donuts Cider Week special (a vegan doughnut made with Baumans Cider Co.'s Loganberry Cider), run all week, and some are very limited engagements. There are plenty of free samples and low-key tap takeovers, like the Oregon Cider Week tasting at New Seasons Market in Raleigh Hills on Friday, June 21, and the Cider and Cheese for the Win pairing event at Rose City Book Pub on Tuesday, June 25. You want cider dinners? Check out the Krob Krua Thai & WildCraft seven-course pairing dinner on Tuesday, June 25, or the Marche & Blossom Barn Dinner on Thursday, June 27.
If you want to use this opportunity to expand on your DIY cider education, there's plenty to do, like The Upper Lip Cider Symposium on Sunday, June 23, and the Cider 201: Cultured and Fermented workshop at Function on Wednesday, June 26. Also, just for pure fun, find stuff like CBD Radler Night, Ciders, Seltzers and Sunshine and so much more.
For the full event listing and more info, head to Oregon Cider Week's official website, and follow along on Instagram and Facebook!
Oregon Cider Week poster: NW Cider Association