Of course you're serving cider at this year's Thanksgiving, we've got no doubt about that (Side note: Need pairing recommendations? We've got you covered). But, what if the occasion calls for something a bit stronger? After all, it's a long, long day spent with family. Well, thanks to our friends at Angry Orchard Hard Cider, we've got two crafty little cocktail recipes to share. Not only are they a great way to introduce cider skeptics to the wonderful world of hard cider, but these are super creative, fun drinks that will impress everyone, from your hipster cousin to your light-beer-drinking grand-pop.
Both of these cocktail recipes take a bit of preparedness and a measure of mixology—they're decidedly not like pouring a shot of whiskey into a glass of cider and calling it a day. But, we think you can handle it! Learning new bartending tricks is cool (we personally can't wait to try "cinnamon smoking a rocks glass"), and the hands-on, performative nature of these drinks might just provide the distraction you're longing for before and after your Thanksgiving dinner.
Ready to get started? Here's what to mix up this Thanksgiving, or any time a cider cocktail is in order:
Cozy at the Orchard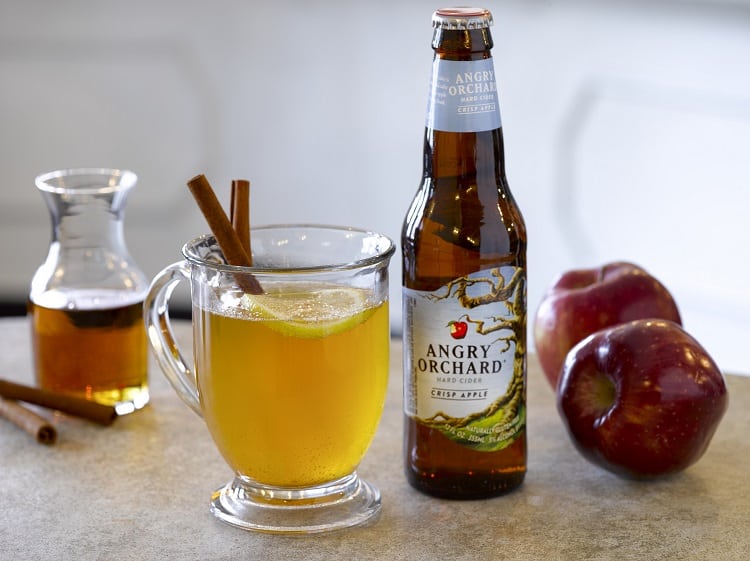 Ingredients
4 oz. Angry Orchard Crisp Apple
1.5 oz brown butter-washed bourbon (method below)
.5 oz cinnamon syrup (recipe below)
.25 oz lemon juice
Method
Add all ingredients in a pot and heat until warm. Do not boil. When warmed, add to toddy glass and garnish with grated nutmeg.
Brown Butter Washed Bourbon
Warm a pan over medium high heat. Add 1 stick (4 ounces) of butter and allow to melt. Cook until slightly browned.
Pour a 750 ml. bottle of whiskey into a quart sized container. Add browned butter to the whiskey.
Cover mixture and place in the freezer overnight or until butter separates and becomes hard.
Strain mixture through a fine strainer. Pour back into original bottle and store in the fridge.
Cinnamon Syrup
Add 1 cup of sugar, 1 cup of water and 5 cinnamon sticks to a pot and bring to a boil. Allow to simmer for 20 minutes. Remove from heat and allow to cool. Remove cinnamon sticks with the slotted spoon.
Angry Campfire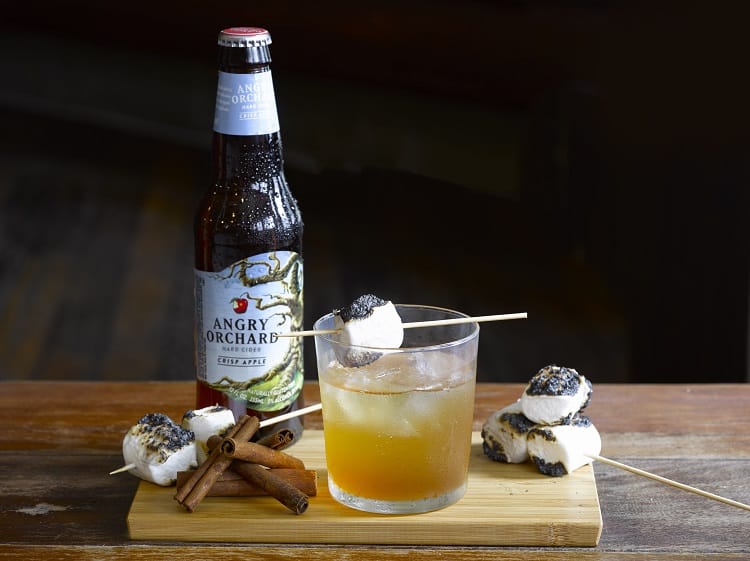 Ingredients
3 oz. Angry Orchard Crisp Apple
1.5 oz. aged rum
0.5 oz. toasted marshmallow syrup (recipe below)
Cinnamon-smoked rocks glass (method below)
Method
First smoke the rocks glass.* Once completed, add Angry Orchard Crisp Apple, aged rum and toasted marshmallow syrup over ice. Stir and top with toasted marshmallow on a stick.
*How to smoke a rocks glass: Light a cinnamon stick on fire using a torch or gas burner on a stove. Blow out flames and allow to smolder. Place on a plate and cover with an upside down rocks glass and let sit for a minute or two. The glass should fill up with smoke.
Toasted Marshmallow Syrup
Combine 1 cup of sugar and 1 cup of water in a pot. Bring to a boil, make sure all sugar is dissolved, reduce heat and allow to simmer.
Put 8 marshmallows on a skewer and toast on the stove burner or with a lighter until slightly burnt.
Add toasted marshmallows to the simmering syrup and stir until dissolved.
Turn off heat and allow to cool. Strain the mixture with a fine strainer, then stir in 1 teaspoon of vanilla extract. Store in the fridge.