This Thanksgiving cider-pairing guide by Meredith Collins from the popular blog, Along Came a Cider, is brought to you by the American Cider Association (ACA).
So, we've finally made our Thanksgiving plans. Whether that involves an intimate gathering or a feast with the whole fam, one thing is for certain: There will be food. And where there's food, there should be cider!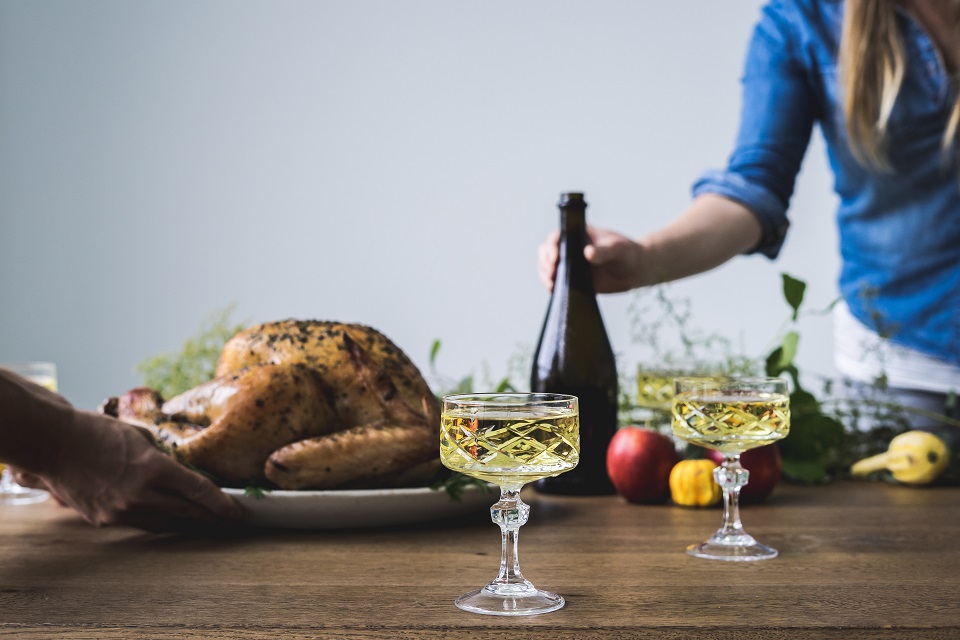 Everyone's personal menu for Thanksgiving is both idiosyncratic and completely sacred. That makes every table different. Since Thanksgiving dinner is usually served family-style, with a kaleidoscope of simultaneous dishes (versus coursed out), the rules for pairings work a little differently.
Here are my suggestions for how and when to pair cider for each step of your Thanksgiving gathering:
The Welcome Glass
The variety and lightness of lithe, acid-driven ciders are perfect for one of my favorite Thanksgiving traditions: the welcome glass. Whether I'm the guest bringing a cider in with me, or if I'm opening my home to visitors, it's nice to have something clean and refreshing to sip while dinner is cooking.
Examples: Foggy Ridge Cider Serious Cider, Angry Orchard First Flora, Castle Hill Cider Celestial

The Sides
Mashed potatoes & high acid, tannic ciders
Orchard-driven ciders need a balance of acidity and tannic structure that can only come from special apples. These apples might be wild or cider-specific varietals, but they have bittersweet and bittersharp characteristics that can give body to the cider. They are meant to both balance and cut through rich or creamy foods. They make the perfect contrast-based pairing for mashed potatoes. Whether yours are buttery, garlicky or creamy, mashed potatoes make the secret heart of Thanksgiving for many.
Examples: Eve's Cidery Beckhorn Hollow, Cider Riot! 1763
Mild veggies & quaffable perry
This aroma-centric beverage complements lighter sides, like green beans and corn pudding. Light, bubbly perry has pleasant mild tartness, some sweetness and an intoxicating perfume. Keep the pairings for this one delicate, so the perry can really shine.
Examples: Stem Ciders Pear Apple Cider, Æppeltreow Orchard Oriole Draft Perry
Traditional perry & stuffing
This beverage is both aromatic and structured, making it the ideal accompaniment to the quintessential Thanksgiving side: stuffing. The savory palette of flavors often includes sage, rosemary, celery, garlic and pepper. Perry of this type uses perry-specific varieties of pear that give the beverage tannic backbone, medium acidity and a bouquet that can range from the delicately floral to the robust and rustic.
Examples: E. Z. Orchards Poire, Dragon's Head Ciders Perry
Hopped cider & cranberry sauce
This might be a more controversial suggestion, as hops aren't often thought of as a classic Thanksgiving note, but their clean herbal notes make a perfect counter to sweet and tart cranberry sauce. Hopped ciders can bring pine, grapefruit or even grassy flavors that add a zingy bite to this rich sweet-tart side.
Examples: 1911 Hopped, Reverend Nat's Cider Hallelujah Hopricot
Wood-aged cider & roasted vegetables
A cider that's wood-aged brings some qualities of the barrel to the glass. It can be toasty and buttery, often with caramel, rum, bourbon or vanilla on the nose, even in a dry cider. These sophisticated flavors layer elegantly with roasted vegetables. This pairing is such dynamite that you'll want to keep creating it all winter long. And don't forget to put some wood-aged cider into the gravy as you're making it! You'll get amazing depth and a hint of smokiness.
Examples: Embark Craft Ciderworks Whiskey Barrel Aged, Tilted Shed Ciderworks Barred Rock Barrel Aged
Sour cider & sweet potatoes
Sometimes where there's sweet, we need sour! A good sour cider should have a cleanly tart attack that can cut through even the most praline or marshmallow-infused sweet potato side.
Examples: Shacksbury Lost Apple series, Graft Farm Flor

The Turkey
Fruit-blended ciders were simply made for pairing with turkey. If you have the option of finding one blended with berries, currants, grapes or other intensely-flavored dark fruits, those will bring out some of the savory goodness of your Thanksgiving main event! Fruit ciders bring some of the best qualities of apples and their additional fruits in an inviting balance. This is an unstoppable pairing for Thanksgiving!
Examples: Finnriver Cranberry Rosehip, Slyboro Ciderhouse Black Currant
Dessert
Spiced cider & pumpkin pie
Spiced cider is the most-focused fall cider. Spiced ciders often use the same traditional baking spices we see in many a Thanksgiving dessert, so they make a great complementary pairing. Sometimes it is ideal to pair like with like, and this is especially true with spiced cider and pumpkin pie.
Examples: Portland Cider Company Winter Spice, Left Foot Charley Cinnamon Girl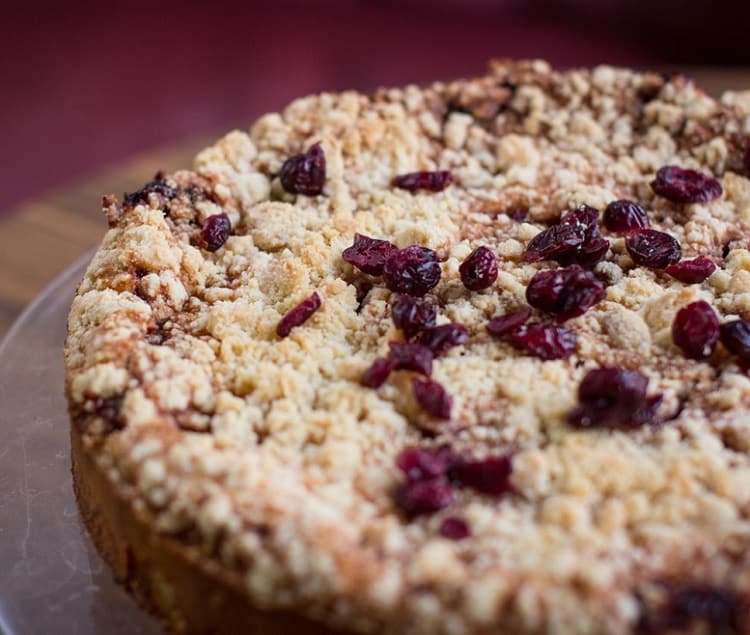 Ice cider & pretty much anything
Ice cider is a special treat, with a rich mouthfeel, intensely flavorful sweetness and a higher ABV because of the concentrated juice. It pairs perfectly with nearly any dessert on the table, including pumpkin pie, apple pie, brownies and anything else made with chocolate. If you're the one doing the baking, may I suggest mini Bundt cakes with ice-cider-custard drizzle? The other Thanksgiving use for ice cider is to pair it with some relaxation — let the Thanksgiving chefs put their feet up while someone who didn't cook cleans the kitchen!
Examples: Eden Specialty Ciders Honeycrisp, Cidrerie du Minot Crémant de Glace
What are your favorite Thanksgiving pairings? Let us know! We hope you enjoy a lovely holiday with your family and friends!
Woman drinking cider photo: Jen Jones | Moxy International​
All other photos: Dish Works