Shacksbury just blessed the cider world with a brand new trio of pét-nat rosé ciders, each one a collaboration riffing on the Vermont-based cidery's love of fermentation. These rosés are dry, fruity, bubbly and so perfectly pink.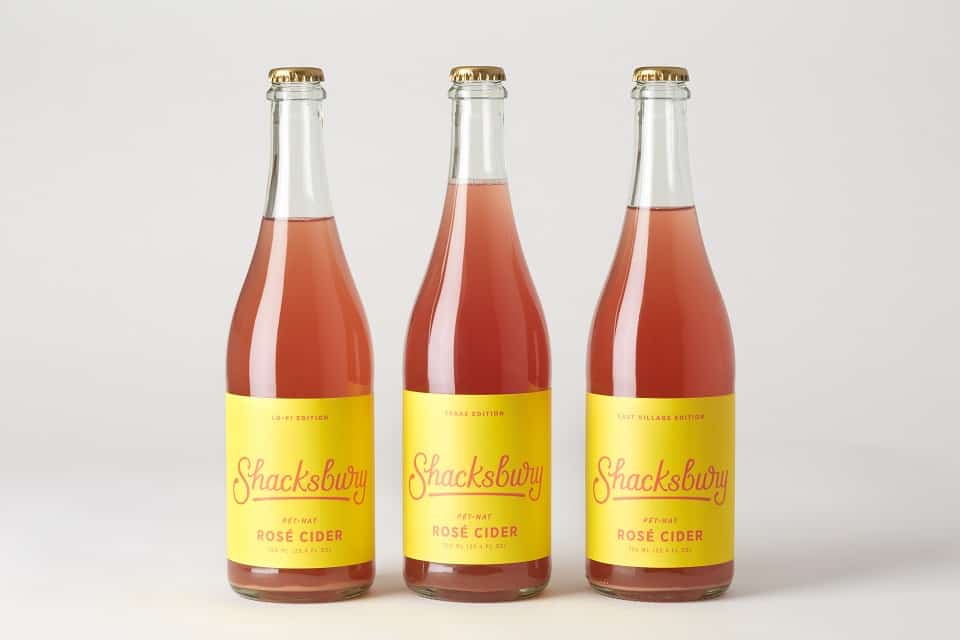 Pét-nat (short for Pétillant Naturel) is a method of making a sparkling wine (or, in this case, sparkling cider).
Here's a rather simplified explanation of what this means: First, it's important to understand that to make Champagne (méthode champenoise), fully fermented base wine undergoes secondary fermentation in the bottle with the addition of yeast and sugar. By contrast, the way pét-nat is made (méthode ancestral) is that the liquid is bottled before it's been able to complete its first fermentation. In the bottle, carbon dioxide is produced by the sugars left in the wine/cider. It's that process that creates bubbles without anything extra being added in. It's a "less-is-more" philosophy dating back to the 16th century and championed by natural wine and cider makers today.
"We are super into easy-drinking light reds that blur the line of rosé, skin contact whites and most definitely Pét-Nats," explains Luke Schmuecker, partner and Director of Business Development at Shacksbury. "Last year when we decided to come out with a Rosé cider we knew we wanted to be 'Roséified' (is that a word?) by using grape skins. We had some friends in Vermont who gave us local Marquette grape skins for our flagship Rosé and we also did a cider with La Garagista skins. From there, our obsession with the tannin structure, flavor and obviously the color that grape skins can impart just grew. Also, being around Krista Scruggs and the ZAFA team at CO [more on that here] makes it almost impossible to not be thinking about using grapes."
So, after experimenting with apples and grapes, Shacksbury pushed the idea further with this Pét-Nat Rosé series. Each regionally specific version is the result of a partnership a like-minded company: There's the Lo-Fi Edition, Lo-Fi Wines from Santa Barbara, California; the Texas Edition, with grape skins from Lewis Wines in Johnson City, Texas; and the East Village Edition, a collaboration with Brooklyn Winery and beer writer/bar owner Zachary Mack in New York City.
"We wanted to keep the cider the same to showcase the subtle differences you get with grape skins grown in different regions," Schmuecker says. "It's funny, with all different grapes we could have chosen, we ended up with Cab Franc from both Lo-Fi wine in California and Lewis Wines in Texas. Partially because Cab Franc is great, but also it's fun to see the difference between Cab Franc grown in Texas and Cab Franc grown in California. It's like how the Dabinett grown at Sunrise Orchards in Vermont tastes different than the Dabinett grown at Dragon Orchard in the UK."
Look for Shacksbury's Pét-Nat Rosé series in limited amounts around the country, as well as in its tasting room in Vergennes, VT or at CO Cellars in Burlington, VT. Shacksbury's Cider Club is also a great way to get your hands on these and other special releases!
Find Shacksbury's tasting room at 11 Main St. in Vergennes, Vermont.
Find CO Cellars at 266 Pine St. in Burlington, Vermont.