It's time to enjoy all of the comforts of the autumn season: warm knit sweaters, brisk nights by the firepit and the delectable bounties of the apple harvest. Bakery ovens everywhere are piping hot, producing the much-anticipated sweet treats you've been waiting all summer for — cider donuts! The fragrance of these sweet treats lingers in the chilly air, like friendly ghosts of autumns past.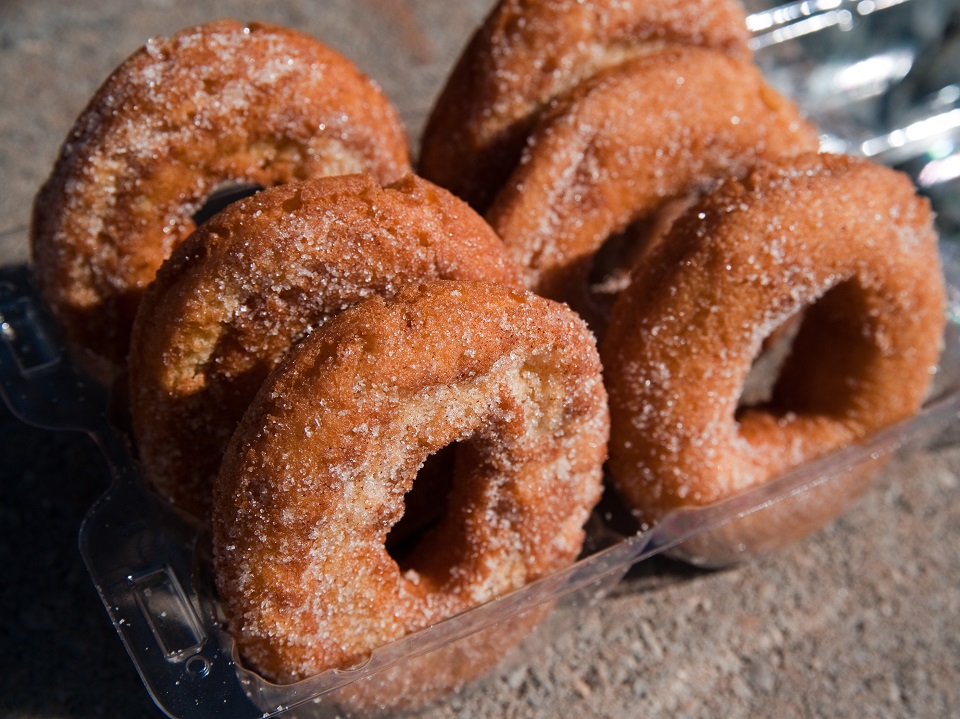 If you have been fancying a bite of nostalgic seasonal flavor, ditch your diet and dive into our list, and try some of the best cider donuts in the Pacific Northwest! (For our roundup of cider donuts on the East Coast and in the Midwest, head here and here.)
Oregon
If baked goods are your jam, Red Berry Barn has you covered! Pumpkin breads, cinnamon buns, pies … oh, my! The folks come in flocks for the cider donuts. However, if you're looking for more donut flavors (not just cider donuts), you are still in luck. The bakery at Red Berry Barn is also makes delicious seasonal pumpkin and marionberry donuts for the droves of donut-lovers stopping by. 19200 SW Chapman Rd., Sherwood, OR; (503) 925-1700.
Home of the Haystack Bread (a kind of old fashioned white loaf with a crusty exterior), Cannon Beach Bakery is producing more than just savory treats for its many hungry customers. Located on the beautiful Oregon coastline, this bakery is pumping out not one, but two kinds of cider donuts! Does a regular cider donut not sound enticing enough? Then, try sinking your teeth into a chewy cinnamon sugar apple cider donut, instead! 240 N. Hemlock St., Cannon Beach, OR; (503) 436-0399.
If you are looking for some fun pumpkin-picking, head over to Bushue's Family Farm. After a cool afternoon of picking the perfect gourds for Halloween, kick back with the family and enjoy a sip of warm apple cider, and bite into a fresh cider donut! 9880 SE Revenue Rd., Boring, OR.; (503) 663-6709.
The fresh produce abounds at Bauman's Farm and Garden, and there are plenty of sweet treats in the bakery. You'll find pies and cakes oozing with flavor, but nothing compares to the goodness of Bauman's cider donuts. With donuts this fresh, you don't have to tell us twice where we need to be this weekend! 12989 Howell Prairie Rd. NE, Gervais, OR; (503) 792-3524.
Yes, we do want one! This fourth-generation, family-run orchard is still offering up fresh cider and donuts annually for its faithful customers. If you also want these mouthwatering confections, keep in mind that you only have until mid-November to get them. So, get your family in the car, and head over to Oregon Heritage Farms — ASAP! 22801 SW Scholls Ferry Rd., Hillsboro, OR; (503) 628-2775.
Washington
There is so much to eat at The Farm at Swan's Trail, you will have a hard time deciding where to start! Roasted corn, pumpkin chili and hand-dipped corn dogs … are you drooling yet? Who are we kidding — we all know why everyone is heading to this Snohomish orchard: the cider donuts! They are only available on the weekends in the fall at the farm's concession stand, so don't miss your opportunity to get your hands on these sweet treats! 7301 Rivershore Rd., Snohomish, WA; (425) 334-4124.
California
We realize there is some debate about whether Northern California is actually a part of the Pacific Northwest. However, there is simply no denying how delicious the piping-hot donuts are at Rainbow Orchards in Camino, CA! This Apple Hill Orchard is producing some of the most delectable donuts west of the Rockies! These donuts are oozing with cider-goodness, who could have just one? 2569 Larsen Dr., Camino, CA; (530) 664-1594.
Who makes your favorite cider donut? Tell us, and join in the conversation in the comments!