Cider Week Virginia is coming up quick, and exciting thing are starting to happen! Richmond-based Buskey Cider just announced that it will be releasing a special Heritage Variety 4-Pack of cans on Saturday, November 10, from noon to 3 p.m. in its taproom on W. Lehigh Street.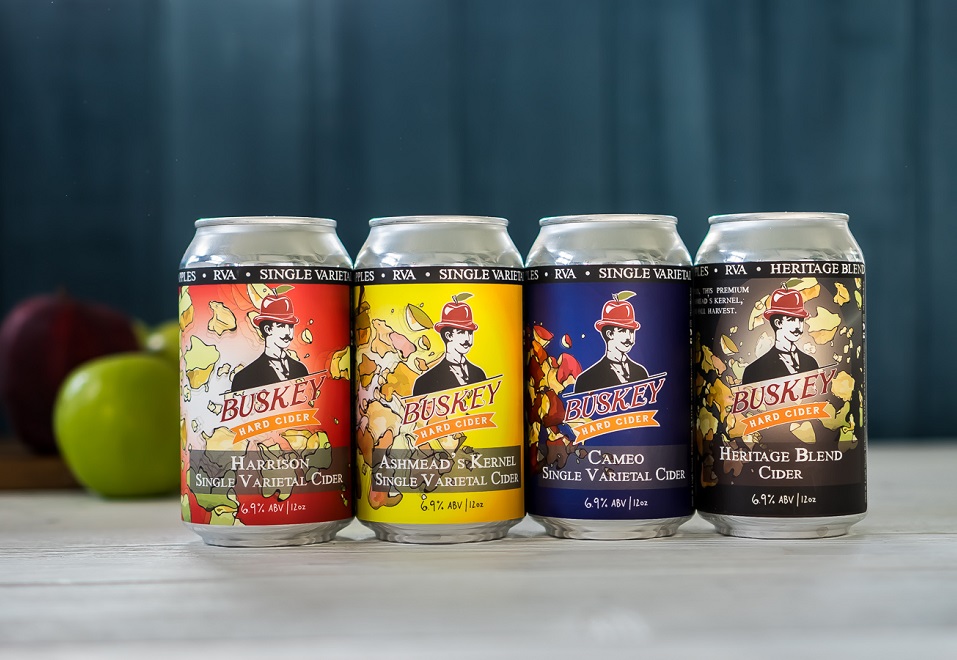 Buskey, which released the first 12-ounce 6-pack of hard cider in cans in Virginia back in 2017, will be selling the set, comprised of three single-varietal cans and one heritage blend. The idea is that the first three varieties will let you experience the qualities of the individual apples, and the blend will show how the flavors combine and complement each other.
These are the four ciders in the pack:
Cameo: This apple is a classic, known for being tart, clean, and refreshing, and it's one that Buskey has never used before,
Ashmead's Kernel: As this apple ferments, it expresses notes of banana and peach. Buskey says it's one of the coolest single varietals it's worked with so far.
Harrison: Rescued from what was thought to be extinction, this apple is a "tannic bomb with a bittersweet flavor." Apart from this apple's stellar taste and interesting history, Buskey says it picked this apple because its cider maker's name is Harrison.
Heritage Blend: After tasting all three of the single varietal cans, enjoy a blend of the three, accentuating all of their flavors.
If you're in Richmond during Cider Week VA, don't forget to stop by Buskey's tasting room on Saturday, November 10, to pick up one of these special 4-packs!
For more information about this and other Buskey Cider events, visit Buskey Cider's website or follow along on Facebook and Instagram. #GetBuskey
Find Buskey Cider at 2910 W. Leigh St. in Richmond, Virginia; phone: (804) 355-0100.